You enjoy research and know-how to find good sources. You can keep information organized, and you love using that skill to help people. Plus, you're great with computers. Maybe you have an interest in the law, but you don't want to become a lawyer. Do all of those things sound like you? In that case, you might consider becoming a paralegal.
Becoming a paralegal, or legal assistant, in Mississippi can be very rewarding. It's challenging, and you can get started quickly. Mississippi is also a great place to work as a paralegal since the state provides a lot of flexibility. You can get started in a lot of ways.
Featured Programs
So, what exactly do paralegals do? Paralegals work with lawyers and law firms. They provide support and assistance to attorneys and clients. Paralegals sometimes have the responsibility of drafting legal documents such as summonses, subpoenas, writs, complaints, motions, and briefs. They also provide administrative support like answering telephones.
Of course, the job description can vary. It depends on the law firm or lawyer who offers you a job. Some lawyers may need more administrative assistance. Others may need someone who can keep things organized. Always check the job description before you apply, and ask for clarification if you're not sure.
For many people, becoming a paralegal is the ideal career path. That includes many people who live and work in Mississippi. Could a paralegal career work for you? Is it time to start looking up the paralegal requirements in Mississippi? If you're passionate about the law but don't want to become a lawyer, the answer may be yes. Plus, if you have strong organizational skills and communication skills, you can make the most of a paralegal career.
School Finder
Just like with any career, you may have some questions before you get started. You may want to know how to become a paralegal in Mississippi. You may ask what Mississippi paralegal requirements you should know.
Questions about the paralegal requirements in Mississippi can get confusing. That's because Mississippi doesn't actually regulate the paralegal profession. In fact, California is the only state that requires licensure for paralegals. Since Mississippi doesn't offer a lot of information, you may want some guidance for your career path. The information below can help.
In the next several paragraphs, you can explore important answers about how to become a paralegal in Mississippi. For example, what kind of education should you pursue? What Mississippi Paralegal requirements should you know about? Keep reading to learn more about your options.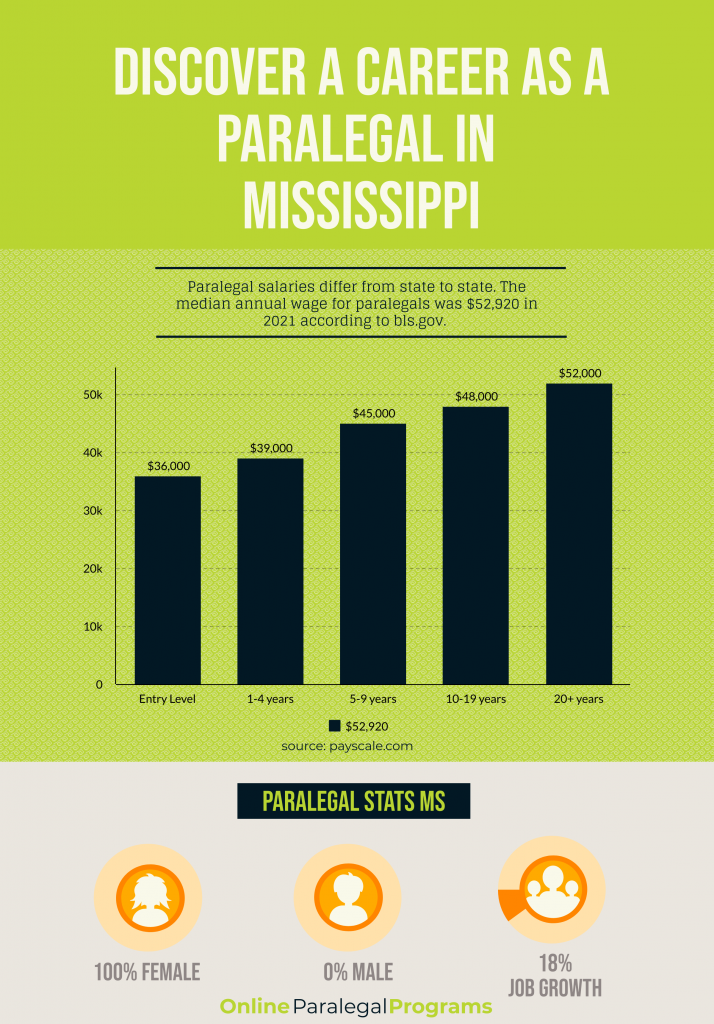 Education
Paralegal education varies from state to state. In Mississippi, there are two main types of educational paths.
One way is to attend an ABA-approved paralegal program or even a non-approved program. Mississippi has many programs that have not been approved by the ABA. Still, a lot of these programs are very worthwhile and can still help you get a paralegal job. The other option is to get a bachelor's degree in a relevant field other than paralegal studies. Many people become paralegals after studying criminal justice or social work, for example.
However, the state of Mississippi does not require paralegal licensure. It doesn't require a specific paralegal education, either. Theoretically, you could become a paralegal in Mississippi without earning a degree at all.
That being said, you may find some advantages in earning a paralegal degree. For one thing, your degree could put you ahead of the competition. Though the state may not require a degree or certificate, some law firms may require them for their paralegals. A degree can help you qualify for jobs that others may not qualify for. This way, you'll have a bigger job pool. And with more options, you may have a better chance of landing a job.
Even when a law firm doesn't require paralegal education, having a degree can still give you an advantage. When paralegals don't have a formal education, they have to learn on the job. Their employers, who are already busy, must train them.
Now, say that a lawyer wants to hire a paralegal. Most of her candidates have no formal training. One candidate, however, has graduated from one of the ABA-approved paralegal programs in Mississippi. Which candidate will most likely get the job? In this case, hiring an educated paralegal makes the most sense. By hiring an educated paralegal, the lawyer can save time. She won't have to take time out of her busy schedule to teach her new employee.
Plus, a paralegal education may help you earn a higher salary. When most paralegals don't have a formal education, those who do have one can use it as leverage when they negotiate their pay.
Thankfully, you have several educational options when it comes to paralegal studies. For example, many community colleges have paralegal programs. If you don't want a full bachelor's degree, an associate's degree can help you move forward.
You can also look for online paralegal programs in Mississippi. There are a number of nationally accredited programs that offer online degrees. These programs provide students with the tools they need to become paralegals, including instruction in law, bookkeeping, client intake, evidence, and more.
And if you don't have time for a traditional degree, online paralegal programs in Mississippi may be your best bet. Online learning programs offer many benefits, but the most significant one is that they help students save time. This is due to the fact that students can learn at their own pace and in their own time, without having to worry about missing class or tests.
There are also accelerated programs, which let students earn their degrees faster. Accelerated programs require the same amount of coursework, but they require it in a shorter amount of time. Those programs can be challenging, but they also help students get their careers started faster.
When looking for online paralegal programs in Mississippi, consider your goals first. Then, decide which program aligns best with those goals.
Certification and Licensure
Again, you do not need a Mississippi paralegal license to work as a paralegal. Still, you might decide that getting a Mississippi paralegal certification is the right choice for you. You may not need a Mississippi paralegal license, but certification can help you in many ways. You have several options when it comes to paralegal certification in Mississippi.
You can earn certification by taking an exam. Which exam? That's a great question. The paralegal profession has a lot of certification exams. These include:
The Paralegal CORE Competency Exam
The Paralegal Advanced Competency Exam (PACE)
The Certified Paralegal/Certified Legal Assistant Exam (CP/CLA)
The Professional Paralegal Exam (PP)
Each exam comes from a different organization. Each one comes with different requirements, costs, and study materials. Bypassing any one of these exams, you can prove that you have what it takes to succeed as a paralegal. You can compare and contrast your options to find out which one is right for you. You can even take more than one exam if you'd like.
One simple way to earn paralegal certification in Mississippi is to go through the Mississippi Paralegal Association, or MPA. They offer a few options for those who want to earn Mississippi paralegal certification. The MPA also offers continuing education courses. This way, you can keep learning even after you start your paralegal career.
Now, what does the testing process look like? Well, if you just searched for "Paralegal certification Mississippi online," you may not find the answers you want. All of these exams take place in testing centers. The good news is that you can find lots of study materials, including practice tests, online.
Also, keep in mind that earning certification is not the same thing as earning a certificate. A lot of people get the two confused. That's understandable. If you Google search "paralegal certification," you'll get a lot of results for paralegal certificates. It's easy to mix the two.
There is a difference, though. Certification is a lot like licensure. It comes from passing an exam. A certificate program, on the other hand, is a college program that takes about two years. You could earn a certificate in paralegal studies, much like you could earn a full degree in paralegal studies. The difference is that a certificate program would only focus on paralegal courses. A bachelor's degree would include other courses, like math and English, for a well-rounded experience. You can earn a certificate either online or in person.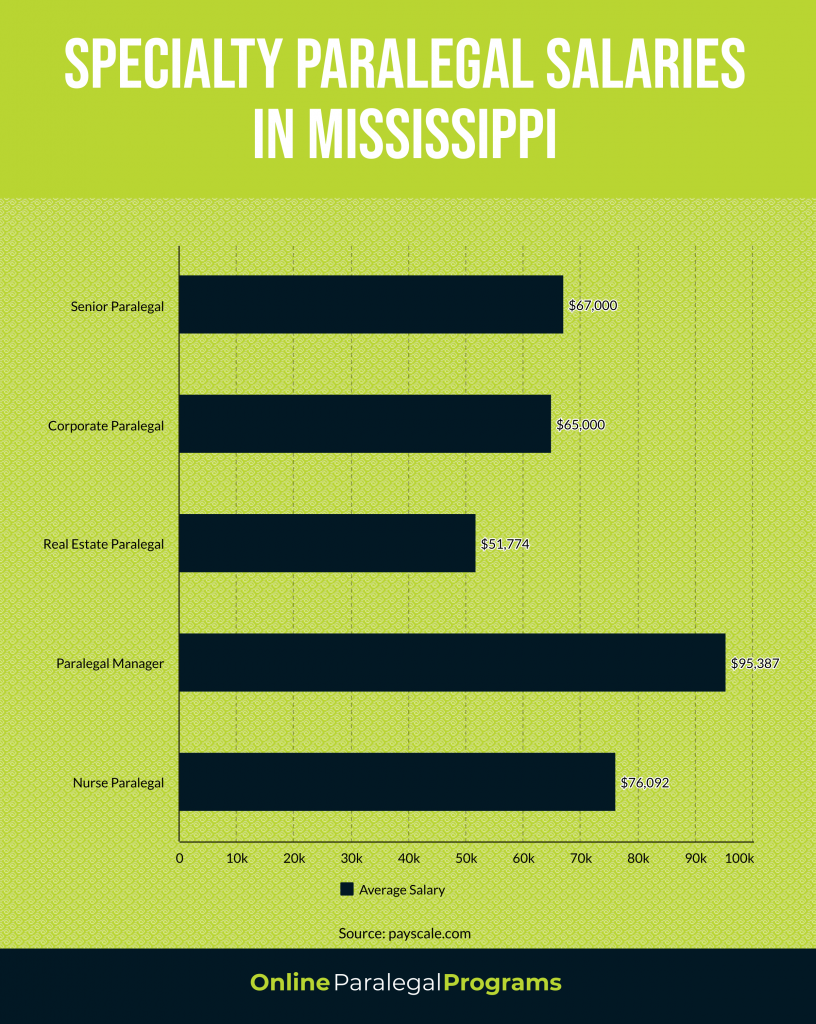 Job Market and Salary
You'll find a high demand for paralegals when you start your job search. Across the United States, paralegals and legal assistants are experiencing a 12% job growth rate, which is higher than average.
Mississippi goes beyond that average, according to the Mississippi Department of Employment Security. The paralegal profession is projected to grow by 15.5% between 2018 and 2028.
As paralegal jobs in Mississippi grow, you'll probably want to know what you can expect from a Mississippi paralegal salary. The average Mississippi paralegal salary is $51,501 per year.
Keep in mind that this number is the median. That means that about half of the paralegal jobs in Mississippi pay less than that number, and about half of Mississippi paralegal jobs pay more. A Mississippi paralegal's salary can be as low as $40,127 or as high as $64,212. It depends on the job.
A lot of factors can impact how much money you make as a paralegal. These include your location, experience level, education, and more.
For example, the more time you spend as a paralegal, the more money you can expect to earn. When you get started, you may not earn as much as you could earn several years from now.
Your location will also have a big impact on your earnings. A law firm in a big city like Jackson or Hattiesburg may pay more than a law firm in a small town.
The size of the law firm also makes a difference. For instance, you may work in a small law firm with relatively few clients. That law firm may not pay their paralegals as much as others. On the other hand, if you work for a large firm with multiple departments, you may get a higher salary.
The average Mississippi paralegal salary isn't always straightforward. You can find more accurate information if you know your goals. Don't just look for Mississippi paralegal jobs. For instance, do you know where you'd like to live in Mississippi? If so, you can look up the average paralegal salary for that area.
Paralegals do important work. In fact, that work is often vital. For many lawyers, their work wouldn't be possible without everything that paralegals do behind the scenes. The work isn't easy, but for many paralegals, it's deeply rewarding. Some paralegals wouldn't want to do anything else.
Of course, it's not easy to get a career started. On the one hand, a new career comes with a lot of excitement. On the other hand, not everyone knows where to start. Sometimes, the process can get overwhelming. Knowing your options is a great first step.
You have a lot of options for becoming a paralegal in Mississippi, and you can find success in any number of ways. Because Mississippi doesn't regulate the paralegal profession, you have flexibility. Just point yourself toward the pathway that will work best for you.
Start by deciding what you want from your education. Do you want to get started now and learn on the job? Or would you prefer a degree and certification?
If you choose the second option, what would your ideal paralegal degree look like? Would you rather learn online or in the classroom? Do you want an associate's degree or a full bachelor's degree? Would you learn best in a small program or a big one? These answers can help you as you get started.
Whichever pathway you choose, getting started as a paralegal can help you use your skills to help others. People will count on your excellent organization and research abilities.
Related:
ULTIMATE GUIDE TO NATIONAL PARALEGAL ASSOCIATIONS
5 MOST IMPORTANT PARALEGAL TRAITS
Ultimate Guide to State Paralegal Associations
School Finder