The ABA defines a paralegal as someone with education, training, or experience who performs substantive legal work that's typically the responsibility of a lawyer. The term substantive legal work can have a lot of different meanings. Because of that, paralegals also have constraints that keep them from working fully in the capacity of a lawyer.
A paralegal can:
Featured Programs
Conduct legal research and investigations
Interview witnesses and clients, and take dispositions
Write up legal documents
Perform administrative duties
Prepare legal summaries
Attend legal proceedings
Basically, a paralegal can do a lot of what a lawyer or attorney can do when it comes to the administrative side of the legal profession. However, a paralegal cannot:
Give legal advice
Accept cases
Usurp or interfere with the lawyer-client relationship
Sign papers on behalf of a lawyer's client
Represent a client in any Kansas court or agency
Set fees or collect fees on behalf of a lawyer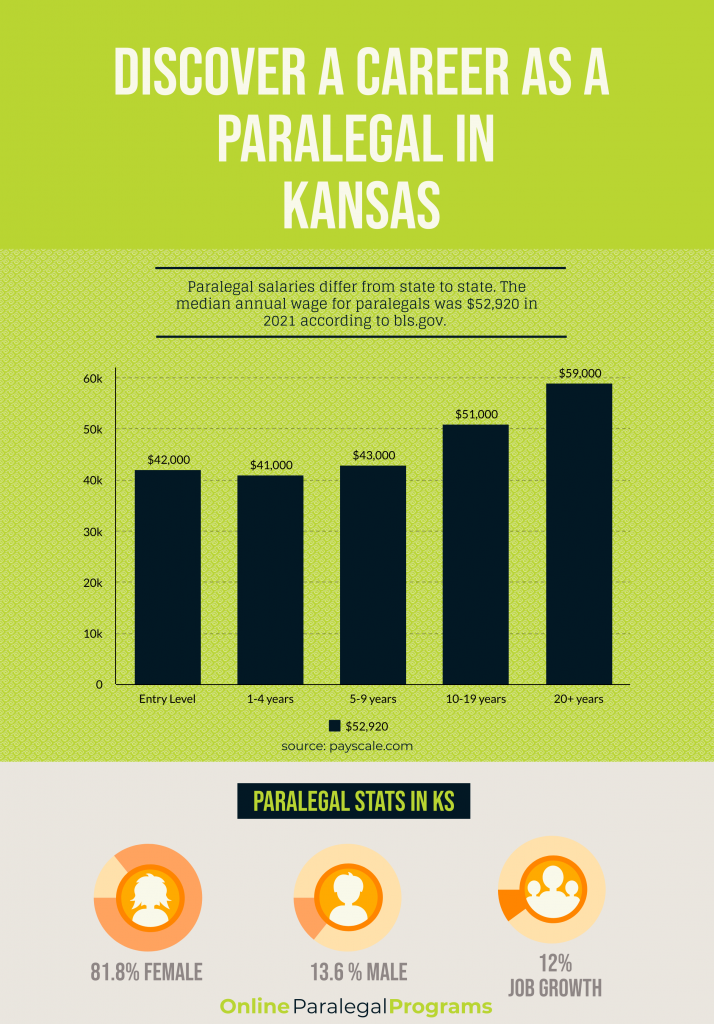 Outside of the things a paralegal cannot do, there are a lot of duties and potential duties a paralegal may have to take up or engage in. This is one of the main reasons why the paralegal profession is so important and why it's an excellent career to choose.
Becoming a paralegal in Kansas opens a world of possibilities for those who have the motivation and passion for the work. How to become a paralegal in Kansas can require a few steps, but since there are no specific Kansas paralegal requirements, it's possible to begin the process immediately for those interested.
School Finder
One thing that makes a paralegal career an excellent one to pursue is the versatility of the profession. Paralegals typically work in law firms or other legal offices for attorneys and lawyers. They handle a lot of duties and accrue a lot of knowledge about legal processes while they do so.
This is one reason why paralegals gain a lot of importance to not just the law firms that hire them, but to other institutions, both public and private. As stated, the paralegal requirements in Kansas don't dictate a need for a paralegal to have a formal paralegal education or certificate. But the Kansas Bar Association does set some guidelines for paralegals.
However, for someone to have the best chance when seeking how to become a paralegal in Kansas, there are several things they can do, which include seeking official education and training. In the end, the paralegal profession is one that can serve someone for the rest of their lives, or give them an introduction to legal concepts they can then use to pursue higher education.
Paralegals earn great salaries, do important work, and can often use their skills to start businesses of their own. Someone who becomes a paralegal in Kansas can expect to always have the skills needed to obtain employment from several sectors.
What Type of Education Does a Paralegal Need in Kansas?
There are several paralegal programs in Kansas, and that includes online paralegal programs in Kansas as well. In the state, a paralegal doesn't technically need any extra education to work as a paralegal. An applicant can apply for such a position and try their luck.
In some cases, a law firm may hire an individual in a lesser capacity and that person can work toward taking on paralegal duties for the lawyer or firm. However, the law firms in Kansas tend to only take on paralegals with education or experience, or both.
To that end, it makes sense for an applicant to start their journey toward becoming a paralegal in Kansas by taking a paralegal course that the local courts and legal institutions respect and look for. Applicants should look for offline or online paralegal programs in Kansas with American Bar Association approval.
The Kansas Bar Association has a paralegals committee that seeks to lay the framework and rules governing paralegals. Since paralegals work for attorneys and law firms predominately, ABA-approved paralegal programs in Kansas are the best avenue toward moving forward as a paralegal of any type.
The Kansas Bar Association's paralegal requirements recommend attorneys hire individuals that satisfy at least one of these conditions:
Completed an ABA-approved program or one that meets ABA standards
Passed one of the national certification exams
Has an undergraduate degree and a year of experience
Completed five years of work as a paralegal under an attorney's supervision
Once again, none of these things are necessary, but they are things that groups who hire paralegals in Kansas will look for. For those who want to become paralegals, many paralegal programs will include the things needed to satisfy more than one of these requirements.
For many, the best avenue toward becoming a paralegal will probably include on-campus or online paralegal programs in Kansas that also include an internship and a certification exam. This can satisfy multiple conditions while also making the graduate more attractive in the eyes of potential employers of any sector.
Do I Need a Certificate or License to Work as a Paralegal in Kansas?
Paralegal certification in Kansas isn't a necessity, but it certainly helps. The Kansas Bar Association tells attorneys to hire paralegals who fulfill certain requirements, and one of those requirements is the passing of a national certification exam.
That means getting paralegal certification in Kansas can often represent the avenue someone can take to become a paralegal in the state without any other qualifications. As with a degree program, a certification program will typically require some classwork, possibly an internship, and testing. The nationally recognized paralegal exams come from:
Certified Paralegal Examination from the NALA
Paralegal Advanced Competency Examination from the NFPA
In addition, many of the certification programs will also allow for a paralegal to then obtain a certification for a specific specialty or niche.
A Kansas paralegal license isn't something that anyone should look for. Just substitute the word license for certificate and all the same, rules apply. Other forms of paralegal certification in Kansas exist, but not all certification programs are the same.
Keep in mind that paralegals can fill niches and obtain titles that explain exactly what type of paralegal they are. This can become important for paralegals who want to earn more as a paralegal with a specialty. In addition, passing a nationally recognized certification exam can allow a paralegal to add the official Certified designation to their title.
As job titles are always important in careers, that added extra can turn into better pay or help someone rise above others when it's time for an employer to consider who to hire.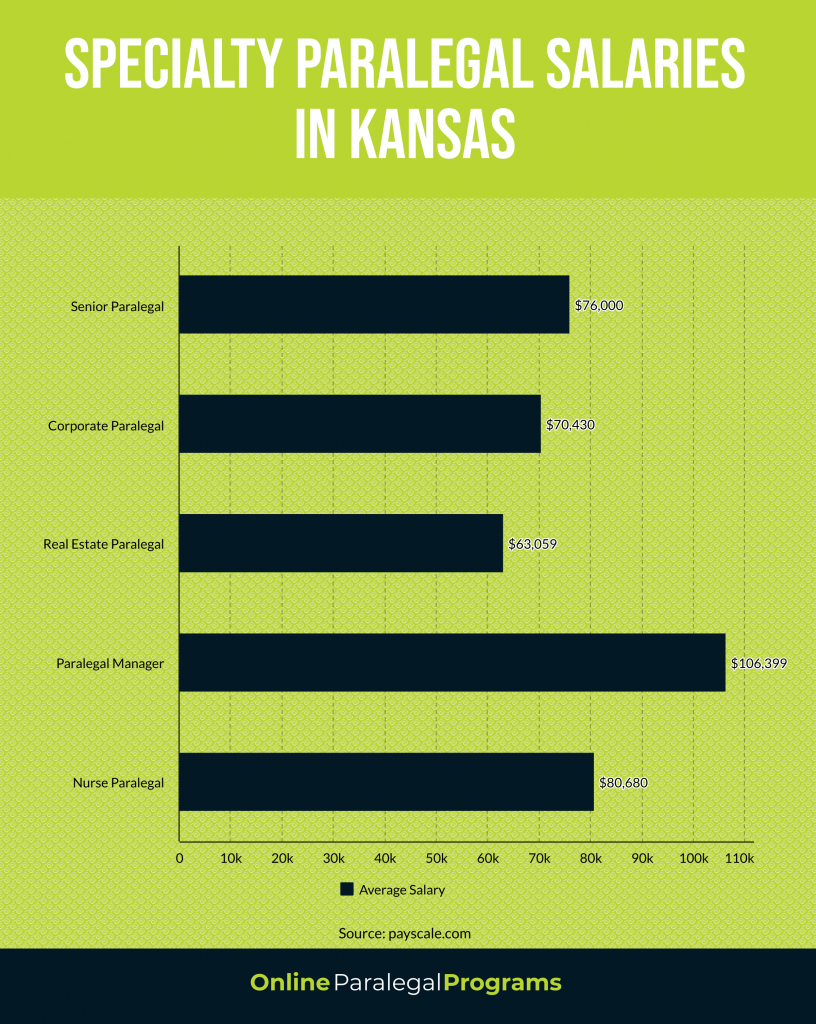 What Is the Job Market for Paralegals in Kansas Like? What Type of Salary Can a Paralegal in Kansas Expect?
Kansas paralegal salary potential can change depending on the applicant's education, experience, location, specialty, and other factors. The group doing the hiring can also dictate what the salary will look like. Paralegal jobs in Kansas exist in several fields.
Even though it's legal institutions that do much of the hiring, a paralegal can work for a multitude of places. For example, it's possible to work for:
The courts
Corporate legal departments
Insurance agencies
Finance-related organizations and businesses
Real estate companies
Nonprofit organizations
Government agencies, whether local, state, or federal
So, there are a lot of avenues accessible to paralegals. The salary expected can change dramatically from institution to institution. However, when someone looks for paralegal jobs in Kansas, it's important they don't limit their search to just law firms and attorney offices.
In addition, each of the different places where paralegals can work will often have subcategories, so specialization and even sub-specializations can become the key to earning far bigger salaries with Kansas paralegal jobs. A look at the institutions doing the hiring paints a picture that reveals just how different pay for paralegals can look between different fields.
For example, the Bureau of Labor Statistics shows that the median annual pay for paralegals who work for legal services it sits at $50.6k, but paralegals who work for finance and insurance companies have a median wage of $66.4k.
Beyond that, federally employed paralegals earn a median wage of $69.5k. The overall median annual pay for paralegals across the country sits at $53k. A median represents a middle value, so paralegals can also obtain far higher salaries in all these categories.
Indeed lists the base average salary for paralegals in Kansas is $31.2k. However, it also shows that certain employers pay over $70k. There's also a note that points out that certification can help a paralegal earn more money in Kansas.
Salary shows an overall entry-level salary average of $56.2k in Kansas and $65.4k with a few years of experience. Always remember there are different types of paralegals, and pay will look different between them.
Does Certification Help to Increase Kansas Paralegal Salary?
Certifications can help to increase the salary of a paralegal in Kansas. Many certifications have to do with specializations, and specializations almost always demand a higher rate of pay. A certification can help to establish that someone isn't just a paralegal, but a paralegal who also knows the ins and outs of a particular category of law or a particular subcategory of a category of law.
Instead of paralegal, certification can give someone the right to call themselves a criminal law paralegal and apply for work at criminal law institutions specifically. In addition, many employers will look for a particular type of paralegal, so certification can help them identify a potential prospect early on.
Do Professional Organizations Help Increase Kansas Paralegal Salary?
One thing that can help a paralegal earn more is to join a professional paralegal organization in Kansas. Membership in a professional organization looks good on a resume, shows the paralegal takes their career seriously and gives a boost to a paralegal's professionalism.
The organization itself can help a paralegal by providing information, continuing education, job leads, and other things the paralegal might not have access to otherwise. Kansas paralegal jobs don't require someone to have a membership, but a membership won't ever hurt job opportunities, and will always help a paralegal get ahead.
One of the biggest benefits of a professional organization is the ability to network. This is especially true for organizations working at the local and state level. Paralegals can meet and communicate with their peers, which can lead to better job opportunities, industry knowledge that can help a career, and an overall sense of community that can only help a paralegal in their profession.
Some professional paralegal organizations in Kansas include:
KPA – Kansas Paralegal Association (NFPA affiliate)
KCPA – Kansas City Paralegal Association
Kansas paralegal salary considerations can increase with membership, and some professional organizations have ties with local legal institutions. That means it's possible to rise to the top of those considered just because of membership to a professional organization.
Is Now the Right Time to Become a Paralegal in Kansas?
The need for paralegals will continue to grow, which means the market will become a little more competitive. That means the sooner an applicant can start becoming a paralegal in Kansas, the better and more prepared they will be.
Experience is usually the best multiplier for salaries and job opportunities in the paralegal field, so having that experience as the market grows will put paralegals into higher-paying and leadership roles. Because there's no end to the specializations a paralegal can take on, there's also no end to the potential work and opportunities for paralegals.
Continuing education can help someone move up as a paralegal in several ways. Even for people already working as a paralegal, gaining more education can still help. This is especially true of institutions that have paralegal levels, such as senior paralegal, paralegal 2, paralegal managers, and other paralegal leadership roles.
In such cases, the combination of experience and education will come to the fore to help the paralegal claim the new job title. If an employer has some sort of tuition program or other programs that helps a paralegal gain more education or specializations, then it's a good idea to take advantage of it.
For those who want to move into pre-law or other fields where law plays an important role, the experience earned as a paralegal will become invaluable. Also, for that reason, it's a good idea to earn a degree in the field rather than just a certificate.
The degree can help with the transition into graduate-level education. The paralegal profession in Kansas is one that's certainly worth pursuing.
Related:
ULTIMATE GUIDE TO NATIONAL PARALEGAL ASSOCIATIONS
ULTIMATE GUIDE TO STATE PARALEGAL ASSOCIATIONS
Ultimate Guide to State Paralegal Associations
School Finder