Have you considered a professional path to a career as a paralegal professional in Illinois? To begin, it is essential to understand the paralegal requirements in Illinois if you are to meet your career objectives. Read on to discover the way to navigate the Illinois paralegal requirements.
Illinois and the Paralegal Marketplace
The state of Illinois – known as the Land of Lincoln, was adopted as the 21st state in 1818. Three US presidents were elected as Illinois residents – Abraham Lincoln, Ulysses Grant, and Barack Obama. The state is divided into roughly three economic divisions –
Featured Programs
Northern Illinois – which is primarily dominated by the greater metro Chicago area
Central Illinois – which is the heart of the state and home to prairies and small to medium cities
Southern Illinois – which includes the area where the Ohio and Mississippi Rivers meet
The capital of Illinois is Springfield, geographically near the center of Illinois. Its largest city is Chicago – the Windy City, a large metro urban area that is among the top 3 populous cities in the US. For statistical purposes, the greater Chicago area includes 16 Northeast Illinois counties. Chicago's main airport – O'Hare, is considered to be one of the globe's busiest airports. The state's population in 2021 was 12,500,000+ and ranked as the sixth most populous state in the country.
Paralegal services play an important role in Illinois' diverse economic sectors –
Agriculture and Production – a leading meat processing and food manufacturing state.
Manufacturing – Illinois' manufacturing is the fourth most productive
Services – Chicago is home to mercantile exchange & other agriculture future markets. Non-manufacturing includes energy distribution, tourism, and publishing, to name a few
Energy – including coal, petroleum, nuclear power, wind, and biofuels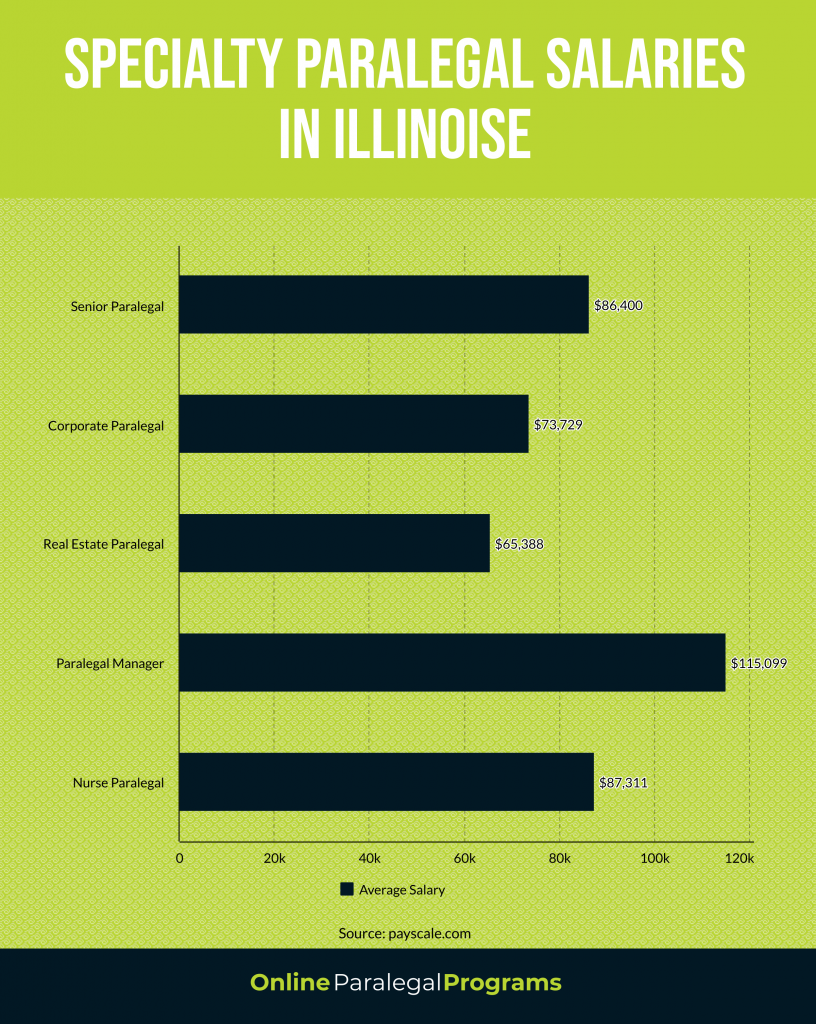 How to Become a Paralegal in Illinois?
The state of Illinois has no registration or certification requirements, except that paralegal professionals must comply with the state's rules of professional conduct and ethics. Additionally,
School Finder
A paralegal working in Illinois must be 18+ years old to qualify for this job.
A paralegal must be authorized to legally work in the United States – either as a US Citizen or a Green Card Holder.
Those aspiring to become an Illinois paralegal can choose from a few paths to reach their paralegal career objectives. But to improve one's chances of establishing a rewarding paralegal career, students are encouraged to enroll and complete an on-campus or online paralegal program in Illinois. Note, however, that most Illinois employers prefer to hire a candidate who has either sufficient professional experience (earned through on-the-job training) or a certificate or degree in paralegal studies.
It is essential for aspiring paralegals to understand most employers tend to prefer a job candidate with a minimum of an associate degree or some other type of structured training or professional experience.
The Illinois Paralegal Code of Ethics
The Illinois Supreme court codified the practice of law, and the ethical standards attorneys must uphold to remain within state law. The Illinois Paralegal Association recognizes these standards and has chosen to apply these ethical cannons – those which define the expectations of paralegals, to those practicing in the state. Illinois's paralegal code of ethics (12 Rules, established – 1972) requires that paralegal professionals –
Never represent themselves as licensed attorneys.
Always be supervised by a licensed attorney.
Never offer legal counsel to clients.
To maintain the standards of appropriate conduct, competence, confidentiality, and solicitation as delineated in the Illinois paralegal Code of Ethics, to name a few.
Now that you know how to become a paralegal in Illinois, let's review the education options that lead to a rewarding paralegal career in the Land of Lincoln.
Paralegal Education
At present, Illinois has no statute/law that determines the education requirements for aspiring paralegals. There are non-accredited as well as ABA-approved paralegal programs in Illinois from which to choose. There are differences that exist among these types of paralegal programs, but note, employers tend to prefer candidates who hold a certificate or degree from one of the non-accredited as well as ABA-approved paralegal programs in Illinois. In addition, those seeking national certification as a paralegal will find most organizations require credential candidates who have graduated from one of the quality campus-based on online paralegal programs in Illinois.
Paralegal work is considered a sub-specialty of the larger legal sector. The demand for paralegals has seen a recent uptick as companies and organizations look to reduce the cost of doing business by improving efficiencies.
Available online paralegal programs in Illinois prepare students to rewarding careers with programs that train and explore in these legal areas –
Corporate Work
Litigation
Family Issues
Hearings
Real estate, among many others.
Are you one of the many aspiring paralegals who have already earned a baccalaureate degree in a field that is unrelated to paralegal studies? If so, you may be able to reach your career goals by enrolling in an online or on-campus paralegal certificate program. This is because the previous degree includes substantial general education that need not be repeated. The paralegal certificate programs provide a focused educational approach to paralegal studies.
Campus-based on online paralegal programs in Illinois may offer the opportunity for students to specialize in an area of interest, which may include, in part –
Criminal Law
Litigation
Corporate Law
Real Estate Law
Labor Law
Personal Injury Law
Intellectual Property Law
Bankruptcy law
Immigration, among others.
Certificate Paralegal Programs
A certificate program in paralegal studies offers students an excellent way to demonstrate one's legal skills, professional knowledge, as well as a professional commitment to their future career as a paralegal in Illinois. Most paralegal certificate programs can be completed in only a few months, although requirements vary from program to program. Classes cover the following relevant topics –
Substantive Law
Ethics
Legal Research
Legal Procedures, Among Others.
Paralegal Studies Associate Degree Programs
Students interested in attending an associate degree in paralegal studies will find there are many quality campus-based and online paralegal programs in Illinois.
Most paralegal programs at the associate level require degree candidates to complete 60 to 65-semester credits to meet program requirements. As such, students typically finish an associate degree in paralegal studies in 12 to 24 months, depending on time commitments.
Paralegal Studies Bachelor's Degree Programs
A paralegal degree at the bachelor's level provides aspiring paralegals with a comprehensive education, which requires both specialized paralegal classes and general education. With the popularity of online coursework, students can now choose a paralegal program offered online that offers great flexibility. Featured classes for a paralegal baccalaureate degree program –
Analytical & Critical Thinking
Research Methods
Document Preparation
Legal Proceedings and Hearings
Criminal Processes
Case Study Analysis
Note – paralegal studies at the bachelor's level will prepare students to sit for national certification credential exams.
Illinois Paralegal Certification/Licensure
The formal process that is known in the educational realm as accreditation is simply an evaluative process by which a neutral/sanctioned agency or organization compares the school or program to a predefined criteria list.
There are no Illinois paralegal license requirements at this time. In addition, there are no state-level options for paralegal certification in Illinois; but there are paralegal certification options available on a national level.
Choosing to earn paralegal certification in Illinois at the national level is a prudent way to demonstrate skills and to further one's knowledge in a paralegal specialization. It is noted that aspiring paralegals will find there are paralegal certification Illinois online and on-campus programs –
National Credentials for Those Seeking Paralegal certifications in Illinois
Illinois paralegals working have these national certification options –
The CP – The Certified Paralegal Credential – this is a globally recognized credential and a great choice for an Illinois paralegal certification program. The Certified Paralegal Credential provides professionals with a way to demonstrate their skills and legal knowledge by completing a national exam. This national certification must be renewed every sixty months with a continuing education requirement of 50+ hours of NALA-approved programs.
The ACP – The Advanced Certified Paralegal – this credential provides paralegals the opportunity to specialize by furthering their education in a specific subspecialty in law. Like the CP, the Advanced Certified Paralegal credential must be renewed every sixty months with a continuing education requirement of 70+ hours of NALA-approved programs.
The Nat'l Federation of Paralegal Association – NFPA
The Paralegal Advanced Competency Exam Credential (aka PACE)– this credential has minimum work and education requirements. Paralegals who pass the PACE exam may use the RP credential as a professional paralegal.
Credential candidates must also not have had –

Previous felony convictions
Any certificate, registration, or license revoked, terminated, or jurisdiction.

The Paralegal Core Competency Credential (aka PCCC)- The PCCC provides paralegal professionals an alternate path to demonstrate their legal knowledge and paralegal skills for potential employers when first starting.
The Certified Legal Professional (aka CLP/PLS Credential)– this credential is available for those seeking paralegal certification in Illinois. The CLP/PLS credential requires potential candidates to demonstrate a working legal knowledge and paralegal skills. The CLP credential is renewable every sixty months, with a continuing education requirement of 75+ hours of NALS approved programs.
Illinois' Paralegal Organizations
The Illinois Paralegal Association was founded in the 1970s as an organization to support paralegal professionals and their community. The IPA is affiliated with the NFPA and requires paralegal professionals in the state to adhere to the Illinois Code of Paralegal Ethics.
The Central Illinois Paralegal Association (CIPA) offers support and resources to paralegals working in the central portion of the state. The CIPA offers four levels of membership to suit most paralegal professionals. The CIPA is NALA-affiliated.
Illinois' Paralegal Related Organizations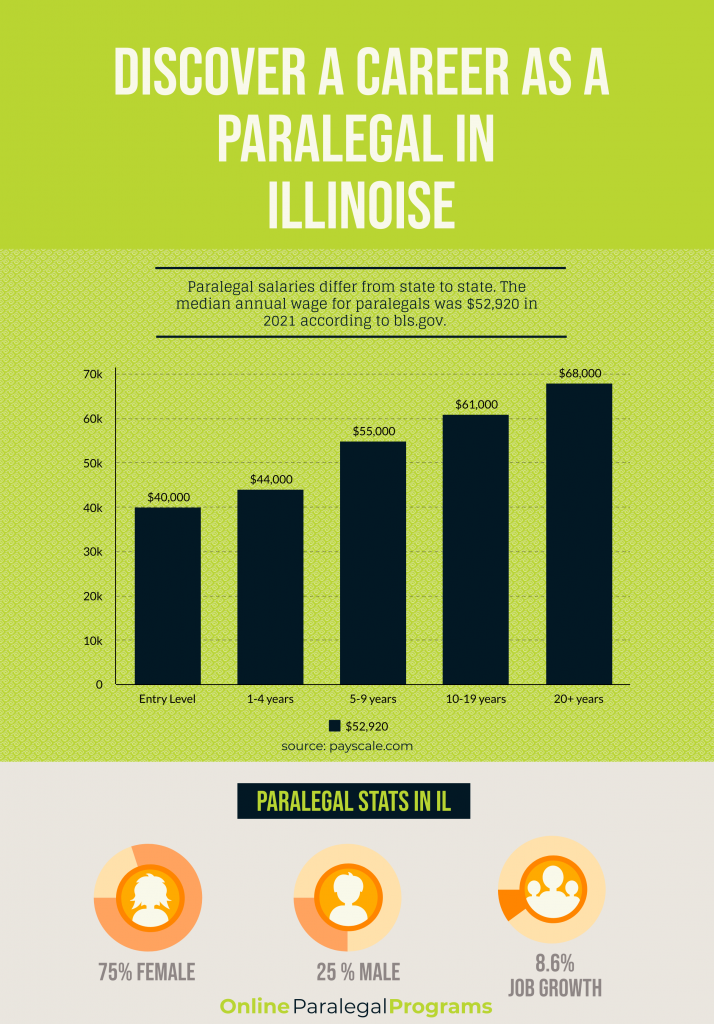 Illinois Paralegal Salary & Job Market
A paralegal professional is an important member of a legal team organization. Their supportive role to attorneys is always supervised by a licensed lawyer, with the attorney entirely responsible for the paralegal's actions and choices.
According to the Occupational Handbook from the Bureau of Labor Statistics, the 345,000+ paralegal professionals had a 2020 median yearly salary of approximately $53,000. The statisticians note that the anticipated job growth for paralegal professionals over the next decade is 12%, which is faster than the 8% national average. The range of salaries for paralegal professionals in May 2020, is as follows –
| | | |
| --- | --- | --- |
| Salary % | Paralegal Annual Wage | Paralegal Hourly Wage |
| 10% | $ 32,900 | $15.82/hr. |
| 25% | $ 40,640 | $19.54/hr. |
| The Median – 50% | $ 52,920 | $25.44/hr. |
| 75% | $ 67,080 | $32.25/hr. |
| Top of the Scale @ 90% – | $ 85,160 | $40.94/hr. |
Illinois Paralegal Salary & Data Information
In 2020, there were more than 13,000 paralegal jobs in Illinois. These Illinois paralegal jobs provide professionals with a wide variety of options. The median yearly wage for paralegals working in Illinois in 2020 was $60,390. Note that the median salary for Illinois paralegal jobs is more than 10% higher than the national median yearly salary.
Various Paralegal Jobs in Illinois
Illinois Paralegal Jobs
Illinois Paralegal Salary
Yearly
# Employed
Chicago/Naperville
$ 61,140 per year
11,480
St Louis/MO/IL
$ 51,690 per year
3,400
Springfield
$ 65,110 per year
260
Peoria
$ 53,530 per year
230
Rockford
$ 51,320 per year
220
The Take-Away – Illinois Paralegal Jobs & the Market
Of the many potential careers in the market, a paralegal provides one of the quickest tracks towards employment as a professional. Paralegal salaries vary and are contingent on the professional's education, experience, and credentialing.
And while Illinois has no specific statutes mandating licensing or certification for paralegals, most employers prefer to hire job candidates with some form of formal education. As such, aspiring paralegals can gain a competitive advantage by completing available programs in paralegal studies.
As companies and agencies reach for better efficiencies, it is likely that the demand for paralegal services will only grow. It is a great time to become an Illinois paralegal – are you ready?
Related:
ULTIMATE GUIDE TO STATE PARALEGAL ASSOCIATIONS
5 MOST IMPORTANT PARALEGAL TRAITS
Ultimate Guide to State Paralegal Associations
School Finder