Are you searching for an Ultimate Guide to State Paralegal Associations? If so this is the guide for you to get you started! Choosing a career in the legal field or becoming a paralegal is a good career move on many levels. Working as a paralegal can be a rewarding, educational, exciting, fast-paced, and ideal job for those seeking a career in law or as an attorney. Becoming a paralegal, however, often involves getting in contact with state paralegal associations for many aspiring paralegals and attorneys.
That is because national and state paralegal associations are recognized for producing paralegals that are skilled, proven, and ready to succeed in their roles. This also makes finding a good national or state paralegal association that much more important.
Featured Programs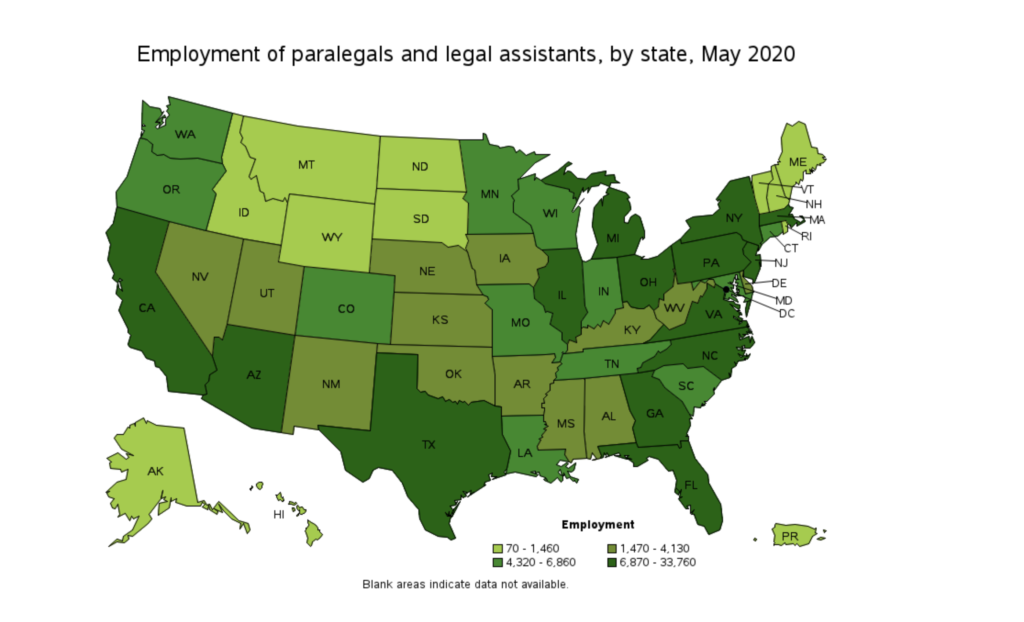 Even law school graduates from the most revered programs, colleges, and universities pursue paralegal association certificates. That is because they understand the value of earning these important credentials, which leads us back to finding the right paralegal association certifications for your legal career and future plans.
Finding the right paralegal association is also be where many future paralegals get can get lost, overwhelmed, and confused. Part of the problem is a result of abundance as there are many options from the national to state paralegal associations to choose from. What are the differences between national and state paralegal associations? What benefits do these options offer and is one type of paralegal association better than another?
These are just a few of the countless possible questions that may arise when seeking a national or state paralegal association. Along the way, this state paralegal association guide will hopefully help to answer a few of those questions, add some clarity, or at least help to point you in the right direction to find out more information. Finding the right paralegal association to help further your legal career begins with finding these valuable organizations.
School Finder
To make those efforts easier, we have composed a quick guide to help people looking for state paralegal associations. This guide lists reference points for paralegal associations by state broken down by regions. This is intended to make it easier and quicker to search your state paralegal associations.
Before listing those paralegal associations by state, it might be helpful to first address a few frequently asked questions. Deciding to pursue a career in the field of law is admirable, and it can be financially and personally rewarding. For some legal professionals and future legal professionals, a paralegal role is the goal. For others, a position as a paralegal is a stepping stone on their journey toward other legal aspirations.
To assist those seeking opportunities through state paralegal associations, or national level associations, we will look at some of those common concerns, questions, and the role a paralegal plays in the legal process. We will also briefly touch on the topics of special interest paralegal associations, how a paralegal position can help your legal career, and more.
---
States with the highest employment level in Paralegals and Legal Assistants:
| State | Employment | Employment per thousand jobs | Location quotient | Hourly mean wage | Annual mean wage |
| --- | --- | --- | --- | --- | --- |
| Florida | 33,760 | 4.00 | 1.67 | $ 25.05 | $ 52,100 |
| California | 33,490 | 2.04 | 0.85 | $ 31.85 | $ 66,250 |
| Texas | 27,630 | 2.28 | 0.95 | $ 27.41 | $ 57,020 |
| New York | 27,540 | 3.17 | 1.32 | $ 30.06 | $ 62,530 |
| Illinois | 13,320 | 2.37 | 0.99 | $ 29.03 | $ 60,390 |
---
Here are a few of those common inquiries regarding national and state paralegal associations, and some helpful information to get you pointed in the right direction.
Are State-Level Associations More Useful than National?
There can be some confusion and some gray area when it comes to the various national and state paralegal associations. Here are few pieces of information that should help shed light on some of the dark or gray areas.
A common question regarding paralegal associations in the value, worth, or importance of state versus national-level paralegal associations. There is no regulating body that currently oversees paralegal associations, meaning these types of organizations, and this aspect of the paralegal system is autonomously maintained. By definition of the term 'paralegal association' essentially explains the framework and structure of the paralegal associations on both the national and state levels.
Generally defined as an organization or collective group of educators, students, legal professionals, and others who offer a range of services, resources, and assistance to paralegals. In some cases, these paralegal organizations can even be dedicated to very specific considerations such as gender, background, etc.
Paralegal associations can be national or state-based in scope or they can be dedicated to paralegal professionals serving specialized interests or from certain backgrounds. Although paralegal certifications aren't a requirement to become a paralegal, it is advised and supported by many legal professionals and organizations. Do state paralegal associations offer more benefits than national paralegal associations, or do niche or special paralegal associations prove to be more useful?
When attempting to determine if state-level paralegal associations are more useful than national paralegal associations, each case will be based on the circumstance and situation. Here is the good news, in most cases both national and state paralegal associations that are recognized by the national bar (American Bar Association – ABA) or its state bar will be sufficient.
State paralegal associations, for example, can be particularly important when dealing with state-related legal issues. State paralegal associations are a primary resource for staying updated with that state's mandates, revisions, and other legal matters. This also makes state paralegal associations very attractive for those seeking in-state employment or potential careers as attorney's in a particular state.
Each state has its own set of laws and a legal framework that guides and directs the legal process with its borders. In many cases the laws of a state or of a local state jurisdiction are either laws that are not addressed under federal mandates or that are specific to that state's government. In these situations, those with a state paralegal association certificate and membership are also those most likely to be aware of that particular state's laws, revisions, amendments, and other state-related legal facets.
This doesn't only make paralegals with a state paralegal association certification a skilled and reliable asset, it also makes them a valuable resource for any legal agency, firm, or office. There is no replacement for experience and in the legal arena, this fact couldn't be any more true than it is in the legal field. Working as a paralegal not only provides valuable experience with understanding and learning the legal process, but it also provides invaluable experience in the legal environment.
Are state-level associations more useful than national paralegal associations? Depending on the situation, the case, and the other variables it very well can prove to be more helpful. While that isn't always the scenario, it often might be. The more important consideration is how a state paralegal association certificate can help the legal careers of graduates, paralegals, and future law professionals.
Along with the practical benefits afforded by a state paralegal association certificate, there are many other advantages these valued associations offer. Some of those benefits are obvious while others are not so obvious, but the bottom line is earning a state paralegal association certificate can be helpful for your career, now and later.
That leads to another one of the more frequently asked questions regarding the ways a paralegal association can be beneficial for your career. This question covers areas such as employment and earnings, to areas like job success, and training. We also look at this question from the perspective of those seeking to further their legal careers and how a paralegal association certificate can help to make that happen.
This section also briefly takes a look at the services and offerings of various paralegal associations, and how those resources, tools, and services can help paralegals to succeed in their current roles and or continue advancing in the legal field. This information may also make it easier to decide between what type of paralegal association to consider joining. It may also make it easier to better understand how the benefits of a paralegal association membership and certificate can be used to help legal professional reach their goals.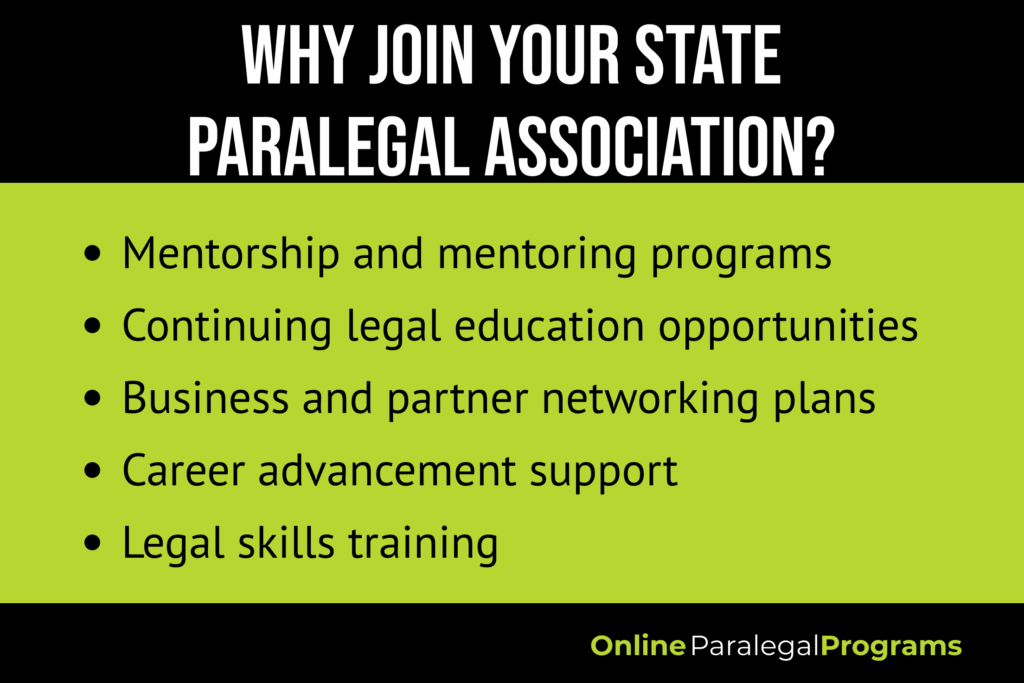 How Can a State Paralegal Association Help My Career?
One of the most beneficial aspects of working as a paralegal is the many ways it can help or even advance the career of a legal professional. Paralegals are charged with many tasks. State paralegals, in particular, are asked to do many legal activities such as drafting court documents or research-related work.
These duties require understanding the verbiage of law and the typical jargon and terms commonly used in the field. It can include pulling case files, legal documentation, and many other specific legal functions used in daily legal activities.
In other roles, filing documents, maintaining files, or other such functions performed by paralegals on a state level provide a better understanding of a state's legal system and processes. Insights such as these and other valuable benefits are a result of working with state paralegal associations. These are also the type of rewards and benefits that can count when pursuing to advance one's legal career.
Some of the more common services provided by paralegal associations can include:
Mentorship and mentoring programs
Continuing legal education opportunities
Business and partner networking plans
Career advancement support
Legal skills training
State paralegal associations are also often associated or affiliated with national paralegal associations. In fact, there are a few national paralegal associations such as the ABA, NALA, and the NFPA, that are well-recognized and that have affiliations with many state paralegal associations.
Another benefit offered by national and state paralegal associations is the experience and familiarity with the legal process that will be learned as a paralegal. In addition to filing, paperwork, and drafting documents, paralegals often get the opportunity to get involved with clients. This can include the necessary steps required to review and summarize minutes, meetings, and records, in addition to actually being the liaison to the client.
These types of interactions and experiences are also an opportunity to help people, families, and companies. These roles mean that paralegals play an intricate and important role in the process of law and legal proceedings. The real benefit of working as a paralegal though is arguable the wealth of information and knowledge that can be gained.
These are learned skills and responsibilities that will also pay dividends for those who wish to further their careers. In addition to staying alert and familiar with local and state law, and beyond the actual work experience, affiliation with state paralegal associations is also a feather in your cap.
That might mean getting the nod over another candidate for a highly desired paralegal position or simply being a resource to help answer a question, or perhaps even information about new career opportunities? However it helps, the answer is yes, a paralegal association can help your career.
What States are the Best for Paralegals?
Another common question regarding state paralegal associations surrounds what states are best for paralegals. While every state and the state paralegal associations that take up residence there may offer services and support for the legal community, they all are self-governed and regulated.
For future law professionals and those seeking state paralegal associations, it may require verification of the state paralegal associations being considered. The good news is that most state paralegal associations are trustworthy and easy to verify.
Many of these state paralegal associations may also have an affiliation with one of several recognized and respected national paralegal associations. Good state paralegal associations also provide services, support, and resources for the local legal community, including paralegals.
The value of joining a state paralegal association is very similar in nature to the value of joining a national paralegal association. In both cases, members get access to a valuable network of legal professionals that provide experience, support, and guidance. Each type of associate on both the state and national level also afford members opportunities to learn, improve their skills, and become better paralegals.
If you find yourself asking these questions, then that likely means that you are asking the right questions and taking the right steps. Now, are you ready to roll up your sleeves and find good state paralegal associations in your state to help advance and further your legal career? Then chances are you won't have too much difficulty finding the support, services, and kind of association you need.
Are you looking for the best paralegal opportunities in your state? Well, we have done the legwork for you and broken down some of the best state paralegal associations to help. We have also broken the country down into five regions: East, Midwest, South, West, Northwest.
If you are looking for what states are best for paralegals or some of the best state paralegal associations for your state, then find your region and then locate your state. The name of the paralegal associations by state will be listed with a link to their site. These are not exhaustive lists but provide at least one reliable association and links to those corresponding state paralegal associations.
No, you don't need to join a paralegal association to become a paralegal, but you are one step ahead if you do. There are many associations for a variety of industries and fields, and paralegal associations provide many of the same benefits as other industry or field-specific organizations.
So without further ado, your guide to state paralegal associations and the paralegal association for your state too.
Paralegal Associations: Eastern US
Delaware
Delaware Paralegal Association
Maine
Maryland
Maryland Association of Paralegals, Inc.
Massachusetts
Central Massachusetts Paralegal Association
Massachusetts Paralegal Association
New Hampshire
Paralegal Association of New Hampshire
New Jersey
South Jersey Paralegal Association
New York
New York City Paralegal Association, Inc.
Paralegal Association of Rochester, Inc.
Western New York Paralegal Association
Rhode Island
Rhode Island Paralegal Association
Vermont
Vermont Paralegal Organization
Washington
Washington State Paralegal Association
Washington, D.C
National Capital Area Paralegal Association
Paralegal Associations: Midwestern US
Illinois
Central Illinois Paralegal Association
Illinois Paralegal Association
Indiana
Michiana Paralegal Association
Northeast Indiana Paralegal Association
Kentucky
Greater Lexington Paralegal Association
Western Kentucky Paralegals
Michigan
Ohio
Cleveland Association of Paralegals, Inc.
Paralegal Association of Central Ohio
Pennsylvania
Central Pennsylvania Paralegal Association
Chester County Paralegal Association
Pittsburgh Paralegal Association
West Virginia
Legal Assistants Paralegal of Southern West Virginia
Wisconsin
Madison Area Paralegal Association
Paralegal Association of Wisconsin
Paralegal Associations: Southern US
Alabama
Alabama Association of Paralegals, Inc.
Florida
Central Florida Paralegal Association
Gainesville Association of Paralegals, Inc.
Paralegal Association of Florida, Inc.
Tampa Bay Paralegal Association, Inc.
Georgia
Southeastern Association of Legal Assistants
Louisiana
Louisiana State Paralegal Association
Mississippi
Mississippi Paralegal Association
North Carolina
Metrolina Paralegal Association
North Carolina Paralegal Association
South Carolina
Charleston Association of Legal Assistants
Tennessee
Tennessee Paralegal Association
Virginia
Richmond Paralegal Association
Tidewater Paralegal Association
Paralegal Associations: Western US
Arizona
Arkansas
California
Orange County Paralegal Association
Sacramento Valley Paralegal Association
San Diego Paralegal Association
San Francisco Paralegal Association
Colorado
Rocky Mountain Paralegal Association
Central Connecticut Paralegal Association, Inc.
Kansas
Kansas Association of Legal Assistants
Missouri
Saint Louis Paralegal Association
Nebraska
Nebraska Paralegal Association
Nevada
Sierra Nevada Association of Paralegals
New Mexico
State Bar of New Mexico Paralegal Division
Oklahoma
Oklahoma Paralegal Association
Texas
Capital Area Paralegal Association
Northeast Texas Association of Paralegals, Inc.
Southeast Texas Association of Paralegals
Texas Panhandle Paralegal Association
Tyler Area Association of Legal Professionals
West Texas Paralegal Association
Utah
Paralegal Associations: Northwestern US
Idaho
Idaho Association of Paralegals
Minnesota
Minnesota Paralegal Association
Montana
Montana Association of Legal Assistants-Paralegals
North Dakota
Red River Valley Paralegal Association
Oregon
South Dakota
South Dakota Paralegal Association
Wyoming
Paralegal Associations: Non-Intercontinental States
Alaska
Alaska Association of Paralegals
Hawaii
Finding and joining the right state paralegal associations for each future and current law professional will depend on several factors. The most important of these, of course, is finding recognized and respected associations. Paralegal associations by state will vary, from the services they offer, to the testing and examination practices they employ.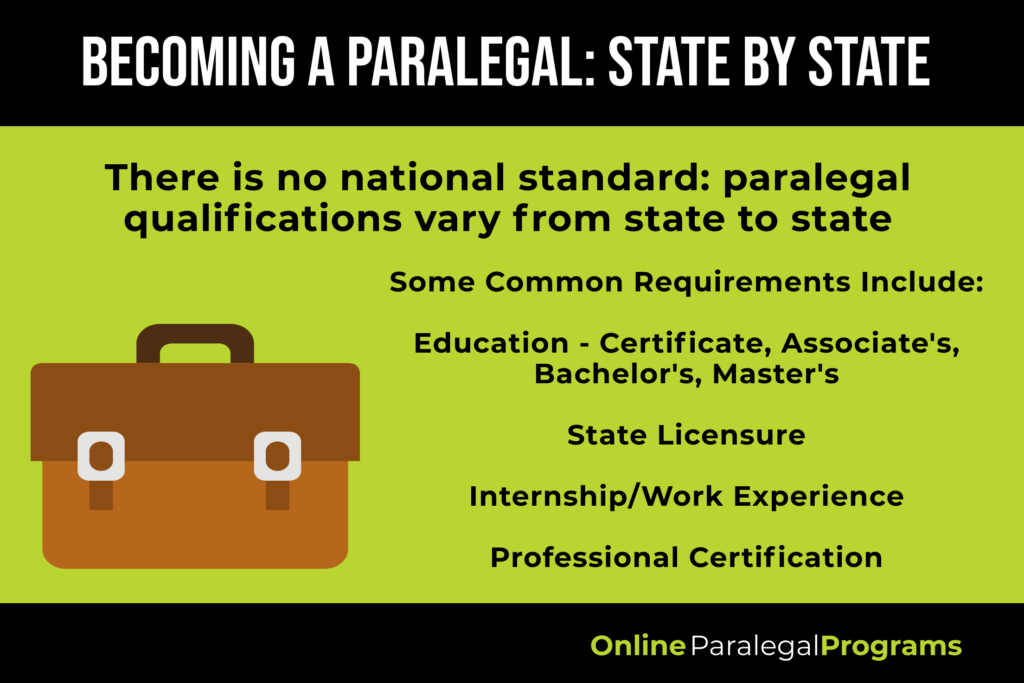 In most situations, state paralegal associations are fairly transparent with their policies, their services, and when it comes to outlining membership requirements, expectations, and responsibilities. That is also more good news for anyone looking for state paralegal associations.
Every state has guidelines and regulations, and the same is true for those who employ paralegals. That is largely due to the vast range of responsibilities and the various types of work that might be assigned to a paralegal. Having a state paralegal association certificate also does much more than help candidates stand out.
Attorneys and legal professionals of every category need, use, and rely on paralegals to perform their work. Candidates who hold a state paralegal association or national paralegal association certificate is a candidate who ensures their potential employer that they have the skill and training needed to excel in these roles.
Earning a national or state paralegal association certificate isn't easy. Most paralegal associations have rigorous training courses and extensive classes designed to refine skills and prepare paralegals for success. These programs typically conclude with an examination that results in a certificate awarded to graduates of these programs.
This also results in another benefit for paralegals who earn these national and state paralegal association certificates. Classroom and textbook education doesn't always translate smoothly into real-world scenarios and situations. Those who enter the legal field having had the skills training and who have earned a paralegal association certificate, also enter with confidence. And that typically does translate smoothly into real-world situations and often leads to success.
Looking to take the next step in your legal career? Are you looking for legal support and resources to become better at your job? Is this position a step on your journey to becoming an attorney? State paralegal associations can help with all of these areas and more.
Paralegal professionals have a big responsibility and they provide a range of services that are invaluable to the legal process and operations of legal offices everywhere.
Considering earning a state paralegal association certificate can be an excellent investment for those who are planning to pursue a career in the legal field, for those who are pursuing a legal career, and for current legal professionals. These state association certificates provide benefits for legal firms and offices, for clients, for paralegals, and for the legal profession itself.
Good luck in all your educational pursuits and with your legal career.
Related:
School Finder