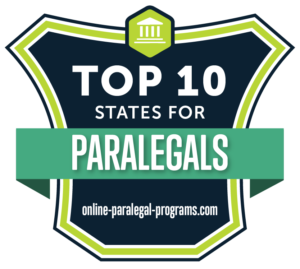 The field of paralegals and legal assistants is expected to grow substantially by 2026 – as much as 15%, according to the United States Bureau of Labor statistics. Paralegals are going to be a field with jobs in demand because the legal profession depends on them to a significant degree. Paralegals are the ones who do the bulk of the heavy lifting – research, document preparation, scheduling, and more. Although the requirements for becoming certified vary by state, generally people obtain a two-year Associate's Degree with certification prior to entering the field.
Like any career choice, work opportunities in the paralegal field can vary by state, and in order to ascertain geographies that have a strong outlook for paralegal jobs, one can look at states that are projected to have strong economic and population growth over the next ten years, as these are the areas where the law profession will grow proportionately. In some cases, jobs in demand are a matter of a pent-up backlog from states that were particularly slow the past few years.
Featured Programs
How We Ranked the Top 10 States for Paralegals
Our focus is entirely on paralegal salary. Online Paralegal Programs editors asked how much do paralegals make from state to state, and compiled our ranking based on salary expectations. Our data comes from the most recent Bureau of Labor Statistics survey. Be sure to also check out our Top 10 Cities for Paralegals!
1. Connecticut

Connecticut is a promising state to work as a paralegal, as attorneys hold them in high demand at numerous top-name law firms throughout the state. Additional opportunities include The Hartford Insurance Company, Cigna, Charter Communications, or Synchrony Credit, working to assist corporations with their legal concerns. With an average annual paralegal salary of $62,760, Connecticut meets the question of how much do paralegals make with a pleasant career rate to easily live on while providing a promised future.
Connecticut is the fourth largest employer of paralegals in the nation and has its own legal associations, including the Central Connecticut Paralegal Association, CCPA, and New Haven County Association of Paralegals, NHCAP. The state is small in land space but makes up for it in the number of legal professionals. Statewide, there are more than 4,700 paralegals currently working under the supervision of attorneys with a higher than average expected growth rate.
School Finder
Average Annual Salary: $62,760
2. California

In a state that spans from mountains to valleys along a continuous shoreline, California offers plenty of golden rich opportunities in the paralegal field. Countless law firms and private corporations or organizations are always looking for qualified professionals. Some of the largest employers of paralegals include Silicon Valley corporations, The Walt Disney Studios, Paramount Pictures, or individual counties and municipalities throughout the state. Currently employing more than 33,000 legal professionals in the state of California, the future looks even brighter when considering how much do paralegals make. The answer is an average annual paralegal salary of $61,240 statewide.
The future for paralegals in California shines bright. The profession is regulated more in this state than any other with rules outlined and standards of education specifically required by a Business and Professions Code 6540-46. This legal career has grown significantly within the last decade and has no plans of stopping anytime soon.
Average Annual Salary: $61,240
3. Washington

This northwestern coastal and mountainous state employs more than 6,000 paralegals, and that number is on the rise. Companies such as Amazon, Starbucks, Boeing, and Microsoft are often on the lookout for well-trained legal professionals to help assist them. Others fulfill their career by working at some of the most prestigious and respected law firms in the Western United States. How much do paralegals make? With an average annual statewide paralegal salary of $60,940, Washington is the place to be.
From its highest point at Mount Rainier to the smallest city to ever host a World's Fair in Spokane or the largest ferry system in Puget Sound, Washington state is known for its mass apple production and is home to Boeing, the world's largest building by volume. This backdrop of mountains, valleys, and seashore offers a perfect setting to launch a paralegal career. Additionally, Washington does not levy personal income tax which means your salary stays in your pocket.
Average Annual Salary: $60,940
4. Massachusetts
Out of the approximate 7,700 paralegals in Massachusetts, most are based out of the Boston area where one of the biggest and top wealthiest American firms that employ new legal assistants conduct business at Goodwin Procter. Employees love working there because of their great continuing education programs and advancement policies. The Boston area also has a large concentration of corporations that hire in-house legal teams such as Raytheon, Liberty Mutual, and Staples. How much do paralegals make? The paralegal salary averages $60,320 annually in Massachusetts making it one of the most sought-after states for legal professionals.
Massachusetts is a northeastern state perfect for up-and-coming paralegals. Some of our nation's history played out within the state's boundary lines making it a fertile spot for those interested in supporting and upholding laws. It is also the home to the Freedom Trail and some prominent universities and higher education colleges that are ready to help prepare the future of paralegals in the Bay State.
Average Annual Salary: $60,320
5. Alaska

When you think about your future, a cold, northeastern state that requires traveling through Canada, taking a boat, or flying by air to visit, may not enter your mind. Maybe it should since it has several big law firms who are always looking for quality help. Alaska may only employ about 550 paralegals statewide, but these numbers are taken into account that the population is mostly spread out to some remote areas with the main concentration of population being found in Anchorage. If you ever wondered how much do paralegals make in Alaska, the average annual paralegal salary is $59,140.
Alaska isn't always cold. The summers are mild, and the beautiful untouched landscapes found in a large part of the region appeals to those with a pioneer and independent spirit. It also opens up opportunities to focus on natural resources and government contracting legal matters. Universities that offer paralegal certifications or degrees are located in Fairbanks and Anchorage.
Average Annual Salary: $59,140
6. New York

There are approximately 177,000 attorneys in this northeastern state, and half of them are located in New York City, so landing a lasting career as a paralegal offers a wide-open plethora of opportunities. Areas of concentration in law span the gamut, with many focusing on tax law, real estate, finances, divorce, or immigration law. There are also major corporations throughout the state who maintain legal assistant professionals on staff, with plenty spanning throughout and into Upper State. The answer to your question, "How much do paralegals make in New York?" is that the average annual paralegal salary for the state is $58,750.
This northeastern state is a hub of activity and entrepreneurial success from the hustle and bustle of the City that Never Sleeps to the quieter upscale life of Upstate residents. It is also home to a vast amount of colleges and universities to choose from to further your legal professional studies.
Average Annual Salary: $58,750
7. Colorado

Big law firms that have made a name for themselves are the main source of employment for paralegals. Holland & Hart is the biggest firm in the state with pro bono recognition and women's diversity. Corporations also hire assistants in their legal departments, some include Western Union, Dish Network, and Newport Mining. In answer to the question of how much do paralegals make, a professional paralegal salary in Colorado averages $58,350 annually.
Colorado is known for its mountaintop experiences and progressive lifestyles that keep the entire state at the forefront of successful careers. It is a fantastic spot for legal professionals. Education is taken seriously, and there are numerous colleges and universities from which to receive certification or degrees in legal-related fields to become a paralegal with credentials to launch a promising career in a line of work expected to grow at least 22 percent within the next decade in the state.
Average Annual Salary: $58,350
8. New Jersey

Get ready to join the legal services trade in a state with top, nationally respected law firms that handle a wide range of legal matters and are ready to hire qualified paralegals. New Jersey also offers employment at private pharmaceutical corporations like Merck and Sanofi, or technology such as Cognizant or Honeywell who are in search of supportive legal personnel to assist with maintaining compliance and regulatory issues. The average annual paralegal salary of $58,260 answers the question of how much do paralegals make in the Garden State.
Don't let the size fool you! This northeastern coastal state is small but mighty. As one of the densest populous and bustling states in the nation, almost all of New Jersey's residents live in an urban setting providing a concentrated population in need of legal services nearby. With more than 8,000 legal professionals working throughout New Jersey, the state offers the highest median household income levels in the nation with an expanding outlook.
Average Annual Salary: $58,260
9. Nevada

From Las Vegas to Reno, law offices in Nevada remain busy representing clients in litigation and corporate law that include securities, intellectual property, entertainment, and gaming. Technology advancements have also brought top-name, cutting-edge companies to the state that need help in preparing and maintaining legal matters. If you're wondering how much do paralegals make in the state? The answer will come as a pleasant surprise with an average annual paralegal salary of $57,600, Nevada is among the top states to work for paralegals.
Nevada offers a landscape for everyone, from mountain ranges to deserts and even beaches. Never worry about paying state income tax again as it is not required here. Expect to pay less in sales tax on food and medicine as well. The state of Nevada is home to approximately 2,400 paralegals with a steady growth rate expected to continue well into the next decade, anticipating a job opening for almost 300 new paralegals every year.
Average Annual Salary: $57,600
10. Delaware

Delaware holds countless opportunities where an up-and-coming paralegal is able to find a fulfilling and successful career. Law firms and corporate legal departments are on the lookout for fresh skills. Richards, Layton & Finger is among the largest with a rich history as the oldest law firm in the state. They specialize in bankruptcy, tax, litigation, and business law. Major corporations located statewide also offer great opportunities. How much do paralegals make in Delaware? The average annual paralegal salary is $57,290.
Don't disregard this small Mid-Atlantic state for the size, because it is packed with opportunities for those entering the paralegal profession. Keep more of your salary in your pocket since the state has low real estate taxes and imposes absolutely no sales tax. Numerous schools in the area and nearby Philadelphia extend the chance to further your education with a degree or certificate and continue to improve paralegal skills.
Average Annual Salary: $57,290
What is the Average Paralegal Salary in the United States?
According to the Bureau of Labor and Statistics, the 2018 Median Pay for Paralegals was $50,940 per year or about $24.49 per hour. Many things that heavily impact a paralegal's pay can include the level of education (diploma, associate's degree, bachelor's degree, or even graduate-level degrees are available for those interested, with the associate degree being the most common minimum educational requirement for paralegal jobs), specialization (criminal defense pays better than environmental law), and registrations/certifications.
What is the Breakdown for Experience Levels?
Senior/Supervising Paralegals with more than seven years of experience average between $53,000-101,500 annually. Mid-level paralegals (four to six years of experience) average between $46,750-78,750 annually. Entry-level paralegals are more difficult to determine, as many paralegals begin their careers as a secretary, receptionists, or assistants.
Corporate paralegals are known to be the best paid in the profession, outearning law firm paralegals in each bracket. On the corporate side, Senior/Supervising Paralegals with more than seven years of experience average between $65,250-$102,500 annually. Mid-level paralegals (four to six years of experience) average between $53,750-$64,500 annually. Entry-level corporate paralegals usually require between two and three years of experience as a paralegal and average $42,500-53,750 annually.
How Does Paralegal Salary Vary from State to State?
Regional economics determine how well law firms in the area perform, meaning that states known for more economic success will likely lead to higher paralegal salaries. How much do paralegals make in Texas? How much do paralegals make in Florida? According to the National Association for Legal Assistants, regional salaries for paralegals in 2016 were:
New England/Mid-East: $59,830
Great Lakes: $58,090
Plains States: $56,949
Southeast: $59,110
Southwest: $64,990
Rocky Mountains: $60,212
Far West: $71,244
So how much do paralegals make in California? Nearly $57,000. What is the paralegal salary Texas professionals can expect? A more than respectable $50,000. See a complete list below.
Are Paralegals Paid a Salary or Hourly?
That depends greatly upon their position within the company. In law firms, paralegals are often paid on a salary basis, while in-house corporate positions are more likely to be hourly. Also, entry-level positions are more likely to be hourly, while skilled paralegal positions are more likely to be salaried.
What are Non-Traditional Paralegal Jobs
There are several jobs that an experienced paralegal can perform that are not considered paralegal jobs indirect performance but can only be done with the legal experience and education of a paralegal. For example, a sales manager may have the skills to negotiate a deal, but a paralegal can hold a more specialized position such as Contract Administrator, which focuses on a lot of the legal implications that can occur with each change of an agreement term. 2019 salary averages for such non-traditional paralegal roles include:
Paralegal manager: $85,000
Senior/supervising paralegal: $68,000
Legal secretary: $51,500
Law librarian: $64,250
Records manager: $74,250
Contract administrator: $66,500
Litigation support/e-discovery analyst: $61,500
Lease manager: $75,000
What is Non-Cash Compensation?
In addition to typical base pay, paralegals may also be compensated by employers by means of paid conference/training fees, paid professional association dues, insurance, bonuses, parking, even allowances depending on the employer.
Paralegal Salaries By State (NALA data):
Alabama: $44,180
Alaska: $62,090
Arizona: $47,770
Arkansas: $ 36,530
California: $56,950
Colorado: $49,360
Connecticut: $54,440
Delaware: $50,280
District of Columbia: $73,490
Florida: $46,200
Georgia: $48,820
Hawaii: $43,120
Idaho: $41,930
Illinois: $52,510
Indiana: $41,110
Iowa: $46,740
Kansas: $41,340
Kentucky: $44,780
Louisiana: $43,620
Maine: $45,510
Maryland: $52,410
Massachusetts: $52,050
Michigan: $48,890
Minnesota: $54,820
Mississippi: $45,950
Missouri: $49,050
Montana: $42,460
Nebraska: $42,980
Nevada: $54,340
New Hampshire: $48,440
New Jersey: $55,260
New Mexico: $41,360
New York: $53,740
North Carolina: $42,530
North Dakota: $43,380
Ohioy: $44,810
Oklahoma: $40,640
Oregon: $49,900
Pennsylvania: $50,290
Rhode Island: $53,320
South Carolina: $40,580
South Dakota: $40,160
Tennessee: $46,550
Texas: $50,550
Utah: $43,570
Vermont: $47,810
Virginia: $50,410
Washington: $58,050
West Virginia: $41,360
Wisconsin: $46,230
Wyoming: $48,970
Related Articles:
Best ABA Accredited Paralegal Programs
Top 25 Paralegal Schools for Job Placement
Highest-Paying Jobs for Paralegals
School Finder