Law and medicine are often considered two of the top professions in America. Both of these professions, however, require a serious educational commitment with heavy post-graduate course loads. If you have always been interested in the field of law, but are not ready to make the commitment to law school, there are other career opportunities available. Paralegals in Kentucky enjoy the benefits of working closely with lawyers and the court system. This exciting profession offers job security and a steady income.
A paralegal is an individual who assists a lawyer with many of the tasks necessary to move cases smoothly through the court system. This professional is not required to have a law degree, and most paralegal programs can be completed rather quickly.
Featured Programs
If you are interested in this career path, you will want to better understand how to become a paralegal in Kentucky. Many people are intimidated from taking that first step because they think the journey will be too involved or overwhelming. The Kentucky paralegal requirements are not as strenuous as you may think, and most people can start their careers fairly quickly. This is great for those who simply want to get their career going. Let's take a look at paralegal requirements in Kentucky so that you can learn more about this job option.
Personal Skills
The personal skills required to succeed in this field are just as important as the education and formal training you will receive.
Reading Comprehension- Paralegals need to have excellent reading comprehension. As part of your daily duties, you will be required to read large amounts of documents pertaining to the cases your office is working on. It is imperative that you be able to process this information and then be able to pass the information on to others in the office.
School Finder
Writing Skills- A paralegal will also be required to compose written documents on a regular basis. You will be assisting a lawyer or a group of lawyers with creating documents that must be presented to clients, other lawyers, and the court. These documents must be written with good English grammar and free of typos. In addition to this, you must be able to write clearly so that important information is delivered properly.
Verbal Communication Skills- In addition to writing, it is also important that a paralegal is able to communicate well verbally. It will often be your responsibility to take phone calls from clients, court officials, and other law offices. You will also be making calls as well. Paralegals will deal with clients, court officials, and other lawyers and paralegals in person as well. During these times, you should be able to communicate clearly both giving and receiving information in a way that keeps things moving smoothly with little confusion.
Administrative Skills- On a day-to-day basis, a paralegal will also be asked to perform certain administrative tasks as well within the law office. These tasks will involve document management, taking calls, scheduling appointments, organizing the calendar for the lawyer or lawyers you are working for, as well as other tasks that may arise.
Ethics- In any field of law, it is imperative that individuals operate with high ethical standards. In the paralegal profession, this is important on a daily basis. You will be dealing with sensitive information which can affect a client's life for years to come. Every document you interact with, every piece of information you share, and every conversation you have concerning a case, must be handled with the highest of ethical standards. In order to ensure that the clients in your office are receiving fair and equitable treatment, it will be your responsibility to make sure information is delivered quickly and accurately. What may seem like a little mistake, oversight or negligence could impact a client's entire life.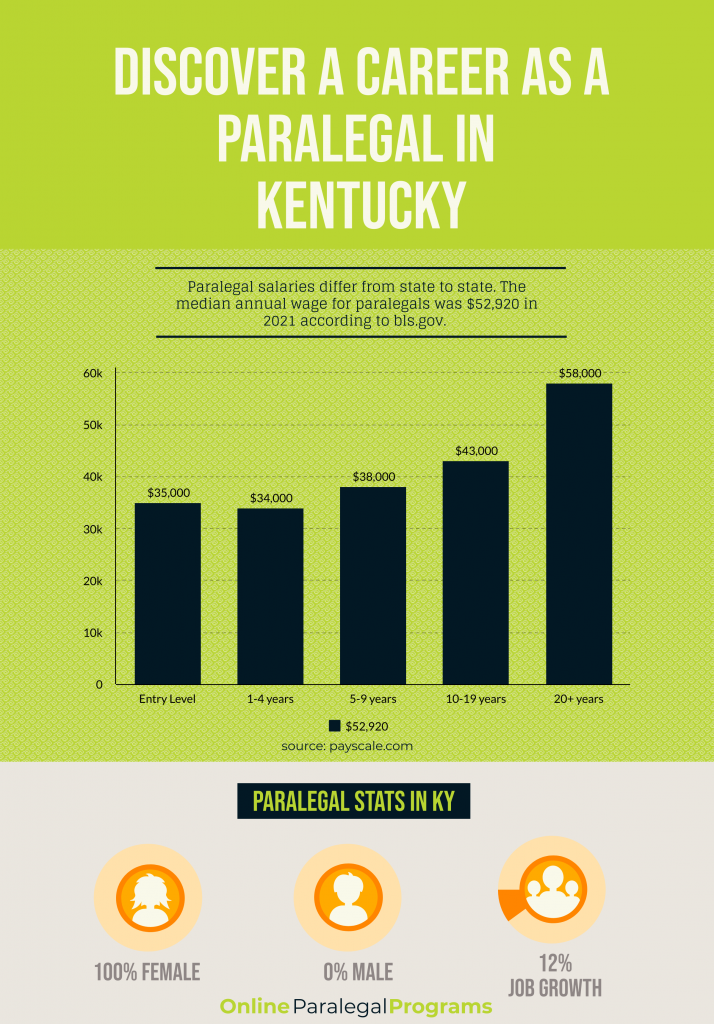 Education
The educational requirements to become a paralegal are not overwhelming. In fact, there are even many online paralegal programs in Kentucky that you can use to start your career. The type of degree you need will vary depending on where you work and who you work for. Some law firms are willing to hire a paralegal and train them on the job. In fact, some lawyers prefer this, so that they can train their assistants the way they want to. You should note, however, that if you do not obtain a degree in paralegal studies, you will be limited in which job opportunities you can pursue. The best option is to choose one of the ABA-approved paralegal programs in Kentucky. This will ensure that you have all of the training you need to work anywhere you want.
Paralegal studies are offered at most community colleges as well as larger universities. There are online paralegal programs in Kentucky as well as on-campus options. The type of program you choose to pursue will be dependent on your individual circumstances and the time you have available to commit to your education.
Most course work contained within these programs will focus on understanding how the legal system works, understanding how the court systems of your state work, and understanding the important ethics that are required to protect clients and help them get a fair day in court.
There are programs offered at both the associate's degree level as well as the bachelor's degree level. Again, the type of degree you choose will depend on your personal goals, ambitions, and the amount of time you can devote to your education. You should note, however, that individuals who pursue a bachelor's degree in paralegal studies will have better employment and earning opportunities. Be sure that you look for ABA-approved paralegal programs in Kentucky. This means that the program has been evaluated and approved by the American Bar Association.
Where To Find Paralegal Programs in Kentucky
Paralegal programs are offered by many communities and larger colleges and universities. There are even paralegal programs offered online. Online paralegal programs are a great option for those who are already working another job or who have other obligations. Some schools even offer hybrid programs. These are a combination of both online and on-campus classes. This is a great option for those who would like the best of both worlds or who need to customize their schedule to make room for other obligations. Here are a few of the schools in Kentucky which offer paralegal programs.
Eastern Kentucky University- This school offers many different types of paralegal training at different levels. Courses at this campus will prepare you for paralegal certification in Kentucky.
Kentucky Wesleyan College
Madisonville Community College- This school offers only an associate's degree or a certificate in paralegal studies.
Morehead State University
Northern Kentucky University
University of Louisville
Western Kentucky University
The best way to learn more about which program will be the best fit for you is by speaking with an admissions advisor at one of the schools mentioned above.
In addition to these schools which offer online or campus options in Kentucky, there are also many educational institutions that offer online-only paralegal programs for Kentucky residents. Let's look at a few programs offering this training online.
National Paralegal College- This organization offers degrees in paralegal studies at the certificate, associate's, and bachelor's degree level. All programs are offered entirely online.
Mississippi College
Regent University
University of Providence
University of Alaska Fairbanks
George Washington University
Saint Mary of the Woods College
Liberty University
William Woods University
Tallahassee Community College
For those who are considering pursuing an online degree program, it is important to remember that there are several factors that will play into your success as an online-only student. An online-only program differs greatly from an in-person program on campus. You will need to be a self-motivated learner. You will also need to be able to manage your time carefully. You will not have a teacher you are seeing in person on a regular basis who is holding you accountable. You will need to hold yourself accountable for turning in work on time and organizing your schedule to meet deadlines.
Online programs provide a great amount of flexibility for individuals who may otherwise have thought that obtaining a degree was out of their reach. Online degree programs make college education more accessible to more people all over the globe each year.
Most online degree programs are also eligible for financial aid payments. This makes paying for college easier for those who need help.
Certification/Licensure
Professions that deal in law, are often required to get certification or licensure through the state in which they will be working. Paralegal certification is required in Kentucky to ensure that clients who are working with law offices are receiving the proper treatment under the law and that their rights are being protected. As a paralegal, you will be dealing with sensitive information which can have a life-altering effect on clients. It is essential that paralegals are well trained in how to handle this information, as well as the ethical standards needed to ensure individuals are treated fairly and justly.
Paralegal certification in Kentucky can be done through the Kentucky Paralegal Association. The certification process will evaluate the training, education, and job experience you have received to determine whether or not you can become a Certified Kentucky Paralegal (CKP). Paralegal certification in Kentucky is not a difficult process for those who have had adequate training. When you start a paralegal program, you can talk to your instructors about whether or not paralegal certification is available online in Kentucky.
If you obtain your Kentucky paralegal certification, it will not be necessary for you to obtain a Kentucky paralegal license. This is not a requirement in the state of Kentucky.
Getting certified will open up more job opportunities for you in this career field and will help establish you as a credible paralegal in your community.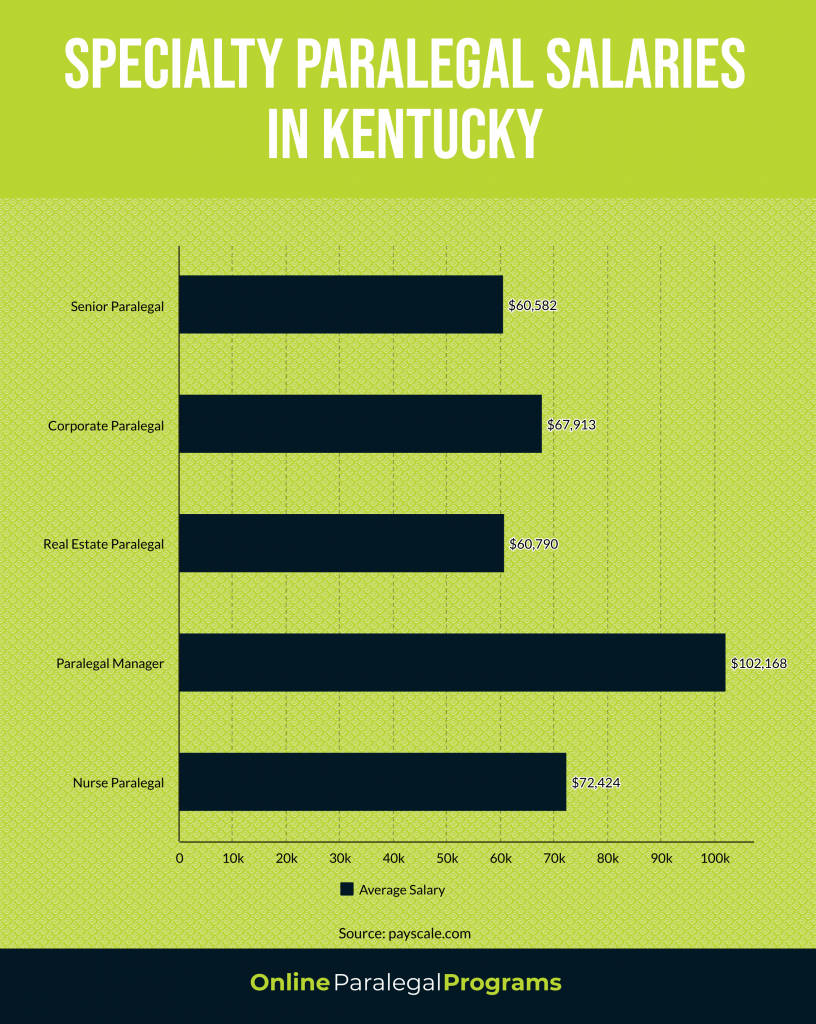 Job Market And Salary
Before committing to a career path, it is important to know what kind of Kentucky paralegal salary you can expect from your occupation. This is especially important if you will be taking on any debt to pay for your education and certification. You will want to ensure that a Kentucky paralegal salary is sufficient to quickly pay off any student debt you may incur.
According to the Bureau of Labor Statistics, the median salary for a paralegal in the United States is approximately $52,920 annually. This amount can vary greatly depending on where you work and who you work for. A Kentucky paralegal salary is more than sufficient for the standard of living within the state, making this a healthy career option.
Paralegal jobs in Kentucky are expected to grow in the next several years. In fact, it is estimated that between 2020 and 2030 this particular job market will grow by about 12%. This is considered faster than average by the Bureau of Labor Statistics. This means that those who are entering this job field now will continue to enjoy a good amount of job security in the future. This is an important factor when considering which career path to choose.
Paralegals who obtain a Bachelor's degree in paralegal studies, as well as certification through the Kentucky Paralegal Association will be able to find employment throughout the state. If you choose to move out of state, you can obtain certification in that state as well. You should note, however, that the state of California does have more strict regulations for paralegals to work there.
Conclusion
A paralegal career can be a very exciting way to be a part of our justice system. These professionals enjoy the benefits of working in the field of law, earning a steady, livable salary, while also making a difference in their communities.
The educational requirements for this profession are not as strenuous or time-consuming as the requirements to become a lawyer. If you have always wanted to work in law, but were never ready to commit to law school, becoming a paralegal could be a great career option for you.
Related:
ULTIMATE GUIDE TO NATIONAL PARALEGAL ASSOCIATIONS
ULTIMATE GUIDE TO STATE PARALEGAL ASSOCIATIONS
Ultimate Guide to State Paralegal Associations
School Finder