For individuals or students who have an interest in learning how to become a paralegal in Michigan, the first step is to determine the paralegal requirements in Michigan, if any.
The state of Michigan has no specific state law on record that regulates who may work as a paralegal in the state, except these Michigan paralegal requirements–
Featured Programs
Paralegals must be of age or at least 18 years old.
Paralegals must have the authorization to work in the United States legally.
In addition, paralegals working in Michigan must comply with Rule 5.3, which sets forth the definition of a paralegal as a paraprofessional in the legal realm that works under the supervision of a licensed attorney.
Paralegals & the State of Michigan
The state of Michigan, in the upper Midwest region, is unique in that it is formed by the combination of two peninsulas. Michigan has the second most water of any state, other than Alaska. Michigan was adopted as a state and entered the Union in 1837 – as the 26th state. Michigan's capital is Lansing, with its largest metro area being Detroit – Motor City & Motown. The state's population in 2021 was just short of 10,000,000. The largest cities in Michigan include –
Detroit, Michigan, with a population of 664,139 residents.
Grand Rapids, Michigan, with a population of 202,767 residents.
Warren, Michigan, with a population of 133,077 residents.
Sterling Heights, Michigan, with a population of 131,864 residents.
Lansing (State Capital), Michigan, with a population of 118,768 residents.
Paralegals in Michigan find rewarding careers in various economic and subspecialty sectors but always work under a lawyer's supervision.
School Finder
Paralegal and other legal assistants play an integral part in Michigan's state economy. These are the leading sectors in Michigan based on GDP –
Manufacturing
Real Estate
Health Care & Social Assistance
Professional/Technical Services
Finance Insurance, to name a few.
Those aspiring for a paralegal career in Michigan can select from several paths to meet their goals.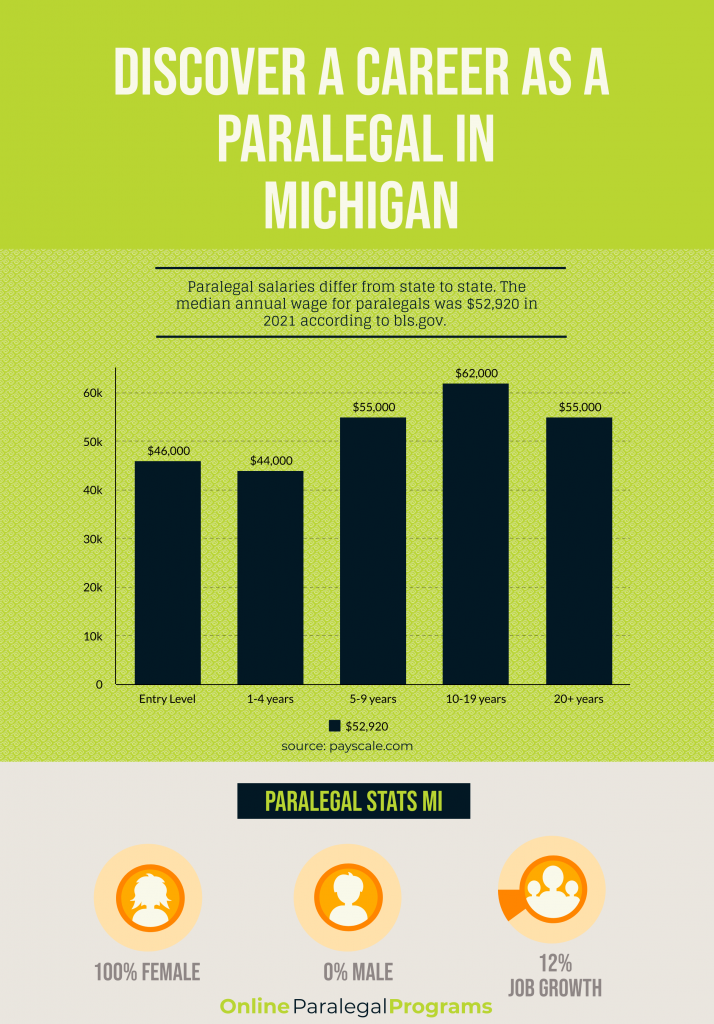 Education
Paralegals are trained paraprofessionals who work alongside and under the direct supervision of licensed lawyers in Michigan. Paralegal work is generally considered a subspecialty but has recently seen increased demand for paralegal services as businesses and governments seek to reduce costs by improving efficiencies. But note, most employers prefer job candidates who have successfully completed a structured paralegal program that is available as campus-based or online paralegal programs in Michigan.
Many schools now offer ABA-approved paralegal programs in Michigan that can be completed online for those students located in rural areas or students who are working learners. On-campus or online paralegal programs in Michigan may also be offered as non- ABA-approved paralegal programs in Michigan.
Paralegal Studies programs prepare students to work in a variety of fields and economic sectors. Paralegal studies programs cover these relevant subjects –
Family Law.
Immigration Law.
Real Estate.
Civil or Criminal Law.
Bankruptcy.
Intellectual Property.
Litigation.
Corporate meetings, among others.
Aspiring paralegals who have already earned a baccalaureate degree in a field unrelated to paralegal studies may find the most direct path to a paralegal career to be a certificate program for paralegals in Michigan.
A Certificate Paralegal Program
Enrolling in a certificate program in paralegal studies is a smart way to demonstrate to potential employers your knowledge, skills, and commitment as a paralegal professional. Requirements for paralegal certificate training programs vary by program but tend to require 30 to 35-semester credits to be completed in three to six months.
Coursework for a certificate paralegal program includes these related subjects –
Legal Research Procedures
Legal Procedures
Substantive Law
Ethics & the Law, among others.
An Associate in Paralegal Studies Degree
An associate degree in paralegal studies in Michigan is available online and on-campus. Most ABA-approved paralegal programs in Michigan require degree candidates to complete a minimum of 60 to 65 credit units. On average, an associate paralegal studies degree can be completed in 12 to 24 months.
A Bachelor's in Paralegal Studies Degree
A paralegal baccalaureate degree program offers students a well-rounded, comprehensive education with mandatory general education classes combined with paralegal specialty classes. A bachelor's degree in paralegal studies offers degree candidates an opportunity to specialize in an area of interest, which may include classes like –
Real Estate
Legal Proceedings & Hearings
Criminal Processes
Intellectual Property Law
Research Methods
Immigration
Problem Solving & Analytical Thinking
Document Preparation
Bankruptcy, among others.
Note – those who hold a bachelor's degree in paralegal studies have met the eligibility criteria established for national certification credential exams.
Michigan Paralegal Certification/Licensure
Preliminarily, it is essential to note that there is no paralegal certification in Michigan set forth by state lawmakers, so aspiring paralegals would have no reason to seek a Michigan paralegal license to begin to work.
However, many students reaching for a career as a paralegal prudently decide to earn one of the available professional credentials for paralegals. And while there are no specific Michigan paralegal certification credentials, there are national options from which to choose. If you are considering obtaining a national paralegal certification in Michigan, remember that there are paralegal certification Michigan online programs that offer great convenience and flexibility.
National Options for Paralegal Certification in Michigan
Paralegals who are or wish to work in Michigan will find that they can earn one of the following paralegal credentials offered by national paralegal professional organizations –
NALA
NALA's Certified Paralegal Credential (The CP) is a globally recognized paralegal credential. The CP is also one of the most popular paralegal certification programs in Michigan. Certified Paralegal Credential holders must pass a rigorous exam, which demonstrates their paralegal skills and knowledge. The Certified Paralegal credential renews every five years and requires paralegal professionals to complete at least 50 hours of continuing education that has been NALA approved.
NALA's Advanced Certified Paralegal (The ACP) – is a national credential available to experienced paralegal professionals. The Advanced Certified Paralegal credential is a smart way for paralegal professionals to further their education and specialize in a legal area. This Advanced Certified Paralegal credential renews every five years and requires paralegal professionals to complete at least 70 hours of continuing education that has been NALA approved.
National Federation of Paralegal Association – NFPA
The Paralegal Advanced Competency Credential (The PACE) – this paralegal credential requires candidates to possess a minimum level of work experience and education. Those interested in obtaining the Paralegal Advanced Competency Exam credential must also meet these guides –

No felony convictions prior to application
Have NOT had a certificate, license, or registration, that has been suspended, revoked, or terminated. Paralegal Advanced Competency credential holders are permitted to use the RP credential in their professional work.

The Paralegal Core Competency Credential (The PCCC) – this paralegal credential offers an alternative path for professionals to demonstrate their paralegal knowledge and skills to prospective employers.
Professional Association for Legal Professionals – NALS
The Certified Legal Professional (The CLP/PLS) – this credential is available for paralegal certification in Michigan and is another popular credential for paralegals. The Certified Legal Professional requires test-takers to complete a four-part exam that demonstrates their working knowledge and paralegal skills. The Certified Legal Professional (CLP) renews every five years. Paralegal professionals who hold the CLP credential must complete 75 hours of NALS-approved continuing legal education.
Michigan Paralegal Professional Organizations
MPA was established in the late 1980s to serve paralegal professionals working in the southwest Michigan/northwest Indiana region. The Michiana Paralegal Association is affiliated with the Alliance of Indiana Paralegal Associations and NFPA.
SBM – State Bar of Michigan – Paralegal/Legal Assistants Section
The State Bar in the state offers guidance regarding paralegal work in Michigan. It seeks to educate paralegals with regard to ethics, technology, and third-party services.
Plus, these NALS Chapters located throughout the state –
Established in 1961, NALS of Michigan serves to promote paralegal competencies across the state and to coordinate the efforts of local NALS chapters.
Founded more than one-half of a century ago, NALS of Detroit serves the legal assistants and paralegal professionals working in the greater Detroit area with certification & credential options, professional development opportunities, and networking events, to name a few.
NALS of Greater Kalamazoo was established in the mid-1980s and is dedicated to the provision of professional education and development opportunities to its members and communities.
Chartered in the late 1950s, NALS of Lansing became an affiliated member of NALS two years later. NALS of Lansing serves the paralegal professionals working in the state's capital region.
Founded more than five decades ago to serve the greater Grand Rapids area, NALS of West Michigan continues to assist paralegal member professionals with professional development and nationally recognized credentials.
Chartered in the mid-1970s, NALS of Jackson County offers its members education, networking, and professional development opportunities.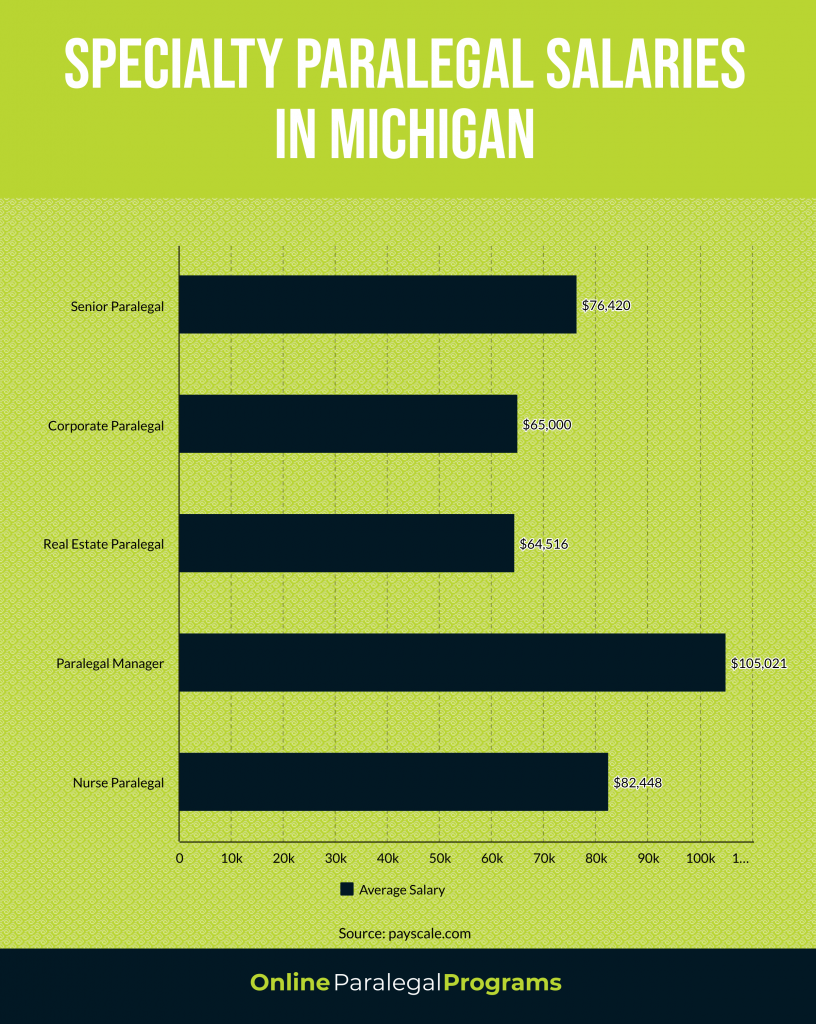 Michigan Paralegal Salary & Job Market
Paralegal and legal assistants are important members of a legal team. Paralegals jobs in Michigan require professionals to work under the direct supervision of a licensed lawyer in various supportive functions, depending on the lawyer's or paralegal's specialty.
The BLS's Occupational Outlook Handbook (May 2020) notes that the median yearly salary for legal assistants & paralegals in the United States was $52,920, which translates to $25.44 per hour. In 2020, there were more than 345,000 paralegals and legal assistants working in the United States.
The job market growth for paralegals is anticipated to be about 12% over the next decade. This job growth is 2.5 times faster than the combined average of all jobs in the nation and translates to more than 41,000 new paralegal jobs in Michigan and beyond.
The following chart represents a range of percentile salaries for those paralegal professionals working in the United States in 2020, as follows –
Paralegal National
Salary %
Paralegal National Wage
Per Year
Paralegal Hourly Wage
10%
$ 32,900 per year
$15.82
25%
$ 40,640 per year
$19.54
50%
$ 52,920 per year
$25.44
75%
$ 67,080 per year
$32.25
90%
$ 85,160 per year
$40.94
Michigan Paralegal Salary & Data Information
In 2020, there were more than 6,800 Michigan paralegal jobs. These diverse Michigan paralegal jobs offer professionals a Michigan paralegal salary (on average) of $54,350, which equals an hourly wage of $26.13. Note that the median Michigan paralegal salary exceeds the national average of $52,920. The really good news is that the cost of living in Michigan is below national averages and the 13th lowest in the nation (Q3-2021) –
Paralegal Jobs in Michigan
Michigan Cities & Paralegal Salaries
Nonmetropolitan Areas in Michigan & Paralegal Salaries
How Is The Michigan Paralegal Job Market?
As noted above, paralegals who wish to work in Michigan have no formal training or licensing requirements other than to comply with Rule 5.3 – to work under the direct supervision of a licensed Michigan attorney. However, paralegal professionals will find they have a competitive edge when reaching for the top of the field when they complete one of the many quality paralegal programs available online or on-campus.
Statisticians anticipate the growth of the paralegal field to significantly outpace the average growth rate of all combined US occupations. As such, demand should remain strong, with exciting opportunities across a diverse range of sectors as companies and agencies search for viable ways to reduce costs.
It is a great time for paralegal professionals as the industry evolves into a more prominent role.
Related:
5 MOST IMPORTANT PARALEGAL TRAITS
ULTIMATE GUIDE TO NATIONAL PARALEGAL ASSOCIATIONS
Ultimate Guide to State Paralegal Associations
School Finder