Are you looking for A Guide to National Paralegal Associations? If so this guide is for you and will get you started on your journey! Why join a paralegal association? There are many benefits to joining professional associations. As a paralegal, it's important to stay up to date with changes in the legal field. connections are also key to a successful career. Additionally, professional associations can enhance someone's resume and show they care deeply about what they do. Participating in local chapters of a favorite national organization can set candidates apart from other paralegal professionals.
What are the benefits of joining a paralegal association? There are many professional associations to choose from. The ones highlighted below include some of the more well-esteemed, and some of them have perks such as certification paths that can further set members apart.
Featured Programs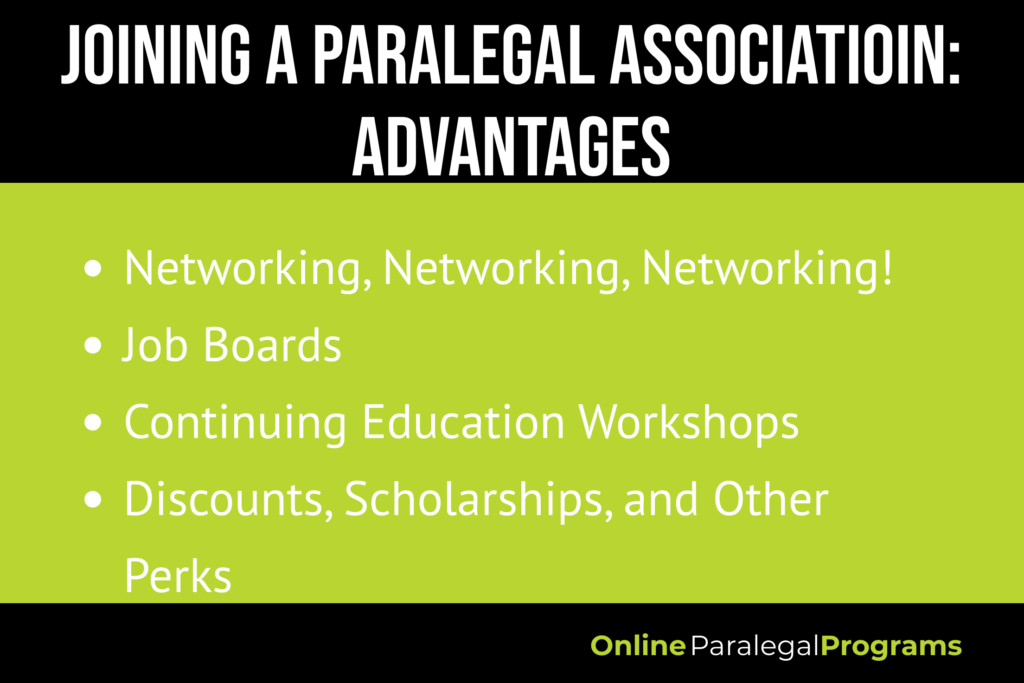 What are the Benefits of Joining a National Paralegal Association?
National paralegal associations provide opportunities to network with other professionals in the field. Several large organizations offer certifications that hiring managers to trust. There are many reputable associations to choose from. For example, many paralegals choose between the National Association of Legal Assistants or the popular National Federation of Paralegal Associations. Aside from national associations, paralegals can join state paralegal organizations and local chapters of national groups.
There are many advantages to joining paralegal associations. Many have job sites that are exclusive to members and provide publications that help paralegals stay on top of the latest trends in the legal profession. Many organizations maintain a database for job opportunities and many paralegals find work through this avenue. Members are often invited to participate in career conferences so that they can find their first jobs or advanced their careers to the next level.
Often, conferences include guest speakers that motivate paralegals and help them polish their resumes. By rubbing elbows with experienced professionals, newcomers to the field can find mentors and learn best practices from more experienced legal assistants.
School Finder
Another perk to joining a paralegal organization lies in the specific educational opportunities available. Workshops, publications, and online resources can help paralegals improve different aspects of their work. Besides changes in laws, paralegals must become familiar with many software packages to help them work more efficiently. Members of professional organizations stay on top of everything happening in law in their region.
In order to maintain certifications, paralegals often need continuing education credits within the field. Professional organizations often have workshops, webinars and other events that make it easier for paralegals to maintain their certifications. Members typically get a discount so that they can save costs, compared to other educational opportunities.
If a paralegal has just started the certification process, joining a professional group makes a lot of sense. Many professional associations offer review courses that increase the likelihood of passing certification tests. Associations typically partner with colleges or universities for venues in which to hold review sessions and classes.
Membership typically includes subscriptions to magazines and newsletters that feature illuminating conferences and job opportunities. Some publications highlight successful paralegals who have influenced the industry.
Members often get perks such as dental, vision and medical plans that can help paralegals and their families stay healthy. This is particularly useful for those who work part-time or as contractors for more than one lawyer or firm. Affiliation programs can help save money on everything from plane tickets to retail products. Many professionals enjoy perks such as credit unions that allow them to grow their wealth and offer many financial services.
Joining an organization is just the first step. Paralegals can network through volunteer opportunities and even find leadership roles that allow them to expand their knowledge of the industry.
One of the most important opportunities involves networking events in which paralegals can meet lawyers and law firm managers from across the nation. Connections made at these events may lead to job opportunities or relationships that help them enhance their career in some way.
Can I Make More Money as a Member?
Becoming a member of a national organization opens the door to a number of services. Paralegals need a formal education to get the skills they need to find good jobs. Community colleges that offer paralegal programs have a wide array of specializations. It's important to find a good program in order to stand out in an interview and obtain well-paying jobs. By offering resume workshops and tips for interviewing, professional organizations help prepare paralegals for the pressure of the job search. So, becoming a member of a paralegal organization may have direct connections to making money.
A growing number of paralegal professionals are enhancing two-year degrees with a baccalaureate degree in paralegal studies or a related field. Employers prefer more education and preparation and obtaining a four-year degree can help paralegal professionals enhance their salary potential. Those who want to become leaders in the field can work towards positions such as office managers or lead a team of their peers. Having a four-year degree greatly enhances upward mobility in the legal field.
Choosing a degree in legal studies or paralegal studies is highly recommended by organizations such as the National Association of Legal Assistants (NALA). Students should make sure that the program has the approval of local and state bar associations or the American Bar Association (ABA). Additionally, there are many certification programs that validate the skills of paralegals and help them find jobs quickly.
Paralegal certifications validate various skills. For example, completing an exam shows job candidates have mastered the knowledge obtained during their courses. Some certifications also require job experience before awarding the certification. Law firms looking for experienced, savvy legal professionals value certifications and know how they enhance a candidate's skill sets. Two organizations that offer certifications include the National Association for Legal Assistants and the National Federation of Paralegal Associations.
Common credentials in the field include Certified Legal Assistant, CORE/PACE Registered Paralegal, or Professional Paralegal. Many certifications require continuing education in order to maintain the status.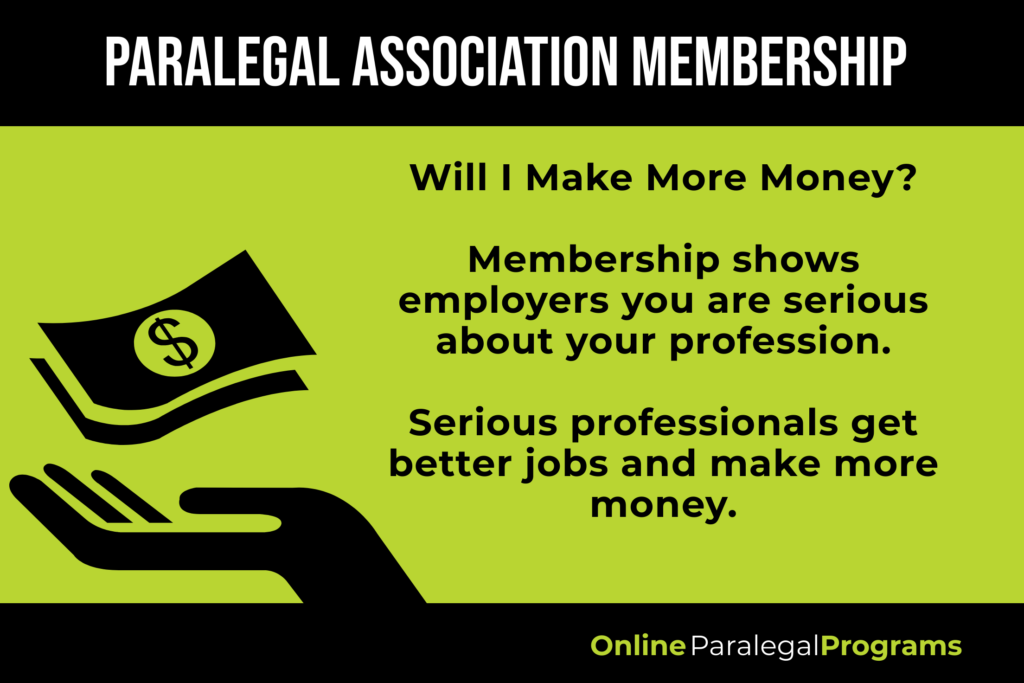 How Will Joining a Paralegal Association Help My Career?
Paralegal association membership combined with a degree from an accredited program can greatly enhance a student's chances of getting their first job. By joining a local paralegal association, members gain access to meetings, seminars and workshops where they can become more knowledgeable about state and regional laws.
National paralegal associations draw talented legal professionals from beyond the area when hosting events. Local chapters often have meet and greets which have a more intimate setting than national events. Roundtable discussions give paralegals a chance to face off with some of the brightest legal assistants in their area. This allows students and newcomers to become better at their jobs and stand out in the local job pool.
Law firms often approach local and national paralegal associations to find new talent. So, becoming a member of a professional organization can help inexperienced paralegals make an impression on the law firm they wish to join.
Peer Networking
In the legal industry, connections are vital. As with any other careers, getting the first job depends more on who someone knows rather than what they know. Advancing their career also relies on networking with other paralegals and learning about job opportunities that open up in their specialization. By meeting experienced paralegals, those new to the field can benefit from other paralegals with many years of experience.
It's also good to have someone to ask about work situations that might arise and how to handle them. Some areas of specialization don't have many practitioners. Going to national association events can help students make the connections they need in their niche. It's also a great way to promote one's expertise to hiring law firms.
Networking with other paralegals provides numerous opportunities for professional growth as well as the chance to become a mentor to other newcomers in the industry. Camaraderie and a sense of community can help paralegals feel less isolated.
Reporting on Issues That Matter
National paralegal associations provide information to members in the form of blogs, journals and educational articles. Most associations have an editorial board to check the accuracy of published information. These dynamic organizations help paralegal stay on top of changes in the ever-evolving legal system. National paralegal associations often have local chapters as well as regional levels that allow paralegals to meet professionals from beyond their local area.
---
States with the highest concentration of jobs and location quotients in Paralegals and Legal Assistants:
| State | Employment (1) | Employment per thousand jobs | Location quotient (9) | Hourly mean wage | Annual mean wage (2) |
| --- | --- | --- | --- | --- | --- |
| District of Columbia | 5,870 | 8.55 | 3.57 | $ 40.06 | $ 83,330 |
| Florida | 33,760 | 4.00 | 1.67 | $ 25.05 | $ 52,100 |
| Delaware | 1,620 | 3.80 | 1.59 | $ 24.94 | $ 51,870 |
| New York | 27,540 | 3.17 | 1.32 | $ 30.06 | $ 62,530 |
| Connecticut | 4,860 | 3.16 | 1.32 | $ 29.36 | $ 61,070 |
---
Top National Paralegal Associations
The associations listed below are just a few examples of reputable national organizations that help paralegals start an advance their careers.
American Alliance of Paralegals Inc. (AAPI)
The American Alliance of Paralegals Inc. was founded by 11 paralegals in 2003. In that first meeting, just eleven members participated. AAPI strives to meet the needs of unaffiliated paralegal organizations. The mission statement and bylaws of the organization indicate its desire to help paralegals deepen their knowledge of the legal field and set standards for paralegal professionals. American Alliance focuses on the experience of individual paralegals, giving them an opportunity to find their voice and provide input into activities.
The original board members of this group put their own finances into starting the organization. They wanted to provide options for paralegals in need of formal education and mentorship. Therefore, this organization might suit paralegals looking for a way to influence the entire industry by contributing their experience and telling their stories in a structured environment.
American Association for Justice Paralegal Affiliates
The American Association for Justice Paralegal Affiliates welcomes members who have the education and training to perform legal work under the supervision of an attorney. It supports paralegals who work for attorneys who represent clients in criminal and civil litigation. Members receive a number of perks including subscriptions to AAJ News Brief and Trial magazine.
The organization lists members in a directory and provides educational opportunities to improve speaking, writing and leadership skills. These are important skills since the paralegal position often depends on an ability to communicate well with others in sometimes difficult situations.
Members can also join AAJ Sections that form the political structure of the organization.
American Association for Paralegal Education (AAfPE)
Founded in 1981, AAfPE has even deeper roots. In the 1970s, the American Bar Association sponsored a conference that included paralegal educators. The group is still working to formalize and standardize education in the field. However, many inroads have been laid in the form of certifications and standards that provide new paralegals with a framework in which to perform their duties.
This professional association is concerned both with paralegal educators and other paralegals. It hopes to improve access to the legal system and promotes high quality educational opportunities in the form of certifications and educational materials that promote growth.
AAfPE's goals include the following:
Elevate standards for paralegal educational opportunities.
Give paralegal educators a platform to improve their profession.
Hold annual conferences for the benefit of members.
Provide consultation services to educators, employers and institutions.
Provide research impacting the paralegal profession.
Work with the American Bar Association to come up with an approval process for paralegal classes, certifications and degrees.
Work with other regional, national and local groups to promote the interests of paralegal education.
By concentrating on educational goals and criteria, AAfPE provides a unique perspective in the industry.
American Bar Association (ABA) Standing Committee on Paralegals
The American Bar Association has formed the Standing Committee on Paralegals, which promotes policies impacting the employment, education and use of paralegals. The standing committee has an Approval Commission that contributes to maintaining high standards for paralegal training and education courses.
The standing committee has a mission statement that includes improving the quality of legal services provided by paralegals. The committee aims to increase access to justice by setting ABA-approved educational standards for those who want to become paralegals. It also promotes the ethical treatment and use of paralegals by attorneys.
The Standing Committee on Paralegals monitors trends developing in the paralegal field. The organization receives 6,000 requests to obtain information or provide help in some way. This organization has a unique relationship with the ABA.
Why join a paralegal association such as the Standing Committee? Since lawyers hire paralegals, it's imperative that those in the paralegal profession understand the expectations of the ABA, which influences how lawyers do their jobs and treat their paralegal professionals.
Association of Legal Administrators (ALA)
The Association of Legal Administrators or ALA has roots as far back as 1971. ALA supports paralegal professionals who work in corporate legal departments, manage law firms or provide legal support in government agencies.
ALA supports the development of managers and leaders within the paralegal field. This association offers extensive opportunities for professional development. Members can become part of a collaborative community and work out solutions to operational problems faced by their peers.
The unique perspective of this group makes it valuable for those who have team leadership positions and who want to grow their practice by collaborating with those in similar positions. Additionally, the association has charitable and educational affiliates that contribute to the national community of paralegals and local communities.
What are the benefits of joining a paralegal association for paralegal supervisors? The benefits of belonging to a paralegal association focused on leadership include the ability of members to discuss specific issues facing these niche positions.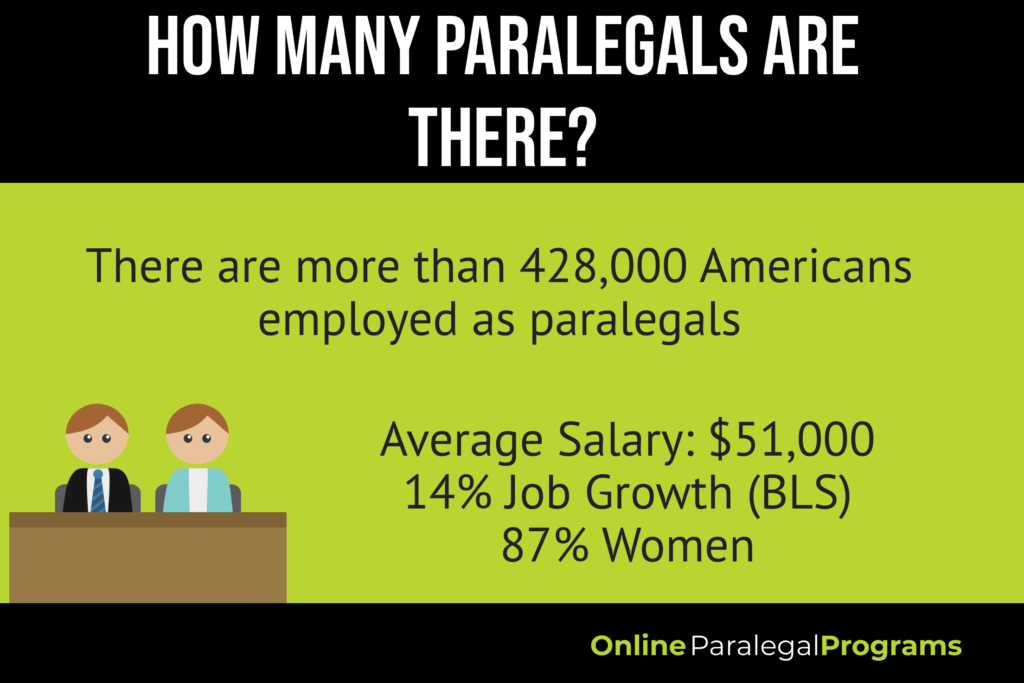 The Association for Legal Professionals (NALS)
The National Association for Legal Professionals is one of the more prestigious national paralegal associations. NALS was founded in 1989 and works to improve the future for legal support professionals. This 501(c)(3) nonprofit organization operates is an educational foundation. So far, the NALs Foundation has given away more than $200,000 to local and state chapters.
NALS strives to set a standard for top notch legal services. It helps that these become the norm in the field. By funding educational programs for those working as paralegals, this organization allows professionals to enhance their skills. it also provides a frame of reference for those who value competent, qualified legal professionals.
The NALS Foundation has a volunteer board with the following priorities:
Educational/Research Opportunities
Keynote Speakers/Workshops
Grants
Recognition
NALS is a nationally recognized and well-regarded organization for paralegals throughout the country.
International Practice Management Association (IPMA)
The International Practice Management Association (IPMA) provides information to managers in corporations, law departments and law firms. IPMA works to promote inclusivity as well as professionalism and proficiency within the industry. Becoming part of this respected organization can help legal professionals keep up with standards in the field and share their voice when it comes to the interests of paralegal professionals.
Anyone who manages legal assistance or offices in corporations may find this organization to be a valuable resource. The IPMA helps leaders find their path. Those who want to become leaders can also follow this organization and take advantage of is educational opportunities.
IPMA has a unique perspective that other paralegal organizations do not offer. Paralegal managers may want to join more than one professional organization. By adding membership to a wider audience of paralegal professionals, they can stay up to date with trends and issues in the industry.
National Association of Legal Assistants (NALA)
The National Association of Legal Assistants was founded in 1975. NALA provides continuing education to help paralegals maintained their certifications. The organization helps advance paralegals by providing exceptional educational opportunities in the form of courses, webinars and events. The organization also connects members with other paralegal professionals across the country. This opens doors for opportunities and knowledge for all members.
NALA has excellent publications, webinars and courses and it also provides networking opportunities for paralegals. Those who want to obtain their certifications can do so through this organization. By sponsoring occupational surveys, NALA contributes to research on how to improve the performance and opportunities of individuals in this field.
NALA is a nonprofit educational organization that represents over 12,000 paralegals. there are also numerous affiliated associations that help the organization further its goals. NALA Is one of the strongest national associations that paralegal professionals can join. Based in Tulsa, Oklahoma, the organization represents legal professionals from across the country.
The organization offers endless opportunities for its members. this includes certification paths so that paralegals can obtain employment and acknowledgement of their skills. The organization also offers continuing education courses so that paralegals can maintain their credentials. Additionally, networking opportunities at NALA are unsurpassed.
There are many reasons that members join this organization. It holds paralegal workshops every year and has an abundance of online resources such as books, programs and courses. The organization awards the Certified Paralegal (CP) credential which is well respected throughout the legal community. In fact, the CP credential is recognized by the American Bar Association as one of the highest marks of paralegal professional achievement.
National Federation of Paralegal Associations (NFPA)
The National Federation of Paralegal Associations or NFPA addresses issues associated with expanding the role of paralegals. It has a history of advocacy for those in the paralegal profession. For example, the NFPA spoke up in favor of paralegals when the US Department of Labor suggested updates to the Fair Labor Standards Act (FLSA).
The organization has testified before many Bar Association task forces and legislatures on issues that relate to the paralegal profession. Additionally, the NFPA closely watches legislative actions and court changes. If necessary, the organization files amicus briefs on any issues that may impact its members.
The NFPA Also created an influential credential in the form of the Paralegal Advanced Competency Exam (PACE) taken most paralegals across the country. This association is also responsible for the Paralegal CORE Competency Exam.
This active national paralegal association also creates position statements on outsourcing paralegal duties to offshore agencies. It promotes inclusion and diversity and works closely with other organizations such as the following:
American Bar Association (ABA)

International Paralegal Managers Association (IPMA)

American Association for Paralegal Education (AAfPE)
There are numerous benefits of belonging to a paralegal association such as the ones discussed above. Paralegal professionals should review descriptions of what each organization has to offer them. Paralegal educators, managers and working professionals can find associations that represent their particular interest. It may also be valuable to join more than one group, particularly for those who hold leadership positions and want to maintain connections with other managers as well as stay on top of changes in the paralegal industry.
Related:
The Paralegal Career Path: What Can I Do With a Paralegal Degree?
Top 25 Alternative Jobs for Paralegals
School Finder