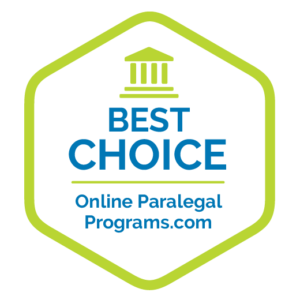 Getting ahead in the fascinating legal field without attending law school for three years or even commuting to a college campus is simplified thanks to online paralegal degrees. Paralegal programs at the associate and bachelor's levels prepare undergrads for assisting attorneys on cases behind the scenes. Labeled a "high-demand field" by Amazon, paralegal studies graduates will find positions growing by 8 percent through 2024. According to the U.S. News, America's 279,500 paralegals hold the 15th top social services job with low unemployment at 2.8 percent. CNN Money even recognized corporate paralegals for the 60th best job overall with median pay at $71,500. Online paralegal training can be the perfect start to this hiring, profitable career where personal satisfaction is high, stress is low, and telecommuting is possible.
Sponsored Paralegal Programs

Ranking the 30 Best Online Colleges for Paralegal Degrees
We began researching the top 30 online paralegal degree programs using the College Navigator tool from the National Center for Education Statistics (NCES). We conducted an advanced search for associate or bachelor's degrees in paralegal and legal assistant studies that were available primarily by distance education. Our 139 results were then narrowed based on each school's reputation on rankings, such as the U.S. News, Washington Monthly, and Forbes. Preference was given for American Bar Association (ABA) approval, but each had to be regionally accredited by agencies other than the ACICS and DEAC. We also weighed affordability, job placement, online technology, course flexibility, degree speed, faculty experience, and NALA preparation into our ranking.
1. Drury University
College of Continuing Professional Studies
Co-educational since its 1873 founding by Rev. Samuel Drury and Rev. Nathan Morrison, Drury University is a private, nonprofit liberal arts COPLAC member that's affiliated with the Disciples of Christ on a $74.1 million endowment. Enrolling 1,560 undergrad Panthers in 54 majors at a 19:1 student-faculty ratio, Drury is headquartered upon an 88-acre campus in Springfield, Missouri, with extensions in Aegina, Greece, and online. Named Kiplinger's 49th best private value nationally, Drury is ranked the 11th best Midwestern university by the U.S. News. Featured in Barron's "Best Buys," Drury University is also proclaimed America's 240th best small college on Niche.
The College of Continuing Professional Studies at Drury uses Moodle with free Smarthinking tutoring to deliver 10 associate and 14 bachelor's degrees wholly online in traditional, 16-week semesters. Online undergrads still receive access to the Career Center, Olin Library, student organizations like Alpha Sigma Lambda, and short-term service projects with Drury Volunteer Corps. Resources help CCPS majors finish the Associate of Science in Paralegal Studies with the mandatory minimum GPA of 2.75. Adhering to ABA standards, this two-year, full-time online program selectively admits 65 percent of freshmen for building foundational knowledge on the structure, doctrines, and ethics of legal practice.
Featuring a six-month job placement rate of 97 percent, Drury's Online A.S. integrates 21 credits of paralegal courses into the 60-credit curriculum map. Majors log in 24/7 for asynchronous sessions on litigation, family law, witness interviewing, legal research, court procedures, and more. Experienced faculty utilize Second Life to bring law office stimulations into the virtual classroom for real-world experience. Second-year online students also tackle an unpaid legal practicum with nearby firms like Baird Lightner Millsap and Checkett & Pauly or licensed attorneys in their own communities. Associate credits could transfer into the Online Criminal Justice B.S. for additional judicial process expertise.
2. Central Texas College
Legal Services Division
Fully SACS-accredited since 1969, Central Texas College is a comprehensive public, junior college directed by President Jim Yeonopolus to deliver associate and certificate programs in over 40 fields of study with 45 percent retention. Based upon 500 acres donated by Fort Hood in Killeen, CTC educates 39,294 Eagles primarily from Texas' Burnet, Bell, McCulloch, and Coryell counties. Given Victory Media's "Military Friendly" badge, CTC is ranked America's 15th best associate degree producer within Community College Week. Graded A- for diversity on Niche, Central Texas College is also deemed the #1 two-year school in Texas for online learning by OnlineColleges.com.
For "Students of the Real World," CTC grants 30 online associate degrees on the Blackboard Learning Management System, including the Associate of Applied Science in Paralegal/Legal Assisting. Chaired by Dr. Gene Silverblatt, this two-year option admits every Fall, Spring, and Summer to properly train enthusiastic paralegals with the highest ethical caliber to assist federal, state, or private attorneys. Also ideal for transferring pre-law majors, the 60-credit online degree includes CTC courses like contracts, law office technology, personal injury law, and advanced civil litigation. Online students will apply their training with ProDoc, Microsoft Office, and LexisNexis through an eight-week, off-campus paralegal internship.
Besides the AAS, the Legal Services Division at Central Texas College confers a shorter, 30-credit Certificate of Completion in Paralegal/Legal Assisting online. Taking only one year with a necessary 2.0 GPA, the accelerated credential suits CTC Eagles seeking entry-level paralegal jobs with smaller firms or wishing to simply get their feet wet in the legal field. Two online semesters still include courses for civil litigation, legal research, family law, will administration, and payroll accounting without an internship. Online paralegal courses of eight to 16 weeks apiece will require holding a high school diploma or GED and meeting the Texas Success Initiative (TSI) stipulations.
3. Colorado Mountain College
Paralegal Studies Department
Celebrating its 50th year in 2017, Colorado Mountain College is a public, HLC-accredited higher learning network of 11 community colleges in the Rockies that confer associate and bachelor's degrees conveniently at a distance. Generating an economic impact of $65.4 million yearly, CMC enrolls 20,400 students with sites from Glenwood Springs to Aspen, Steamboat Springs, and online. Noted for America's highest elevated campus at 10,152 feet, CMC is ranked the 17th best community college for graduate and transfer success on CNNMoney. Colorado Mountain College is also applauded for the Centennial State's 11th best professors and 20th most diverse student population on Niche.
The Virtual Campus of Colorado Mountain College offers interactive video (IVS) courses or Web-based learning on Canvas to complete five associate degrees off-campus. The Paralegal Studies Department has an affordable Online Associate of Applied Science with a 25 percent discount for military families that follows ABA guidelines. Boasting a 13:1 student-faculty ratio, the 63-credit degree introduces online learners to legal matters for the fast-growing paralegal profession. Courses will range greatly from English composition and U.S. history to property law and substantive criminal law before hands-on trial preparation experience. The AAS has an optional transfer agreement with Colorado Mesa University's Bachelor's in Public Administration/Public Safety.
For greater speed, online CMC undergrads have the 18-month Paralegal Studies Certificate to pursue in the Career & Technical Education Program. Admitting high school grads and GED recipients with a minimum ACT score of 17 or equivalent, the 36-credit, aid-eligible program skips general education courses to focus on legal assisting skills. Online students gain proficiency with constitutional law, torts, family law, property law, civil litigation, and criminal law. Courses are guaranteed to transfer into the Online AAS in Paralegal Studies for advancement. Enrolling in the Certificate via Basecamp could open jobs with Wick & Trautwein, Balcomb & Green, Silverman Law Firm, and others.
4. Saint Mary-of-the-Woods College
School of Social and Behavioral Sciences
Promoting the slogan "Small Campus, Big Goals," Saint Mary-of-the-Woods College is Indiana's oldest private, nonprofit Catholic ACCU member founded in 1840 by Mother Theodore Guerin, who was canonized by Pope Benedict XVI. Known for its Women's External Degree (WED) program, SMWC is endowed for $9.5 million to educate 1,577 undergrad Pomeroys from 33 states on its 67-acre campus in the Wabash Valley and online. SMWC is ranked the Midwest's 18th best college with 80 percent retention by the U.S. News. According to Washington Monthly, Saint Mary-of-the-Woods College is the 36th best Midwestern value and 180th top American baccalaureate school.
Chaired by Glenna Simons, JD, the School of Social and Behavioral Sciences confers 10 degrees, such as the Associate of Arts in Paralegal Studies online. Belonging to the AAfPE since 1989, the two-year program trains SMWC Pomeroys to investigate laws, research cases, draft legal documents, interview clients, and organize trial materials for attorneys. Using a mentoring model with an 8:1 student-faculty ratio, the HLC-accredited curriculum pairs 41 credits of paralegal-specific courses like legal writing and WestLaw enrichment with general education. Some courses on Brightspace (D2L) could be waived with the Prior Learning Assessment. Online students finish their portfolio with 150 practicum hours at any law-related office.
Noted for placing alums at the Kenneth J. Allen Law Group, Marion County Prosecutor's Office, Indiana General Assembly, and more, the Bachelor of Arts in Paralegal Studies is another Woods Online option reapproved by the ABA in 2017. Offering a Lambda Epsilon Honor Society chapter for superior students, the 120-credit online paralegal program explores the processes of law in relation to politics and society. Online learners select the Litigation Track or Personal Law Track for electives from intellectual property to mediation/ADR before fourth-year internships. Those already holding an accredited bachelor's could pursue the 32-credit Paralegal Certificate Online instead.
5. Hampton University
University College
Opened in 1861 near Union-held Fortress Monroe by Mary Smith Peake and the American Missionary Association to train freed slaves, Hampton University is a private, historically Black nonsectarian college endowed for $263.2 million. Now led by President William R. Harvey, HamptonU holds 314 acres, including the renowned Emancipation Oak, in Virginia's Hampton Roads Metro to educate 4,646 Pirates on the Chesapeake Bay and online. Ranked the 228th best U.S. college by Times Higher Education, HamptonU is named the 18th top Southern university on the U.S. News. Niche also placed Hampton University as America's eighth best HBCU and 152nd most selective college.
Authorized in 28 states from California to Maine, the Hampton University College's Online Division holds SACS accreditation to deliver 14 undergrad degrees via Blackboard. Through HUNET, online specialists help Pirates sign up for the Bachelor of Arts in Paralegal Studies each Fall or Spring. The 122-credit online paralegal degree program suits novice and practicing legal assistants boosting their knowledge of law specialties in a liberal arts framework. Asynchronous courses dive into administrative law, bankruptcy, real estate, domestic relations, business communication, and psychology. For the required internship, past students have been assigned to top-notch firms like Ashcraft & Gerel, Bowles Rice, Buchanan Ingersoll & Rooney, and Cooley LLP.
Non-degree seeking students interested in Hampton's 10:1 student-faculty ratio and class diversity could pursue the Certificate Program in Paralegal Studies. This fast, 30-credit online track can be completed within 12 months if two courses are taken every nine-week term. All courses, including personal injury, legal writing, trial practice, and torts, are transferrable into the Bachelor of Arts later. Pursuing the certificate to strengthen your resume for attorney offices will involve finishing a high school diploma or GED, submitting a $50 application fee, and writing a 300-word admission essay. Current paralegals could even find non-credit Ed2Go courses on law with expert faculty from Hampton University.
6. University of Providence
College of Professional Studies
Belonging to the Frontier Conference, the University of Providence is a four-year private, nonprofit Catholic ACCU institution that was called the University of Great Falls until July 2017. Founded by Sister Lucia Sullivan nearly a century ago, UP now educates 1,100 undergrad Argonauts during four-month semesters from its 44-acre headquarters in Montana's Diocese of Great Falls-Billings and online. Ranked America's 250th safest college on Niche, UP is declared the 19th best Midwestern university by the U.S. News. Given "Military Friendly" status perhaps for its Army Paralegal Program, the University of Providence is named the 315th best baccalaureate school in Washington Monthly.
Housed in Sullivan Hall, the UP College of Professional Studies attracts non-traditional students into 11 associate degrees, including the Associates in Paralegal Studies with ABA approval. This two-year, 64-credit program is chaired by Dr. Deborah Kottel, a Montana House of Representatives member, to inform undergrads of legal theories online. Courses are primarily delivered anytime through Moodle or live on Blackboard Collaborate Ultra, but 10 credits must be taken in Great Falls for face-to-face interaction. Mandating a minimum 2.0 GPA, the degree includes courses like theology, statistics, experimental science, and English before legal specialization. Access to 80+ databases, including LegalTrac and Criminal Justice Collection, is provided.
Admitting 84 percent of applicants, the University of Providence's Bachelor of Science in Legal and Paralegal Studies is also available mostly online for undergrads to pursue practical application or law school admission. The 124-credit degree develops Argos' awareness of substantive principles and rules of professional conduct for serving in law-related offices. Transfers are only responsible for taking three on-campus courses while topics in debtor-creditor law, estate law, environmental law, and criminal investigation are studied online. UP students benefit from joining the Law & Justice Club and securing semester-long internships at firms like Crowley Fleck and Garlington Lohn & Robinson.
7. SUNY College of Technology-Canton
College of Business & Liberal Arts
Reaffirmed by the MSCHE in 2013, the SUNY College of Technology-Canton is a public, land-grant polytechnic institution within the State University of New York system that's led by President Zvi Szafran with a $10.9 million endowment. Located on 555 acres in St. Lawrence County along the Grasse River, SUNY Canton offers cross-registration at Clarkson University and online courses to its 3,550 undergrad Kangaroos. Acclaimed for America's 76th best online bachelor's degrees, SUNY Canton is ranked the 23rd best Northern school and 13th top public university by the U.S. News. Canton is also the only SUNY constituent in the Online College Database's "Top 50 Colleges Committed to Saving the Planet."
The College of Business & Liberal Arts in MacArthur Hall develops a diverse, collaborative learning community just 75 minutes from Ottawa, Canada, with an average class size of 17. Several of its 12 majors and nine minors, including the B.S. in Legal Studies for paralegals, are available online through the Open SUNY+ platform. Registration begins annually on UCanWeb on April 17th for Fall, November 14th for Spring, and March 6th for Summer. Canton Roos pursuing the B.S. must have a high school diploma or GED score above 2450 to begin studying the intricacies of civil and criminal law proceedings.
SUNY Canton's four-year B.S. in Legal Studies degree grew from 38 to 97 students between 2008 and 2014 by eliminating physical barriers with online, anytime courses. Belonging to the AAfPE, the interdisciplinary program immerses students in real-world case analysis to develop the skills for paralegal practice. Tackling the 120-credit curriculum will involve online courses for business law, legal writing, negligence, trial courts, public budgeting, and victimization. Coordinated by Rosemary Philips, JD, the degree features a culminating, 12-week legal internship at law firms or government agencies. Students may also declare Honors, study in London, and become Judicial Advocates.
8. Keiser University-Fort Lauderdale
Criminal Justice Division
Awarding nearly $44 million in scholarships, Keiser University-Fort Lauderdale is one of Florida's foremost online colleges operating on a not-for-profit model with Level VI SACS accreditation to educate 16,379 Seahawks and employ 3,800 staff. Named for Dr. Arthur Keiser in 1977, Keiser occupies 100 acres in West Palm Beach with 19 extensions and an Online Campus coordinated from Fort Lauderdale's Spectrum Business Park on Commercial Blvd. The U.S. News ranked Keiser the 23rd best Southern school and 11th top value. Placed 11th nationally for associate degrees by Community College Week, Keiser University was included in America's top 12 by the Online Education Database.
Available in English or Spanish without prerequisites, the Paralegal Studies A.A. is the first of Keiser University's online degrees in the Criminal Justice Division for undergrads preparing for trial assistance careers. Admitting 49 percent of applicants for a small 12:1 student-faculty ratio, the two-year, terminal degree nurtures the skills for law office investigation under an attorney's supervision. The eCampus utilizes Blackboard for 24/7 content access in courses like real property, family law, civil litigation, and wills and trusts. The 60-credit online curriculum guides Seahawk Nation through ABA-aligned education with opportunities like interning at Tripp Scott and joining the Sigma Beta Delta Honor Society.
Keiser University-Fort Lauderdale also grants a Legal Studies B.A. for bachelor's-level students to successfully enter the criminal justice atmosphere as paralegals or begin law school. Preferring applicants with a high school diploma or GED and 2.5 GPA, the 120-credit online program sharpens analytical and technical skills for handling cases in legal negotiations. Bilingual courses explore immigration law, worker's compensation, legal drafting, constitutional law, dispute resolution, and criminal procedure flexibly on Blackboard. After the capstone project, students use the Online Career Center to post résumés for paralegal job openings. Keiser frequently hosts the National Association of Legal Assistance (NALA) Certified Paralegal exam for Floridians.
9. Regent University
College of Arts & Sciences
Affiliated with many legal alums like Troy A. Titus, Jay Sekulow, Monica Goodling, and Sharon Weston Broome, Regent University is a private, nonprofit evangelical Christian college with an ABA-accredited School of Law that's endowed for $186 million. Led by Chancellor Pat Robertson since 1977, Regent employs 685 faculty and enrolls 8,630 students upon its 70-acre neo-Georgian campus in Virginia Beach and via the Internet. According to the U.S. News, Regent is America's 196th top high school counselor pick with the 36th best online bachelor's programs. Placed third for scholarly citations on the Online Education Database, Regent University is one of 25 colleges graded "A" by the ACTA.
Chaired by Dr. Joshua McMullen, the College of Arts & Sciences confers the Bachelor of Science (B.S.) in Paralegal Studies online for returning adults aged 24 or older who wish to become indispensable legal team members. With an average class size of 18, the 120-credit degree uses the socially integrated Blackboard system to learn the legal terminology for managing cases alongside attorneys. Offering a unique Christian stance, the bachelor's has online courses from judicial systems to intellectual property law and probate law. Optional minors like Criminal Justice or International Relations & Foreign Policy could be helpful for elective specialization.
Launched in September 2014, the Regent University Professional & Continuing Education also delivers a Master Certificate in Paralegal Studies online for post-bachelor's students to get acclimated to the legal system from a sound ethical perspective. Offering 10 CEUs for recertification, the seven-course certificate emphasizes paralegals' roles directing law office administration. Topics addressed online include evidence collection, litigation, legal writing, client communication, and financial management. Led by L.O. Natt Gantt, Esq., the ABA-approved certificate offers membership to the Virginia Alliance of Paralegal Associations. Entrants are expected to hold a minimum 3.0 GPA and legal experience, but GRE/MAT scores aren't required.
10. Mississippi College
School of Humanities & Social Sciences
Endowed for $60.71 million, Mississippi College is the United States' second-oldest private, nonprofit Baptist school that graduated its first co-educational class in June 1832 after its charter by Governor David Holmes. Experiencing a 60 percent enrollment increase from 2002 to 2015, MC currently serves 5,152 Choctaws from the 80-acre campus in Clinton, ABA-accredited School of Law in Jackson, and online division. The U.S. News recognized MC as the 31st best Southern college and 23rd most veteran-friendly school for 2017. Deemed America's 115th best Christian university on Niche, Mississippi College is the 119th top master's-level institution according to Washington Monthly.
Featuring a 16:1 student-faculty ratio with peers from 30+ countries, the MC School of Humanities & Social Sciences in Jennings Hall is currently offering five online degrees, including a Bachelor of Science in Paralegal Studies. Chaired by Dr. Tricia Nelson, the program is launched on Moodle for undergrads to pursue non-licensure careers performing legal research and assistance. Upholding Christian ideals with an optional Communication Minor, the 120-credit degree involves courses like Mississippi legal systems, pre-trial discovery, bankruptcy law, civil litigation, and law office management. While pledging Pi Gamma Mu, ambitious students also complete 160 internship hours and sit for the NALA certification exam.
Taught by the same PhD-level faculty from Emory, Memphis, Ole Miss, Louisiana State, and others, the Post-Baccalaureate Paralegal Studies Certificate is available online for students with undergraduate degrees outside the legal profession. Requiring grades of "C" or better, the 27-credit option welcomes grads with above-average writing skills to develop understanding of court systems with practical assignments. Online Moodle courses can cover the spectrum from civil litigation to criminal, family, personal injury, and bankruptcy law with an optional three-credit internship. Some graduates springboard into Mississippi College's Doctor of Jurisprudence, but most seek employment, including with the Hinds County DA and Supreme Court of Georgia.
11. Marian University
Adult Programs Division
Originally named St. Francis Normal in 1851 by Father Francis Joseph Rudolph, Marian University is a private, nonprofit Catholic ACCU member following the motto "Sedes Sapientiae" while educating 2,137 undergrad Knights under Chairman William Eckman. Endowed for $36 million across six HLC-accredited divisions in the MCC Conference, Marian has courses on its 200-acre campus in Indianapolis, Forbes' 21st best city for careers, and online. Declared America's 311st best small college on Niche, Marian was placed 113rd regionally in the U.S. News Midwestern ranking. Marian University was also ranked the 44th best Midwestern value and 193rd top baccalaureate college overall in Washington Monthly.
The Marian Adult Programs (MAP) Division accelerates learning with five- or eight-week courses year-round for non-traditional students to finish eight degrees at the Keystone Site and online. Approved by the Indiana State Professional Standards Board, each program requires a high school GPA above 2.3 and GED score over 156 for entry. One hallmark online degree is the Associate of Science in Paralegal Studies, which is delivered by JD-level attorneys to build legal expertise for research and draft writing. With a 12:1 student-faculty ratio, the 66-credit degree integrates courses from theology and sociology to legal liability and torts. Study culminates with the internship and case practice management capstone.
Preparing for explosive paralegal job growth can be even faster with the Online Paralegal Studies Certificate from Marian University. Accessed via Canvas, the 29-credit option skips general education to focus exclusively on legal principles for assisting lawyers in civil and criminal proceedings. Exceeding the NFPA's credentialing competencies with one year of experience, the certificate includes online courses like legal writing, civil litigation, contracts, and ethical law decision-making. Marian has close ties with Kammen & Moudy, Wagner Reese, Pavlack Law Office, Marion County's Public Defender Agency, and others for externships. KnightWork also offers an online job board with paralegal openings.
12. University of Maine Augusta
College of Professional Studies
Admitting 98 percent of its roughly 1,025 applicants each year, the University of Maine Augusta is a public, co-educational regional branch welcomed into the UMaine system in 1971 for associate and bachelor's education with NEASC accreditation. Organized by President Rebecca Wyke, UMA serves 6,200 Moose from its main campus in America's 50th best small town to Bangor, Kandahar in Afghanistan, and online. Applauded for the 48th best online bachelor's degrees by the U.S. News, UMA is recognized for America's 715th top professors on Niche. The University of Maine Augusta also ranked #1 among online colleges statewide on the College Affordability Guide.
The College of Professional Studies teaches online courses with a 16:1 student-faculty ratio that accept CLEP credits for 15 programs, including an Associate of Science in Justice Studies. With a built-in Paralegal Studies Certificate, this unique, two-year degree is directed by Brenda McAleer, PhD, to instill the tangible skills for researching and presenting cases in law-related forums. Requiring 60 credits with one writing intensive course, the curriculum blends classes in criminal law, due process, constitutional law, political science, and psychology online. Other opportunities include accessing LexisNexis via Katz Library, entering the Honors Program, studying in France, and interning at Doyle Nelson Law.
Retaining 52 percent of freshmen on average, the University of Maine Augusta provides its Bachelor of Science in Justice Studies with specializations for Paralegal Studies, Fraud Examination, Forensics, or Community Policing too. With an optional Advocacy Minor, the 121-credit, online option requires a 2.5 major GPA for returning adults to better understand the rationale behind laws for careers in prosecution and defense. Satisfying ABA-accredited law school admission criteria, the customized curriculum includes courses for international justice, investigations, civil liability, counter-terrorism, and family law. Coordinated by Dr. Mary Louis Davitt, the degree involves passing the JUS 488 exam, capstone portfolio, and internship.
13. Southern Utah University
College of Humanities & Social Sciences
Known for its Michael O. Leavitt Center for Politics and Public Service, Southern Utah University is a public, co-educational teaching institution that joined the Big Sky Conference in 2012 with a $24.2 million endowment to enroll 7,656 Thunderbirds. Across six NWCCU-accredited colleges, SUU sends students abroad for 2,280 days yearly on average to supplement courses on its 129-acre campus in Cedar City and online. Given the NSEE Outstanding Experiential Education Award, SUU is ranked the Midwest's 68th best college and 20th top public university by the U.S. News. Southern Utah University was also crowned a "College of Distinction" with America's 43rd most conservative students on Niche.
As a Quality Matters member, Southern Utah's Online School is directed by Karl Stevens to grant six undergraduate degrees via Canvas, including the Associate of Applied Science in Paralegal Studies from the College of Humanities & Social Sciences. Available 100% online, the fast-track program takes 18 to 24 months for Thunderbirds to master legal codes for effective function in law offices. Approved by the ABA, the 59-credit degree integrates classes for estate planning, administrative law, legal interviewing, civil procedure, and torts. Funding like the Non-Resident Student Waiver helps SUU undergrads afford the 16-week online courses that have an extra $60 technology fee each.
Earning the A.A.S. in Paralegal Studies from Southern Utah University online won't mean sacrificing applied, resume-building experience while pursuing the NALA Certified Paralegal designation. Three credits are added for internships with the Utah Freedom Fighters, Kirton McConkie, Meredith Law Office, Cohne Kinghorn, or other licensed law firms. Guided by the Student Success Advisor Jennifer Sorenson, majors could join the Court Appointed Special Advocate (CASA) program or Legal Studies Student Association. Students with a minimum 3.0 GPA can engage in the Legal Scholars Program, which has offered field trips to the Supreme Court, Intramural Mock Trial competitions, and LSAT prep.
14. Eastern Kentucky University
College of Arts & Sciences
First chartered by Governor J.C.W. Beckham under the Normal School Commission in 1906, Eastern Kentucky University has sprouted into a four-year public, co-educational research hub where "Learning Comes First" for its 687 full-time staff and 15,975 Colonels. Maintaining Level VI SACS accreditation, EKU is physically headquartered in the Richmond-Berea Micropolitan Area with extensions conveniently from Somerset to Manchester and online. The U.S. News placed EKU as the South's 79th best college and 29th top public university with the 99th best online bachelor's degrees nationally. Ranked #2 by Nonprofit Colleges Online, Eastern Kentucky University has America's 25th best military-friendly education in Victory Media.
Authorized in all 50 states, the EKU College of Arts & Sciences offers an online paralegal degree program for an Associate of Applied Science through the Department of Government. Delivered via Blackboard Collaborate, the learner-focused degree is available 100% online after a two-week, on-campus orientation for preparing to engage in legal practice. The 64-credit curriculum is taught by JD-level faculty with courses like litigation, computer applications, real estate law, probate law, administrative agency management, and accounting. After 18 credits, online students can schedule their four-credit internship anytime and with any law firm. Credit for prior learning, CLEP exams, and military service is extended.
Requiring a 2.5 GPA and 20 ACT or 950 SAT score for full admission, the Bachelor of Paralegal Science (B.A.) is another online program at Eastern Kentucky University with a 15:1 student-faculty ratio. Only 10 credits must be taken in Richmond within this ABA-approved program, which means a higher degree that impresses law firms is within easy reach. As a respected AAfPE member directed by Dr. Lynette Noblitt, the 120-credit program marries online courses like constitutional politics, estate planning, probate procedure, and legal administration that start every eight weeks with 280 internship hours. Graduates also access a 30-credit Post-Baccalaureate Paralegal Certificate online.
15. Florida Gulf Coast University
College of Arts and Sciences
Granted $204.8 million in total research funding since its 1991 inception, Florida Gulf Coast University is a public, space-grant RU/H school with Level V SACS accreditation in the Atlantic Sun Conference. Enrolling 13,543 undergrad Eagles holding an average GPA of 3.78, FGCU occupies 800 acres in the San Carlos Park district of Fort Myers, Forbes' #1 fastest-growing city, with online courses available. The U.S. News ranked FGCU as the South's 82nd best school and 31st top public college. Called America's 99th best campus on Niche, Florida Gulf Coast University is also recognized by Plexuss as the 604th best U.S. college.
The FGCU Distance Learning Division lets transfers finish the upper-division courses for three bachelor's degrees online, including the Bachelor of Science in Legal Studies from the College of Arts and Sciences. Through the SREB Electronic Campus, this 48-credit track advances students' law and government expertise to take the NFPA Paralegal Advanced Competency Exam. Full-time online students spend two years taking courses like courtroom techniques, dispute resolution, logic, family law, real estate transactions, and contracts. The Department of Justice Studies requires 210 to 280 internship hours at practitioner agencies, such as the Pendas Law Firm, Lee County Attorney Office, or Knott Ebelini Hart.
Another acclaimed, ABA-approved online paralegal program for Florida Gulf Coast Eagles is the Advanced Paralegal Certificate, which is finished with just two seven-week sessions. Requiring a Westlaw subscription, the six-part curriculum has trained beginning legal workers to assist trial attorneys with real-life document writing assignments since 1980. Launched via Canvas, the online certificate begins every other month to introduce legal terminology, research methods, litigation processes, appellate procedures, and interviewing techniques. FGCU also provides current paralegals with certificates for Intellectual Property Law, Legal Investigation, and Victim Advocacy.
16. American Public University
School of Security and Global Studies
Partnered with Walmart's Lifelong Learning program, American Public University is a private, for-profit online education hub with HLC-NCA accreditation that's expanded since its 1991 founding by USMC Major James P. Etter to run six academic schools. With a graduation rate of 46 percent, APU educates 98,400 Volunteers online, 56 percent of whom are active-duty military, from its physical offices in Charles Town, West Virginia, 75 miles west of Baltimore. Placed 14th by OnlineDegreeReviews.org, APU is applauded for America's 92nd best online baccalaureate programs by the U.S. News. American Public University also received the Sloan Consortium Effective Practice Award three times.
Offering monthly course starts, the School of Security and Global Studies has an Associate of Science in Paralegal Studies for online APU undergrads to develop legal reasoning skills from industry experts. After taking the College Readiness Assessment, students spend two years full-time online learning the practical aspects of law to aid the civil or criminal litigation process. The 62-credit degree accepts a maximum of 46 transfer credits with courses like legal writing, real estate law, judicial ethics, and American government. Directed by Terri Wilkin, JD, the program is delivered on the robust Sakai platform with a sophomore paralegal seminar as capstone.
Aspiring or current paralegals seeking greater depth of knowledge from American Public University could complete the Bachelor of Science in Legal Studies online. Adhering to ABA-approved guidelines, the four-year, full-time curriculum emphasizes the theories, philosophies, and procedures of the justice system with legal research experience. Featuring 100 percent admission for high school grads or GED recipients, the 122-credit degree uses a 21:1 student-faculty ratio on Sakai for stimulating legal discussion without an internship requirement. Topics addressed span from hospitality law to maritime law, public policy, criminal evidence, and sports regulation. APU Volunteers could even continue for the Online Master of Arts in Legal Studies.
17. William Woods University
Undergraduate Programs Online
Established in 1870 as the Female Orphan School by the Disciples of Christ, William Woods University was renamed to honor Dr. William Stone Woods of Kansas City Savings Bank as a private, nonprofit higher learning institution where "Love Conquers All." Led by President Jahnae H. Barnett, Woods enrolls 2,412 Owls within the American Midwest Conference upon its 200-acre rural campus in Fulton, Missouri, and satellites from Jefferson City to online. The U.S. News ranked WWU as the 91st best Midwestern college with the 180th best online bachelor's degrees nationwide. William Woods University was also declared the 14th top private value by Affordable Colleges Online.
Reporting a 94 percent job placement rate in 2016, William Woods uses its 140 years of experience to deliver high-quality, eight-week courses online via Moodle. Working adults choose from two undergraduate, four transfer, and seven graduate programs online, including the Bachelor of Science in Paralegal Studies. Belonging to the AAfPE and approved by the ABA, this program provides start-and-stop flexibility for WWU Owls to dive into the fascinating justice system. Directed by Michael W. Westerfield, PhD, the degree begins six times annually to prepare students for the NALA Certified Paralegal program with overarching knowledge about legal services delivery, computer skills, and investigation abilities.
Completing the BS in Paralegal Studies with Woods Online will involve accumulating 120 credits total with general education courses like English, statistics, political science, and history. Those with an Associate of Arts can transfer into an accelerated, 42-credit degree completion option, which skips right to meaty courses for electronic legal research, criminal practice, torts law, and law office ethics. WWU's digital classroom offers access to Westlaw Next and LexisNexis for lawyering resources. Mastering the competencies of paralegalism is ensured with six weeks of legal practicum at firms, such as Shook Hardy & Bacon, Husch Blackwell, and Stinson Leonard Street, before the capstone project.
18. McNeese State University
College of Liberal Arts
Advanced to university status in 1950 by Senator Gilbert Franklin Hennigan, McNeese State University is a public, co-educational teaching school within the UL System that's endowed for $75 million under President Dr. Daryl Burckel. Standing atop 121 tree-lined acres in Louisiana's Lake Charles Metropolitan Area, McNeese confers 83 SACS-accredited degrees across eight colleges both on-site and online to 8,162 Cowboys and Cowgirls. Affiliated with 15 Fulbright Scholars, McNeese is ranked the South's 98th best college and 41st top public university by the U.S. News. Placed second statewide for affordability on SmartAsset, McNeese State University was also the 385th best master's-level institution in America in Washington Monthly.
Partnered with StraighterLine, McNeese State uses the LouisianaOnline system to expand beyond Lake Charles with two associate, seven bachelor's, and five master's offerings online. Granting financial assistance with the Non-Traditional Student Scholarship, one such option is the Associate of Arts in Paralegal Studies. Authorized in most states except Indiana, Kentucky, Maryland, Minnesota, and Utah, this two-year program has a 20:1 student-faculty ratio for gaining substantive legal experience from the College of Liberal Arts. Aligned to NFPA credentialing stipulations by Chair Billy M. Turner, PhD, the online degree teaches adults to evaluate, organize, and communicate legal facts during trial assistance.
Launched in 1986, the Paralegal Studies A.A. is also a transfer-friendly degree for the Bachelor's in Liberal Studies Pre-Law Specialization at McNeese State University. During the freshman year, online learners take 37 credits, such as finite math, keyboarding, English composition, government, and administrative law. The sophomore year features 34 credits of specialized coursework from legal investigation to civil procedure, torts, and family law. The Department of Social Sciences helps coordinate 8-week internships with licensed attorneys in and around Louisiana for building the capstone portfolio. Other opportunities include accessing LexisNexis via Frazar Memorial Library, studying abroad in Belgium, and joining the Pre-Law & Politics Society.
19. Herzing University
School of Legal Studies
Since celebrating its golden anniversary in 2015, Herzing University has transitioned into a private, nonprofit higher learning institute with an Online Division, 625 experienced faculty, and $10 million in scholarship funding to serve over 6,000 students. Partnered with China's Dalian Institute of Science and Technology, Herzing is based in Menomonee Falls, Wisconsin, with 10 campuses across seven states from Florida to Nebraska. Accredited by the HLC-NCA, Herzing is ranked America's 21st best online college and 108th top university for free applications on Niche. Noted for the 142nd best bachelor's degrees online by the U.S. News, Herzing University also placed in College Choice's top 50.
Herzing Online offers its "Everywhere Classroom" for 23 online degrees, including the Associate of Applied Science in Legal Studies. Although it's only ABA-approved in New Orleans and Atlanta, the online paralegal program will qualify graduates for the NALA Certified Paralegal or Certified Legal Assisting exams. The 63-credit, two-year degree informs undergrads about the U.S. legal system for handling changing functions and technologies in law offices. With an 18:1 student-faculty ratio, the curriculum consists of 25 general education, 30 major, two professional development, and six elective credits. Online students in certain states can fulfill one elective with 180 internship hours in legal services.
Accepting prior learning credits via LearningCounts.org, the Bachelor of Science in Legal Studies is another Herzing Online program for paralegals to learn the nuances of law with an added background in management. The undergrad degree lays the groundwork for legal administration or law school admission with in-depth research skills. The 126-credit curriculum includes online courses for paralegal professionalism, civil litigation, contract law, business organizations, labor relations, and constitutional law before NALA Certification Review. For capstone, Herzing University offers a capstone project or internship worth three credits. Most graduate in 48 months full-time, but an accelerated, three-year track is available.
20. Lake Superior College
Liberal Arts & Science Department
Operated by the Minnesota State Colleges and Universities (MNSCU) System, Lake Superior College is a public, two-year pre-baccalaureate institution founded in 1995 that's offering 80 technical majors with HLC-NCA accreditation under President Dr. Patrick Johns. Educating 8,118 Ice Hawks both face-to-face and online, LSC occupies 97 acres in Duluth overlooking the Saint Louis River and its namesake lake. Graded "B" overall, LSC was crowned America's 99th best community college and 130th top trade school on Niche. Placed 12th for affordability by Value Colleges Online, Lake Superior College was also ranked 10th nationally for online technology in the Digital Community Colleges Survey.
Starting with the Online SOAR Orientation, Lake Superior College now offers 165+ course sessions via the Web and 15 completely online degrees, including the Paralegal Studies A.A.S. The Liberal Arts & Science Department houses this two-year legal assisting degree to inform students of the proper methods for conducting evidence-based law research. The 60-credit, terminal degree requires an Accuplacer English/Reading score of 78 or better for entry. Online courses then dive into legal transcription, criminal procedures, legal document processing, business law, and communications. With free online tutoring through the Learning Center, the program ensures graduates are eligible for the NALA Certified Paralegal exam.
Congratulated by the SR Education Group for the seventh lowest tuition countrywide, the Online Paralegal Certificate is another LSC option for Ice Hawks to learn the basics of legal assisting. Redesigned for Fall 2017, the 30-credit certificate shaves off one year and nearly $6,000 by focusing on formal paralegal training instead of general education. Non-degree online students can still gather the procedural knowledge for legal services delivery with licensed attorneys. Accelerated courses introduce legal terminology, litigation, legal research methods, and certain specialties like real estate law before the LGST Capstone. Lake Superior students could also pursue the Legal Secretary Diploma or Legal Administrative Assistant Certificate.
21. Liberty University
School of Law
Noted for prominent legal alums like Chris Epps, Kevin Beary, Janet Vestal Kelly, and Allison Ball, Liberty University is a private, nonprofit doctoral CUR member of the Big South Conference that's holding SACS accreditation for 522 academic programs on-site and online. Enrolling over 100,000 Flames as Earth's biggest evangelical Christian school, Liberty is based on 7,000 acres in Lynchburg, Virginia, surrounding the historic Carter Glass Mansion. Honored for America's 148th best online bachelor's degrees by the USNWR, Liberty is ranked the 242nd best research university and 157th top Southern college by Forbes. Liberty University was also crowned the #1 best online university and most conservative school on Niche.
Integrating a Christian worldview, Liberty Online uses Blackboard Collaborate and a private Facebook community for students to network within 250+ online programs, including the Associate of Arts in Paralegal Studies. The ABA-approved School of Law sets "Knowledge Aflame" with this 100% online offering that covers the foundations of legal practice. Taught by JD-level faculty, the two-year, 60-credit degree requires just 15 credits at Liberty for fast transfer completion. Undergrads gather important legal assisting skills from writing dispositions to conducting title searches and drafting wills. Featuring an 8:1 student-faculty ratio, the close-knit program also allows textbooks to be affordably rented via MBS Direct.
Setting a priority deadline of December 15th yearly, the Bachelor of Science in Paralegal Studies is the other non-JD online program from Liberty's School of Law. With optional minors in Government or Politics & Policy, the four-year degree dives deeper into paralegalism for understanding of civil and criminal practice from a liberal arts perspective. The 120-credit degree accepts up to 90 transfer credits, including those for military training. Bachelor's courses cover the spectrum from family law to government legislation and real estate transactions. Completing the Washington Fellowship for experience with the DOJ, Center for Constitutional Studies, and others is optional.
22. Kaplan University
College of Social and Behavioral Sciences
Acquired by Indiana's Purdue University in April 2017 to transition to a nonprofit model, Kaplan University traces back 80 years as a private, HLC-accredited higher learning institute with open enrollment and competency-based education across eight schools. Based in Davenport with 14 campuses from Wisconsin to Maine and online, Kaplan educates 32,000 students and employs 3,600 staff under the direction of President Dr. Betty Vandenbosch. Given the 2015 Open Education Award for Outstanding Site, Kaplan is recognized for America's 156th best online bachelor's degrees by the U.S. News. Kaplan University was also the #1 most preferred private college on The JobsCentral site for two years.
Given 5.7 stars on OnlineDegreeReviews.org, Kaplan University currently coordinates 107 online programs, including the Associate of Applied Science (A.A.S.) in Legal Support and Services for paralegals. Located in the College of Social and Behavioral Sciences, this two-year program has produced over 6,500 alums since 2001 with the requisite knowledge of laws. Offering online career guidance through the Center for Public Service, the degree uses live webinars to cover courses like torts, legal ethics, civil litigation, and business regulatory control. Requiring 90 quarter credits, the curriculum also provides a guest lecture series with panelists from the International Legal Assistance Consortium.
Available for free, three-week test runs, the Bachelor of Science in Legal Support and Services with the Paralegal Studies Concentration is another of Kaplan's online offerings in 49 states excluding Florida. Undergrads work one-on-one with education advisors to plot their practical, four-year curriculum in legal specialties, such as criminal law, real estate law, personal injury law, and employment law. Featuring monthly online starts with a 27:1 student-faculty ratio, the 180-credit degree builds a strong academic foundation from American jurisprudence to interpersonal communication before a case study capstone. Kaplan graduates would qualify for the online Master of Science in Legal Studies too.
23. National American University
College of Legal Studies
Reaffirmed by the HLC-NCA through 2024, National American University is a senior publicly traded, for-profit educational system created in 1941 by Clarence Jacobson that's stretching beyond its Rockies roots to educate 5,286 online students. Headquartered in South Dakota's second-largest town, Rapid City, NAU has 33 U.S. locations and an Online Division directed by CEO Ronald L. Shape for 125 degrees across five colleges. Graded A for safety and diversity on Niche, NAU is ranked the 92nd best distance university by OnlineDegreeReviews.org. Included in College Choice's "50 Most Affordable Online Universities," National American University also lands in America's top 20 percent of military-friendly schools by G.I. Jobs magazine.
The College of Legal Studies is ABA-approved at six campuses from Sioux Falls to Burnsville with online opportunities like the Associate of Applied Science (A.A.S.) in Paralegal Studies. At National American, this two-year option teaches virtual learners the professional behaviors for ethically conducting legal assistance with background in substantive and procedural law. The 90.5-credit curriculum has 100% admission while maintaining a 13:1 student-faculty ratio for interactive courses like law office technology, legal principles, and quantitative reasoning. Review for the Certified Legal Assistant (CLA) exam is integrated along with a two-credit paralegal internship. Individuals who already hold associate degrees could obtain the Paralegal Studies Certificate online.
For greater breadth of administrative skills, NAU online students could also choose the Bachelor of Science (B.S.) in Paralegal Studies or Bachelor of Science (B.S.) in Professional Legal Studies. The former builds technical knowledge for law office applications, whereas the latter introduces students to the constitutional framework for further law study. Both 180-credit degrees fulfill the PCCE exam requirements with online courses like human resource law, legal writing, domestic relations, torts, real property, and legal research. Transfers from the A.A.S. can finish the bachelor's within six quarters, including the off-campus internship at Swier Law, Redstone Law, and elsewhere.
24. Yavapai College
Business, Education, and Social Sciences Division
Opened in 1965 at Fort Whipple, Yavapai College is a public, two-year junior college approved by the Arizona Commission on Postsecondary Education to deliver 99 HLC-accredited degrees and transfer pathways with 414 academic staff. Following the motto "Life Explored," Yavapai is directed by President Penelope H. Wills, PhD, to educate 11,616 Roughriders online and on its rural campus in Prescott just south of the Granite Dells. Boasting full-time retention at 63 percent, Yavapai is ranked America's 178th best community college and 209th top trade school on Niche. Affordable Colleges Online also placed Yavapai College sixth nationally for its cheap tuition.
At Yavapai, online enrollment rose from 34 percent to 47 percent between 2010 and 2014 thanks to the convenience of the Canvas LMS and 24/7 tech support. Online Roughriders select from nine fully online degrees, such as the A.A.S. in Paralegal Studies. Capitalizing on the 19:1 student-faculty ratio, the two-year program engages students in entry-level legal practice to learn the fundamentals of case management. The Business, Education, and Social Sciences Division requires 61 credits for completion with courses from civil tort litigation to neuroscience and the law. Those with a 2.0 GPA can complete paralegal internships with agencies like Jensen Law Firm and Dana Law Group.
Whether graduates have finished another Yavapai degree like the A.A.S. in Administration of Justice or attended another accredited college, the Paralegal Studies Certificate is an excellent online, post-degree option. Taking just 12 months full-time, this 30-credit program accepts associate and bachelor's holders seeking knowledge of legal specialties. Online courses will explore constitutional law, family law, contracts, substantive criminal law, and probate law with an emphasis on professional ethics. Chaired by Dean Hill Fitzgerald, the updated program requires official transcripts showing a GPA over 2.0. Don't sweat it if you lack a degree because Yavapai College also has a Legal Office Clerk Certificate.
25. Davenport University
Donald W. Maine College of Business
Admitting 93 percent of applicants for enrollment at 8,500 Panthers from 42 nations, Davenport University is a private, diverse multi-campus teaching institute organized by President Richard Pappas, EdD, within the GLIAC. Operating four colleges with Carnegie's master's classification, Davenport has an average class size of 16 upon its 69-acre, LEED-certified campus in Caledonia Township, Michigan, and online. Ranked 529th overall in Washington Monthly, Davenport is congratulated for the 186th best online baccalaureate degrees by the U.S. News. Noted as America's 120th most conservative school on Niche, Davenport University also placed 32nd for affordable online degrees on Best Value Schools.
Dually accredited by the HLC-NCA and IACBE, the Donald W. Maine College of Business has 17 degrees available online for Davenport Panthers, including the Associate of Science in Legal Studies. This 64-credit, two-year program produces certified paralegals with the legal know-how to handle the research and paperwork for litigation performed by attorneys. Four 16-week terms on the DU Global Campus will involve courses like applied information technology, advanced composition, accounting, law office management, torts, and legal discourse that are capped at 25 learners. Before the comparative legal analysis capstone, Davenport undergrads could elect to study abroad from China to the Netherlands.
Coordinated by Barbara Craft, JD, the Bachelor of Science in Legal Studies is another of Davenport University's online offerings in the Donald W. Maine College that's ABA-approved for paralegal training. Emphasizing legal research and process, the 120-credit degree retains 71 percent of freshmen seeking to perform law office duties without direct client representation. Those who are pre-law would benefit from the DU partnership to Thomas M. Cooley Law School and its Access to Justice Clinic though. For 48 months full-time, online undergrads dive into electives from criminal evidence collection to bankruptcy law and estate planning. Students could also join the Legal Assistants@Davenport and BPA clubs.
26. Removed by editor.
27. Hodges University
Nichols School of Professional Studies
Originally called International College until 2007, Hodges University is a private, nonprofit adult-friendly learning institution awarding 34 degrees with SACS accreditation from 102 academic staff under President Donald Wortham's leadership. Attracting 2,055 students at an average age of 32, Hodges stands upon a 36-acre Southwest Florida campus in Naples with its Frances Pew Hayes Center for Lifelong Learning to deliver self-paced, online courses in the UPOWER format. Ranked 40th among the "Best Buys" on GetEducated.com, Hodges is named the 25th top online university by SR Education Group. Hodges University was also declared America's 500th best location with the 347th best student life on Niche.
The Nichols School of Professional Studies offers three associate, four bachelor's, and two master's degrees completely online along with a unique eDiscovery/eLitigation Certificate. Maintaining a 15:1 student-faculty ratio, the Associate in Science (A.S.) in Paralegal Studies is chaired by Charlene Wendel, JD, to shape students' capacities for completing specially delegated substantive legal functions. Aligned to NALA Certified Paralegal exam content, the 60-credit curriculum involves three online courses from legal ethics to contracts and property each term for five semesters. Joining the Hodges family means entering the one-on-one Mentor/Mentee Program, qualifying for 26 scholarships, and benefiting from the career outcomes rate of 93 percent.
Associate credits could transfer into Hodges' Bachelor of Science in Legal Studies, another online program delivered via Blackboard under Dean Dr. Mary Nuosce. Placing special emphasis on information security and confidentiality, this four-year degree introduces the legalities inherent for successful law office administration. The 120-credit curriculum could be a launching pad for paralegals into the legal workforce or ABA-accredited law schools. Delivered solely by JD-level instructors not TAs, the online courses include data privacy, current legal issues, legal reasoning, constitutional law, and strategic thinking with optional internship experience. Current paralegals seeking promotions could also earn the Hodges Master of Science in Legal Studies online.
28. University of Northwestern Ohio
College of Occupational Professions
Formed as the Northwestern School of Commerce in 1920, the University of Northwestern Ohio is a private, nonprofit entrepreneurial career college with open admissions that's attracting 4,540 Racers from 50 states and 16 countries to five HLC-accredited schools. Authorized by the Ohio Board of Regents, UNOH is led by President Jeffrey Alan Jarvis with 60+ academic programs on its 200-acre campus in the Lima Metro south of Toledo and online. Since becoming the region's first college without walls in 1993, UNOH has been ranked among the top 20 online schools by Great College Deals. Niche also recognized Northwestern Ohio for America's 796th most diverse university.
Authorized in 49 states excluding Maryland, the UNOH Virtual College offers 100% online education for 11 associate and 10 bachelor's degrees. Recommending a 3.0 GPA or better, online learning at Northwestern Ohio is self-paced on Blackboard with remote proctoring purchased from Barnes & Noble. The College of Occupational Professions specifically offers the Associate of Applied Business (A.A.B.) in Legal Assisting online. Featured on the Ohio State Bar Association's Guide to Paralegal Education, this program blends in-depth didactic instruction on black letter law with applied, hands-on training. Virtual classrooms come alive with automated research on LexisNexis and access to state-of-the-art software like AbacusLaw.
Estimated to take six to seven quarters full-time, the 108-credit A.A.B. in Legal Assisting immerses University of Northwestern Ohio Racers in courses like human communication, psychology, ecology, English composition, and business math before its law focus. Upper-division courses then span from juvenile law to domestic relations and probate administration before a legal capstone project. Internships can be arranged across the Midwest, including recent placements of Koffel Law Firm, Tucker Ellis LLP, Allen County Prosecutor's Office, and Baker & Hostetler LLP. Launching each September, January, and April, the program also accepts up to 81 transfer quarter hours from colleges and Joint Services Transcripts.
29. Navarro College
Business, Professional, and Technical Division
Tied to Texas A&M University-Commerce, Navarro College is a public, two-year SACS-accredited junior college with the Waxahachie Global High School that's educating 10,256 Bulldogs in the Southwest Conference under President Richard M. Sanchez, PhD. Founded in 1946 for World War II veterans, Navarro has a 47-acre campus headquarters in Corsicana, Texas, but offers off-campus learning from Fairfield to Midlothian and the Internet. Named America's #1 fastest-growing two-year school in 2007 by Community College Week, Navarro is ranked in Texas' top 10 for affordability on Schools.com. The Community for Accredited Online Schools also gave Navarro College a "Best Online School" badge in July 2017.
Navarro College's eLearning Campus is authorized to serve Texans with mini semesters on Blackboard Learn for 36 online associate degrees, including the Associate of Applied Science (A.A.S.) in Paralegal Studies. Categorized in the Business, Professional, and Technical Division, this five-semester program targets undergrads seeking the first step toward increasing demand in legal assistance. Satisfying CLA exam stipulations, the 60-credit degree injects courses for legal research, computing, criminal law, personal injury law, and federal governance from the freshman year. Online students could add the Criminal Justice Emphasis for added electives like juvenile justice, corrections, and criminal behavior. Graduates may transfer seamlessly to Tarleton, TAMU, Baylor, and elsewhere.
Online Navarro students with other associate majors, such as the A.A. in Criminal Justice, could complement their study with the Certificate in Paralegal Studies too. Mandating a minimum "C" average, this 32-week option prepares legal support workers with fundamental knowledge of substantive and procedural law. Earning the 35-credit certificate involves showing proficiency in civil litigation, family law, law office management, real property, and trust administration. Like the A.A.S., legal practicum is integrated either virtually or at Texas law firms from Dallas to Austin. Navarro College provides its online learners with 24/7 tech support, access to Richard M. Sanchez Library, and tutoring on Tutor.com.
30. Georgia Military College
Social and Behavioral Sciences Division
Led by Lieutenant General Ret. William B. Caldwell IV, Georgia Military College is a public, independent seven-campus system comprised of a SACS-accredited junior college and preparatory high school for nearly 14,000 Bulldogs. Co-educational since 1890 to produce notable alums like Carl Vinson, Oliver Hardy, DeAnna Pappas, and George Busbee, GMC is based upon 25 acres in Milledgeville, Georgia's pre-Civil War capital, with a growing online division. Give a four-star average on Niche, GMC is ranked the 10th best community college by CNN Money. Georgia Military College also lands within America's top 50 associate degree producers for African Americans in Diverse: Issues in Higher Education.
Picked 11th by AffordableOnlineColleges.com, the GMC Online Campus offers cadets 18 associate and two bachelor's programs with cheap in-state tuition from anywhere. Along with credit-saving transfer agreements to Auburn, Kennesaw State, Embry-Riddle, and others, Georgia Military partners with Akademos, a cost-effective online textbook platform. Online undergrads can affordably pursue the Paralegal Studies Major for an Associate of Arts or Associate of Science. For general education, the A.A. integrates more liberal arts courses like history and psychology while the A.S. sticks to the math and science realm. Both two-year, online associate options blend legal theory with practical research skills for attorney assistance though.
Featuring open admissions for classes averaging 16 pupils, the Paralegal Studies A.A./A.S. suits Georgia Military College cadets seeking student-centered training for entry-level legal office roles with constitutional know-how. Coordinated by Christy Musgrove, JD, in the Social and Behavioral Sciences Division, the 95-98 curriculum spans six quarters with courses like statutory law, case management, jurisprudence, legal writing, draft processing, and criminal law. Other opportunities for GMC students include joining the Ethics Bowl National Champions team, applying for Army ROTC, earning the President's Scholarship, and declaring Academic Honors. Some graduates could continue for the Bachelor of Applied Science (BAS) online.
References:
http://www.bls.gov/ooh/legal/paralegals-and-legal-assistants.htm
http://www.bls.gov/oes/current/oes232011.htm
https://money.usnews.com/careers/best-jobs/paralegal
http://money.cnn.com/gallery/pf/2017/01/05/best-jobs-2017/60.html
https://nces.ed.gov/collegenavigator/
https://www.usnews.com/best-colleges
http://washingtonmonthly.com/college_guide
https://www.forbes.com/top-colleges/#695dd7941987
https://www.americanbar.org/groups/paralegals.html
https://kry224-site0001.maxesp.net/Directories/regional.asp
https://www.nala.org/certification