The field of law is a great place of employment for people who enjoy analytical thinking, helping others, and the opportunity to always be learning, then applying what you've learned in a field where knowledge makes a difference. However, not everyone who's interested in a legal career in Florida wants to become a lawyer, but they can become a paralegal and enjoy a career in the field of law.
The role of a paralegal is to support one or more lawyers in their daily duties. Those duties include maintaining the calendar for appointments and court dates, preparing legal briefs and pleadings, reviewing case information, filing cases, working with clients, taking depositions, and more. A paralegal works under the supervision of the attorney and is barred from practicing law on their own. Even though a paralegal can't practice law independent of a lawyer, they can gain legal skills that are similar to that of an attorney and use those skills to advance their career in the legal and non-legal fields.
Featured Programs
There are no legal requirements to become a paralegal, but employers won't hire someone off the street as a paralegal. You need to have a professional certificate or an associate's degree at the very least to work as a paralegal. Getting an education as a paralegal provides you with the training and skills you need to function successfully as a paralegal at the entry level. Employers expect you to refine your knowledge throughout the course of your employment and are aware that you'll need to ask questions to gain a further understanding of the work you're doing.
The state of Florida does not require paralegals to get a license to work due to the fact that paralegals work under the supervision of a licensed attorney. However, the state does have a paralegal organization that is voluntary to join. Read on to learn more about how to become a paralegal in Florida.
School Finder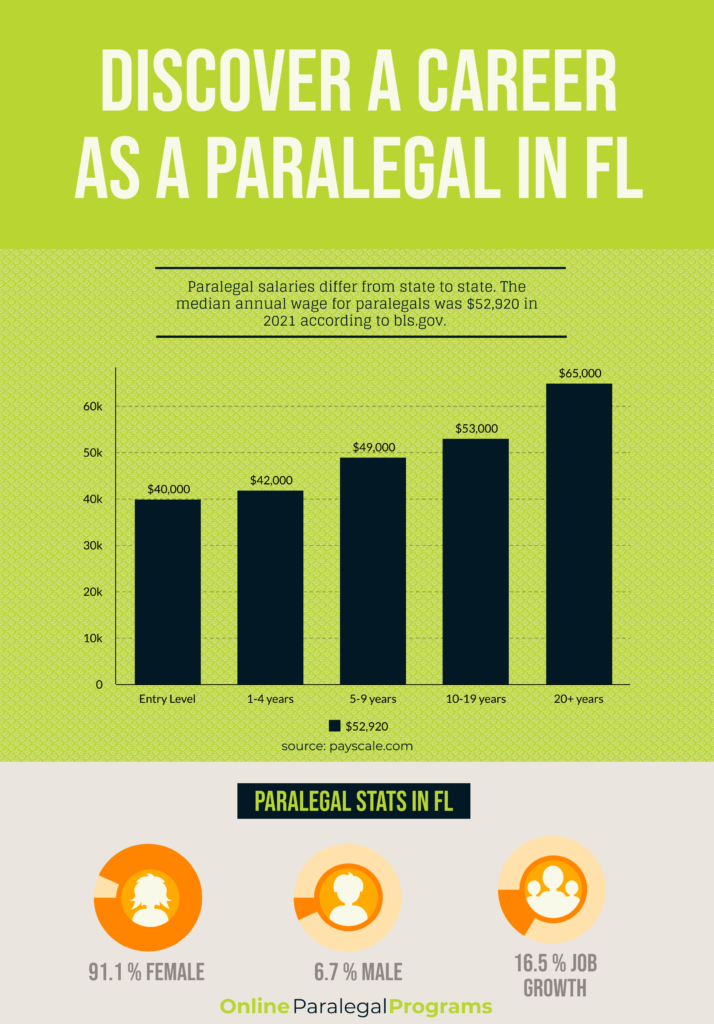 Education
In order to find employment as a paralegal, you need to have a basic paralegal education at the very least. That entails going to a school in Florida near you that offers a paralegal program or attending a paralegal school online at a school of your choice. As you're looking at schools, you should be checking that the paralegal program is approved by the American Bar Association (ABA). The ABA approves all legal education programs in the United States, but it does not approve online paralegal programs in Florida. Currently, the ABA approves hybrid programs that require some campus attendance along with online classes.
Since the ABA approval is the gold standard for all legal education, you should look at schools that have ABA-approved paralegal programs in Florida in order to get the most benefit from your time and money. If you can't find a paralegal program that fits your needs but doesn't have ABA approval, check the program to determine if it has approval from the Florida Bar Association or another accrediting body that's approved by the U.S. Department of Education. Accreditation is important as it allows you to transfer your earned credits to another school and avoid retaking classes. Here's a look at the different types and degrees you can earn to work as a paralegal in Florida.
Certificate
In the event you've earned a bachelor's degree in another area of study that's not related to the law, you can enroll in a paralegal certificate program, also known as a post-baccalaureate paralegal certificate. Most paralegal certificate programs require anywhere from 24 to 30 credit hours on average and take about a year to complete. Upon completion of the program, you'll have earned a certificate that shows employers that you have learned the basics of paralegal work. Earning a paralegal certificate is also complementary to an existing professional degree and provides skills that can be of assistance in fields other than the law.
Associate's in Paralegal Studies
An associate's degree in paralegal studies requires 60 credit hours for completion and covers the basics of the work a paralegal performs. It also covers the major legal concentrations such as wills and estates, criminal, bankruptcy, real estate and property, and more. Students also learn about legal ethics and the importance of adhering to them at all times along with recognizing when someone is acting in a less-than-ethical manner. An associate's degree program also teaches students how to use legal software, how to interview clients, assemble legal documents, how to apply critical thinking skills, and use basic legal research skills. The associate's degree program for paralegals packs in a lot of information over the course of four semesters, but doesn't have room for a student to find an area of law that appeals to them for specialization.
Bachelor's in Paralegal Studies
A bachelor's in paralegal studies degree program builds upon the basics taught by the associate's degree and offers a student more opportunity to explore the areas of law that interest them the most. Paralegals tend to focus on a particular area of law during their career in order to be effective in their role. However, not all paralegals know which legal concentration suits them best. The legal studies offered in a paralegal bachelor's degree program enable a student to investigate legal concentrations and discover where their talents lie. Another advantage to earning a bachelor's in paralegal studies is improved job opportunities upon graduation and the ability to be more decisive in terms of finding employment with a compatible law firm.
Bachelor's in Pre-Law or Legal Studies
The intent of the bachelor's in pre-law or legal studies is to prepare a student to enter into law school. Sometimes the two types of degrees are interchangeable, sometimes they're firmly defined by the providing school. Both degrees teach a student to understand the theory of laws and how they're applied, but the pre-law degree tends to be more structured than the legal study degree. What they do offer is the opportunity to broaden one's understanding and knowledge of the law without the need to go to law school, but still enter into a satisfying career. Many employers recognize the value of both types of education and are willing to hire people with these degrees, then teach them how to use their knowledge.
Master's in Legal Studies
The master's in legal studies enables a student to select classes that have a focus on a specific concentration of law. This is especially beneficial to a paralegal who has found their niche in the legal field and wants to gain as much foundational knowledge as possible. That niche can include writing contracts, acting as a mediator or arbitrator, becoming a legal assistant, or working in legal roles for employers such as real estate, insurance, financial, and more. Earning a master's in legal studies also offers the opportunity to work at a higher level in a legal setting and work more independently than most paralegals.
The higher an education a paralegal earns, the more opportunity they have to find work that provides satisfaction in their career. Those who don't want to become a lawyer, but do want to enjoy a career working in the law can find that starting out as a paralegal enables them to have a lifelong career as legal support. And if they want to expand upon their knowledge and skills, there are plenty of educational opportunities that help them learn, then earn more money.
Certification/Licensure
The state of Florida does not require a paralegal to become licensed in order to find work. Paralegals aren't allowed to practice law unless under the supervision of an attorney which means the paralegal is "borrowing" the licensure of their attorney. However, there is such a thing as paralegal certification in Florida that's strongly recommended by the state, but not required. Florida paralegal certification comes in the form of earning a Certified Paralegal certification from one of the national paralegal associations such as NALA or NFPA. Getting paralegal certification in Florida is strictly voluntary and is not required for employment purposes. However, the Florida Bar has a set of rules known as Chapter 20 that defines the Florida Registered Paralegal Program.
The purpose of Chapter 20 is to establish a definition of a Florida Registered Paralegal and establish the minimum requirements to gain Florida Registered Paralegal status. This is not a Florida paralegal license, but it does set standards for Florida paralegals who want the benefit of having their title and education recognized by the state. The program is administered by the Florida Registered Paralegal Enrichment Committee or FRP. The committee is charged with the tasks of developing educational programming, creating social events and networking opportunities, and raising awareness of the benefits of joining FRP.
In order to join the Florida paralegal certification program, you need to have one or more of the following:
Education and Work Experience
Bachelor's degree in paralegal studies from an approved program and one year of work experience
Associate's degree in paralegal studies and a minimum of two years of paralegal work experience
Juris doctorate degree from an ABA-accredited institution and one year of paralegal work experience
Associate's degree from an institution accredited by the U.S. Department of Education or the Florida Department of Education and a minimum of 4 years of work experience
Certification
Successful completion of the PACE certification offered by the National Federation of Paralegal Associations and good standing; or
Successful completion of the CLA/CP examination offered by NALA and good standing
You might be asking "why should I get my paralegal certification in Florida if I'm not required to by law?" The fact is, getting your Florida paralegal certification is of great benefit to your knowledge and career as a paralegal. Getting your paralegal degree or professional certificate is considered the minimum in terms of qualification to work as a paralegal. Taking the time to get your FRP certification shows that you want to be effective as a paralegal, and are willing to do what it takes. Continuing education is another requirement of the FRP. You need a total of 33 hours in CE credits every three years in order to maintain FRP status. This requirement helps you stay current with changes in the law, enabling you to be a more effective paralegal. You can learn more about paralegal certification in Florida online.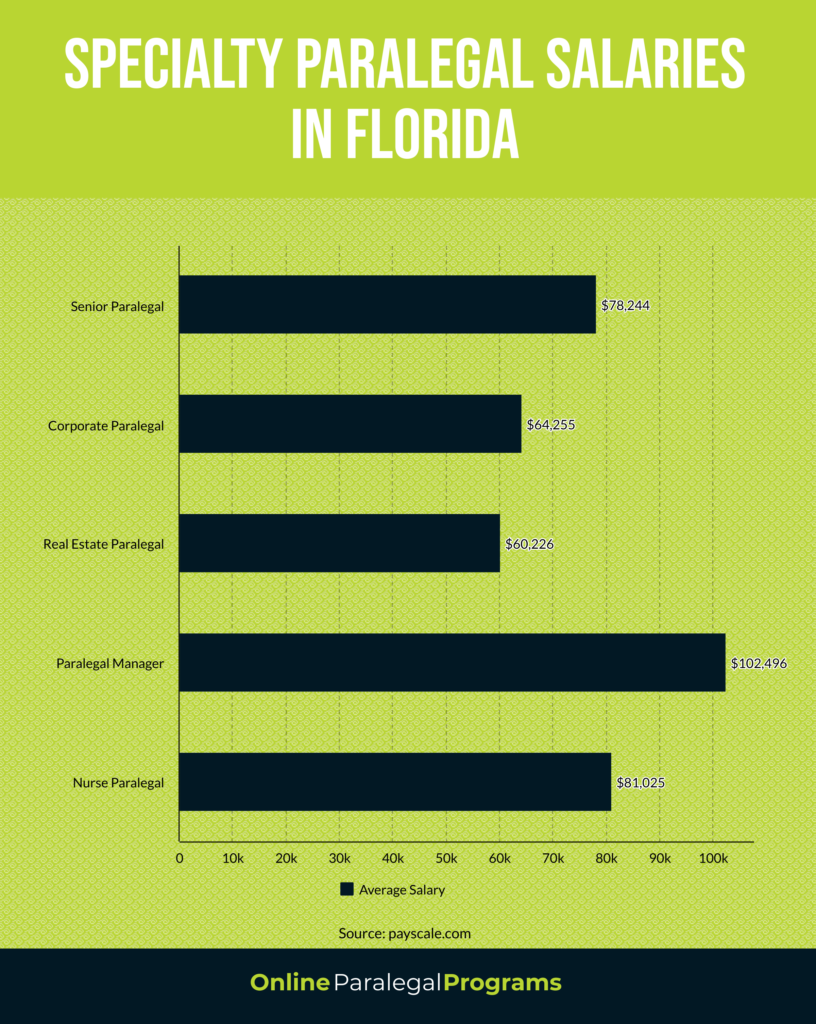 Job Market and Salary
The job market for paralegals in Florida is poised for 16.5% job growth between 2018 – 2028, and the average Florida paralegal salary is $56,560. This is slightly higher than the national average of $52,920 per year. The job market for paralegal jobs in Florida is strong due to the fact there are multiple industries that benefit from the hiring of people with paralegal training. Florida is also a state with a strong retiree population that needs legal services for their estates and other legal issues they encounter as they age and their needs change.
Florida is home to large corporations such as Carnival Cruise Lines, Simply Self Storage, Assurant, National Retail Properties, and Miller's Ale House to name a few. It's also home to major law firms that hire paralegals to work in pools and work directly with attorneys. A graduate from a paralegal studies program in Florida has excellent job prospects in multiple industries. The variety of employment opportunities makes getting a paralegal degree worthwhile for someone who wants to work in the field of law, but may not want to work in a law firm, or vice-versa. Combining this with the higher-than-average growth and demand for paralegals in Florida, it quickly becomes apparent that getting a paralegal education can lead to a solid career with prospects for growth in both knowledge and salary.
As previously mentioned, the average Florida paralegal salary is higher than the national average, but experience and education will affect how much you make. Florida has multiple major metropolitan areas, and multi-national corporations and law firms are found in many of them. A paralegal who's just graduated and has little in the way of work experience can expect to start earning a salary of $35,000 but can stand to earn more money as they gain experience.
Normally, geographical location plays a role in how much a paralegal can earn on average, but Florida is an exception to the rule. Organizations that hire paralegals are found all across the state and tend to pay similar wages due to the demand for paralegals. You can expect to earn almost the same salary in Jacksonville as you would in Miami. A paralegal can live anywhere in Florida they wish while earning a wage that's not dependent on the cost of living.
Related:
Top 10 Paralegal Programs in Florida
How to Become a Paralegal in Florida
Ultimate Guide to State Paralegal Associations
School Finder