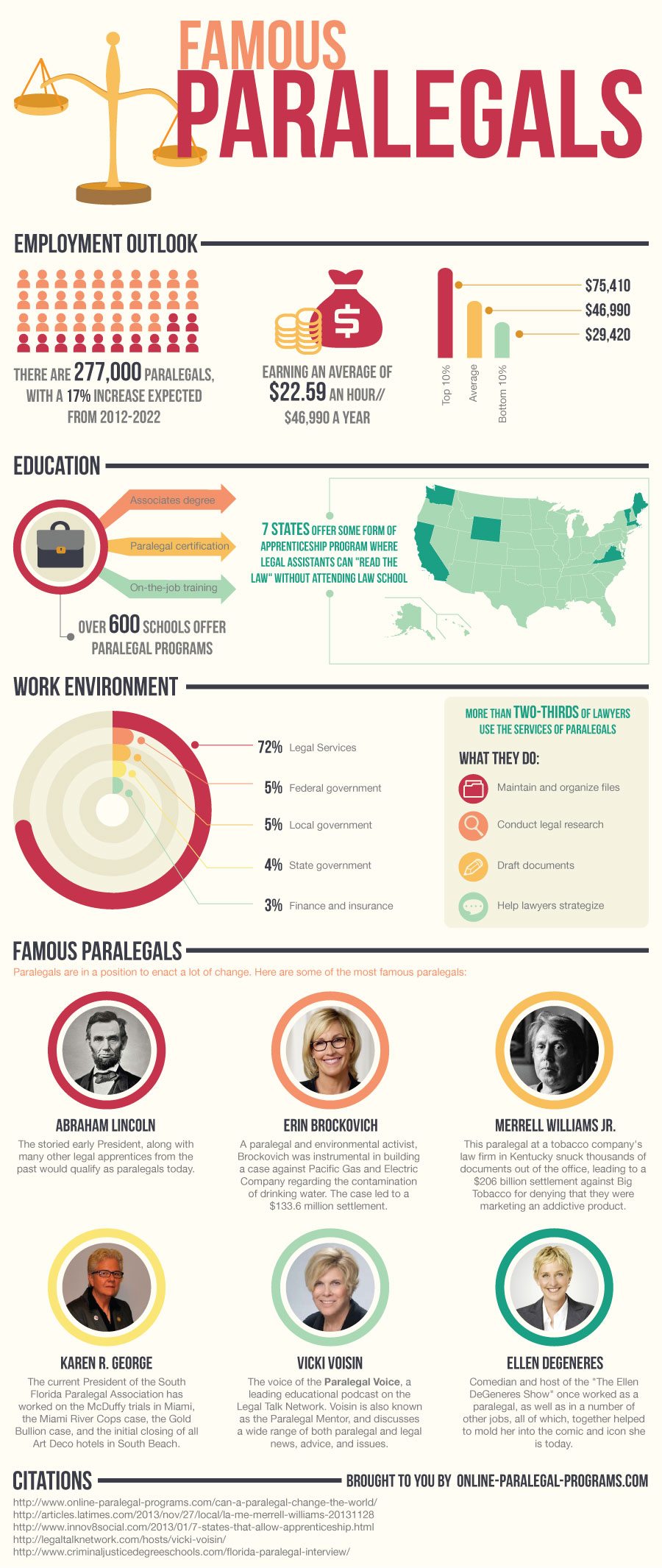 Share this infographic on your site!
Famous Paralegals
Employment Outlook:
There are 277,000 paralegals in the U.S., with a 17% increase expected from 2012-2022
Earning an average of $22.59 an hour or $46,990 a year
Top 10% make $75,410
Bottom 10% make $29,420
Education:
Associates degree
Paralegal certification
On-the-job training with an employer
Featured Programs
Over 600 schools offer paralegal programs
7 States offer some form of apprenticeship program where legal assistants can "read the law" without attending law school:
California
Maine
New York
Vermont
Virginia
Washington
Wyoming
Work Environment:
Legal Services–72%
Federal government–5%
Local government–5%
State government–4%
Finance and insurance–3%
More than two-thirds of lawyers use the services of paralegals
School Finder
What they do:
Maintain and organize files
Conduct legal research
Draft documents
Help lawyers strategize
Paralegals are in a position to enact a lot of change.
Here are some of the most famous paralegals:
Abraham Lincoln:
The storied early President, along with many other legal apprentices from the past would qualify as paralegals today.
Erin Brockovich
An American paralegal and environmental activist, Brockovich was instrumental in building a case against Pacific Gas and Electric Company regarding the contamination of drinking water. The case led to a $133.6 million settlement, of which Brockovich received $2 million. A film detailing her role in the case stars Julia Roberts. Since the film Brockovich has hosted Challenge America with Erin Brockovich on ABC and led a consulting firm.
Merrell Williams Jr.
This paralegal at a tobacco company's law firm in Kentucky snuck thousands of big tobacco documents out of the office, eventually leading to a 46-state and $206-billion settlement against Big Tobacco for denying that they were marketing an addictive product.
Karen R. George
The current President of the South Florida Paralegal Association has worked on a variety of high profile cases, including the McDuffy trials in Miami. These trials centered around a black man shot by police officers and the ensuing riots that burnt down large portions of Miami. George also worked on the Miami River Cops case, the Gold Bullion case, and the initial closing of all Art Deco hotels in South Beach.
Vicki Voisin
The voice of the Paralegal Voice, a leading educational podcast on the Legal Talk Network. Vicki Voisin is also known as the Paralegal Mentor and discusses a wide range of both paralegal and legal news, advice, and issues.
Ellen DeGeneres
Comedian and host of the "The Ellen DeGeneres Show" once worked as a paralegal, as well as in a number of other jobs, all of which, together helped to mold her into the comic and icon she is today.
Citations:
Related Rankings:
Top 25 Best Value Online Paralegal Certificates
Top 25 Most Affordable Online Paralegal Associate's Degree Programs
Top Online Bachelor's in Paralegal Degree Programs
School Finder