With all the hit dramatic TV shows featuring cops and lawyers these days and it's not surprising that their popularity has probably increased interest in students wanting a career in law and order.
Maybe that's why so many we have so many lawyers. A glut, some might say. Not true for paralegals, where there is a need.
Paralegal degree programs are available at over 900 colleges and universities across the United States and are designed to train future paralegals to enter the paralegal field to work at law firms, corporations, or the government.
Featured Programs
These schools vary in the curriculum they offer and the amount of coursework provided. Besides the traditional on-campus programs, several schools offer online paralegal degree programs for earning a degree at the certificate, associate's, bachelor's, or master's level. About 274 paralegal programs in the United States are ABA approved, meaning they have been found to meet specific standards of quality by the American Bar Association's Standing Committee on Paralegals. This is important because many law firms and employers prefer to hire graduates from an ABA approved programs.
One note of caution: The level of education necessary to gain entry into the paralegal field is greatly influenced by the geographic location of the firm and the person's individual goals. Educational institutions that offer paralegal programs are best able to respond to the specific requirements of the local legal community and any state regulations that have been put in place.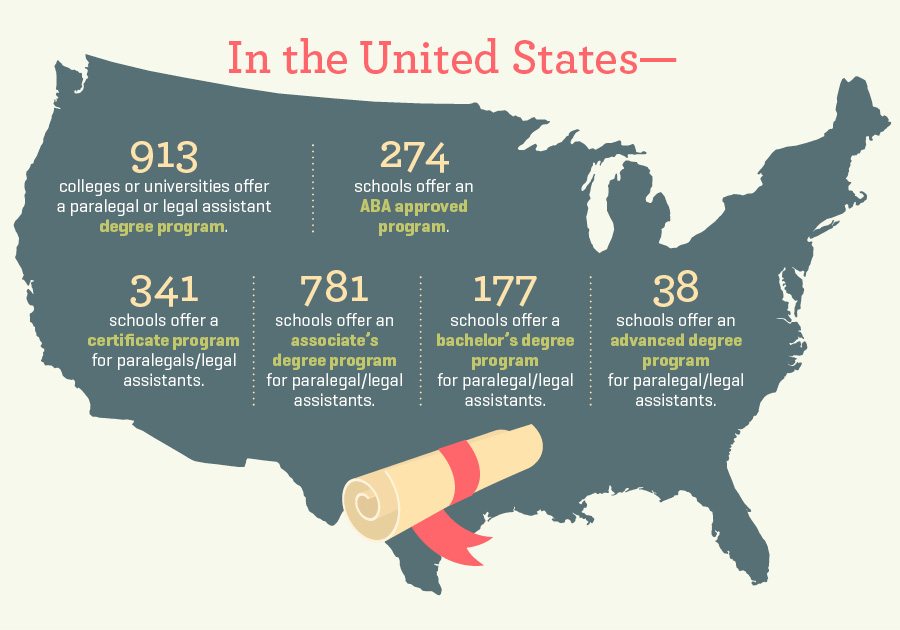 By now, you already know what a paralegal is and does. In fact, they are indispensable. A paralegal is trained in legal matters, and assists lawyers in researching facts for cases, preparing documents, maintaining files, or helping to prepare for trial. Paralegals must operate under the supervision of an attorney, and are prohibited from offering legal services to the general public alone.
School Finder
They are most typically employed by law firms, corporate legal departments, government agencies, or other organizations. Depending on the size and type of the law firm, paralegals' tasks will vary from being more specialized (in larger firms) to more generalized (in smaller firms). Specific tasks may include:
• Researching and investigating facts or laws related to a case
• Maintaining files and documents for various cases
• Interviewing witnesses to gather and investigate evidence
• Writing reports and compiling legal documents, like memos, briefs, depositions, or procedural motions
• Taking notes for attorneys
• Working with teams of other paralegals, attorneys, and staff on cases
Paralegals cannot provide their services or legal advice directly to the public. Instead, they must work under the supervision of an attorney, who is ultimately liable for their work. Paralegals aren't called "officers of the court," they aren't "counsel of record" in court proceedings, nor can they sign court documents. While paralegals can be certified by the National Association of Legal Assistants (NALA) and the National Federation of Paralegal Associations (NFPA), there is no concept of being a "licensed paralegal" in the manner than an attorney can be a "licensed attorney."
Employment Projections
Employment of paralegals and legal assistants is projected to grow 17 percent from 2012 to 2022, faster than the average for all occupations.
As law firms try to increase the efficiency of legal services and lower their expenses, they are expected to hire more paralegals and legal assistants. Some law firms are rethinking their project staffing and rebuilding their support staff by hiring paralegals, who may be given some of the administrative tasks previously assigned to legal secretaries.
Law firms also are attempting to reduce billing costs due to pressure from clients. Paralegals can be a less costly alternative to lawyers and can perform a wide variety of duties, including tasks once done by lawyers. This will cause an increase in demand for paralegals and legal assistants.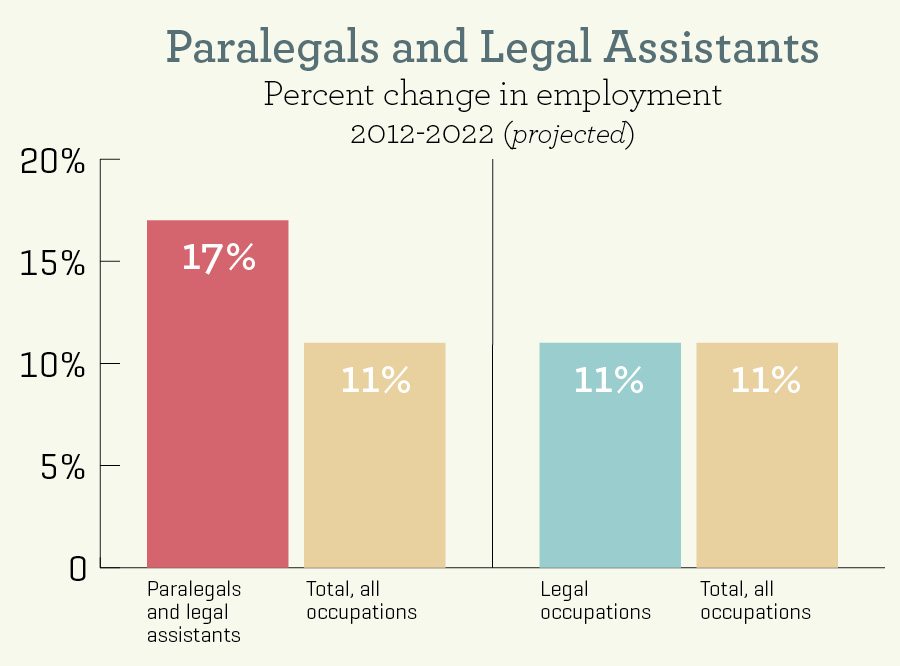 While law firms will continue to be the largest employers of paralegals, many large corporations are increasing their in-house legal departments to cut costs. For many companies, the high cost of lawyers and their support staff makes it more economical to have an in-house legal department, rather than to retain outside counsel.
This will lead to an increase in the demand of legal workers in a variety of settings, such as finance and insurance firms, consulting firms, and healthcare providers.
Paralegals by the Numbers

Demand for paralegals, however, could be limited by law firms' workloads. When work is slow, lawyers may keep billable assignments for themselves and delegate less work to paralegals. This may make a firm less likely to keep some paralegals on staff or to hire new ones until the workload increases.
Sources:
http://www.paralegal411.org/
U.S. Bureau of Labor Statistics Employment Projections Program
http://money.usnews.com/careers/best-jobs/paralegal
http://www.paralegal411.org/careers/b
Related Rankings:
Top 25 Best Value Online Paralegal Certificates
Top 25 Most Affordable Online Paralegal Associate's Degree Programs
Top Online Bachelor's in Paralegal Degree Programs
School Finder