Individuals with paralegal skills are in high demand throughout the state of Virginia as well as across the country. For people who have worked in the legal field for many years without the benefit of formal training, the experience they have gained is invaluable. In order to move forward and be eligible for paralegal or management positions, it is beneficial to start looking into an educational program that will provide you with the certification or validation you need to move upward through the ranks.
A quality online paralegal degree or certification program will give you what you need in terms of both education and validation. It will show potential employers that you are well equipped to take on any new task or challenge you may face while performing your duties. It also shows them that you are committed to bettering your position and pursuing a career that you can be proud of. For many employers, it is the incentive they need to offer you more responsibilities and a higher wage.
Featured Programs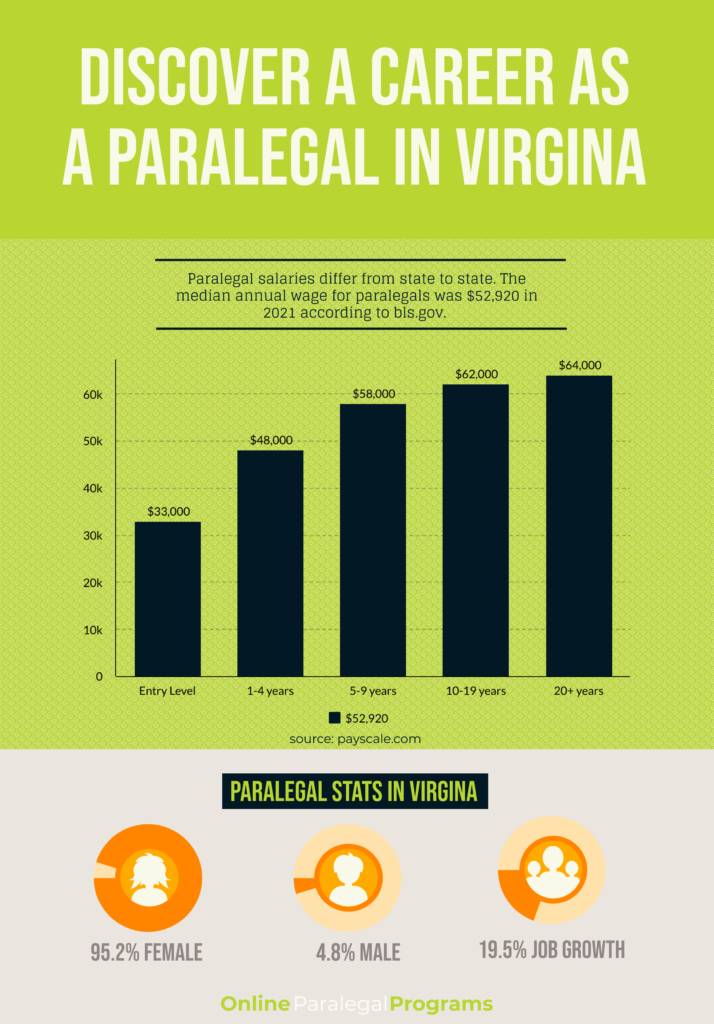 Employers will often reward their staff members who take it upon themselves to improve their performance by going back to school. Many attorneys will consider paying for an employee's education if go through the process and see it through to completion. With Employer Reimbursement Programs, employees enroll in an educational program and successfully complete all of the requirements that are needed to graduate. Once the employee has their grades in hand with satisfactory marks, they turn in to their employer and will be reimbursed for any expenses they may have paid to pursue their education.
What Is the Average Paralegal Salary in Virginia?
In Virginia, paralegals can expect to earn anywhere from $31,000 to $85,000 per year. What a paralegal earns will depend on many different factors. The primary indicators for wages are location, education, experience, and overall job performance. Rural areas in Virginia will normally pay a lower wage than the bigger cities. With that being said, your level of experience and education will increase your earning potential no matter where you are. Returning to school to earn a paralegal degree or certification will prove that you have the dedication and commitment to your career that most employers are looking for.
School Finder
When it comes to job performance, you are in control. Being committed to your work and always trying to do your best are important concepts. They are also not something you learn in a classroom. Setting out to become a paralegal may be the start you need to move upward, eventually returning to school to become a lawyer. Your drive and the motivation to succeed are the things that will get you where you want to be. Making the decision to return to school to complete your education will give you the tools you need to get there.
What Can I Do with a Virginia Paralegal Certification?
There are several advantages of earning a Virginia paralegal certification. For those who have been working in the legal field for many years without the benefit of formal education, a Virginia paralegal certification will give them the credentials they need to move forward with their career. The skills test that is required in order to become certified is designed to test the individuals' abilities and knowledge. By earning the paralegal certification, people can start to apply for and take on more advanced positions within the workplace.
A paralegal certification will open the doors to numerous new opportunities and challenges that will allow them to set new goals and look for new ways to advance into more lucrative positions. With a working knowledge of the legal and judicial systems work, paralegals who have earned their certification can move up through the ranks rather quickly and expect to earn more money in a shorter period of time.
Earning a paralegal degree or certification may be just what you need to shift from the legal field to the judicial system, or vice versa. The courts and other government departments are always looking for paralegals and other legal professionals who are willing to learn about how the judicial system works. While still considered to be part of the legal field, the justice system follows through where the legal system often leaves off. This can be a very rewarding transition for someone who wants to take on new challenges and explore new options.
Which Is Better: A Paralegal Degree or Certification?
This will depend on what your overall goals are. Earning an online paralegal degree is the best choice if you want to get a good head start on your career. By enrolling in an online degree program, you have the option to find work in a legal office to supplement your income while you are finishing your education. The valuable experience you gain while working in this capacity will look good on a resume and will give the push you need to receive offers to advance within your company or law firm.
Certifications, on the other hand, are a very valuable way for individuals who have worked within the field for many years to get the recognition they deserve. Many employees work diligently to provide the highest quality of work in every task they perform. Earning their certification gives them the validation they deserve so they can be considered for any new opportunities that may be in the making when it comes to advancement.
Choosing between a paralegal degree and certification won't be difficult if you know what your goals are. If you can accomplish your goals by earning your certification, then sign up for a certification program. This type of program will validate your existing experience and give you the credential you need to take on new responsibilities and possibly earn more money. A degree offers more substance in terms of additional abilities and knowledge, but it will take much longer to complete. For some, this is the determining factor.
What Are the Benefits of Joining the Virginia Paralegal Association?
Joining a Virginia Paralegal Association will provide you with many benefits that will serve you well over the course of your career. As in most organizations, there is strength in numbers. Members can rely on one another for support and guidance if they encounter a problem or run into difficulties. They can discuss problems within the workplace or share ideas on how they can improve their work environment.
The goal of joining most organizations is to find individuals who have the same experiences and work-related issues that you do. These types of organizations offer a wealth of valuable resources that they can use throughout their career to find valuable solutions and create new opportunities as they move through their career and look for new challenges and possibilities. It also allows paralegals to work together within their industry to find better ways of accomplishing their goals.
Organizations like the Virginia Paralegal Association also work to protect the rights of their members. This can mean following through with a discrimination case or any other instance where a paralegal has been accused of something they didn't do. The Virginia Paralegal Association is committed to helping each of its members reach their professional goals and establish themselves as powerful members of the legal community.
Where Can I Find ABA Approved Paralegal Programs in Virginia?
When you make the decision to return to school to earn either a certification or a paralegal degree, you will want to find an ABA-approved paralegal program within the state of Virginia. The American Bar Association sets the standard for legal professionals across the country. If you want to look for schools or paralegal programs within the state of Virginia, your first place to look is online with ABA-Approved Paralegal Programs in Virginia in the search bar. This will pull up a complete list of schools that will offer you these types of programs.
With an ABA-Approved paralegal program, you will learn all of the skills and abilities the American Bar Association deems necessary to be a successful and productive paralegal. Schools that offer these programs are more than willing to discuss your options with you when it comes to either online or campus degree programs. Student advisors will go through the process with you to ensure you choose the right programs that will help you reach your professional goals.
An ABA-Approved paralegal program that is offered over an online learning platform will provide you with the same important skills and abilities you would receive if you had enrolled in an on-campus program. Taking your courses online gives you an opportunity to find work in the legal field. Although you may start out in an entry-level position, you will have an opportunity to learn in a work environment as well as in a school-based setting. With both experience and a degree program under your belt, you will be able to find the best possible opportunities that will allow you to advance as quickly as possible.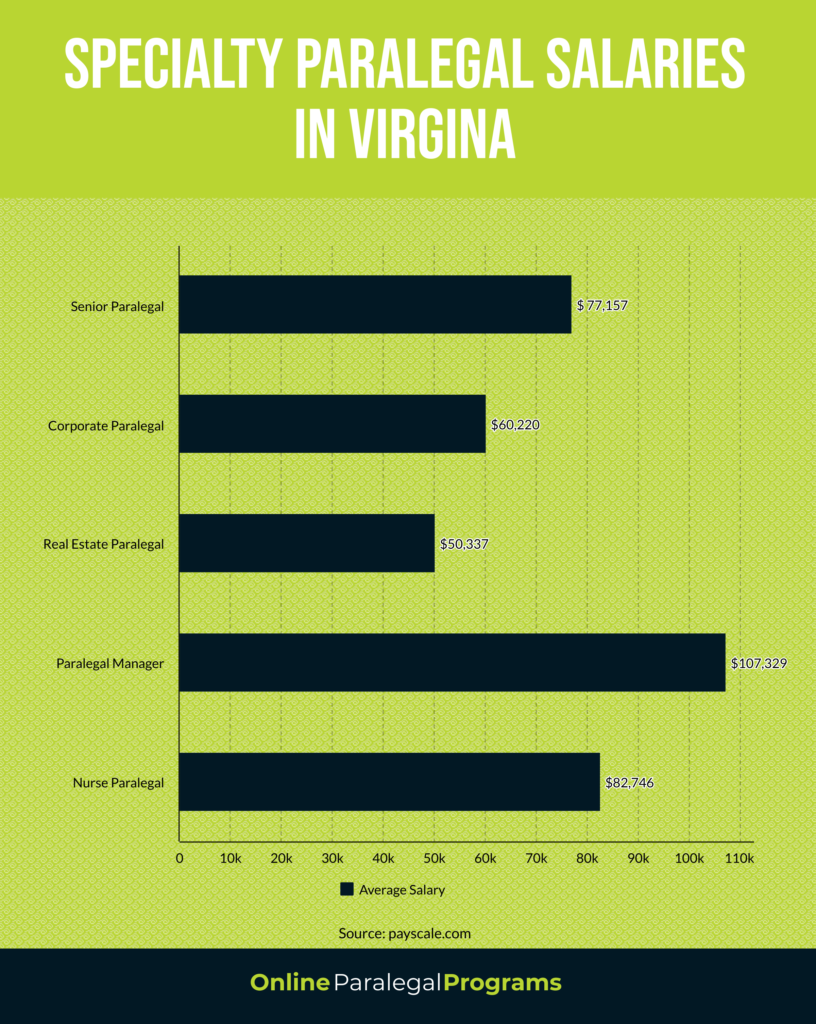 What Are the Requirements for Becoming a Paralegal in Virginia?
There are several requirements for becoming a paralegal in Virginia. First and foremost, you must have the education you need to prove you are capable of doing the work. In most cases, this means enrolling in an ABA-Approved paralegal degree program that offers you all of the necessary knowledge and skills you will need to succeed. It is up to you to choose between an online program or one that you will attend in a classroom.
There are situations where a person has worked within the legal field for many years. They have acquired all of the skills that paralegals perform and their many years of experience have garnered them a wealth of knowledge that makes them a valuable asset to the office. Even though they don't have a paralegal degree, they have earned the experience and respect of their paralegal peers. In this situation, returning to school by enrolling in a certification program may be just what they need to validate the time and effort they have put into their career.
Once a student has completed their education, they will need to receive state approval for their efforts. This is accomplished by applying and sitting for the Virginia state licensing/certification test. Passing this test proves that you have successfully completed the educational requirements to become a licensed paralegal in the state of Virginia. This test also ensures that you have met or exceeded the requirements of the American Bar Association as well.
After completing your test and receiving your certification, one of the first things on your to-do list should be to join the Virginia Paralegal Association. This will give you the support system you need if you ever find yourself facing new challenges associated with your career. It also provides you with many other benefits and resources you will be able to rely on throughout your career. Although it isn't mandatory, joining an association is highly recommended.
Becoming a paralegal in Virginia can open many doors for new opportunities. For paralegals, this can mean working within a law firm, a private law office, or as an independent paralegal who works for several small offices who may not be able to afford the full-time services of a paralegal. When it comes to performing the duties of a paralegal, this may also mean working within a courthouse helping judges and other legal professionals. The ultimate goal of being a paralegal is to be able to play an integral role within the legal community.
Becoming a certified or licensed paralegal may also open up doors within the field of education. Instructors for quality paralegal educational programs are always in demand. Once you receive your diploma, the doors of opportunities may swing open and identify paths you may have not thought of in the past. Take a look at your goals and where you are on your career path and you will eventually find the road to the opportunity that you are looking for.
Related:
Top 10 Paralegal Programs in Virginia
How to Become a Paralegal in Virginia
Ultimate Guide to State Paralegal Associations
School Finder