What is it like to work as a paralegal in North Carolina? As the name might imply, a paralegal works alongside a lawyer to help the lawyer do his or her job. In North Carolina, there is a voluntary certification process with educational and certification requirements before someone is called a paralegal. It is believed the certification process will make for a better NC-certified paralegal.
An NC-certified paralegal can do research to help prepare cases, as well as a lot of the writing lawyers, have to do. Paralegals interview clients and help with most phases of a trial when a lawyer goes to court. There is no law against a non-certified paralegal doing the same job, but at least with a certified person, you know they have a certain level of competence.
Featured Programs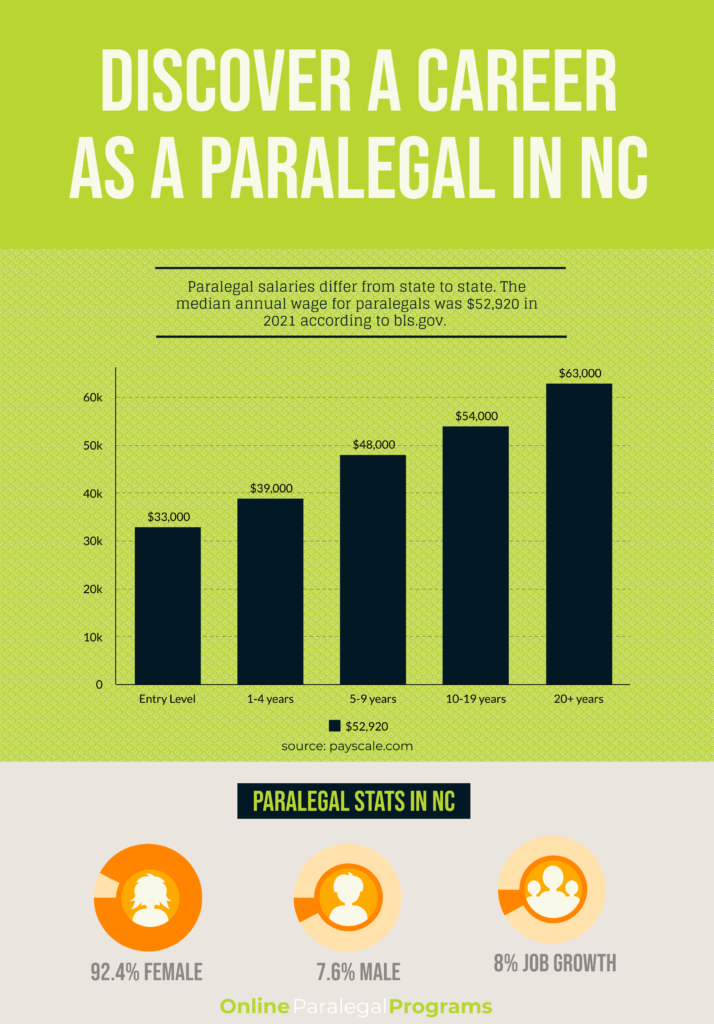 A paralegal is a step above an administrative assistant because of the legal training they have. Law school costs a lot and takes a lot of time. Paralegal could be a good option for people who want to work on the law but cannot go to law school for whatever reason. Paralegals can also find jobs with corporations and various government agencies.
What Education is Needed to Be a Paralegal?
Legally anyone can be a paralegal in North Carolina with no training, but the state has started a voluntary certification program. The State of North Carolina gives a test that must be passed to obtain certification. There are some criteria for being able to take the test, much of which involves education. How to become a paralegal in North Carolina must be answered based on certification or non-certification.    North Carolina state bar paralegal certification starts with education. There are some requirements to meet before you are allowed to take the test for certification.
School Finder
To take the test a person must do one of the following.
Have an associate, bachelor's, or master's degree from an approved paralegal studies program from an aba approved paralegal program in NC.
Have a degree from an accredited university and a certificate from an approved paralegal studies program.
Have a law degree.
Have a high school diploma and five years experience as a legal assistant, paralegal, or paralegal educator.
If you have any of those, you would be qualified to take the certification exam, and you have to get a minimum score to become certified.  Most employers want some experience in addition to certification. You may get some experience with an internship while working on your degree.
North Carolina counts degrees earned in other states as long as they are accredited and the paralegal studies program is approved by the American Bar Association.
You may also do your studying online. Universities are offering more degrees online, and they are the same as classes you take in person. North Carolina, as well as the American Bar Association, requires that some education be taken in a traditional college setting.
If you already have a degree, a master's in paralegal studies would be a good option. If you do it online you can continue working at your job until you finish and are ready to start working as a paralegal.
There are several accredited paralegal programs in North Carolina, which makes paralegal certification in North Carolina convenient.
Internship
An internship is a key part of your education as a paralegal. Most law offices and others who hire paralegals want some level of experience along with the education. An internship, paid or unpaid, will count as experience for most employers. Sometimes it is called an apprenticeship.  You can do your internship while in school. Many schools help students find internships. It may be a little more of a challenge to find the internship if you are studying online, but they are still possible.
Interns help paralegals, just as paralegals help lawyers. An intern might be essentially an administrative or legal assistant. Working with a paralegal would give you a good understanding of what the job involves.
If you get the schooling, an internship, and pass the exam, you will be qualified to be an entry-level paralegal.
What are the Licensing Requirements?
In North Carolina becoming licensed, or certified, is voluntary. You must be certified to call yourself a "North Carolina Certified Paralegal."  Without certification, you may still call yourself a paralegal and do the same job. The state bar association says certification provides assurance of basic competency, and they believe it will enhance the legal services people receive in North Carolina.
Along with the educational requirements, a person must pass a written test to show basic competence.
North Carolina accepts national certification from the National Association of Legal Assistants or the National Federation of Paralegal Associations. If you have that you do not have to do the educational requirements. There may be other national organizations that would certify a paralegal that the state would accept. North Carolina will also accept accreditation from other states.
While the license is not legally required, the state bar association hopes it becomes part of how to become a paralegal in NC. It is also hoped that it will lead to paralegal jobs in North Carolina.
How are Legal Assistants Different from Paralegals?
Paralegals and legal assistants are similar, and in some cases could do the same job. A legal assistant is more like a secretary of the administration-type employee. The paralegal is more hands-on in dealing with the law and helping lawyers work in individual cases.
A legal assistant would need to be computer-literate and be able to type well, but may not need much legal training. A paralegal has a lot more legal training and works more on the low side. In some small law firms, the two could be the same person.
A legal assistant job could be a first step on the road to becoming a paralegal. The work as a legal assistant would count as work experience that employers want.
What Career Opportunities are Available in North Carolina?
When we think of paralegals we think of people helping lawyers work on cases. That may be the most common role for a paralegal, but a paralegal can work anywhere that law or legality is involved. Some corporations have a legal department and need paralegals. Hospitals and some other businesses also need legal help in the form of a paralegal. State agencies also have legal departments and would use paralegals.
Judges also need paralegals, and this is another option for paralegal jobs in North Carolina. As a paralegal for a judge, you would be researching cases that the judge is hearing.
If you want to work with lawyers, you may be a general paralegal, or you may choose a specialization. If you specialize you will need a little more education in that area. Normally you also need some years of experience before choosing a specialization.
Here are some examples.
General courtroom, or litigation. This would involve working with a lawyer who is trying a case in court. The paralegal would do research and help with pleadings, documentation, interviews, and depositions.
Criminal law is a further specialization for paralegals. In this specialty, you would help attorneys with cases, whether that be prosecution or defense.
Civil law involves people suiting each other over non-criminal matters. These cases are often settled before they get to court and the paralegal would do a lot of research for the attorney,
Government agencies are another specialty you could pursue as a paralegal. This will not involve cases in court but will involve a lot of research with attorneys. Law enforcement,  criminal justice, and politicians would also fit in this category.
Injury law. People who are injured often sue, and there are lawyers who specialize in this area.  Paralegals may also specialize in this area, helping attorneys get ready for court, or for negotiating a settlement.
Labor law could be working for lawyers representing companies, employees, or other agencies involved in labor law. This would involve legal issues related to workers, such as working conditions, discrimination, payment, or other issues.
Estate planning involves working with families. This could be working with a family who have lost a loved one, or with people who want to determine what will happen with their property after they are gone.
Bankruptcy involves helping lawyers who work with people filing for bankruptcy
Family law is a broad area that can include law offices or government agencies
Having specialist training would probably result in a higher salary, but it might limit your job opportunities to some degree. As a specialist, you would become an expert in that area, just as lawyers do when they specialize.
How is the Job Market for Paralegals in North Carolina?
Job prospects for paralegals in North Carolina are basically good, if not as great as some states. The Bureau of Labor Statistics projects a 17 percent increase in the number of jobs available through 2026, which is a little above the national average of 15 percent.
Paralegal jobs are expected to be one of the fastest-growing jobs in the nation for the next several years. This is due to an effort to lower legal costs by having lawyers spend less time doing research and related tasks that a paralegal could do. The shift to lower costs should be a good thing for people who want to work as a paralegal.
There are some large metropolitan areas in North Carolina. A lot of large law firms are in the major cities, and there are lots of corporations with headquarter there, who would be big enough to need paralegals.
The state capital area of Raleigh — Durham, has a lot of government agencies that would need paralegals. Charlotte is a large city that would also have the need for legal help.  There is no limit to the kinds of businesses that could use paralegal help. When looking for paralegal jobs in North Carolina, think beyond lawyers and government agencies.
Most paralegal jobs are going to be in larger cities like Charlotte or Raleigh. Een so, small towns also have lawyers, and they need paralegals too. Law offices and government agencies in smaller cities might also have more need for paralegals.
Another option is to become a freelance paralegal. This is often called contract labor. The paralegal agrees to work for a set amount of time for a lawyer or government agency. This could also be a good way of getting some experience to add to your resume.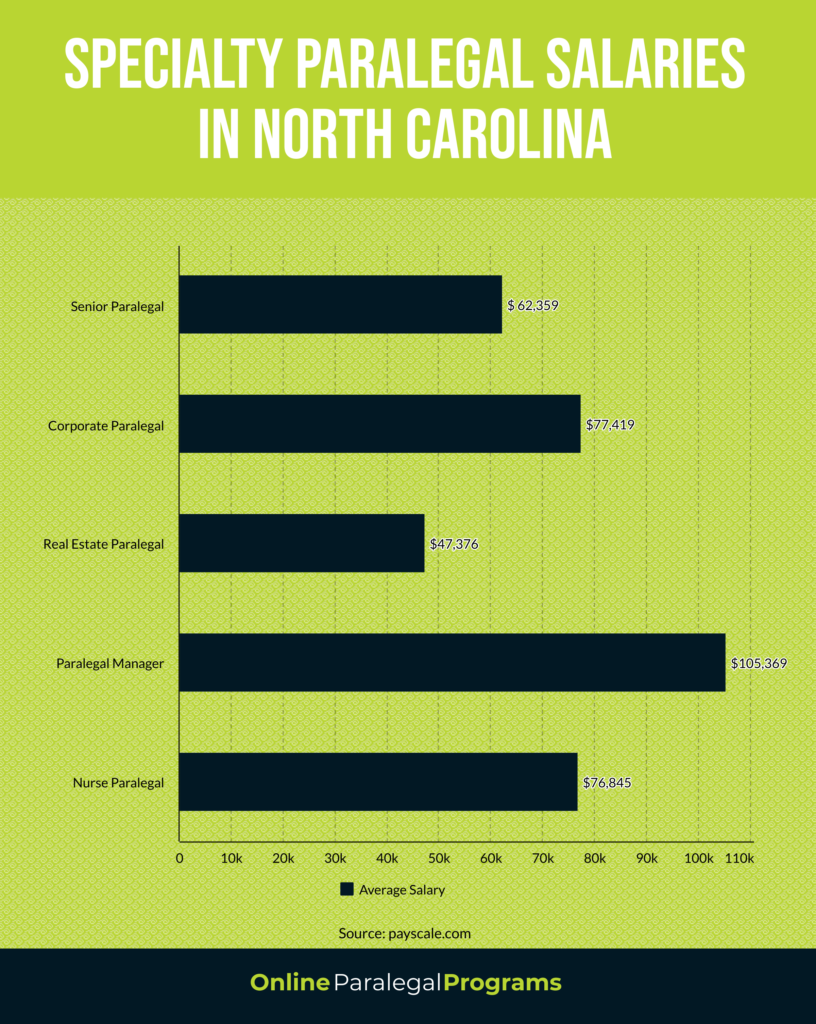 How Much Can You Make as a Paralegal in North Carolina?
Paralegals average $47,000 in North Carolina, which is significantly lower than the national average of $54,000. Paralegal salary in NC varies a lot, however, so the pay could be much higher. The salary should grow nicely over the years. You may make more with a specialty as well. The average salary for a paralegal in NC varies a lot by your level of experience.
Certification is voluntary in North Carolina, but that could affect the paralegal salary in NC you would receive. It is possible to work as a paralegal and not be certified. As certification becomes more common, lawyers may seek people with that as opposed to paralegals who are not certified.
The salary for a paralegal in NC is higher in larger cities, and there are more jobs there as well. Paralegal salary in Raleigh NC is the highest in the state.  In Raleigh, there are 1,520 paralegals averaging $62,000. This is a lot higher than any other region in the state. There are 3,000 paralegals in Charlotte. Paralegal salary in Charlotte NC averages about $50,000.   The lowest pay is in Asheville, where there are 530 paralegals and the average is $39,000.
The wide variety in pay shows there is room for negotiation, and the more qualifications you have will make your case stronger. This is a good case for being certified by the state. As you gain experience and work in a specialty area, your salary should also increase.
You can climb high on the ladder as a paralegal. A paralegal manager is at the top and can make more than $100,000. A legal project manager is a relatively new type of position for managing cases, An experienced person in this job could make $87,000.
In the medical field, a nurse paralegal could make $82,000. A government paralegal at the top end could make nearly 80,000. A senior paralegal is in a corporate setting and makes about $70,000.
At the other end of the spectrum, a legal or court clerk which is entry-level would make about $30,000.  Some might consider this more of a legal assistant-type position. Entry-level paralegal jobs in North Carolina start at about  $40,000.
Related:
Top 10 Paralegal Programs in North Carolina
How to Become a Paralegal in North Carolina
Ultimate Guide to State Paralegal Associations
School Finder