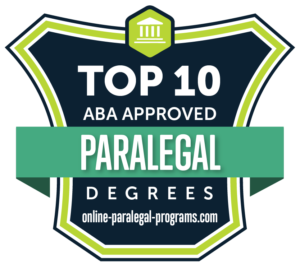 Strangely enough, despite how important the job is (basically, no law office would be able to function without them), there's very little standardization or regulation around the paralegal field. ABA approved paralegal programs provide a little bit of the accountability that the profession is lacking, by setting qualifying standards for paralegal education. Any school with paralegal programs can earn ABA approval, but it's a rigorous and long process – only around one-fifth of paralegal programs ever complete it.
Featured Programs
So yes, every state has its own requirements for paralegal licensure – or none at all – but with ABA-approved paralegal programs, students who are serious about their career as a paralegal can feel certain that they are getting the best paralegal education. That's an education that will provide a real job market reputation, be transferable to bachelor's programs and law schools, and tell an employer that they can trust your paralegal skills because they're backed by the single top authority in the legal profession.
Methodology: Ranking the Best ABA Approved Paralegal Programs
To rank the best ABA-approved paralegal programs, Online Paralegal Programs focused on (obviously) paralegal associate's degree programs that have been approved by the American Bar Association. From there, programs were ranked according to three key criteria, drawn from College Scorecard data:
Graduation Rate
Employment (within 2 years)
Alumni Salary (within 6 years)
These three criteria are among the most important for students seeking a paralegal certificate or associate's degree because they indicate the rate of success for graduates. The primary goal of a paralegal program is successful employment, and the OPP Best ABA Paralegal Programs ranking is all about employment.
School Finder
1. Roger Williams University
Roger Williams University's Associate's in Paralegal Studies program is taught by sitting judges and practicing lawyers to give students a thorough orientation in litigation, criminal law, substantive law, legal databases, and alternative dispute resolution. RWU's ABA approved paralegal program's graduates are prepared to work in legal environments, as well as corporate, non-profit, and government. The program's goals include providing a foundation of ethics and professional responsibility in legal services. Students will develop analytical skills and develop critical thinking, as well as learn to communicate for legal research in writing, listening, and speaking. Students can expect to study courses including intro to law and legal studies, criminal law for paralegals, emerging technologies and the legal environment, legal research and writing, contract law, business law, litigation, and legal ethics.
Roger Williams University, in downtown Providence, RI, is ranked among the Best Values and top Regional Universities North in U.S. News and World Report. RWU became a college in 1956, but it began as night classes offered by Northeastern University at the Providence YMCA. The mission to provide opportunity to working adults remains at the heart of Roger Williams. RWU offers life experience and transfer credits, hyper-flexible programs to accommodate working students with demanding modern lives, and both campus and online curriculum in practical programs like the ABA approved paralegal programs online.
Program: Associate Degree in Paralegal Studies
2. Bay Path University
Bay Path University's Certificate of Advanced Paralegal Studies is defined by small classes, intensive academic support with tutors and academic coaches, and a career coach for first-year students. Paralegal Studies at Bay Path include Intro to the American legal system, litigation, legal research, tort law, real estate law, and legal internship or legal specialty electives. Students will learn to understand the legal profession in our society, think and write competently about legal issues, and use technology for legal research – hallmarks of ABA-approved paralegal programs.
Bay Path is a private women's college established in 1897 in Longmeadow, MA. It has a student population of almost 3300 on its historic New England campus. Bay Path has been ranked one of U.S. News's top Regional Universities North, and even more impressively, one of the Most Innovative Schools – a highly competitive list. Bay Path University boasts that more than 96% of accepted, full-time qualifying traditional undergraduates get financial assistance and that its tuition is ranked among the lowest 25% of all private colleges in the area. That makes Bay Path one of the most affordable among schools with paralegal programs.
Program: Certificate of Advanced Paralegal Studies
3. Clarion University of Pennsylvania
Clarion University of Pennsylvania's Associate of Science (AS) in Paralegal Studies Courts and Community Services concentration is not a general paralegal degree. It's for students interested in human services fields that work with the court system, combining rehabilitative science with criminal justice and paralegal education. It's for those who want to work in roles with victim and witness assistance programs, adoption services, child abuse agencies, foster care agencies, and work release programs. Students will have courses in human services, behavior analysis, assessment and intervention strategies, substance abuse, and social work in addition to legal studies such as family law, wills, trusts, and estates, and civil litigation.
Founded in 1867 as a seminary, Clarion University became a college-level, state-run institution in 1920. With sites in Oil City and Pittsburgh, Clarion has long been oriented toward the educational needs of Pennsylvania's working class. As part of that mission, Clarion has more program accreditations than any other college in the Pennsylvania State System of Higher Education, ensuring that professional students get the highest level of quality in their instruction, including their ABA approved paralegal programs.
Program: Associate of Science (AS) in Paralegal Studies
4. University of Montana
The University of Montana's Associate of Applied Science in Paralegal Studies degree requires 71 total credit hours of coursework. Courses include a mix of general education such as accounting, business analysis, introduction to computers, introduction to public speaking, and degree courses such as contracts, legal ethics, criminal procedures, civil litigation, trial preparation, and family law. The two year/four step degree requires coursework to be taken in sequence or additional semesters for graduation.
Founded in 1893, soon after the Montana Territory became the state of Montana, the University of Montana is Big Sky Country's flagship public research university. As the state's main university, U of M has 9,323 undergrads and a 220 acres urban campus, and plays a crucial role in preparing professionals for their careers. That includes the AAS in Paralegal Studies, one of the main sources of legal professionals in Montana.
Program: Associate of Applied of Science (AAS) in Paralegal Studies
5. Eastern Kentucky University
Eastern Kentucky University's Associate of Applied Science in Paralegal Studies in a partially online format. One of the region's only ABA-approved paralegal programs, all EKU courses are offered in the evening, with some of them online. As a part of the curriculum, students are required to complete a 280-hour paralegal internship with a law firm, government agency or corporation. The internships provide students with valuable practical experience to work as a paralegal. Faculty all hold Juris Doctorate (J.D.) degrees and part-time faculty are practicing attorneys, judges, and elected officials.
Eastern Kentucky University dates back to 1874, to the founding of a small college that was bought out by the state to form a teacher training school. With that long, deeply rooted history, EKU has been a part of Kentucky's higher education fabric for nearly a century and a half. While it may still only be categorized as a regional university, EKU has earned a reputation in recent years as one of the best regional universities in the South, especially for its online programs. The ABA approved paralegal programs provide just a sampling of what makes EKU great.
Program: Associate of Applied Science (AAS) in Paralegal Studies
6. Clayton State University
Clayton State University's Associate of Applied Science in Paralegal Studies has an emphasis on practical paralegal skills, terminology, research, and substantive law. Paralegal courses are offered in the evenings and online, with general education courses additionally offered during the day. Paralegal students at Clayton State University can study for a certificate, associate degree, or bachelor degree, with credits earned in each eligible to apply to the next step up. That makes Clayton State's ABA approved paralegal program one of the best, and most flexible, in Georgia.
Part of the University System of Georgia, Clayton State University opened in 1969 as Clayton Junior College, and became a four-year university in 1986. Regularly ranked as a top regional university and a best value by sources like U.S. News and World Report, Clayton State prides itself on small class sizes with personalized attention, outstanding faculty, and affordable career preparation. Programs like the AAS in paralegal studies are dedicated to meeting the needs of Georgia's working adults and career-changing professionals.
Program: Associate of Applied Science (AAS) in Paralegal Studies
7. University of North Georgia
The University of North Georgia's Associate of Applied Science (AAS) in Paralegal Studies is an ABA approved paralegal program available on the Gainesville campus. Students will learn the foundations of law and gain professional and ethical skills to write depositions and other legal documents. While the paralegal program is housed at the Gainesville campus, UNG's Cottrell College of Business has a presence on all five of UNG's campuses: Blue Ridge, Cumming, Dahlonega, Gainesville, and Watkinsville.
The University of North Georgia is a new member of the University System of Georgia (2013) made from the merger of two very old institutions (dating back to 1864 and 1873). That's just to say the UNG has been around, and is deeply in tune with the needs of Georgia's people. Total enrollment is close to 20,000, and the Mike Cottrell College of Business enrolls 20 percent of the total incoming students. UNG is a University System of Georgia leadership institution and The Military College of Georgia, giving it a focus on developing leaders.
Program: Associate of Applied Science (AAS) in Paralegal Studies
8. Faulkner University
Faulkner University's Associate of Science in Legal Studies stands out among ABA approved paralegal programs due to its focus on Christian ethics. The curriculum requires a total of 74 credit hours, with 46 core curriculum hours, including 12 in Christian Literacy and 9 in Cultural Heritage Literacy. Coursework includes a paralegal portfolio, evidence for paralegals, tort law, and civil procedure, with electives like business organizations, family law, directed study, and legal studies internship. With class sizes averaging ten to 15 students, with a faculty-to-student ratio of one to 15, close collaboration is the name of the game.
Faulkner University is a private Christian university established in 1942. With extension campuses in Mobile (the home of the ASLS), Huntsville, and Birmingham, and its main campus in Montgomery, Faulkner U is dedicated to reaching out to all of Alabama's people, providing career opportunity to a diverse student body. Tuition is well below average for private universities, and Faulkner offers generous financial aid to 96 percent of its students. All undergrad students complete 160 hours of volunteer service – perfect for building a paralegal career.
Program: Associate of Science (AS) in Legal Studies
9. DeAnza College
DeAnza College's AA in Paralegal Studies prepares students for duties such as factual and legal research, drafting legal documents, assisting attorneys with pre-trial preparations, interviewing witnesses and clients, discovery and analysis, and administering case files. The ABA approved paralegal programs require 48 credit hours for the certificate, or 90 credit hours for the associate's degree. DeAnza College is a top community college for a paralegal program with a thorough orientation to California law, or to transfer on to continue for a higher degree.
DeAnza College in Cupertino, CA, is a public community college founded in 1967. It was one of the first schools to provide paralegal studies approved by the State of California in 1970 and was the first community college paralegal program to receive approval from the American Bar Association in the San Francisco Bay Area. It's a top college for transfer with ABA approved paralegal programs in the Silicon Valley area, for transfers to the University of California and California State University. The program has continued to provide quality educational courses for basic legal instruction and practical training that paralegal students need.
Program: Associate of Arts (AA) in Legal Studies
10. Robert Morris University
Robert Morris University's Paralegal Associate's Degree teaches students to communicate effectively in a professional legal environment, providing hands-on assignments of paralegal duties. Experience-based learning and opportunities for real-world involvement are at the heart of RMU's paralegal program, and the ABA approved paralegal programs prepare graduates to continue on for a Bachelor Degree in Business Management or Professional Studies in Law Office Administration.
RMU has multiple sites that include Chicago, Schaumburg, Aurora, Elgin, Arlington Heights, Orland Park, Springfield, and Waukegan. RMU's commitment to serving the community and offering career-focused education to diverse communities is reflected in U.S. News & World Report's ranking as the most diverse university in the Midwest. It is one of the largest private, not-for-profit colleges in Illinois with ABA approved paralegal programs. RMU is a member of the American Association for Paralegal Education and partners with John Marshall Law School offering a 3+3 program for students interested in continuing on to law school.
Program: Associate's Degree in Paralegal
Is a Paralegal Program from a University Better than a Community College?
Although universities usually have higher graduation rates, a paralegal program from a university is not always better than a program from a community college. Small, local schools with paralegal programs provide a lower-cost option for students who can't afford the higher tuition at larger, four-year colleges and universities.
Two-year schools with paralegal programs often provide a high-quality education that provides students with all of the information and training they need to become skilled paralegals. However, due to the perceived superiority of larger universities, students who complete paralegal programs at community colleges may find that they are offered lower salaries than their peers who attend four-year colleges and universities.
What's So Special About ABA Approved Paralegal Programs?
When trying to decide between ABA approved paralegal programs vs non-ABA approved programs, it's important to consider the benefits of accreditation and weigh them against the possible downsides. For example, depending on your circumstances, you may have to attend a more expensive school or one that is further away from home if you choose an ABA-approved program.
However, there are many benefits of attending ABA approved paralegal programs vs non ABA approved programs. These include the potential for a higher salary of graduation, which is a pretty big benefit.
The ABA accreditation process is rigorous and takes at least three years. Schools must have qualified administrators and faculty and adhere to specific program requirements. The accreditation process ensures that the program meets the minimum standards for paralegal programs set for them by the American Bar Association.
Can I Find ABA Approved Paralegal Programs Online?
Unfortunately, you won't find any ABA approved paralegal programs online—at least not fully online. This is because the American Bar Association does not accredit online programs. Even if you attend the online program offered by an accredited school that is essentially a clone of their regular non-distance program, it will not be considered accredited.
However, even though there are no ABA approved paralegal programs online, there are offline programs that offer some online courses that are ABA approved. This is the closest you can get to an online ABA approved paralegal program at this time.
Can I Use a Paralegal Degree in Any State?
You do not need a paralegal degree to become a paralegal, but in some states, you do need a license. In addition, you will find it much easier to land a good paralegal job if you do have a degree. It will give you a competitive advantage over applicants who do not have the degree. Here are a few examples of the requirements to become a paralegal in different states:
Paralegal Programs in California: Some states do have educational requirements for becoming a paralegal. For example, paralegal programs in California must be approved or accredited. To become a paralegal in California, you must have a bachelor's degree, although it does not need to be in paralegal studies. You must also work under the supervision of a lawyer for one year and complete an approved paralegal certificate program.
Paralegal Programs in Georgia: There is no certification or licensing required to become a paralegal in Georgia. However, job applicants who have completed paralegal programs in Georgia have a huge advantage over those who haven't.
Paralegal Programs in Texas: Although the state of Texas does not require paralegals to be licensed or hold a degree, the state does offer guidelines to attorneys who hire paralegals. Completion of accredited paralegal programs in Texas is not required, but it is recommended.
Related Rankings:
Top 10 Traditional Paralegal Degree Programs
Top 10 Brick and Mortar Paralegal Programs
Top Graduate Certificate Programs in Paralegal
School Finder