If you have a serious interest and inclination to learn how to become a paralegal in Pennsylvania, it is essential to understand the steps required to meet your career objective. There are several paths one can choose to reach for a career as a paralegal.
Begin by exploring the paralegal requirements in Pennsylvania. Find informational websites that explain the Pennsylvania paralegal requirements detailing how to become a paralegal in Pennsylvania ­with or without certification.
Featured Programs
Under Pennsylvania's Supreme Court Rule 5.3, attorneys must directly supervise and guide paralegals with the necessary guidance in relevant matters of confidentiality and ethics. Attorneys also are tasked with the responsibility of their paralegal's actions and conduct. A Pennsylvania law, passed in 1996, denotes legal assistants/paralegals CAN NOT practice law and can only offer legal services if they are under the direct supervision of a state-licensed attorney.
In May 2020, there were more than 11,750 paralegals/legal assistants employed in Pennsylvania. But note, the Commonwealth of Pennsylvania has not set forth criteria regarding paralegal education requirements, although if you are interested in achieving paralegal certification, specific credentials may require properly credentialed/approved education providers.
The minimum paralegal requirements in Pennsylvania are –
School Finder
Must be a United States Citizen
Must be at least 18 years old
Paralegal work requires professionals to possess an integrated combination of both soft and hard skills to be successful. The list of skills and abilities noted below describe some of the essential skills required for paralegals and legal assistants –
Excellent Organization Abilities
Legal research & Writing Skills
Active Listening Skills
Reflective Judgment and Decision-Making Abilities
Critical Thinking
Above Average Emotional Intelligence
Complex Problem-Solving Skills
Although responsibilities may differ, depending on the paralegal's specialty or their place of employment, paralegals will likely perform these professional duties –
Supporting a lawyer for an upcoming trial or hearing
Investigating the case facts & performing background research
Obtaining & organizing paperwork related to current workload
Researching legal precedents in preparation
Drafting legal paperwork, which includes reports, motions, and plea agreements
Interviewing clients and/or witnesses related to the file
Preparing paperwork for signatures that may include contracts, mortgages, & wills, among others
Although not mandatory, those who wish to become employed as a Paralegal in Pennsylvania should consider becoming certified as well. Certification is discussed further in the narrative below after a discussion on the education requirements for paralegals in the Keystone State.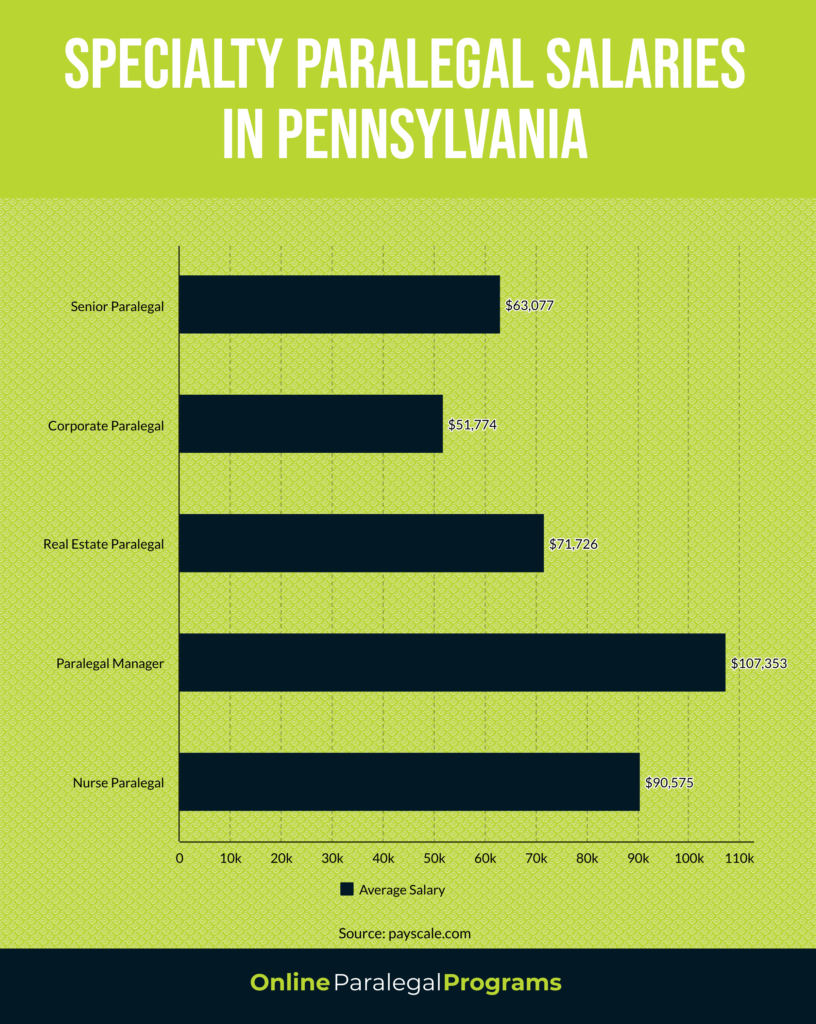 Paralegal Education in Pennsylvania
Because of the absence of education mandates with regard to Pennsylvania law, it is important to recognize that the education/career path you choose will be highly dependent on your personal career goals and financial circumstances.
As such, those who have a strong interest in reaching for advanced certifications as a paralegal should be recognized that the best educational choice will be one of the many American Bar Association – ABA-approved paralegal programs in Pennsylvania.
Fortunately, digitized education and the popularity/need for distance education have created a variety of quality options for online paralegal programs in Pennsylvania that offer convenience and flexibility, often needed by working learners.
It is noted that there are many American Bar Association-approved online paralegal programs in Pennsylvania that offer program options at various levels –
A certificate or advanced technical certificate – These programs typically require 18 to 30 credit units and offer a well-rounded introduction into the world of paralegal support services.
An associate degree – These degree programs typically take 1 to 2 years to complete, depending on the student's time commitment. In addition to classes tailored to paralegal programs, an associate degree program includes mandatory general education. The total credit units for an associate degree are typically 60 -70 units.
A bachelor's degree– These programs typically require 120 – 128 credit units but often allow earned associate-level credits to be applied towards some of the basic baccalaureate degree requirements. A bachelor's degree in paralegal studies will likely be preferred by most well-paying paralegal positions.
And while a baccalaureate degree from one of the quality ABA-approved paralegal programs in Pennsylvania, the American Bar Association highly recommends paralegals reach for a bachelor's degree in paralegal studies, even if it is achieved while working full-time.
In addition to traditional classes, paralegal professionals will receive hands-on training, which allows students to apply theoretical knowledge to practical, real-world applications. Many paralegal employers prefer to hire job candidates with some semblance of professional experience, which is often met through a school-required internship, volunteer, or entry-level work.
Most entry-level positions in the paralegal industry enter with an associate degree or certificate program because the state does not issue a Pennsylvania paralegal license.
Different Areas of Law To Consider as a Paralegal Professional
Litigation – one of the most in-demand paralegal specialties.
Health Care
Corporate or Business Law
Real Estate
Compliance
Intellectual property
Contract Preparation and Administration
Licensure & Paralegal Certification in Pennsylvania
When a paralegal has completed their choice of paralegal degree, they can choose to reach for Pennsylvania's paralegal certification through KAPA – the Keystone Alliance of Paralegal Associations. Although entirely optional, holding the Keystone Alliance of Paralegal Associations' PaCP certification(Pennsylvania Certification Paralegal Credential Program) is a smart way to ensure potential employers understand your level of professional education and knowledge when finalizing hiring decisions.
Note, continuing legal education (CLE) as necessary. Every two years is required for PaCP certified paralegals. Renewal of this certification from keystone Alliance of paralegal Associations required 12 CLE (continuing legal education units) credits, of which two of these credits must include coursework in ethics.
It is possible to achieve paralegal certification in Pennsylvania at the national level; there are even available paralegal certifications in Pennsylvania online you can choose from.  These paralegal certifications in Pennsylvania at the national level include these options –
The NFPA – The National Federation of Paralegal Association

The Paralegal Core Competency Credential (the PCC) – the Paralegal Core Competency Credential demonstrates the fundamental skills and knowledge of newly trained.
The Paralegal Advanced Competency Credential (the PACE) – the Paralegal Advanced Competency Credential helps demonstrate a paralegal's education and professional experience. Applicants for the PACE credential must not have been convicted of a felony and cannot be under suspicion to have a license/certificate/registration revoked or terminated by any jurisdictional entity.

The NALA – the Paralegal Association

The Certified Paralegal (CP) (Certified Paralegal Credential) is one of the most popular worldwide-recognized paralegal certifications in Pennsylvania. The Certified Paralegal designation demonstrates the holders' professional knowledge and experience through the rigorous examination. According to NALA, those who hold a CP credential increase their salary by as much as $4,880. The Certified Paralegal credential from NALA has a five-year renewal and requires 50 hours of NALA approved continuing legal education.
The Advanced Certified Paralegal (ACP) – the Advanced Certified Paralegal – a credential for those who seek to expand their professional knowledge in specific areas of law. This Advanced Certified Paralegal credential from NALA has a five-year renewal and requires 70 hours of continuing legal education that is approved by NALA.

The NALS – The Association for Legal Professionals

The CLP/PLS – The Certified Legal Professional credential is one of the available options for paralegal certification in California. The Certified legal Profession is a four-part exam that demonstrates a test taker's professionalism and working knowledge of relevant law. This Certified legal Profession credential from NALS must be renewed every five years and requires 75 hours of continuing legal education that is approved by NALA.
Pennsylvania Paralegal Salary & Job Market
In May 2020, the statisticians at the BLS noted that there were nearly 350,000 legal assistants & paralegals working in the nation. In May of 2020, more than 11,550 paralegals/legal assistants were employed in the Commonwealth of Pennsylvania.
The median annual Pennsylvania paralegal salary in 2020 was  $52,920, which translates to an hourly salary of $25.44. Note, however, that paralegal jobs in Pennsylvania have an annual median salary that exceeds the national average. In 2020, the Pennsylvania paralegal salary was $58,490, which is more than 10% higher than the national median average.
In addition, Pennsylvania paralegal jobs are quite diverse, which reflects the state's diverse business environment. As such, paralegal jobs in Pennsylvania may be available in legal firms, government agencies, or the local court system, a rare opportunity to find one of the many Pennsylvania paralegal jobs that suit and meet your professional interests.
Another positive metric with regard to potential Pennsylvania paralegal jobs is the anticipated job growth through 2030, which is estimated to be 12% – approximately 3 times the national average. In real numbers, this growth pace will likely create more than 41,000 new paralegal/legal assistant positions across the next decade in the country.
The following table represents the percentile data for paralegals and legal assistants –
| | | |
| --- | --- | --- |
| Salary Percentile | National Paralegal Salary | Salary |
| 10% | $ 32,900 per year | $ 15.82 per hour |
| 25% | $ 40,640 per year | $ 19.54 per hour |
| Median – 50% | $ 52,920 per year | $ 25.44 per hour |
| 75% | $ 67,080 per year | $32.25 per hour |
| 90% | $ 85,180 per year | $40.94 per hour |
It can be quite helpful & insightful to have an understanding as to which industries offer the highest-paying salaries for paralegals and legal assistants. This is represented in the table below.
| | | |
| --- | --- | --- |
| Industry for Paralegal Work | Paralegal Salary | Salary |
| Merchant Wholesalers | $ 124,210 per year | $ 64.52 per hour |
| Land Subdivision | $ 90,280 per year | $ 43.44 per hour |
| Electronic Component Manuf. | $ 85,440 per year | $ 41.08 per hour |
| Grantmaking or Giving Services | $ 85,350 per year | $ 41.03 per hour |
| Natural Gas Distribution | $ 84,300 per year | $ 40.53 per hour |
The metropolitan areas that have the highest paralegal/legal assistant concentration are as follows. Note that Pennsylvania is part of the larger NY/NJ/PA metropolitan geographical/statistical area.
| | | | |
| --- | --- | --- | --- |
| Industry | Number of Paralegals Employed | Paralegal Salary | Salary |
| NY – NJ – PA | 27,600 | $ 64,850 per year | $ 31.18 per hour |
| LA – Long Beach, CA | 15,250 | $ 63,390 per year | $ 30,48 per hour |
| Miami – Ft Lauderdale -WPB | 13,280 | $ 56,420 per year | $ 27.13 per hour |
| DC – VA – MD – WV | 12,760 | $ 70,700 per year | $ 33.99 per hour |
| Il – IN – WI | 11,480 | $ 61,140 per year | $ 29.39 per hour |
Paralegal jobs in Pennsylvania and across the nation will likely continue to grow (as evidenced by the BLS's anticipated job growth) as employers seek out ways to mitigate the cost of legal and supportive services. As noted above, paralegals meet an industry's need to improve legal service efficiency, which is one of the reasons the job growth in the field for the next decade is quite impressive.

Is Becoming a Paralegal Is Pennsylvania a Good Choice?
Professional paralegals are tasked with the responsibility of completing extensive and complex work – all within the legal boundaries of their relevant jurisdiction. An attorney and law firms rely on paralegal professionals as they direct and supervise their work. However, most lawyers recognize the essential work paralegals provide in support of a legal team.
Educational choices in the Commonwealth of Pennsylvania offer a variety of academic paths that lead to a career as a professional paralegal or as a stepping stone towards a bachelor's or master's degree. Classes in paralegal programs are designed to explore relevant legal concepts, the nature and machinations of the legal system, and an exploration of procedural law. These are legal subjects and qualifications that will be needed to work as a paralegal under the direct supervision of a licensed Pennsylvania attorney or other legal corporation/organization/department.
Within the Commonwealth of Pennsylvania, paralegal professionals will find a wealth of resources and knowledge to help you reach your career objectives. The following list can help answer the many questions you may have as you formulate your education and career plans.
As a reminder, paralegals cannot offer/provide legal services directly to the public except as permitted by Pennsylvania law.
Related:
Top 10 Paralegal Programs in Pennsylvania
How Do I Become a Paralegal in Pennsylvania?
Ultimate Guide to State Paralegal Associations
School Finder