Starting a career path as a paralegal can be lucrative and rewarding. In this role, legal experience is gained which benefits those wanting to go on to pursue a career as an attorney. Paralegals use their skills and technology to assist with meetings and prepare for hearings or trials. They are responsible for the management and organization of files and data needed in various cases.
There are distinct differences between a paralegal and an attorney – namely, education. An attorney has studied law over years and has to pass the bar to practice. Attorneys must also complete continuing education requirements once they start practicing. A paralegal does not have to have the same level of education as an attorney. They cannot practice law and are not allowed to provide legal advice. Paralegals are good at research and preparing documents for the attorneys and are often part of the team that prepares cases.
Featured Programs
This is not a role for the weak – paralegals work long hours and are versatile in the duties they perform. They are the researchers, gatekeepers, editors, administrative assistants, office managers, and other roles combined into one. They are consistently challenged with difficult, high-profile work and may incur high levels of stress. In a number of settings, many people get the roles of paralegal and legal assistant confused. Legal assistants are often tasked with some of the same responsibilities as a paralegal, but paralegals are more widely recognized, especially if they have certification.
Knowing the differences can be beneficial because those wanting to advance in this career should take the time to seek additional education to have a firm foundation and demonstrate their commitment to excellence in the field. Most attorneys require their paralegals to have some education in the field before they hire. Having a paralegal certification is a respected choice when working in the industry.
Paralegals have specific skill sets. They must be highly organized and able to produce documents at a moment's notice. They must also be good with details and can remember things clearly. They should be able to work independently and with a team to get the job done. A paralegal is also a good communicator with the ability to speak to multitudes of people in diverse backgrounds and situations. Paralegals do a lot of researching and writing, so their writing skills must be impeccable, and they should have the ability to find and extract information. Technology is a huge part of the legal field, so they should have great computer skills and a good grasp of technology. Finally, they should be able to work independently without being micromanaged. A good paralegal knows what needs to be done and gets it done. They should become so indispensable to the attorney that their absence is felt when they are not around.
School Finder
There are many opportunities for those seeking to advance in this career field, and many wonder how to become a paralegal in Louisiana. In the state of Louisiana, paralegals are not regulated. While individuals may pursue certification of some sort for their own educational foundation, it is really up to the individual. Paralegal requirements in Louisiana vary based on the attorney. While there is no specific education program outlined in the Louisiana paralegal requirements, many law firms are skeptical when hiring paralegals that do not have some form of legal training.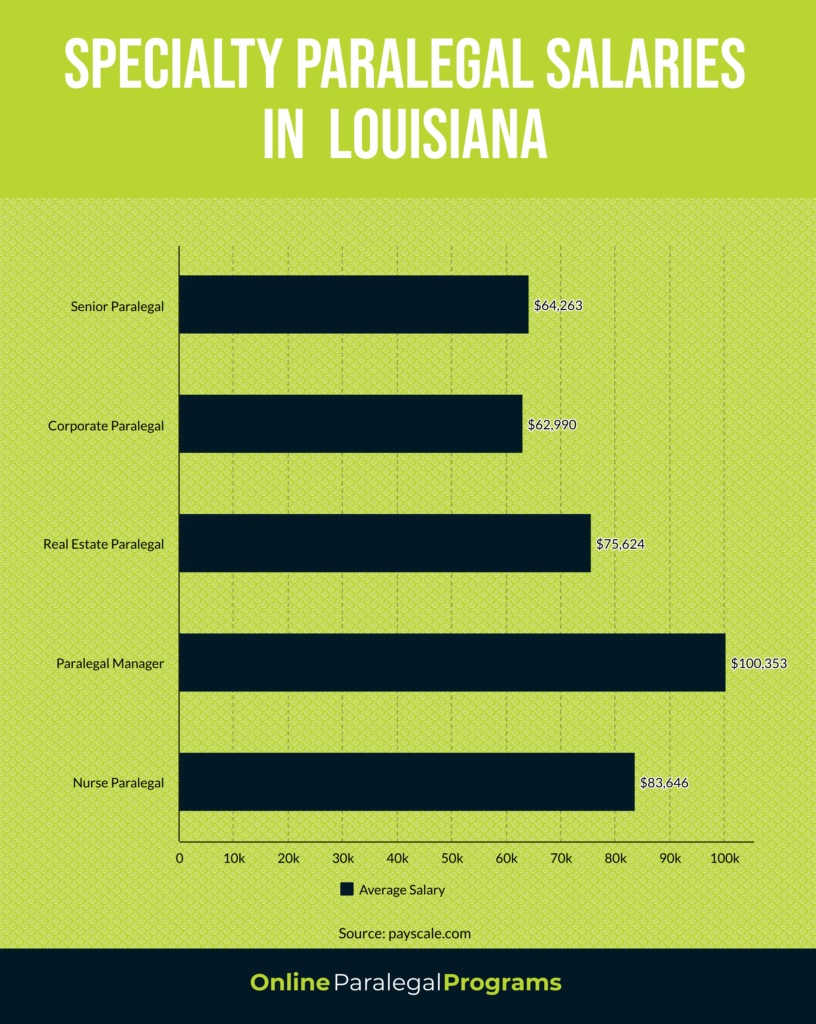 Getting a Paralegal Education In Louisiana
Again, the state of Louisiana does not have paralegal requirements, but there are American Bar Association (ABA)-approved paralegal studies programs that can assist. In Louisiana, ABA-approved paralegal studies programs can be found at Tulane University in New Orleans, Louisiana State University in Baton Rouge and with LSU Online, and Herzing University in New Orleans.
There are also a number of online paralegal programs in Louisiana available for individuals interested in becoming certified paralegals. These programs vary between ABA-approved, degree programs, and non-approved programs. Online paralegal programs offer more in terms of flexibility for those students who have additional responsibilities to take care of, or work schedules that may not fall within the realms of a traditional brick-and-mortar program.
Certification or Licensure for Paralegals in Louisiana
Paralegal certification in Louisiana has a few basic requirements. Although the educational portion is not necessary, and it is not necessary to obtain a certificate, it is recommended that individuals take the time to go through a Louisiana paralegal certification course. Having specialized experience can make a difference.
One does not need to have a Louisiana paralegal license to work, but it looks very good to employers interested in hiring. Basic requirements through the Louisiana State Paralegal Association (LSPA) have a certification system in place. The person has to be 18 years or older. If they have a specialized degree that is helpful but not required. Those wishing to obtain Louisiana Paralegal Certification can gain experience through an internship or by working for an attorney. Individuals must also be U.S. citizens or legal aliens to obtain a Louisiana paralegal license. Prior to this certification is granted, a professional and criminal background check is needed, and the individuals must agree to abide by the Louisiana Legal Ethics: Standards and Commentary. Paralegal certification for Louisiana online is also available.
Qualifying for the Louisiana certification exam has a few steps:
Be a Certified Legal Assistant (CLA) or Certified Paralegal (CP) by the National Association of Legal Assistants (NALA); or
Successfully completed an ABA-approved paralegal studies program.
Successfully completed an associate's degree or paralegal certification program post-bachelor's.
Graduate a bachelor's paralegal studies program of at least 60 hours and at least 15 in legal studies.
Graduate any bachelor's degree program but have a year's worth of experience as a paralegal.
Have a high school diploma with 7 years of paralegal work and 20 hours of continuing education in the legal field within 2 years of the exam.
The exam is given on a yearly basis and includes civil procedure and Louisiana legal ethics, general law, and four other topics.
What Is The Job Market Like For Paralegals In Louisiana?
According to indeed.com, the average Louisiana paralegal salary is about $45,000 per year. There are a number of factors that determine the overall salary of a paralegal. It really depends on what level the paralegal is on, and how much experience they have. There are some paralegals that make almost $90,000 per year. The firm where the paralegal works also makes a big difference. Firms that are large and have a number of associates usually pay a lot more than a smaller firm that only has one or two paralegals.
The U.S. Bureau of Labor Statistics has projected employment growth among paralegals and legal assistants to increase 10% from 2019 through 2029. This is faster than the average growth of all occupations on the market today. That means getting into the paralegal field can be lucrative and easy to find work. The legal field is busier than ever, with lawsuits and other challenges taking place all over the country. Attorneys are consistently fielding clients and trying to accommodate their needs. They cannot keep things together without the use of an experienced paralegal.
Paralegal jobs in Louisiana are plentiful and growing. There are many places where someone with a paralegal certification can work, including law firms, Allstate, the National Guard, Ochsner Health System, and other areas where attorneys work within other types of businesses. Louisiana paralegal jobs can also be found in different cities within the state. The three largest cities are New Orleans, Baton Rouge, and Shreveport. There are many opportunities within these big cities that are looking for paralegals to support their practices.
With so many people working online, a number of paralegals start their own businesses lending their legal expertise to multiple attorneys. This is useful in a number of ways – the paralegal has their own business and works as an independent contractor. Additionally, smaller firms or solo attorneys can use their services as needed instead of having to pay overhead and benefits. This is a winning solution for a number of companies that do not have the capacity to have a full-time paralegal but need one.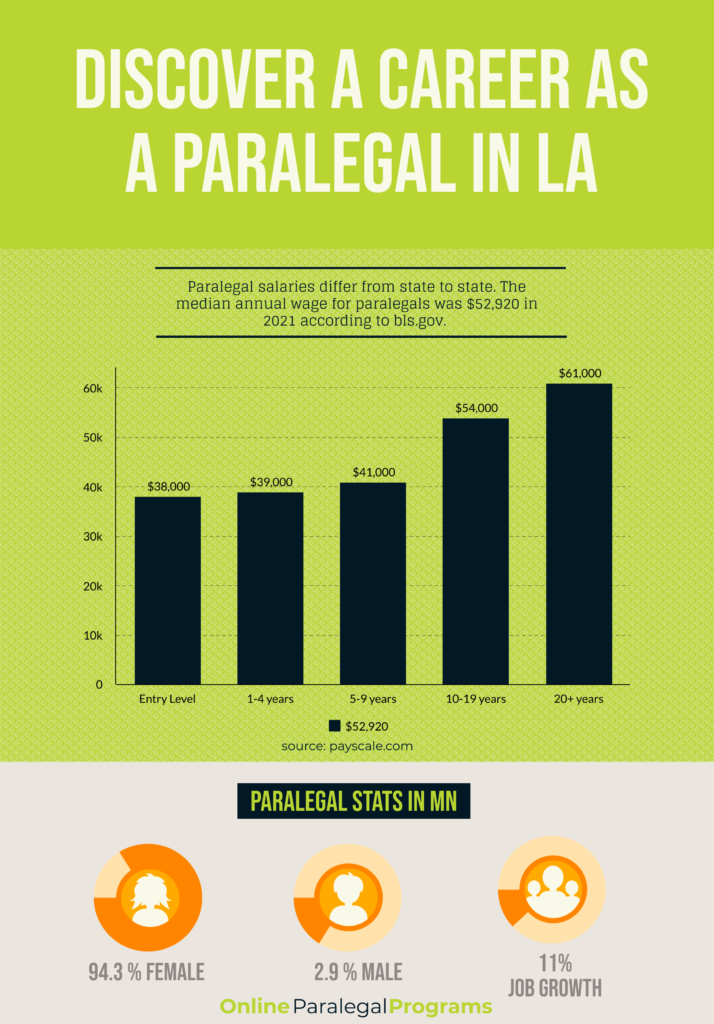 IS BECOMING A PARALEGAL A GOOD CHOICE?
The life of a paralegal can be exciting, especially if working for a large legal firm that handles a variety of cases. While most people only consider the attorney representing them at the time, no attorney can do everything by themselves. The paralegal is the one doing the work behind the scenes to ensure the attorney knows everything they need to know about the case and can be effective in their representation. Consider the paralegal the right hand – they usually know where everything is, and can also lend their insight to cases they are familiar with. When an attorney needs something, they call the paralegal.
For those wishing to become a paralegal, getting an internship with a legal firm would be the first step in determining whether this is a field they really want to be in. Again, this role is not for someone who is looking for glitz and glamour – this is a highly sensitive and demanding role that protects the attorney and the clients they serve.
Is a career as a paralegal for everyone? Absolutely not. Most people who become paralegals are interested in the legal field and have aspirations for other roles within the criminal justice system. Others are focused on helping people and fulfill their desire to do so by helping attorneys who focus on specific niche areas they care about. A paralegal must be able to think ahead and be proactive at all times. They must also be able and willing to prioritize work.
It is not uncommon for an attorney to have been a paralegal. This is a steppingstone that allows individuals to decide whether they really want to be an attorney. In fact, there are some attorneys that choose to remain paralegals instead of fully practicing as an attorney. These paralegals are usually paid a significantly higher salary than a paralegal with a certification. In essence, these people are attorneys but didn't want to fully practice for one reason or another. Paralegals come from all walks of life and gain a lot of experience working with attorneys in different specializations. The best way to gain as much experience as possible is to take the time to learn the different concentrations and be versatile in a number of areas. That way, they can stay in high demand regardless of what type of law the attorney is practicing.
Becoming a paralegal in Louisiana can be a good thing. With so many avenues for obtaining the education and certifications that will make a difference, pursuing this career may be the right choice. It is always best to take the time to speak to individuals who are already working as paralegals in law firms or even attorneys who have paralegals working for them. They can provide the best insight and suggestions on how to move forward in this endeavor.
Finding the right program in school is also very important. Whether it is an in-person or online program, both are beneficial if the information is applied. Remember, this is not a legal assistant – it's a paralegal. The responsibilities and perception are greater. There are some people who begin as legal assistants to get their foot in the door of a law firm. This is also a good way to determine whether becoming a paralegal is the right choice. With enough support and guidance, making the decision to become a paralegal could be one of the best decisions anyone can make.
For those who want the variety of law without the additional challenges of law enforcement or the pressure of being an attorney, this is a likely choice. Doing the research and weighing all options is the best course of action when considering becoming a paralegal in Louisiana. The opportunities are there, whether in a law firm or another type of business setting. There are many corporate offices that have their legal teams working within their offices that hire paralegals. If the corporate environment is one that suits the individual better, pursuing a corporate paralegal career makes sense.
Related:
Most Affordable Summer Paralegal Intensive Programs for 2020
Best Online Nurse Paralegal Programs for 2021
Ultimate Guide to State Paralegal Associations
School Finder