Becoming a paralegal in Alaska is extremely worthwhile. Earning an online degree in paralegal studies allows you to start working in an entry-level position where you can also gain experience. Whether you are working in the legal field or are trying to start a new career, becoming a paralegal in Alaska is one option that can be very lucrative. You can also choose to change the type of law you specialize in. Family law, probate law, criminal law, and commercial law are all possibilities.
Your choice to become a paralegal in Alaska can easily be made into a reality if you take your courses online. An online paralegal degree program will allow you to start your career at the lowest position in the firm and begin learning through on-the-job training. As you begin to complete your courses, you can use the lessons you learn and start utilizing them in your daily activities on the job. This allows your employer to see your progress and could possibly result in a new opportunity.
Featured Programs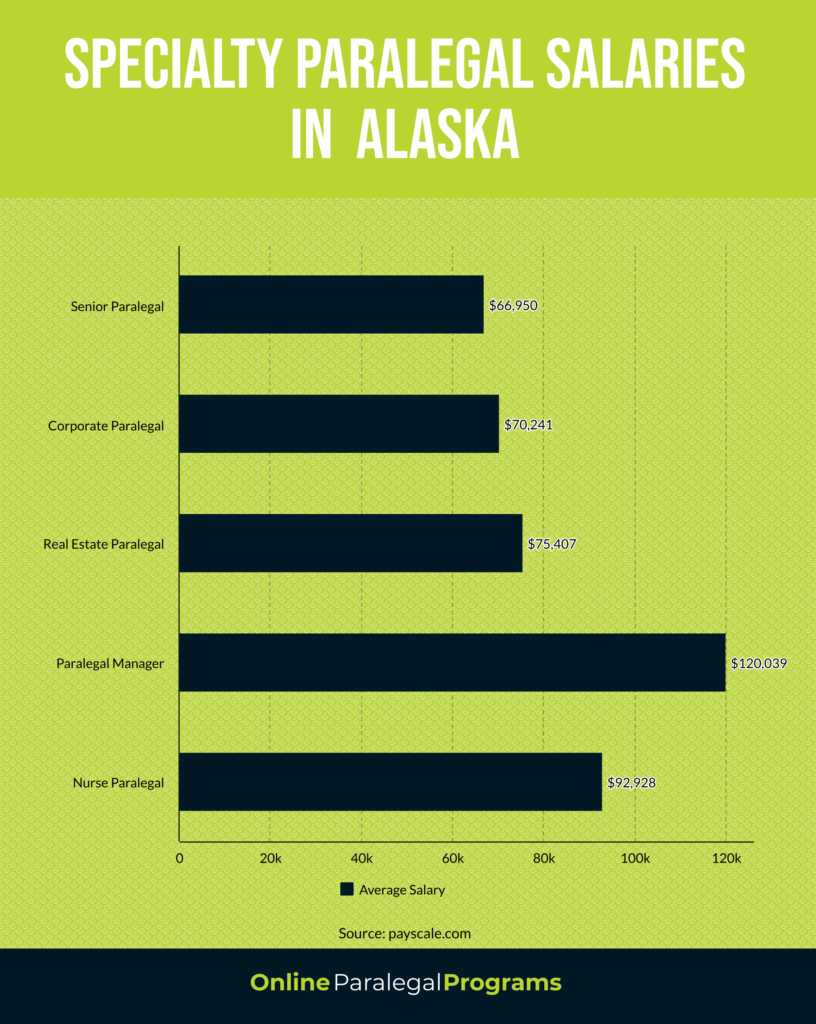 How to Become a Paralegal in Alaska
The first step in becoming a paralegal in Alaska is to enroll in an online paralegal studies program. As you begin to work through your courses, you can also start to look for work within the field. Law firms, local courts, and large corporations are all possible opportunities for individuals who are looking to make a career out of being a paralegal.
School Finder
Once you have found a job, you can begin to take on more responsibilities. It is up to your employer to properly instruct you on ethics and other important facets of working in the legal field. This also includes the importance of being as confidential as possible when working in any capacity. When you complete your online paralegal studies, you can then apply to take your national certification exam. As soon as you have your national certification, you can apply for acceptance in organizations such as the Alaska Paralegal Association.
Paralegal Requirements and Education in Alaska
Alaska is one of many states that do not require a paralegal to be certified or licensed in any way. There are no minimum training requirements in place. While paralegals are not required to comply with any certification or licensing requirements, attorneys are obligated to help train their paralegals. It is their responsibility to teach their paralegals the importance of confidentiality, ethics, and professionalism. Attorneys are required to be accountable for their paralegals' professional conduct. Because Alaska does not require any type of degree or certification, the state requires that an attorney be responsible for their paralegals' activities.
Paralegal certification is a much quicker route to becoming a paralegal than actually enrolling in a degree program. The best way to earn a paralegal degree is to enroll in an online degree program that is sanctioned by the American Bar Association. This will ensure that you learn all of the skills and concepts you will need to work as a paralegal professionally. While it is up to the attorney that hires you to make sure you are knowledgeable about your duties and what is expected of you, enrolling in an online paralegal degree program will definitely improve your abilities. Excelling in your courses and earning the best grades will improve your chances of earning a higher wage after you graduate.
An ABA-approved paralegal program in Alaska will provide you with all of the information the American Bar Association believes that paralegals and other law professionals feel you should know. Being proficient at your duties is only part of the equation. Ethics and confidentiality are of the utmost importance and must be an integral part of your education. Professionalism and the ability to handle yourself in a manner that is above reproach are also extremely important. An ABA-approved paralegal degree program will provide you with all of these abilities as well as many others.
Online paralegal programs in Alaska are meant to provide students with all of the skills that are needed to be successful legal professionals. Online programs provide not only the skills and information a student will need, they also give the student the opportunity to continue working and caring for their families. Choosing an online degree program allows you to take advantage of a very flexible schedule. This makes it more convenient for you to work towards achieving your goals without giving up your current employment.
Online paralegal programs allow students to earn the same high-quality education as they would if they had chosen to attend class on the university campus. Employers are quick to recognize the benefits of having an online education. Most also believe that an online education is just as good or better than what is received in a classroom. The reason for this is that when students are able to learn when they are most comfortable, they are better able to retain the information they receive.
Paralegal Certification in Alaska
Alaska does not require any type of certification or licensure to work professionally in the field. Once a person is hired to work as a paralegal, they can begin to earn their education. Enrolling in a paralegal certification program will allow you to become certified in as little as six months to a year. Most students start out by earning a certification so they can begin to enjoy the benefits of working as a paralegal on a professional basis. Completing a certification program will allow you to sit for your national certification test.
While certification is not required by law in Alaska, enrolling in a certification program will provide you with everything you will need to pass your state or national certification test and achieve professional status. Working for an attorney for a few years may provide you with enough of an education to become certified, but enrolling in a paralegal certification or degree program will provide a much deeper wealth of knowledge that will give you the edge when vying for paralegal positions. Being certified is not a requirement, but it is a necessity if you plan on being recognized as a professional among your peers.
Alaska paralegal certification can be completed by going online and taking a few certification courses. While certification is not required in Alaska, it is extremely beneficial. For many students, an online certification program is the best way to fulfill your career goals if you want to work in a legal office or law firm. Online programs are easy to complete and will allow you to remain employed. The flexible schedule makes it possible for you to complete all of your educational goals while you are gaining experience on the job.
Alaska Paralegal License
There are no licensing requirements for paralegals in the state of Alaska. Even though there are no laws requiring licensure or certification, it's a good idea to obtain a certification to ensure you are protected against various forms of liability. Online certifications and degree programs are available that will provide you with everything you need to be successful as a paralegal or in any other type of legal work you choose to pursue. Being licensed is a benefit that will not only give you security, it will also increase your value in terms of pay and the potential to advance on your career path. Some states offer a regional license that is only valid in their state. Choosing to pursue a national certification means that the credentials you earn will be valid in all states, not just the one where you took your test.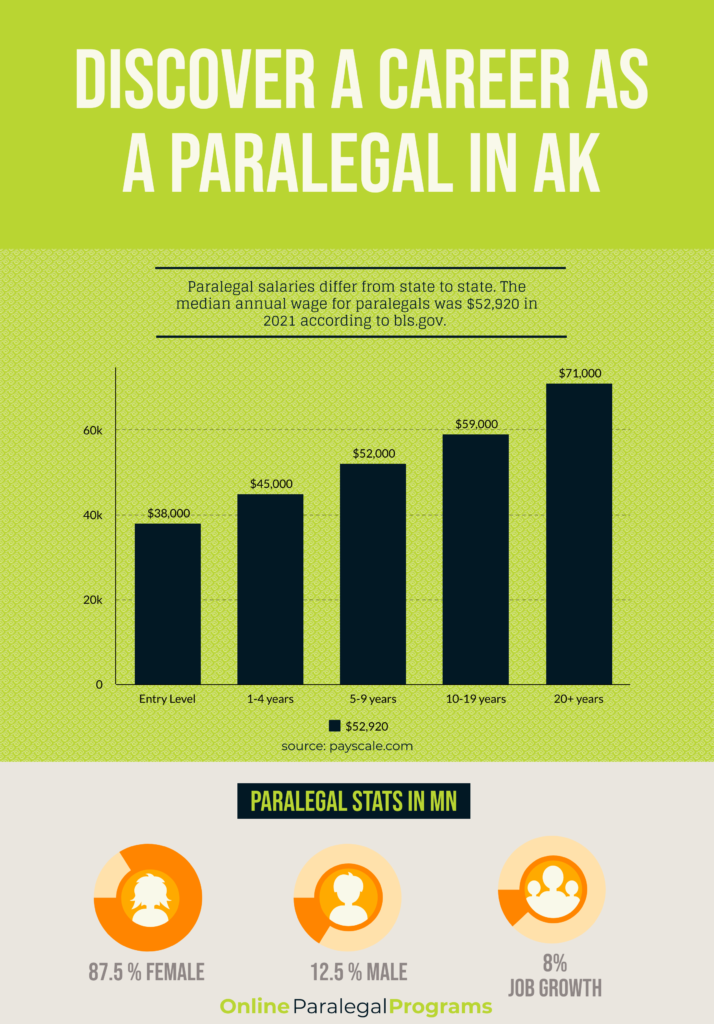 Paralegal Job Market and Salary in Alaska
The job market for paralegals in Alaska is quite good and those who choose this career will have a promising future. Salary will range depending on where you are in the hierarchy of legal professionals. New paralegals will not make as much as those who have years of experience. It's also good to remember that individuals who work in rural areas won't make as much as a paralegal who works in the state capital or other large community. The type of law you deal with may also have an impact on how much you are able to make per year.
The salary for a paralegal will range from $31,000 to $140,000. Your level of education, years of experience, and whether or not you have earned a certification or licensure will all determine how much you make on an annual basis. Those who choose to attend an online certification or paralegal degree program can advance their income potential considerably. Working on their education using an online learning platform frees up the time they need to be able to continue with their regular employment.
As a paralegal, you can also choose to be an independent contractor taking on jobs from attorneys who may only need a part-time paralegal on their payroll. As an independent contractor, you can choose to specialize in a specific type of law such as criminal, civil, family, or probate just to name a few. Working on your own allows you to do the work you love for several attorneys so that you can be employed full-time, instead of part-time.
When it comes to paralegal jobs in the state of Alaska, there are several options to choose from. Not all paralegals work in a law firm. Law firms do, however, the vast majority of paralegals. Paralegals can find work in other areas where their skills are still just as useful. Most paralegals have been taught extensive research skills that can be used in many other types of careers, including marketing and journalism. They can even be useful in the field of politics.
Another commonplace a paralegal can find work is in the courts. City, state, and federal courts are always in need of clerks and other staff who are able to assist with legal paperwork, small claims, land titles, and affidavits. Paralegals have the legal training to be able to perform any number of tasks that would be required of them in a courtroom or judicial office setting. Many courts hire investigative researchers to help the judge and public defenders. While this may not seem like a lot of work, it is well worth the effort you put into it when trying to build your career. Jobs like this help to build a solid foundation that you can take in almost any direction.
Working as a paralegal offers many rewards. Being able to work closely with attorneys in such a fast-paced field brings a level of excitement all its own. Some paralegals enjoy the thrill of the search as they look for old records or go through old files. They are able to discover an entirely new perspective on how the law is performed. When you work in a law office, you get to see the law from the perspective of those being defended. Being able to work in a courtroom, you see things from the opposite perspective. Knowing both sides of the law is very empowering and gives you a chance to see things in a whole new way.
Is Becoming a Paralegal in Alaska a good idea?
A paralegal career isn't for everyone. You must have a passion for the law and ensure that it is upheld to the highest degree. Enrolling in an online Master's in Human Resources degree can open up many new opportunities for you. If you are already working in a law office, those opportunities may lead you in any number of directions. Whether you choose to work with an attorney who has a special field of law or work in a courtroom setting, you are guaranteed to have a career that you can be proud of.
With an online Master's in Human Resources degree, you are able to continue working and also continue improving on your skills. This unique opportunity allows you to take care of the things that mean the most to you while at the same time, improving your life so you can better care for them.
Related:
5 Paralegal Requirements in Alaska
How to Become a Paralegal in Alaska
Ultimate Guide to State Paralegal Associations
School Finder