Should you become a paralegal? It's a great career choice if you're fascinated by law topics but don't necessarily want to go to law school. And if you do eventually want to become a lawyer, paralegal work can provide valuable experience as you earn your law degree. You might consider becoming a paralegal if you love organization, enjoy research, and like to help people with their day-to-day work needs. Working as a paralegal will let you do all of those things.
If you live in Arizona and want to become a paralegal, you may have some questions about how to become a paralegal in Arizona. Since every state has its own paralegal requirements, you'll want to look up Arizona paralegal requirements, specifically. Paralegal requirements in Arizona may not look the same as paralegal requirements in some other states. For instance, some states require paralegal certification, while others don't. Some states have strict laws about what paralegals can and cannot do, while others are more relaxed in their regulations.
Featured Programs
When it comes to these specifics, it's easy to get confused. Don't worry. With a bit of information on your side, you can find everything you need to start a paralegal career. If you want to become a paralegal in Arizona, but you're not sure what you'll need to get started, then the upcoming paragraphs can offer some guidance. Keep reading to find out how to become a paralegal in Arizona and to find answers about education, certification, and the paralegal job market.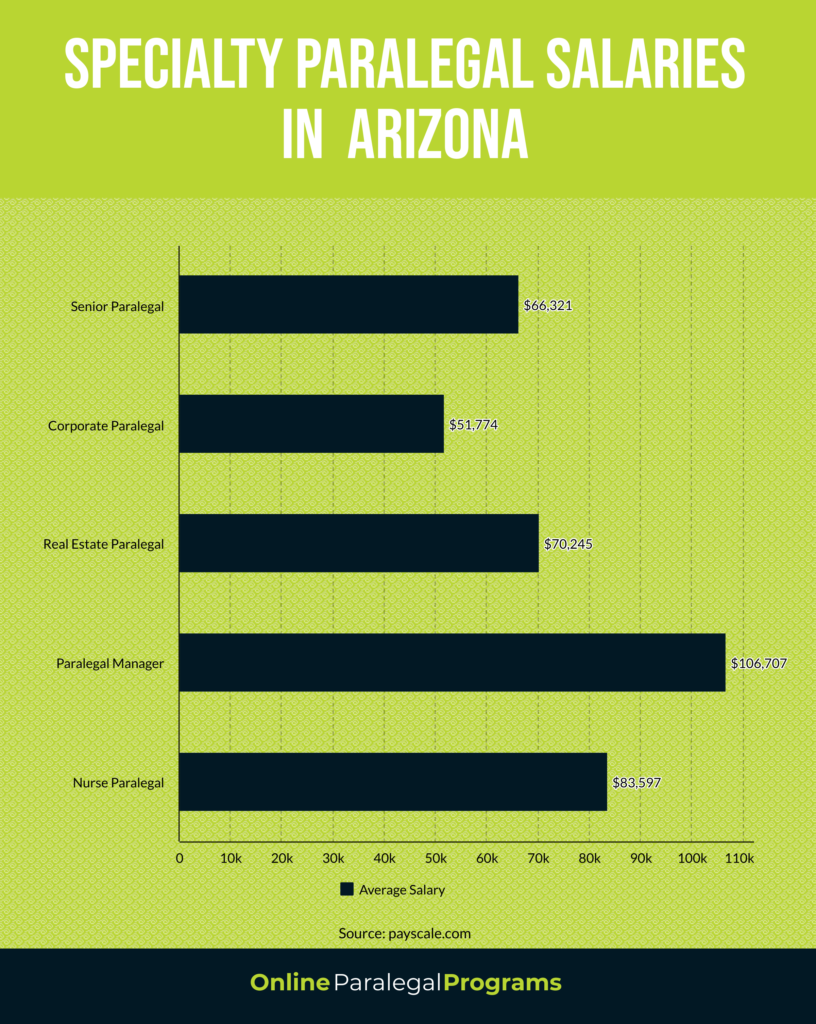 Getting a Paralegal Education in Arizona
The best way to start a paralegal career is with the right education. Now, Arizona doesn't have a specific educational requirement for paralegals. In fact, the only state in the US that does currently has such a requirement in California. Legally speaking, you could work as a paralegal without a degree. However, that's not as easy to do in practice as it is on paper.
School Finder
Instead of trying to jump straight into a paralegal career, a better option is to look for paralegal programs that have been approved by the American Bar Association (ABA). If you graduate from one of the ABA-approved paralegal programs in Arizona, you'll increase your employability. Even though Arizona doesn't have paralegal education requirements, many paralegals do have this kind of education anyway. Many attorneys may prefer a paralegal with a specific type of education, and since so many Arizona paralegals have earned a paralegal degree, you may have a tough time in the job market without one.
Furthermore, earning a paralegal degree is the most straightforward way to get the knowledge and training you'll need for the job.  Paralegal programs cover important legal knowledge, and they teach students how to perform effective research, find the right information, and do other things that help attorneys do their jobs.
So, how do you choose the right program? First, look for ABA approval. By searching for ABA-approved programs in Arizona, you'll make sure that you're getting all the right information for your career as a paralegal. The ABA has high standards, so attending an ABA-approved program can help you as you look for a job. The ABA has a directory of approved paralegal programs. You can look for Arizona-specific programs on that list. The Arizona Paralegal Association also has a list of schools on its website. The Association doesn't promote any of these schools specifically, but the list can give you a great place to start your search.
From that point, it all boils down to what you need the most from your education. You have lots of options for great paralegal education in Arizona, so think about what you want from a degree program. For example, some programs cost more money than others. Some have higher rankings than others. Personal preferences, like class size, can also play a part in your program choice.
You might also consider online paralegal programs in Arizona. Online education offers several benefits. If you're a nontraditional student and/or have a lot of responsibilities to maintain, online education can help you earn your degree without sacrificing your current obligations. Online degrees are just as valid and valuable as their on-campus counterparts, assuming that they're accredited. And you'll have no shortage of options, either. There are plenty of online paralegal programs in Arizona.
In any case, whether you learn online or on campus, the right education can get you where you want to go. For paralegals, a good education can make all the difference. Not only can an education open the door to the right jobs, but it will also impart the skills you'll need once you get started on the job.
Certification or Licensure for Arizona Paralegals
Now, what about paralegal certification? Arizona online sources may give you conflicting information. That's because legal organizations have differing views about it. But first, what is paralegal certification? If you have certification, it means that you've met an organization's criteria for knowledge and skills. Certification usually requires taking an exam.
It's important not to confuse having certification with having a certificate. Certification comes from an independent organization, and people will usually seek certification in addition to their other education and training. A certificate comes from a college or university, and it's often used in place of a full degree. Certificate programs usually cover career basics, and they can make a good choice for students who don't want to deal with liberal arts requirements. Some students earn a certificate with the intention of earning a full degree later.
Now that you know the difference between being certified and having a certificate, should you get certified as a paralegal? That depends on you.
In some ways, an Arizona paralegal certification is a lot like an Arizona paralegal degree. Namely, you don't have to have one to become a paralegal. There's no legal need to seek out an Arizona paralegal license. You can absolutely find a job without a paralegal certification in Arizona. This fact can cause some confusion. Again, legal organizations disagree about it. Some don't think that certification is necessary, while others would rather see it become a legal requirement. You can find a lot of strong arguments on both sides, but what exactly does all of this mean for you?
As of right now, it's up to you whether you want to earn an Arizona paralegal certification. If you have the time, money, and desire to seek certification, then you can certainly gain some advantages by earning it. While certification isn't necessary to work as a paralegal, it can help you with your career. Arizona has a lot of paralegals, and having a certificate can give you a competitive edge when you look for a job. You may also be able to seek a higher salary once you've earned certification. However, if you don't have the money to pay for an exam and/or time to study for one, don't worry. You can still build a successful paralegal career.
Now, if you decide that you do want certification, then the process of getting paralegal certification in Arizona is just like getting certification in any other state. Several organizations offer paralegal certification exams. These organizations are:
The National Association of Legal Assistants (NALA)
The National Federation of Paralegal Associations (NFPA)
The National Association for Legal Support Professionals (NALS)
The American Alliance of Paralegals, Inc (AAPI)
You might seek certification from one of these organizations, all of them, or any amount in between. All are credible sources. A certificate from any one of these organizations would look great on a resume and let you prove that you have extensive relevant knowledge. Each organization has different exam requirements. When you choose an organization, take a look at the requirements on its website. From there, you can submit an application, choose appropriate study materials, and sign up for an exam date.

Job Market and Salary for Paralegals in Arizona
Of course, if you're thinking about becoming a paralegal in Arizona, then one of your biggest questions is probably about Arizona paralegal jobs and the average Arizona paralegal salary. It can take a lot of work to become a paralegal, especially if you earn a degree before you get started. It's important that the work you put into your career pays off.
Thankfully, you shouldn't run into too much difficulty in your job search for paralegal positions. Paralegal jobs have been in high demand for several years, and the need for paralegals keeps growing. Paralegal jobs in Arizona, much like paralegal jobs across the United States, are growing steadily. In the United States, the paralegal job market is expected to grow by 12% between 2020 and 2030. That number is higher than the average growth for US industries.
Arizona is responsible for a fair amount of that growth. In fact, Arizona employs more paralegals than many other states in the US, and the Arizona paralegal salary is higher than in many other states, too. The median salary for paralegals in the US is $52,920 per year. ("Median" means that about half of paralegals make more than that amount while half make less. In other words, it's the number closest to the middle.) For paralegal jobs in Arizona, the mean (i.e. "average") salary is between $52,100 and $57,030, which means that an Arizona paralegal salary will likely lean toward the higher side of the US median.
Just like with any career, however, paralegal jobs in Arizona can vary when it comes to salary. Several factors can impact pay for Arizona paralegal jobs. For example, if you get a job in a big city like Phoenix or Tucson, then you can probably expect to make more money than someone working in a smaller city.
The size of the law firm can make a difference, too. If you work at a large law firm with multiple attorneys, then you might make more money than someone who works at a smaller firm with one or two attorneys.
Your level of education can also help you earn a higher salary. Most entry-level paralegals have an associate's degree. If you earn a bachelor's degree and/or obtain certification, you can qualify for a higher salary.
And of course, the more experienced you become, the more money you can expect to earn. Your salary may grow as you grow your expertise. The longer you've been on the job, the more skilled and knowledgeable you'll become, which means that your skills will become more valuable.
Is Becoming a Paralegal in Arizona a Good Choice?
Paralegals are the backbone of many law offices. While attorneys spend more time in the spotlight, paralegals do a lot of work behind the scenes. They help attorneys communicate with their clients and handle a lot of the written correspondence between the two. They also help keep the information up to date, so law offices don't fall behind with important documents that could help a case. In some cases, paralegals may even handle the first few meetings or consultations with clients.
For many people, working as a paralegal is the ideal career. If you enjoy the law and want to see how law firms work, if you want to job that involves research and organization, and if you want to use your organization skills every day, then a career as a paralegal can provide exactly what you're looking for.
When starting a new career, though, you have a lot of factors to consider, and those factors can get overwhelming. From choosing the right school to starting your job search, you'll have much to think about as you get started. Try to cut your research into bite-sized pieces as you go. You don't need to have all the answers right away. Now that you're armed with the information above, you may find the process a lot simpler than you thought it would be.
In the meantime, there are several other things you can do to strengthen your paralegal skills. For example, writing and communication are both important to a successful paralegal career. So is paying attention to detail. Improving these skills can help you thrive as a paralegal so you can help your place of employment run smoothly.
As a paralegal, you'll have the chance to make a difference for a law firm. Without the important work that paralegals do, law firms couldn't function as they do today.
Related:
Top 5 Paralegal Programs in Arizona for 2021
How to Become a Paralegal in Arizona
Ultimate Guide to State Paralegal Associations
School Finder