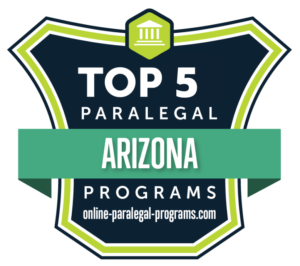 Arizona paralegal training programs offer students who are interested in the legal field a chance to establish themselves as professionals and earn the respect of their peers. By choosing to become a paralegal, students are providing themselves with options that allow them to tailor their careers into exactly what they like. They can choose from many different types of law and also decide where they want to work. Do they prefer to work in a law office or would they be happier working with the courts or other government agencies?
In Arizona, the opportunities for paralegals as well as other legal professionals are steadily increasing. While you are still attending school, it is up to you to look for work that will provide you with the experience you will need when you start to look for work after you have graduated. Start to prepare for your career before you graduate. This gives you an opportunity to go straight to work after you receive your diploma and allows you to utilize everything you have learned.
Featured Programs
Methodology: Ranking the Best Paralegal Programs in Arizona
For the Online Paralegal Programs ranking of the best paralegal studies in Arizona, editors focused on accredited, legitimate programs. From there, programs are ranked according to their student reviews, potential salary, and tuition rate.
1. Arizona Western College

The Paralegal Studies Program at Arizona Western College offers students the option to earn a certificate or an associate's in applied science. The certificate program prepares students for an entry-level position as a paralegal in a law office. This program primarily teaches students how to draft legal documents and perform legal research on behalf of a lawyer. In contrast, the associate's degree program teaches students how to prepare legal documents and introduces them to legal procedures and handling various types of law including family, estate, and business. The associate's degree is one of the paralegal programs in Arizona that helps students gain a higher paying position upon graduation.
Arizona Western College, located in Yuma, AZ, offers more than 100 degrees and certificates. The school is also known for its intercollegiate athletic teams in basketball, football, baseball, and soccer. AWC is also home to multiple clubs encompassing the arts, music, and chess clubs to name a few. Students who graduate from AWC can transfer their credits to one of the three Arizona universities governed by the Arizona Board of Regents.
School Finder
Programs: AAS or Certificate
2. Pima Community College

Pima Community College offers paralegal programs to students who are looking to earn a post-degree certificate or an associate's degree. Both paralegal educational programs share core classes, but the associate's degree program is more comprehensive. Students are introduced to legal research, learn about legal ethics as they apply to paralegals, and introduce students to major areas of law. The paralegal studies course at Pima Community College is one of the paralegal programs in Arizona that offers an advanced certification program and gives certificate holders the opportunity to apply for advanced positions.
Pima Community College is a public college located in Tuscon that offers around 150 transfer and occupational programs. It's one of the most affordable colleges in Arizona and has a 19 to 1 student-to-faculty ratio. It's partnered with over 85 government and educational institutions, over 300 industry and business partners, and is heavily engaged with the local community.
Programs: AAS or Certificate
3. Mohave Community College

Mohave Community College offers an AAS paralegal degree and a paralegal certificate program. The associate's program requires 62-63 credit hours and provides an educational foundation that prepares students for employment in law firms, in the courts and government, working as a legal investigator, and more. The certificate program teaches students how to prepare for entry-level employment as a paralegal. Students are taught how to prepare legal documents according to accepted legal standards, how to investigate facts in a given case, and how to follow the rules of evidence. Students who enter the certificate program can choose to enroll in the associate's degree program at a later date. This option makes the program one of the more flexible paralegal programs in Arizona.
Mohave Community College is a public college with four campuses located in the northwestern portion of the state of Arizona. The school is part of the Arizona State System of Community Colleges and was opened in 1974. The school offers certificates and two-year degree programs in culinary arts, education, nursing, welding, mechanics, public safety, and more. Students who earn an associate's degree from Mohave Community College can transfer their credits to university partners and save money on tuition.
Programs: AAS or Certificate
4. Yavapai College

The paralegal program at Yavapai College is an associate's degree program that prepares students for employment upon graduation. Core classes in the program teach students how to research for and prepare legal materials along with handling the juncture of electronic media and the law. Electives from the program include criminal law, neuroscience, and the law, business organizations, and an internship option. Students have the option to take all classes online which makes it one of the best paralegal programs in Arizona for a non-campus education.
Yavapai College is a public community college with a total of six campuses located in mid-state Arizona. The institution offers 99 degree and certificate programs and the option to transfer to one of 73 different study programs. The school is also noted for its non-credit learning options for adults, college for kids, senior programs, and more. Yavapai College prides itself on being accessible to students of all ages, races, and backgrounds.
Programs: AAS or Certificate
5. Phoenix College

The Paralegal Studies Program at Phoenix College is the oldest of the paralegal programs in Arizona. The school offers certification of completion and an associate's in applied sciences, and both programs are approved by the American Bar Association. The certificate program teaches students practical skills such as drafting legal documents and introduces the concepts of more complex areas of law. The associate's degree provides students with an in-depth legal education that includes learning about the Rules of Civil Procedure, drafting and reviewing legal documents and assisting lawyers in court.
Phoenix College is a public college that was founded in 1920, making it one of the oldest community colleges in the U.S. The founders of Phoenix College envisioned the school as a non-segregated learning institution. 100 years later, the school is known for its diversity and equitable access to students across all populations.
Programs: AAS or Certificate
Why Should I Become a Paralegal in Arizona?
Students who choose to attend one of the many ABA-approved paralegal programs in Arizona are able to improve their skills and apply for higher-level management positions with larger salaries, more benefits, and additional responsibilities. Earning a Bachelor's or Master's degree while you are working in an entry-level position is the perfect way to lay a solid career foundation. Once you have your degree and receive your certification, you can begin to do your research to find out what your best career choice is.
How Is the Job Market for Paralegals in Arizona?
The number of paralegal jobs in Arizona is steadily rising. Paralegals are able to take on many of the tasks that, in the past, were only performed by attorneys. With the level of knowledge now being offered in online Masters in Paralegal Studies courses, graduates have the tools and skills they need to work alongside attorneys and help them achieve their overall goals. The same is also true for paralegals who choose to work within the local courts or higher up in the Arizona state judicial system. Each of these areas offers an abundance of opportunities in terms of growth and progress.
Arizona paralegal jobs can be found in both the public and private sector allowing the graduate to build a career they can be proud of. Every graduate who earns a degree or certification in Paralegal Studies from a college or university in Arizona can rest assured that they will be able to perform every task that is required of a paralegal during the daily performance of their duties. While they cannot practice law, they can work hand in hand with an attorney to ensure that each case is a success.
Individuals who are interested in paralegal jobs in Arizona can start out by applying for a clerk or receptionist position. As they gain more and more experience, they will be able to assume more and more responsibilities. Taking the initiative to enroll in an online Bachelors degree program and focusing on Paralegal Studies is the best way to keep moving forward on your career path,
How Much Do Paralegals Make in Arizona?
The amount of money you make as a paralegal in the state of Arizona will greatly depend on where you live/work, how many years of experience you have, and what type of education or degree program you have completed. Larger cities and communities will guarantee the most money and the most overall benefits. In essence, the more work you have put into your education and career, the more you will be offered in terms of pay, and the more valuable you will be to your employer.
Entry-level paralegal positions may start out at between $29,000 and $36,000 per year. Although these numbers may seem low, there are many larger towns in Arizona that will support bigger numbers. In cities like Phoenix and Scottsdale, the most paralegals will be pulling in a larger salary compared to the smaller towns around them. If you want to increase your earning potential, enroll in one of Arizona's most prestigious colleges and look for jobs that ask for interns. This is a great way to get started and may eventually be easier for you to make higher salaries that fall more in line with the $58,000 to $71,000 per year range.
Even if you already have the experience, earning a certificate will offer you valuable credentials that you can use as a leverage tool if you want to pursue a raise or an increase in benefits. Experience and education together are the cornerstones that all good careers are built on. A solid education from an accredited college or university and years of experience are extremely valuable. It is up to the graduate, however, to capitalize on these concepts and create the type of career they desire most.
Related Rankings:
Top Online Bachelor's in Paralegal Degree Programs
Top 25 Most Affordable Online Paralegal Associate's Degree Programs
Top 25 Best Value Online Paralegal Certificates
Top 12 Paralegal Degree Specialties
School Finder