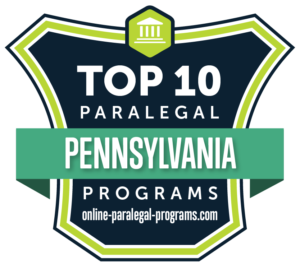 Like many states, the Commonwealth of Pennsylvania does not have mandatory education requirements for individuals seeking to become a paralegal, nor are there any licensing requirements. In theory, that means universities and colleges are able to offer paralegal programs in Pennsylvania that don't adhere to a specific format. That can make it difficult for a prospective student to decide on a paralegal program that teaches the essentials and has elective classes to help a student expand their knowledge base. One option is to look for ABA approved paralegal programs in Pennsylvania and avoid the potential issues that come with non-accredited programs.
ABA approved programs in Pennsylvania are educational programs that follow the criteria set out by the American Bar Association. A student who takes an accredited paralegal certificate program can be certain that they're getting the best possible paralegal education and can be assured that they will have good job prospects upon earning their certificate or degree. When choosing from the many paralegal programs in Pennsylvania, make sure that the program has accreditation from a nationally recognized organization and put emphasis on finding a program that's accredited by the ABA.
Featured Programs
Methodology: Ranking the Best Paralegal Programs in Pennsylvania
To rank the best paralegal programs in Pennsylvania, Online Paralegal Programs editors researched accredited, legitimate institutions across the state that offered on-campus or online paralegal degrees and certificates. They were then ranked according to their value, including factors such as cost, potential salary, and student reviews.
1. Villanova University

The paralegal certificate program offered through Villanova University College of Professional Studies is an ABA approved program that's been in existence for over 30 years. The program focuses on teaching students the practical and theoretical basics of law along with ethics of legal work. Classes are taught by professionals in the legal field so as to provide the best possible education to students. Vallanova's program covers topics that include family law, business organizations, intellectual property law, and more.
Villanova University is the only Augustinian university in the U.S. and is a private Catholic university located in Radnor Township, Pennsylvania. The university has colleges that include business, professional studies, nursing, law, engineering, and liberal arts and sciences. The school is notable for its Greek organizations with over 30% of the student body identifying with one of the sororities or fraternities despite there being no Greek houses on the campus.
School Finder
Degree: Paralegal Certificate
Format: Campus
2. Duquesne University

The Paralegal Institute at Duquesne University is a noncredit paralegal certificate program that's offered on a part and full-time basis. It's one of only three programs in the U.S. that's accredited by the American Bar Association and run by a law school, yet does not use a credit hour system. Classes are offered on a quarterly schedule instead of a semester which allows students to earn their certificate quickly if they so desire. These features make it one of the best paralegal programs in Pennsylvania.
Duquesne University was founded in 1880 by the Congregation of the Holy Spirit, and is the only Spiritan educational institution in the U.S. The school features a 14:1 student to teacher ratio and prides itself on offering quality education to students. Duquesne is a private Catholic school and features a Spiritan Campus Ministry and a Congregation of the Holy Spirit on campus. Students are offered the opportunity to step back from their studies and explore their faith or explore mindfulness while attending classes.
Degree: Paralegal Studies Certificate
Format: Campus
3. Community College of Philadelphia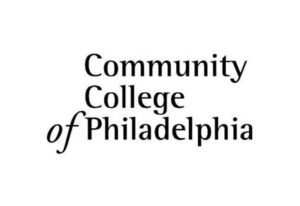 The paralegal studies program at the Community College of Philadelphia is an Associate in Applied Science (A.A.S.) program and approved by the American Bar Association. Students need 60 credit hours to graduate from the program, and an accelerated learning program is available for students who have already earned a college degree. Upon completion of the program, a student will be capable of legal research, able to draft legal documents, and work effectively with clients. Students are mentored by a professional from the area's legal community during their first course and can take advantage of internships, field trips, and job placement assistance.
The Community College of Philadelphia is a public institution that offers open admissions and is the largest institution of its kind in Philadelphia. The college itself offers over 70 degree, academic and proficiency certificate programs and has a goal of strengthening the local economy through the higher education of its residents. Over 89% of recent graduates were employed in the local economy eight months after graduating from the school. The college offers online and on campus classes along with neighborhood locations and regional centers that provide educational outreach.
Degree: AAS in Paralegal Studies
Format: Campus
4. Northampton Community College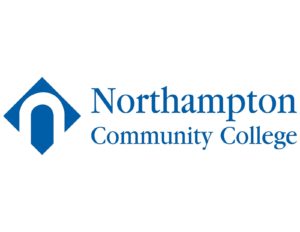 The Paralegal program at Northampton Community College is approved by the American Bar Association and focuses on teaching students how to become effective paralegals. A majority of the classes are taught by lawyers who have experience in the field of law and teach students the basics, ethics, and practical aspects of working as a paralegal. The school offers students the opportunity to gain work experience through an internship in a law firm.
Northampton Community College is an award-winning college that offers innovative programs, top-notch faculty, and students that go on to excel in their fields. It has three different campuses in the Bethlehem area in order to reach as many students as possible. The school is the most affordable college in the state of Pennsylvania and has the lowest cost per credit hour among all of the colleges and universities in the state. These factors make the program one of the best paralegal programs in Pennsylvania.
Degree: Paralegal AAS
Format: Campus
5. Central Penn College

Central Penn College has designed its AS in Paralegal Studies to prepare students for the increasing demand in degreed paralegals in both the private and public sectors. Coursework includes learning about the judicial system, legal research, writing briefs, pleadings, and other relevant legal documents, and gaining insight into different bodies of law. Students are able to participate in mock trials, lectures and discussions with lecturers, field trips, and a 360 hour internship before graduation.
Central Penn College is a small private college located in central Pennsylvania. It offers bachelors and associates of science, associates in applied science, and a masters of professional studies. The school was founded in 1881 and has offered career-focused education since its doors were opened. The student-to-teacher ratio averages 10:1 which means students don't have to compete for a teacher's attention. Athletes attending Central Penn College compete in the USCAA conference in the Division II level with some sports teams achieving high ranks in recent years.
Degree: AS in Paralegal
Format: Campus
6. Lehigh Carbon Community College

The Paralegal Studies A.A.S. program at Lehigh Carbon Community College is a highly respected program with graduates employed in law firms, title companies, real estate firms, and more. Students learn about their potential career path as a paralegal, limitations placed on the paralegal, how to prepare vital documents, and work with lawyers and clients alike. Internships are available for students to get real life experience in the various fields that hire paralegals. Graduates also have the option to transfer to another university and earn a bachelor's degree in related fields.
Lehigh Carbon Community College has multiple campuses in the Lehigh Valley and Allentown area. It offers associates degrees and certificates in a diverse range of fields that include science and engineering to manufacturing, trades and transportation. The school focuses on providing students with a quality education and knowledge foundation that employers are looking for in job candidates.
Degree: AAS or Certificate
Format: Campus
7. Westmoreland County Community College

The Paralegal program at Westmoreland County Community College is designed for working professionals who have a busy schedule but want to become a paralegal. The program is offered through a learning program called Desire 2 Learn that enables teachers and students to interact online. Classes can be viewed anywhere a student has internet access and all lectures are recorded for viewing at times that are convenient for the student. Classwork includes classes in business math, legal analysis, critical thinking, and insight into specific areas of law. Students who complete the program earn an A.A.S. degree in paralegal studies.
Westmoreland County Community College is a public community college and has a total of eight campuses that serve the populations of Westmoreland, Fayette, and Indiana counties. It was founded in 1970 and its original charter was to provide advanced education to working adults who wanted to advance their education. The school offers ongoing adult education and has certificate and associates programs covering the sciences, arts, and industrial professions.
Degree: Paralegal AAS or Diploma
Format: Hybrid
8. Community College of Allegheny County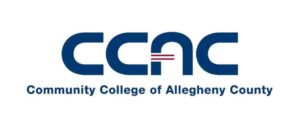 The Paralegal program at Community College of Allegheny County prepares students to work as a paralegal or legal assistant. Students learn how to prepare case-related materials for litigation, prepare documents used as part of the legal process, conduct legal research, and use proper legal terminology when necessary. Coursework includes learning the basics of many legal processes, how to prepare documents for civil and criminal procedures, how to handle estates and trusts along with related coursework to support the degree.
Community College of Allegheny County was founded in 1966 and has become a nationally renowned two-year college designed to serve its community. It offers almost 160 certificates, degree, diploma, and transfer programs along with workforce development and non-credit courses for continuing education. The school has four campuses and five neighborhood centers. The school has the largest veteran student population in the state of Pennsylvania and prides itself on being one of the top schools in the country for nursing graduates.
Degree: AS or Certificate
Format: Campus
9. Manor College

The Manor College Paralegal Program offers students an education that allows them to be effective in their role as assistants to lawyers in private and public roles. The program is designed to engage students in analytical skills and critical thinking, become effective communicators, and become competent paralegals. A student also learns about legal ethics and how to be professional when interacting with co-workers and clients of the law firm. Graduates are offered job preparation and placement assistance through seminars and networking events held at the school.
Manor College is a private Catholic college that was founded by the Byzantine Ukrainian Sisters of Saint Basil the Great. The college offers associate's and bachelor's degrees along with offering certificate programs for adults who are already engaged in the workforce. The core values of the school are one of serving society in an effective and compassionate manner and seek to instill the same in its students.
Degree: Legal Studies AS
Format: Campus
10. Bucks County Community College

The Paralegal Studies program at Bucks County Community College is designed to help students fulfill paralegal roles in law offices, government agencies, solo practice attorneys, and entities that need employees trained in paralegal studies. Students have the option to earn an associate's degree or a paralegal certificate if the student has already earned an associate's or bachelor's degree. The Paralegal Studies program is accredited by the ACBSP and approved by the ABA which ensures that students will receive a quality education.
Bucks County Community College has three physical campuses and an online presence to give students multiple educational opportunities. It was founded in 1964 with a charter to provide a public two-year collegiate education for graduates of Bucks County high schools. The school has a strategic plan to provide innovative education and support to students, non-credited educational opportunities to encourage ongoing education for adults, and keep updating school technology so students can learn using the latest software and hardware related to their field of study.
Degree: AAS or Certificate
Format: Campus
Will a Paralegal Certification Help My Career?
Yes, getting a Pennsylvania paralegal certification will most definitely help your career. Some law offices may hire people for the role of paralegal and train them from the ground up, but not all are willing to train. Smaller firms may not have an issue if a paralegal candidate lacks a PA paralegal certification, but larger firms may not be willing to hire someone who isn't hasn't become a Pennsylvania certified paralegal. Someone who has a PA paralegal certification is able to demonstrate to a potential employer that they have a working familiarity with Pennsylvania laws, can draft legal documents, and is capable of communicating with clients at the very least.
The time spent becoming a Pennsylvania certified paralegal is time well spent. Instead of learning how to perform as a paralegal on the job and being restricted to the education provided by a law firm, a graduate can start working soon after graduation and use on-the-job education to enhance what was learned in school. Earning a certificate also makes you a more desirable candidate for an employer who's looking at training and experience amongst potential hires.
How is the Job Market for Paralegals in Pennsylvania?
According to the BLS, the projected job growth for the role of paralegal is expected to grow 15% between 2016 to 2026. The job market for paralegal jobs in Pennsylvania is expected to grow at about the same rate. Most paralegal jobs in Pennsylvania are found in urban areas due to the density and need for legal assistance from a larger population. It's also worth noting that the rate of growth for paralegal jobs in Philadelphia Pennsylvania will track the job growth for the legal industry as a whole. As a general rule, paralegals support at least one lawyer at any given time, and can support multiple lawyers as needed. One thing is for sure: as long as there are lawyers and law firms, there will always be paralegal jobs in PA.
Earning a paralegal certificate to take advantage of paralegal jobs in Pennsylvania is just the first step towards enjoying a career in the legal industry. A paralegal can advance their career by going back to earn more qualifications that are related to a specific area of law. It's also possible to become an advanced paralegal that can perform and handle work normally delegated to an attorney for preparation. There is growth potential as a paralegal as well as the opportunity to specialize and make oneself more valuable to an employer.
How Much Do Paralegals Make in Pennsylvania?
The median hourly wage for a paralegal is $24.87 an hour or just under $50,000 a year according to the BLS. The average paralegal salary in Pennsylvania runs a little higher at $57,000. However, as with any profession, the paralegal salary in PA can range anywhere from $44,000 on the low end to over $71,000 at the top end. A student who has just finished their paralegal certificate education can expect to start at the low end of the average paralegal salary in Pennsylvania while someone who has gained experience on the job is going to command a higher salary. Most law offices pay out bonuses to staff at the end of the year which can also boost the average salary of a paralegal.
The average paralegal salary in Pennsylvania for someone who's just starting out on their career will vary from region to region. However, the starting salary earned by paralegals is comparable to the starting salary that many 4-year degrees earn after graduation. Gaining experience and returning to school for further education throughout a career can enhance your earning potential. Earning a paralegal certificate in Pennsylvania will get you started in a respectable industry, give you career options, and help you earn good money.
Related Rankings:
Top 25 Best Value Online Paralegal Certificates
Top 25 Most Affordable Online Paralegal Associate's Degree Programs
Top Online Bachelor's in Paralegal Degree Programs
School Finder