Specialization as a paralegal is one of the many paralegal career options for paralegals who want to advance their career and potential income. A paralegal goes to school to earn their certificate or associate's degree to be able to work as a paralegal, but the typical paralegal education is that of a generalist. Students learn how to prepare legal documents, take care of clients, perform legal research, and more, but they only learn the basics of the job. A paralegal education prepares a student to work in a law firm under the supervision of a lawyer, and internships help a paralegal understand what's expected of them, but there's more to being a paralegal than meets the eye.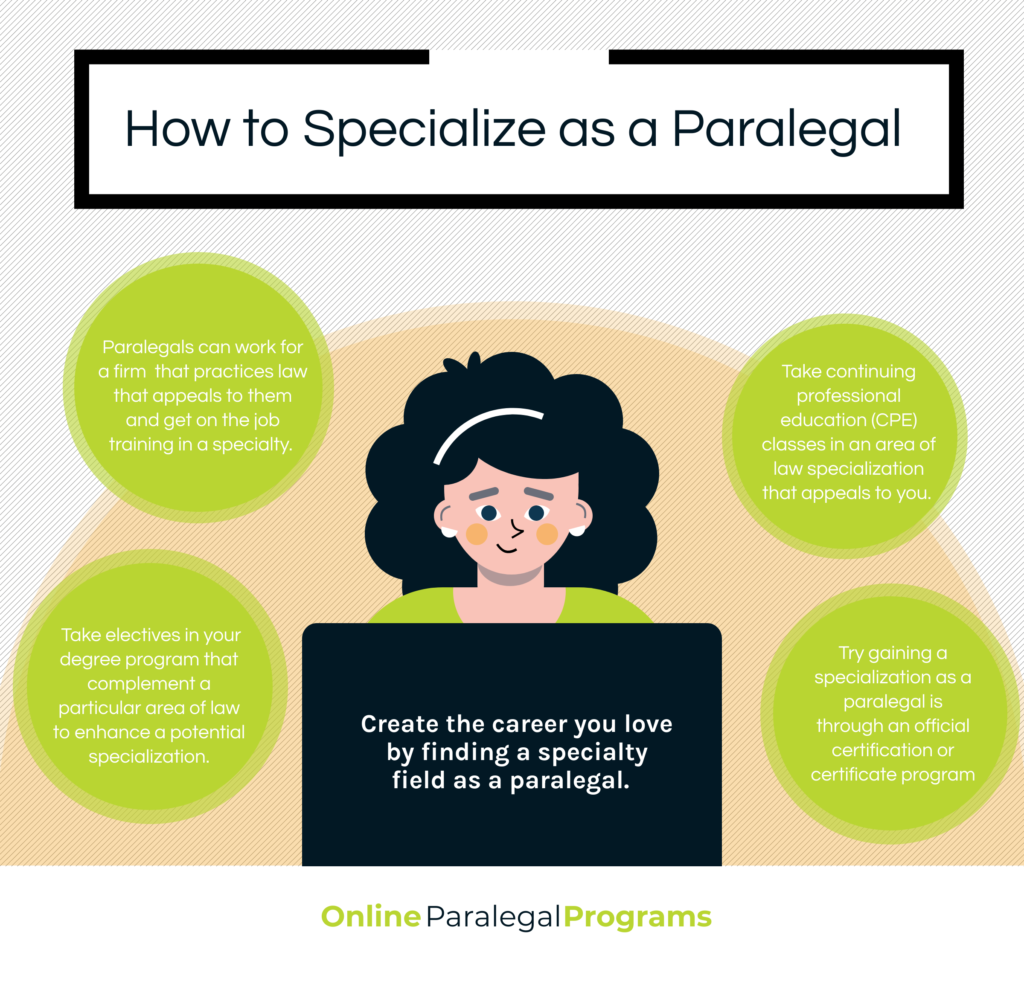 What is Specialization as a Paralegal?
During your paralegal education, you are required to take electives that cover the most commonly practiced categories of law. That includes categories such as:
Featured Programs
Estate Planning
Bankruptcy
Criminal
Taxation
Family
Personal Injury
By no means is this an exhaustive list of the kinds of classes taught during a paralegal degree program. However, the need to complete specific courses in order to earn a paralegal degree makes it harder for a student to get an in-depth education prior to graduation. One option for a paralegal looking to specialize in a specific area of law is to take a bachelor's degree program in paralegal studies and take advantage of the extra time to take as many classes as possible in an area of law that interests you the most. The more knowledge in one area of law that you possess, the better your career options and income.
Why Should I Specialize as a Paralegal?
You can get more out of your career as a paralegal if you decide to specialize in a specific area of law. Most law firms and lawyers work in a narrow area of the law due to the fact it's not possible to be effective as a generalist in law. The field of law ranges from criminal justice to real estate transactions, and a lawyer can do their best work when they limit their scope to one or two areas of legal work. While it's true that lawyers and paralegals have to learn about all the fields of law, they are encouraged to find the field that suits them best as the study of law doesn't end when paralegals and lawyers graduate from school.
One of the biggest complaints that paralegal graduates have about their early years is the perception of being treated as a glorified secretary and not exercising their education. The fact is, freshly graduated paralegals enter the legal workforce at the entry-level. You won't be condemned to a life of answering calls, emails, and maintaining a calendar or making copies, but you are going to spend time doing the basics until you learn more about the type of law that's practiced in the law firm. A single mistake can affect the outcome of a case which means a paralegal new to the profession is going to be given safe work until they've learned more about their job.
School Finder
Showing interest in a specific area of law as a paralegal helps you gain valuable knowledge. It also helps you ask questions of experienced attorneys and demonstrate that you're interested in knowing more. The lawyers in the firm recognize interest and ambition, and are more likely to put you in a position where you can learn more about the specific area of law and become more effective as a paralegal specialist. The role of a paralegal is to support a lawyer by taking care of tasks that help a lawyer with their caseload. A paralegal specialist offers more value to a lawyer as the specialist is already familiar with the area of law and can write documents and briefs with little assistance from the lawyer. A paralegal who can provide that kind of support is usually rewarded in the form of a higher salary.
How Can I Specialize in an Area of Law as a Paralegal?
Becoming a paralegal specialist requires focusing in an area of law and going back to school for classes. You can start by working in one of the paralegal specialties in demand, or you can focus on an area of law that appeals to you. You can also specialize in more than one area of law, although you're most likely only going to be using one of those fields as a paralegal specialist. However, some areas of law are complimentary to one another, and having more than one area of specialization can help you gain advancement and better pay as a paralegal. Another avenue to specialize in an area of law as a paralegal is to return to school for a bachelor's in legal studies and consider getting a master's of legal studies at some point.
As previously mentioned, earning an associate's degree in paralegal studies enables the graduate to get into the field at the entry-level and gain experience on the job. A student who wants to start at a more advanced level of employment should go for their bachelor's degree in legal studies. The bachelor's degree offers a more in-depth education and a student can focus on studying a specific area of the law while earning their degree. A student has more to offer a legal employer upon graduation in terms of education as well as being able to demonstrate that they're a paralegal specialist. Last, but not least, a master's in legal studies further refines the knowledge that you've earned as a paralegal specialist and enables you to work at the highest levels of paralegal employment.
Legal study degree programs are aimed at students who want to work in the field of law, but don't want to go to law school to become a fully-fledged lawyer. It's an alternative educational track that teaches and trains the student in the art of law the same as a lawyer, and helps them find a category of law that
t suits them the best. The result of the education is someone who has undergone an education similar to that of a lawyer, but can't practice law on their own. Instead, the graduate can work as a paralegal II or III and support attorneys by performing more complex work than a paralegal I.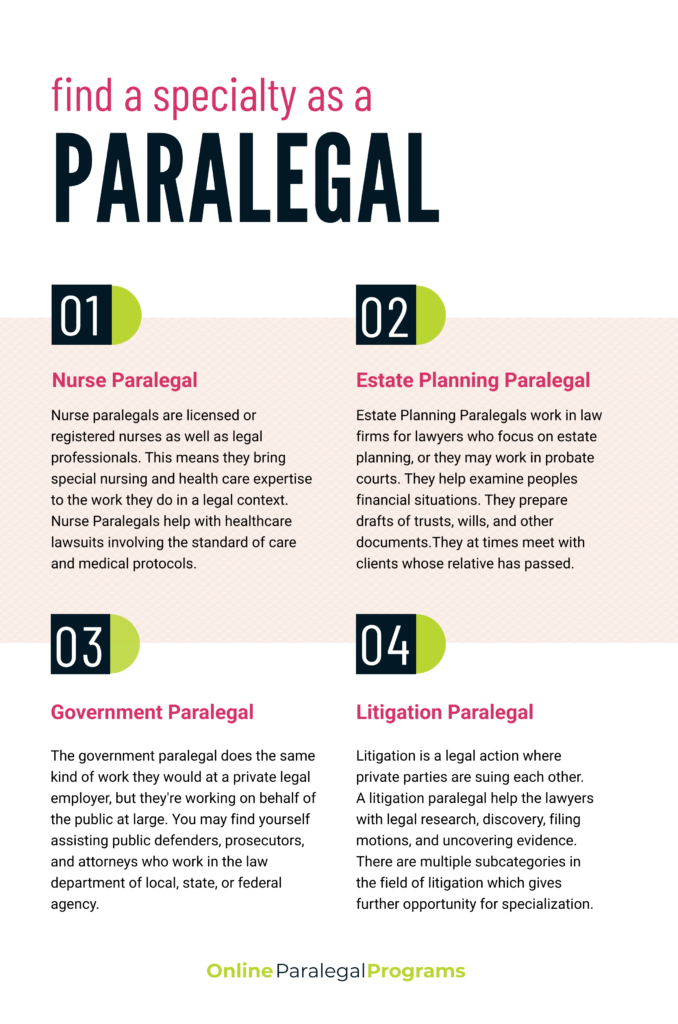 Should I Get Officially Certified as a Paralegal?
It's highly advisable to get official certification as a paralegal, especially if you want to specialize in a specific area of law. Becoming a certified paralegal (CP) shows a prospective employer that you've passed a rigorous exam covering the knowledge that's needed to be effective as a paralegal. The exam is offered by many paralegal associations that are recognized by the American Bar Association (ABA). A paralegal can join the American Bar Association for a nominal yearly fee and take advantage of the services and opportunities offered by the ABA. Membership with the ABA can also help a specialist paralegal find employment by maintaining a searchable profile on the website. The paralegal associations that certify paralegals in the U.S. include:
The National Association of Legal Assistants (NALA)
National Federation of Paralegal Associations (NFPA)
NALS, the association for legal professionals
American Alliance of Paralegals, Inc.
The certified paralegal credential from NALA is the most well-known and most advantageous in terms of career advancement, but earning a credential from any of the listed paralegal associations can help your career. At the heart of certification is the fact that you're showing dedication to your career and want to advance in the paralegal field. Combining a certification with specialization puts you into a category that not many paralegals enter. However, if you want to earn more as a paralegal and gain more knowledge, experience and satisfaction within the role, you can get there by taking as many opportunities as you can to demonstrate your knowledge to prospective employers.
What Kind of Jobs Can I Get if I Become a Paralegal Specialist?
The law field has many categories and sub-categories that benefit from a paralegal specialist. If you want to get out of working in law firms, there are many employers in the non-legal sector that hire specialist paralegals for their skills and knowledge along with their ability to perform much the same work as a lawyer. A specialist paralegal can find well-paying work in areas such as insurance, real estate, mediation, investigator, contract writing, project manager, become a nurse paralegal, and more.
Some areas of paralegal specialists include:
Nurse Paralegal
A nurse paralegal is a paralegal who also has at least RN licensure and experience. They're frequently called upon to provide opinions about legal matters in the health care industry, work for insurance companies on health insurance claims, and help with malpractice lawsuits.
Estate Planning Paralegal
Estate planning involves helping people create their wills, trusts, and other documents necessary for the transfer of money and assets after their death. Sometimes a paralegal will be called upon to help with the administrative duties that executors and heirs have to deal with after the passing of their loved one.
Government Paralegal
The government paralegal does the same kind of work they would at a private legal employer, but they're working on behalf of the public at large. You may find yourself assisting public defenders, prosecutors, and attorneys who work in the law department of local, state, or federal agency.
Litigation Paralegal
Litigation is a legal action where private parties are suing each other. A litigation paralegal helps the lawyers with legal research, discovery, filing motions, and uncovering evidence. There are multiple subcategories in the field of litigation which gives further opportunity for specialization.
Related:
Top 25 Best Value Online Paralegal Certificates
Best Online Nurse Paralegal Programs
Top Online Bachelor's in Paralegal Degree Programs
Top 25 Best Online Master's in Legal Studies
School Finder