Are you considering a professional career as a paralegal in Arkansas?
Paralegal work supports licensed attorneys. This type of work is an ideal career for those who wish to work within the many facets of the legal profession.
Featured Programs
The paralegal profession offers great career and job opportunities, with a wide variety of paralegal positions from which to choose. But to be successful, it is important to learn how to become a paralegal in Arkansas, which must include a full understanding of the paralegal requirements in Arkansas.
The state of Arkansas offers a unique mix of business and industry, most of which require the professional services of paralegals and legal professionals. The population of Arkansas is 3,033,946 as of 2021. These cities are the largest in the state –
The population of the capital is Little Rock, as of 2020's census, is 202,591. Little Rock is also the state's largest city.
Fayetteville is the second-largest city in the state, with 93,949 residents.
The third-largest city in Arkansas in Fort Smith, with a 2020 population of 89,142.
The duties and responsibilities performed by a paralegal will vary, contingent upon the paralegal's experience, specialty, and the type/size of the law firm that has employed them. These specialties may include –
School Finder
Corporate Law
Criminal Law
Intellectual Property Law
Family Law
Real Estate Law
Labor Law
Employee Benefits
Personal Injury Law
Immigration Law
Bankruptcy, among other legal specialties.
Newly hired paralegals begin by managing routine assignments. With experience, paralegals take on additional responsibility and varied tasks.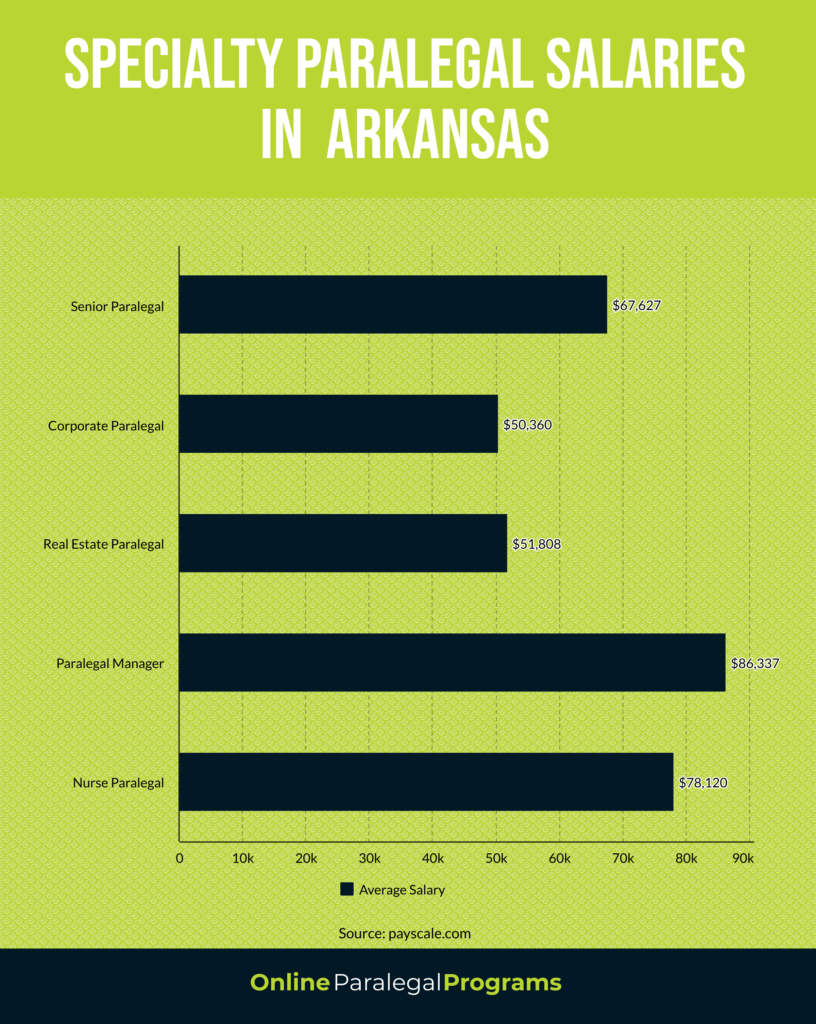 Paralegal Requirements and Education in Arkansas
Like most states, Arkansas has no formal certification requirements for paralegals, although it is noted that many paralegal professionals choose to obtain national certification to further their careers. Those paralegals desiring to work in Arkansas must be at least 18 years old and have the required authorization to work in the United States legally.
And while the state government does not grant paralegal licenses, most employers will require job candidates to complete a paralegal certificate program, an associate degree program, or a baccalaureate degree in legal or paralegal studies for gainful employment.
Further, these certificate or degree programs will typically offer an internship or other practical work experience component that helps students to learn how to successfully negotiate a career as a paralegal. Still, others volunteer their services to gain experience. And it is noted that paralegals must comply with the legal profession's ethical guidelines and may be subject to a background check by a potential employer.
Paralegal Education Options
In the modern legal industry defined by the 21st century, potential employers prefer to hire the most qualified paralegal professionals in support of their professional legal efforts. It is for this reason that most employers prefer formal qualifications (like a certificate or academic degree in paralegal studies), which is considered the absolute base knowledge for new paralegals.
The complexity and level of difficulty on the path to a paralegal career really depends on the individual's career goals and educational objectives. In addition to many on-campus ABA-approved paralegal programs in Arkansas, there are various online paralegal programs in Arkansas that offer the flexibility and convenience of online programming for busy or working learners.
As such, there is no straight path to becoming a paralegal professional. Depending on your decision, there are programs that can be completed in only a few months and those that may take up to four years. These are discussed next.
A Pre-Degree-Undergraduate Paralegal Certificate
An undergraduate paralegal certificate is considered the paralegal program with the minimum educational requirements. There are available campus-based and online paralegal programs in Arkansas that have received approval from the American Bar Association. A paralegal certificate program –
An Arkansas paralegal certificate program can be completed in only a few months.
The total credits required range between 18-29 credits.
Coursework is paralegal-specific, without mandatory general education classes.
An Associate Degree in Paralegal Studies
An associate-level paralegal degree is typically available at local community colleges or vocational schools and is offered online and on-campus. Most employers consider an associate paralegal degree to be the bare minimum in education. These are the important aspects of associate paralegal studies degrees –
A basic education regarding paralegal work as well as the US legal system.
An integrated curriculum of general education featuring classes in natural/social sciences, mathematics, and English, among others.
The ability to further your education with a bachelor's degree using these earned credits.
The total credits required are generally 60 to 65.
A professional internship that offers practical experience.
A Bachelor's Degree in Paralegal Studies
Bachelor's degree ABA-approved paralegal programs in Arkansas are the highest level of education that is accessible to students graduating from high school. A baccalaureate degree will likely offer the degree holder a competitive edge. The essential aspects of a bachelor's degree in paralegal studies are –
120 credit units which take about 4 years of full-time study to complete, longer is studying part-time
The bachelor's degree curriculum includes general and specific coursework.
The paralegal baccalaureate degree will qualify the degree holder to sit for various professional credentials at the national level.
The curriculum for a bachelor's degree in paralegal studies will offer students the opportunity to select from a list of specialized coursework.
A professional internship that offers practical experience.
Certification/Licensure
At present, there are no specific Arkansas paralegal license requirements or paralegal certification in Arkansas.
And while Arkansas paralegal certification and licensing are not mandatory, paralegal professionals are encouraged to earn voluntary paralegal certification in Arkansas online or on-campus.
National Paralegal Associations
The National Federation of Paralegal Association (NFPA)

The Paralegal Core Competency Credential (PCC) demonstrates for future employers that the credential-holder possesses the skills and knowledge required for entry-level work. The PCC is often the preferred paralegal certification in Arkansas as well as many other states.
The Paralegal Advanced Competency Credential (PACC) requires candidates to meet certain experience and education requirements to be eligible for the exam. In addition, credential candidates must not have been convicted of a felony or have had a license or registration terminated.

The Association for Legal Professionals (NALS)

The Certified Legal Professional (CLP) credential is one of the available voluntary credentials for paralegal certification in Arkansas. The Certified legal Professional credential demonstrates the candidate's professionalism & working legal knowledge. The Certified legal Professional credential from NALS is renewable every five years and requires at least 75 hours of the approved continuing legal education.

NALA

The Certified Paralegal Credential (CPC) has achieved worldwide recognition and is among the most popular voluntary Arkansas paralegal certification options. It reveals that the paralegal has successfully passed a rigorous exam, which ultimately demonstrates that the paralegal has ample knowledge. According to NALA, those who hold a Certified Paralegal Credential will find their salary increases by nearly $5,000. This CP credential has a five-year renewal which also includes a minimum of 50 hours of NALA-approved continuing legal education.
The Advanced Certified Paralegal (ACP)– the ACP program seeks to expand a paralegal's professional knowledge among the varied law specialties. NALA's Advanced Certified Credential is renewable every five years & requires 70 hours of NALA-approved continuing legal education.
Arkansas-Based Paralegal Associations & Relevant Sources
1. The Arkansas Paralegal Alliance
The Arkansas Paralegal Alliance (which was formerly known as the National Association of Legal Assistants, Inc.) was founded in the mid-1980s. The name changed 25 years later to better reflect the substantive nature of a paralegal's duties and responsibilities – while under the direct supervision of a licensed Arkansas attorney.
2. The Arkansas Bar Association's Paralegal Affiliate Membership
The ArkBar has recently begun offering a paralegal affiliate membership that offers education, training, and networking opportunities to help improve the efficiency of the legal services industry in Arkansas. Members receive access to ArkBar's insurance marketplace, free CEU education (up to 6 credits), and potential participation in one of the professional Arkansas Bar Association's committees, among others.
3. The AALS–The Association for Arkansas Legal Support Professionals
Founded in the late 1960s, The AALS is a state-level association member of the NALS. The Association for Arkansas Legal Professionals provides its members benefits and education at the local, state & national levels. Other benefits from the Association for Arkansas Legal Support Professionals include a career center, conferences, and discounted merchandise from its online store.
Arkansas Court Information for Legal & Paralegal Professionals
The official site for the Arkansas Judiciary offers convenient access to relevant information and links to Arkansas' court system throughout the state. This website offers visitors access to the following –
Court forms & rules
E-filing systems, and
Current news and updates that may be of interest to legal and support professionals.
Visitors to this state-run website will also be able to access valuable legal research as well as court publications.
Law Libraries in Arkansas
The Bowen School of Law Library at the University of Arkansas Little Rock William H. Bowen School of Law Library – U of A's law school library is located in Little Rock. Sharing resources with the Pulaski County Law Library, the Bowen School of Law library also offers research materials on state, national and international law levels. Practicing legal and paralegal professionals have the opportunity to borrow private cubicles for research plus the use of local printers, scanners, and copiers. This law library offers attorneys access to interlibrary loans and a document delivery service.
The University of Arkansas School of Law Young Law Library – situated on the Fayetteville campus of U of A, the Young Law Library possesses more than one-quarter of a million volumes. U of A's Young Law Library is recognized as a state and federal depository, with impressive holdings in comparative, agriculture, national & international law.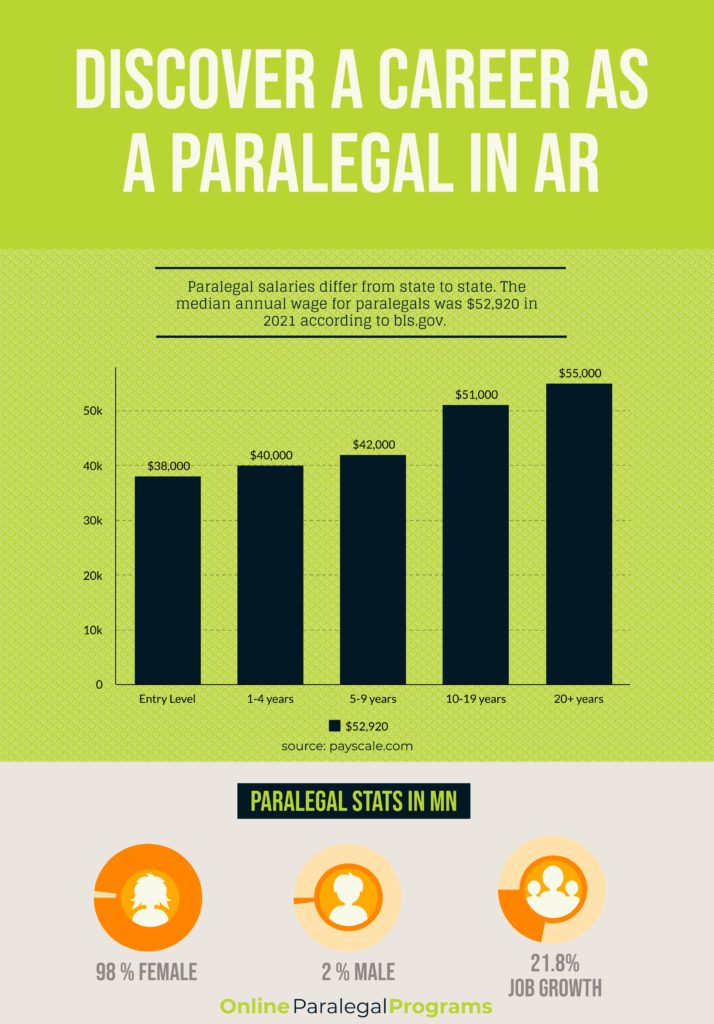 Paralegal Job Market and Salary in Arkansas
Paralegal work plays an integral part of a well-oiled legal team and is, thus, an essential role in a legal team. But, note that paralegals are qualified to support a supervising lawyer, with many support functions, depending on the type of law or paralegal specialty.
According to Occupational Outlook Handbook, the median annual salary for legal assistants & paralegals and legal assistants in the nation in 2020 was $52,920, which translates to $25.44 per hour. In 2020, there were more than 345,000 paralegal and legal assistant professionals working in the United States.
Note that the job growth for Paralegals jobs in Arkansas is expected to be 12% over the next ten years, which translates to more than 40,000 new paralegal jobs
According to the BLS, there were more than 2,100 paralegal jobs in Arkansas as of May 2020, which is only a few hundred less than the 2,940 lawyers working in Arkansas. The median annual Arkansas paralegal salary for this time was $40,420, which is equivalent to $19.43 per hour.
Are You Ready to Start an Arkansas Paralegal Career?
Of the many potential courtrooms available in the marketplace, a career as a paralegal offers one of the fastest tracks to a new career in the legal profession. In addition, paralegal responsibilities vary by position and often offer quite diverse duties that may differ each day.
Paralegal demand is likely continuing its upward trajectory as employers look for ways to eliminate unnecessary costs. A paralegal professional's role meets the legal industry's need to improve efficiency, which is one of the fundamental reasons that the job growth in the paralegal and legal assistant field is quite impressive – over the next ten years.
RELATED:
How to Become a Paralegal in Arkansas
Top 5 Paralegal Programs in Arkansas for 2021
School Finder