Do you have a genuine interest in learning how to become a paralegal in Connecticut? If so, as you move forward towards this career goal, be sure you understand the specific paralegal requirements in Connecticut with regard to education and certification criteria. Paralegals serve an important & integral role in many sectors of the Connecticut economy.
Officially known as the Constitution State or the Nutmeg State, Connecticut was one of the original 13 colonies. Connecticut is in southern New England and a part of the larger tri-state metropolitan region of New York, Connecticut, and New Jersey. Its major cities include the following –
Featured Programs
Bridgeport, is its largest city.
Hartford, the state capital and the insurance capital of the United States – ideally located near New York City, Albany & Boston.
New Haven, home to many higher learning institutions, including Yale University
Stamford, is home to one of the largest financial centers outside of NYC.
Basic Connecticut Paralegal Requirements
At present, there are no state-level paralegal training requirements in Connecticut. As such, the state does not actively license or certify paralegals. Paralegals, however; must meet this basic criterion to practice legally –
A paralegal must be of a majority – 18 years old or older.
A paralegal must be eligible to be legally work in the U.S.
Aspiring paralegals in Connecticut will find several viable pathways to a successful career. These include on-the-job training or the completion of relevant educational coursework, like a certificate program, an associate degree or a bachelor's degree, or both.
Most paralegal employers prefer candidates who hold a minimum of an associate degree, including, or in addition to some formal training/experience in paralegal studies.
School Finder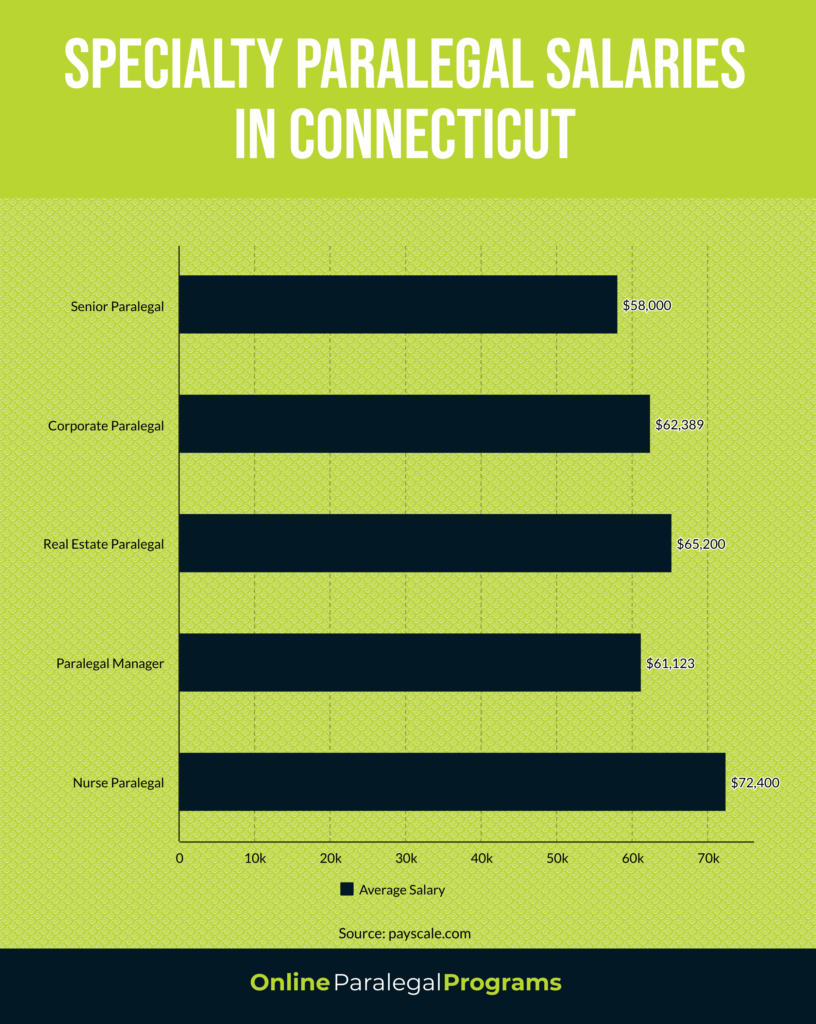 Paralegal Requirements and Education in Connecticut
The paralegal field has been developing from an overwhelming need to improve costs and efficiencies throughout the legal sector. Paralegals are tasked with the responsibility of researching the facts of the case as well as any relevant judicial decisions. A degree earned from one of the on-campus or online paralegal programs in Connecticut prepares students to assist an attorney in these matters –
Trial Work & Litigation Matters.
Hearings.
Corporate meetings, to name a few.
There are no state-level paralegal training requirements in Connecticut; however, there are tremendous benefits offered by enrolling in one of the ABA-approved paralegal programs in Connecticut – through networking opportunities, for example, that may open doors to future job opportunities.
As the paralegal profession continues to evolve and gain in stature, many employers will give preference to hiring a candidate who has received formal education from one of the ABA-approved paralegal programs in Connecticut.
Those aspiring to become paralegal who already holds a baccalaureate degree in another field may choose to enter the field quickly by completing one of the many online paralegal programs in Connecticut. The bachelor's degree offers a strong base of general education, whereas the certificate program offers specialized training in paralegal studies.
Paralegal responsibilities vary and will depend on the type of law firm or the size of the organization that employs them. Some paralegals, through the completion of one of the online paralegal programs in Connecticut, may decide to specialize in specific areas of law. These options may include –
Intellectual Property Law
Real Estate
Corporate Law
Personal Injury Law
Criminal Law
Immigration
Family Law
Employee Labor Law
Litigation
Bankruptcy, among others.
Certificate Programs for Paralegals
Earning a certificate visibly demonstrates to potential employers an individual's commitment to the profession, plus the mastery of those skills required to perform as successful paralegals or legal assistants. The number of credits required varies by school. Most programs are completed in only a few months and include classes in legal research, legal procedure, substantive law, and ethics, among others.
Associated Degree Programs for Paralegals
An associate degree in paralegal studies is offered by many on-campus and online paralegal programs in Connecticut. A typical ABA-approved paralegal associate degree will require 60 to 65 credit units, which can be finished in 14 to 24 months, depending on the student's time availability. Many paralegal programs prepare students to sit for a national paralegal credential exam.
Bachelor's Degree Programs for Paralegals
A Bachelor's degree in Paralegal Studies provides students with the knowledge and practical experiences to jumpstart a successful career as a paralegal. Fortunately, there are available campus-based online paralegal programs in Connecticut that offer students the opportunity to select a program that meets their education and career goals, plus the flexibility to complete the program on their own time. Typical curriculums for baccalaureate paralegal degrees include –
Analytical thinking
Legal proceedings
Criminal processes
Research methods, and,
Document preparation while also participating in case studies and fieldwork, among others.
Note that students who complete the bachelor's degree comprehensive curriculum will also be prepared to sit for one of the national paralegal certification examinations.
Certification/Licensure
The process of certification typically involves meeting specific educational and/or experience criteria and successfully passing a sponsored examination. The various Connecticut paralegal certification programs are available at the national level.
Because there is no paralegal certification in Connecticut, there is also no official Connecticut paralegal license for professionals issued by the state.
However, choosing to obtain certification offers paralegal professionals the opportunity to specialize in an area of interest, which facilitates and furthers one's professional's paralegal career. There are available programs for paralegal certification Connecticut online and on-campus
Available National Paralegal Certification in Connecticut
These are the available paralegal certification credentials for paralegals in Connecticut that are offered at the national level –
1. The National Federation of Paralegal Association
The Paralegal Core Competency Credential – The Paralegal Core Competency credential offers professionals the opportunity to demonstrate their skills & knowledge of paralegals during the early portion of their paralegal careers. Passing the PACE exam allows a professional in the paralegal field to use the R.P. credential.
The PACE, also known as the Paralegal Advanced Competency Credential requires specific work experience & education. Additionally, the applicant/paralegal –

Cannot have a felony conviction or,
Be under suspicion or have had their license, certificate, or registration, revoked/suspended/ or terminated by any entity.
2. The NALA – The Paralegal Certification
The Certified Paralegal Credential (The CP) is recognized worldwide and is a popular Connecticut paralegal certification program. It helps paralegal professionals demonstrate their knowledge through the passage of a set of rigorous exam questions. According to NALA, those who hold a C.P. credential increase their salary by as much as $4,750. The Certified Paralegal credential from NALA must be renewed every five years and requires credential-holders to complete at least 50 hours of legal continuing education that has received approval from NALA.
The Advanced Certified Paralegal (The ACP)– is a credential designed to further a paralegals' professional knowledge in more specific areas of law. This Advanced Certified Paralegal credential offered by NALA must be renewed every five years and requires credential-holders to complete a minimum of 70 hours of NALA-approved continuing legal education.
3. The NALS
A Certified Legal Professional (The CLP/PLS) credential is available for paralegal certification in Connecticut. The CLP/PLS credential is a four-part exam demonstrating a test taker's professionalism as well as their legal working knowledge. The Certified Legal Professional credential from NALS is renewable every five years and requires credential-holders to complete a minimum of 75 hours of NALA-approved continuing legal education.
Connecticut Paralegal Certification & Organizations
The paralegal profession in Connecticut is among the largest in the nation. It is so extensive that the state bar has issued specific guidelines for legal assistants and paralegals, directed to Connecticut lawyers. In addition to state law, lawyers are provided an additional eleven guidelines in their supervision of paralegal and legal assistants.
The Central Connecticut Paralegal Association, Inc. (CCAP) was founded in the early 1980s as a non-profit organization. The CCAP offers four levels of membership. It also –
Provides pro bono legal work & guidance to local communities
Operates a job bank for paralegal professionals in Connecticut
Educates the legal community as well as the general population about available paralegal services
Hosts monthly membership meetings with regard to –

Education
Networking
Support.
Founded in the mid-1990s, the New Haven County Association of Paralegals was formed to address the many and varied complexities in the application of the law through –
Continuing legal education offerings
The provision of networking opportunities for its members
The provision of information to the public
Monthly dinner meetings to offer education and support to its members.
The New Haven County Association of Paralegals encourages members to be lifelong learners through continuing education.
The New Haven County Association of Paralegals offers four levels of membership. Members may serve on the program advisory committee for the University of New Haven and other college programs.
Additionally, the following agencies and organizations offer valuable information and Connecticut paralegal industry insights –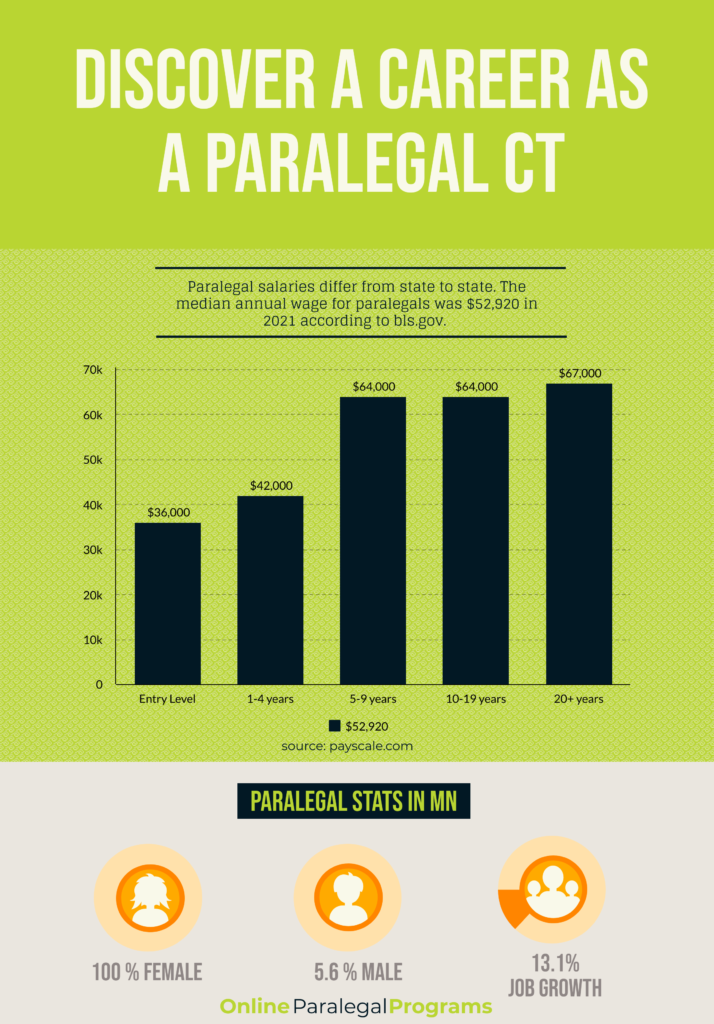 Connecticut Paralegal Salary & Job Market
Paralegals play an essential role within a larger legal team. They are qualified to assist attorneys with a variety of supportive legal functions but always remain under the legal guidance of the attorney.
Paralegals are an essential component of Connecticut's legal community. Because of its small size, the 4,860 paralegals working in the state (2020) equated to one of the country's top five states with regard to the concentration of paralegal/legal assistant working professionals.
As of May 2020, the BLS's Occupational Outlook Handbook notes that the median annual salary for paralegals and legal assistants in the nation was $52,920, which is equivalent to $25.44/hour. Note that there are approximately 345,000 paralegal professionals working in the United States. The job market growth for paralegals is anticipated to be 12% over the next decade, which is a growth rate that is 2.5 times faster than the average of the United States combined occupations.
Connecticut Paralegal Salary Data Information
The nearly 5,000 paralegal jobs in Connecticut offer professionals a median annual salary of $61,070 or $29.36 per hour.
This makes the median Connecticut paralegal salary about 15% higher than the national average.
Although, the amount of Connecticut paralegal jobs, when compared to the size of the state, offers one of the highest concentrations of paralegal and legal assistant jobs in the nation – at 3.16 employment per thousand jobs.
The Hartford-West Hartford-East Hartford metropolitan area is home to the largest concentration of insurance companies and, therefore, offers some of the greatest opportunities and lucrative salaries for paralegal jobs in Connecticut.
According to the Bureau of Labor Statistics (BLS), the state's insurance sector generates a significant portion of the state's economy, equivalent to more than $16 billion in output in the region.
The demand for paralegals is more than likely to continue into the near future as employers search for ways to reduce legal costs. Paralegal professionals have become an essential part of the legal community's ability to meet the demand for legal services with reduced costs and greater efficiency.
This is one of the many reasons that the paralegal field is expected to grow at quite an impressive rate over the next ten years.
Ready to Begin Your Connecticut Paralegal Career?
Although paralegals in Connecticut are not legally mandated to complete formal training, the reality is, an education or formal training is often quite beneficial to reaching one's career goals as a paralegal.
The legal knowledge required to excel as a paralegal is extensive. As a result, a program designed to train paralegals will likely provide you with a competitive edge when searching for a job as a paralegal in Connecticut.
RELATED:
10 BEST PARALEGAL PROGRAMS IN CONNECTICUT
HOW TO BECOME A PARALEGAL IN CONNECTICUT
School Finder