Is becoming a paralegal on your list of potential career goals? Paralegals work alongside legal professionals – like lawyers & judges. They are an important member of any legal team. Working as a paralegal offers a great career choice for those interested in the legal field but who do not want to become a lawyer.
The paralegal profession provides a wide variety of jobs and positions. However, your success in reaching for a career in paralegal studies begins with learning how to become a paralegal in Delaware. Start by researching the paralegal job market and what, if any, are the paralegal requirements in Delaware.
Featured Programs
Paralegals will find their responsibilities vary and depend on several relevant factors, including these areas of law –
Criminal Law
Employee Benefits
Family Law
Corporate Law
Personal Injury Law
Immigration Law
Real Estate Law
Labor Law
Intellectual Property Law
Bankruptcy, among other legal specialties.
How to Become a Paralegal in Delaware?
Like most states, the state of Delaware has no formal certification requirements for paralegal professions.
Delaware Paralegal Requirements
To be a paralegal in Delaware, you must be at least 18 years old and possess the appropriate authorization to work in the United States legally.
School Finder
And while the Delaware state government does not administer or offer paralegal licenses, the reality is that most potential employers will likely require job candidates to have finished one of the structured campus-based or online paralegal programs in Delaware. Although not required, some employers may prefer job candidates who have earned a certificate or degree from one of the ABA-approved paralegal programs in Delaware.
In addition, paralegal degree programs will require an internship that permits paralegal students to –
Successfully negotiate a career as a paralegal.
Apply theoretical knowledge to real-world scenarios.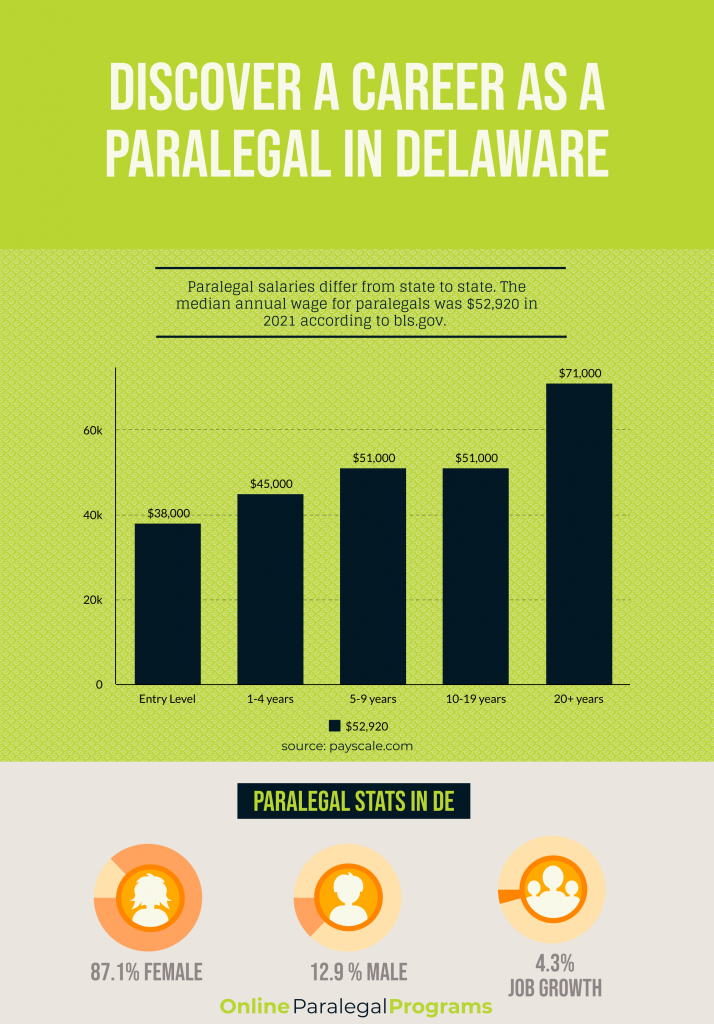 What Are The Paralegal Education Options in Delaware?
In the modern educational landscape, most employers prefer those job candidates who have completed one of the available formal qualifications (like a certificate or academic degree in paralegal studies).
The reality is that the path to a paralegal career depends on the student's career and education objectives. In addition to the varying campus-based ABA-approved paralegal programs in Delaware, there are a variety of online paralegal programs in Delaware that provide students with the convenience and flexibility for working learners.
Depending on the student's decision, there are on-campus and online paralegal programs in Delaware programs that can be completed in several months (a certificate in paralegal) or those educational options that may take 3 to 4 years to complete (a bachelor's degree paralegal program).
A Paralegal Certificate
An undergraduate paralegal certificate is viewed as the bare minimum in education requirements for paralegals in Delaware. Note, there are both campus-based and online paralegal programs in Delaware that offer these benefits –
A Delaware paralegal certificate can be completed in the fewest number of months.
The total credits required range between 16 to 30 credits.
Coursework has no general education requirements and is paralegal-specific.
A Paralegal Associate Degree
An associate degree in paralegal studies is offered at a nearby vocational school or community college – with both online and campus-based options. As previously noted, most employers prefer that entry-level candidates for paralegal positions hold at least an associated degree.
These are the important aspects of a paralegal associate degree –
An integrated curriculum of general education that includes courses in the fields of natural/social sciences, mathematics, and English, among others.
Accredited credits earned at the associated level can be applied to baccalaureate requirements.
The total semester credits required for an associate degree in paralegal studies are typically 60 to 65.
A professional internship/practicum that provides real-world experience to the previously learned theoretical knowledge.
A Paralegal Bachelor's Degree
A baccalaureate level degree in paralegal studies is the highest level of education available to a high school student after graduation. A baccalaureate degree in paralegal studies will likely offer the degree holder a competitive edge when searching for work. The aspects of a bachelor's degree in paralegal studies include the following –
An integrated curriculum of general education that requires 120 credit units in about 4 years of full-time study, or longer if studying part-time
The paralegal baccalaureate degree qualifies the holder to be eligible to sit for professional credentials.
A bachelor's degree in paralegal studies offers degree candidates an opportunity to complete specialty coursework.
A professional internship is generally required as it provides practical experience.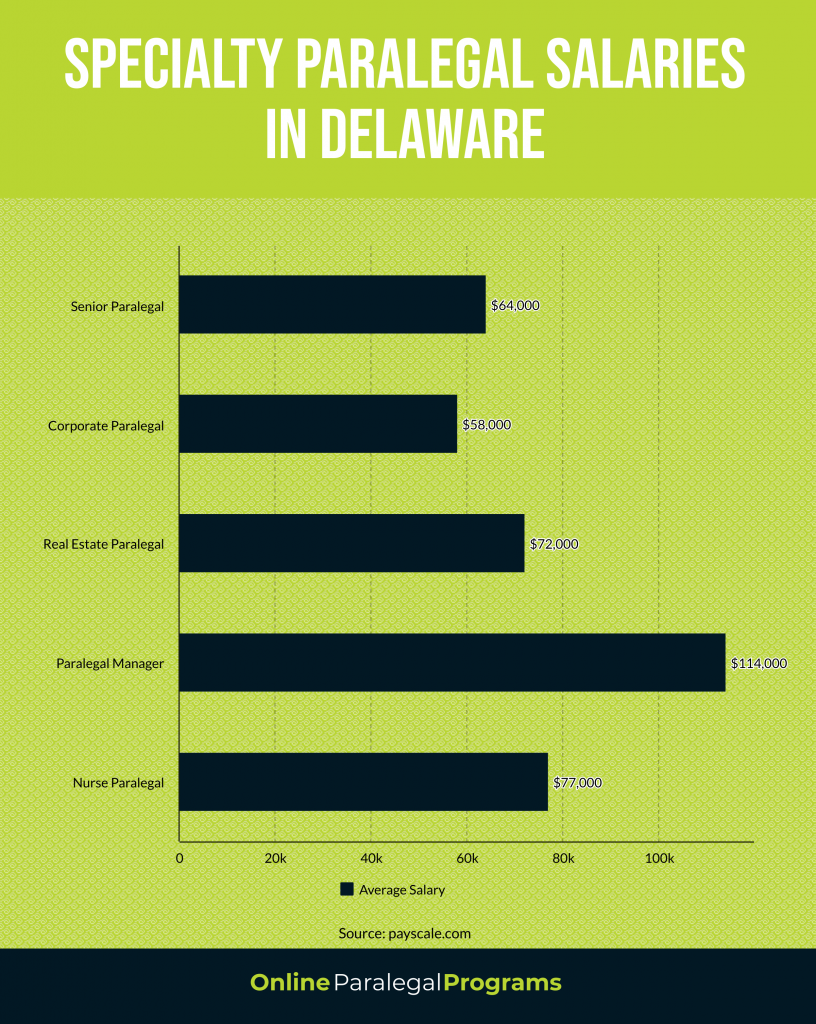 How Do you Get a Paralegal Certification & Licensure in Delaware?
Certification is the formal process that requires candidates to meet education and experience requirements prior to taking a sponsored exam. Delaware paralegal certification programs are available at the national and state level.
But note, because there is no paralegal certification in Delaware online, there is no official Delaware paralegal license that is issued by the state to paralegal professionals.
However, choosing the path to certification is an excellent way for paralegal professionals to demonstrate their skills in a specialized area. There are available programs for paralegal certification in Delaware online and on-campus.
What are the Delaware-based Paralegal Associations?
The Delaware Paralegal Association (DPA)
Established in 2005, the Delaware Certified Paralegal program was developed to promote the highest levels of professionals and continuing education for the paralegals working in the state of Delaware. The requirements for education and work for this voluntary certification are available online and include the fact the candidate must be a DPA member in good standing.
Approved applicants will be issued a certificate they have attained the Delaware Certified Paralegal credential and be authorized to use the professional designation of "Delaware Certified Paralegal" or "DCP." A Delaware Certified Paralegal is bound by a Code of Ethics & Professional Responsibility for Delaware Paralegals. DCP certifications need to be renewed every two years and require eight hours of continuing legal education – with at least one of the required eight hours to be devoted explicitly to ethics.
In addition, the Delaware Paralegal Association provides professionals with a comprehensive resource that offers DPA members these benefits –
A network of

Employment opportunities
Education and coursework options
Pro Bono paralegal opportunities
National Professional Organizations Associations for Paralegals
NALA is the Paralegal Association

The Certified Paralegal Credential (The CP) is recognized worldwide and ranked among the more popular Delaware paralegal certification options. This designation demonstrates that the paralegal can demonstrate sufficient paralegal knowledge. This CP credential is renewed every five years and mandates credential holders to complete at least 50 hours of continuing education that has been approved by NALA.
The Advanced Certified Paralegal (The ACP)– this program expands a paralegal professional's knowledge among the varied law specialties. Like the CP, the Advanced Certified Credential is renewed every five years but requires 70 hours of NALA-approved continuing legal education.

The National Federation of Paralegal Association (NFPA)

The Paralegal Core Competency Credential (PCC) is a credential that allows potential employers to know the skill level of job applicants. The PCC credential is often considered the preferred paralegal certification in Delaware and beyond.
The Paralegal Advanced Competency Exam (PACE) requires each candidate to meet education and experience even to be eligible to sit for the PACE exam. Additionally, PACE credential candidates must not have been convicted of a felony or have had a license or registration terminated.

The Association for Legal Professionals (NALS)

The Certified Legal Professional (CLP) credential is another voluntary paralegal certification in Delaware. The CLP credential demonstrates a professional's working legal knowledge and professionalism. The CLP credential is renewed every five years and requires a minimum of 75 hours of continuing legal education.
Delaware Court Information for Paralegals
The Delaware State Courts official website offers access to court news, rules, and the required forms for Delaware's courts. Visitors will also find a job board that references openings in the state's judiciary and legal system.
Law Libraries in Delaware
The State of Delaware Judiciary maintains three law libraries, represented in each county. The libraries are open to both the legal community & the general public.
The Widener University Delaware Law School Legal Information Center –s one of the premier law libraries located on the United States' eastern seaboard. State Bar members have the option of borrowing materials and may request the delivery of documents for a small fee.
What is the Delaware Paralegal Salary & Job Market Like?
The work that is part of a paralegal's job responsibilities plays an essential role within legal environments. The following section details how the Delaware job market impacts the available paralegal jobs in Delaware.
The Economy & Delaware Paralegal Jobs
Chemical manufacturing ranks among Delaware's largest economic enterprises, with Wilmington the likely world chemical capital, home to DuPont, and AstraZeneca, among others. In addition, the finance and insurance industries contribute to Delaware's GDP by nearly $22 billion (2019). This is primarily due to the flexible banking laws that are quite appealing to the nation's largest banks.
The population of Delaware in 2021 was 990,334 million. In addition, the following cities are the largest in the Aloha State –
The population of Wilmington in 2021 was 69,584.
Dover is the 2nd largest city with approximately 38,450 residents.
The third-largest city is Newark, home to the University of Delaware and a population of 31,468.
According to Occupational Outlook Handbook, the median annual salary for legal assistants & paralegals in the United States in 2020 was $52,920. This is equivalent to $25.44 per hour. In May of 2020, there were nearly 350,000 paralegal and legal assistant professionals in the nation.
The good news is that the statisticians at BLS anticipate that the job growth for paralegal jobs is e2% over the next ten years, which translates to more than 40,000 new paralegal jobs. This is significantly faster than the anticipated job growth of all U.S. combined occupations for the same time period.
Aspiring paralegals should recognize the range of available paralegal salaries –
Delaware Paralegal Salary Data Information
Delaware paralegal jobs are plentiful, based on the nature of the state's economy and despite the state's status as the second smallest state in the Union. The Bureau of Labor Statistics notes that the state of Delaware has more than 1,600 paralegal professionals working in 2020.
According to the Occupational Outlook Handbook, the Wilmington – Philadelphia – Camden metro area ranks among the top metropolitan areas with regard to the highest level of paralegals – with nearly 8,900 paralegal and legal professionals gainfully employed in 2020 (from three states). In addition, the Delaware paralegal salary for Wilmington – Philadelphia – Camden metro area for paralegals in 2020 is $59,860, which falls above the national average.
Other Metropolitan Locations – Delaware Paralegal Salary Data
The following offers a more in-depth analysis of Delaware paralegal jobs & salary – based on location –
| | |
| --- | --- |
| Delaware Area | Delaware Paralegal Salary |
| Dover, DE | $ 54,300 per year |
| Wilmington – Camden – Philadelphia | $ 59,860 per year |
| Salisbury, MD – DE | $ 45,370 per year |
Are You Ready to Be a Paralegal Career in Delaware?
Paralegal responsibilities vary by position and provide professionals diverse positions that may differ each day.
Delaware holds countless opportunities for a respectable and fulfilling career as a paralegal with its unique economic composition.
Law firms and corporate legal departments of some of the nation's largest banks are always looking for new talent and fresh skills.
It is important not to disregard Delaware due to its size because of the many job opportunities for paralegals. And with comparatively low real estate taxes and no sales tax, a paralegal salary may go further than other states.
Paralegal demand is likely continuing its trajectory in a positive direction because companies are always looking for viable ways to reduce and eliminate wasteful spending and unnecessary costs. A professional paralegal brings to the table many of the skills required to improve the legal industry's overall efficiency.
RELATED:
How Do I Become a Paralegal in Delaware
Top 5 Paralegal Programs in Delaware
Ultimate Guide to State Paralegal Associations
School Finder