Have you spent time considering a career as a paralegal in Maine?
Paralegal professionals in Maine work under the direct supervision of a Maine licensed attorney in a supportive role. Paralegal work is often an ideal career for those with limited funds or those who simply wish to work in the legal profession. Once you have learned how to become a paralegal in Maine and understand and meet the paralegal requirements in Maine, a paralegal in Maine –
Featured Programs
May begin with routine work (i.e., preparing legal documents) or choose to work as a legal secretary before taking on additional responsibilities.
May find rewarding careers working in a law office, a government agency, a nonprofit organization, or a corporation. The state of Maine has many businesses requiring the skills of a paralegal professional.
Will always work under a Maine Licensed attorney's direct supervision and CAN NOT represent clients or provide legal advice.
The paralegal field offers diverse job and career opportunities. The first step to a successful paralegal career is to learn the essential paralegal requirements in Maine.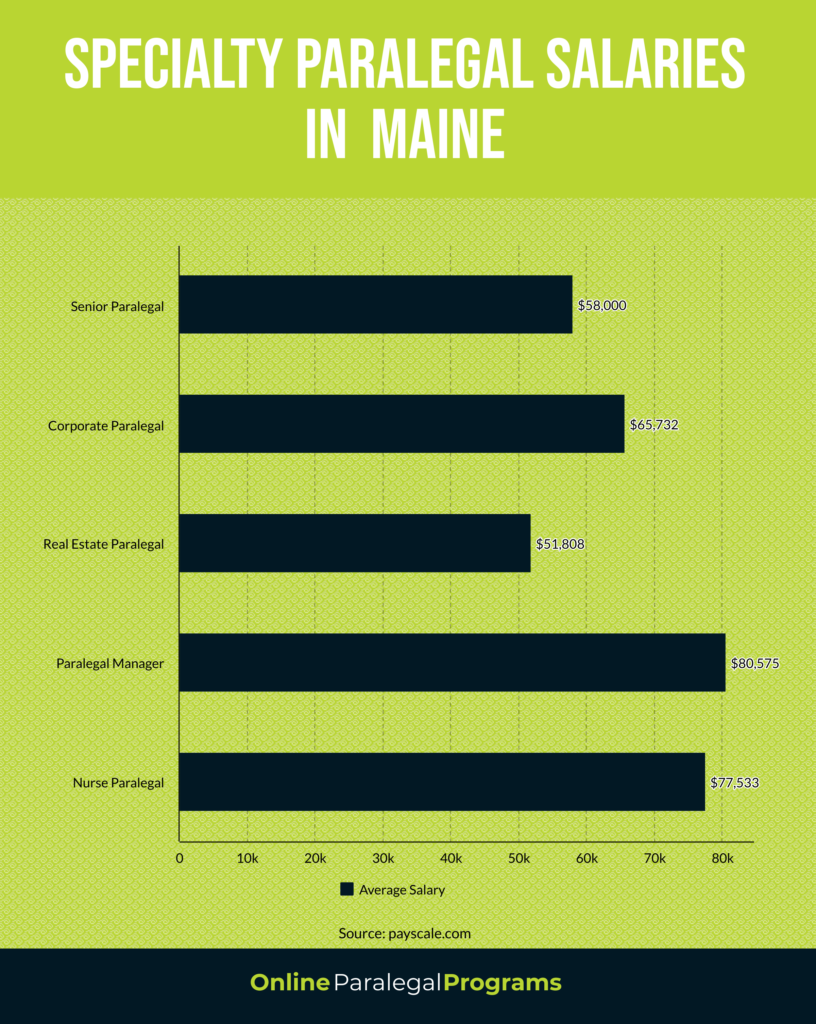 How Do You Become a Paralegal in Maine?
The state of Maine, also known as the Pine Tree State, is the northernmost state in the contiguous United States and the only state with a single syllable state name. The state was originally a part of Massachusetts' Commonwealth until it was admitted as a state in 1820.
Maine's population in 2021 was 1,354,522. Even with more than 500 cities in Maine, the state is sparsely populated. This is mostly due to its varying landscape and its location – south of Canada and north of New Hampshire. The following cities are among the largest in the state of Maine. Note, the state capital of Augusta does not make the top three largest cities –
School Finder
Portland is the largest city and anchors the largest metropolitan area in Maine. Portland's population in 2020 was 68,408.
Lewiston is Maine's second-largest city, with a population of 37,121.
Bangor ranks as Maine's third most populous city with approximately 31,753 residents.
Paralegal Requirements and Education in Maine
Pursuant to Maine Revised Statute (MRS Title 4 Chapter 18 – Paralegals & Legal Assistants), a paralegal (or legal assistant) must have the education, training, and experience required to perform the legal support work for a licensed attorney in Maine.
If you present yourself as a paralegal professional in the state of Maine but – do not meet the state-defined qualifications, this could be considered a violation of Maine state law, with a maximum fine of $1,000.
Be certain to stay within Maine's legal statute by learning how to become a paralegal in Maine.
Like most states, there are no specific certification requirements for paralegals in Maine; however, most employers prefer to hire paralegal professionals who have completed a formal paralegal program and have completed an internship to apply theoretical skills practically. Fortunately, there are legal aid & legal service organizations in Maine that welcome the legal guidance of paralegals and new law school grads on a volunteer basis.
A paralegal must be at least 18 and be able to work in the United States. Note that a background check is often a part of the paralegal hiring process in Maine.
Education
Formal paralegal education is not compulsory for paralegals who wish to work in Maine. However, it is essential to note that most employers in Maine will not hire paralegal professionals who have no education, experience, or training. And while the ABA accredits paralegal programs, there are no ABA-approved paralegal programs in Maine at this time. Those who wish to earn a certificate or degree in paralegal studies might find that online paralegal programs in Maine are suitable to meet their career objectives, even if these are not ABA-approved paralegal programs in Maine.
When thinking about a career as a paralegal in Maine, consider these education options –
A Paralegal Certificate without a Degree
A paralegal certificate program is often considered the bare minimum required to successfully find entry-level paralegal positions. These are the most important aspects of a typical paralegal certificate program –
Certificate programs generally take only a few months to complete.
Most paralegal certificate programs require students to complete 18-29 credits.
The paralegal certificate program's curriculum is paralegal-specific, without requirements to complete general education.
An Associate Paralegal Degree
An associate-level paralegal degree is typically a cost-effective option available at vocational schools or community colleges – often with programs online, campus-based or hybrid.
These are the essential aspects of an associate paralegal studies degree –
Basic paralegal coursework plus classes that explore the US legal system.
An integrated curriculum that includes mandatory general education requirements that provide a well-rounded education in natural/social sciences, mathematics, & English.
The credits awarded from earning an associate degree can be applied toward a bachelor's degree in the future.
The total semester credits required to complete an associate degree are typically 60 to 65.
A professional paralegal internship that provides real-world, practical experience.
A Bachelor's Degree in Paralegal Studies
Bachelor's degrees are the highest level of education available to high school students. A bachelor's degree offers the degree holder a significant competitive edge. The essential aspects of a bachelor's degree in paralegal studies are –
The total semester credits required to complete a bachelor's degree is typically 120 credit units. Most students complete the degree in four years if studying full-time, longer if studying part-time.
The paralegal bachelor's degree curriculum includes specific legal coursework and general education requirements.
The curriculum for a bachelor's degree in paralegal studies offers degree candidates a chance to specialize their coursework to match career interests.
A professional paralegal internship that provides real-world, practical experience.
Maine Paralegal Certification & Licensure
Paralegal certification in Maine is strictly optional. And while Maine does not issue a Maine paralegal license to professionals, its statutes offer this guidance –
According to MRS Title 4 Chapter 18 – Paralegals & Legal Assistants) paralegals and legal assistants must possess enough education, training & experience required to appropriate perform legal support work for a supervising attorney. There are serious consequences for representing yourself as a paralegal without meeting the state-mandated requirements. Violating this Maine law can generate a maximum fine of $1,000.
Despite the absence of a legal requirement, many professionals choose to enroll in a program that offers paralegal certification in Maine online or even campus-based. Earning national paralegal certification in Maine certification permits a paralegal to find a legal specialty – helping to advance one's career and salary expectations.
The following offers guidance regarding paralegal certification in Maine at the national level –
1. The National Federation of Paralegal Association
The NFPA offers two types of credentials for Maine paralegal certification. The Paralegal Core Competency Credential allows professionals to demonstrate their paralegal knowledge & skills. This is generally considered an entry-level certification. The second credential offered to paralegals by the National Federal of Paralegal Association is the Paralegal Advanced Competency Credential – the PACE. This more advanced credential has stricter qualification requirements.
2. The NALA – The Paralegal Certification
NALA offers several Maine paralegal certification options. The Certified Paralegal Credential is recognized worldwide and considered among the most popular paralegal credentials. NALA estimates, those paralegal professionals who hold a Certified Paralegal credential will likely increase their salary by as much as $4,750. NALA also offers the Advanced Certified Paralegal credential. This program was designed to expand paralegal knowledge to specific areas of law.
3. The Association for Legal Professionals – The NALS –
A Certified legal Professional credential is another available national paralegal certificate program. The Certified Legal Professional credential is given as a four-part exam. Passing the exam demonstrates a test taker's working knowledge of relevant law and level of professionalism.
Maine is one of only a few individual states that do not have a state-specific professional paralegal association, although there are local chapters of national organizations in Maine, which are discussed below. Note: however, that because there is no state-specific paralegal organization, the residents of Maine become eligible for membership paralegal organizations located in nearby states.
NALS of Maine
NALS is a local participating chapter of the NALS national organization. It operates as a nonprofit, with four chapters within Maine –
Each local NALS chapter in Maine is individually chartered. Membership is restricted to professionals within the legal field, banks & trusts, the court system, and plus government employees with related work. NALS membership is open to those professionals in areas of Maine where no other local chapter is currently operational. Membership is available to individuals even in those areas where no local NALS chapter exists. Members must comply with the ABA's Code of Professional Responsibility as well as the NALS Code of Ethics.
Additional Resources for Paralegals Professionals Interested in Working in Maine
Law Libraries in Maine
The Nathan & Henry B. Cleaves Law Library – an established law library that serves members of the Maine bar. The Cleaves Law Library can trace its roots as far back as 1811.
The Maine Law and Legislative Reference Library – This library is within the state legislature in Augusta. This reference facility provides late access when the senate is in session. More than 100,000 print volumes are hosed in the Maine Law and Legislative Reference Library, plus an impressive electronic collection.
The Garbrecht Law Library @ the University of Maine (UM) School of Law – the Garbrecht Law Library, situated in Portland, contains more than 335,000 print volumes and is an official depository of the European Union. Its primary collections include federal & state laws, Canadian and British Commonwealth law reports, plus legal periodicals from America, Britain, & Canada.
The Maine State Library System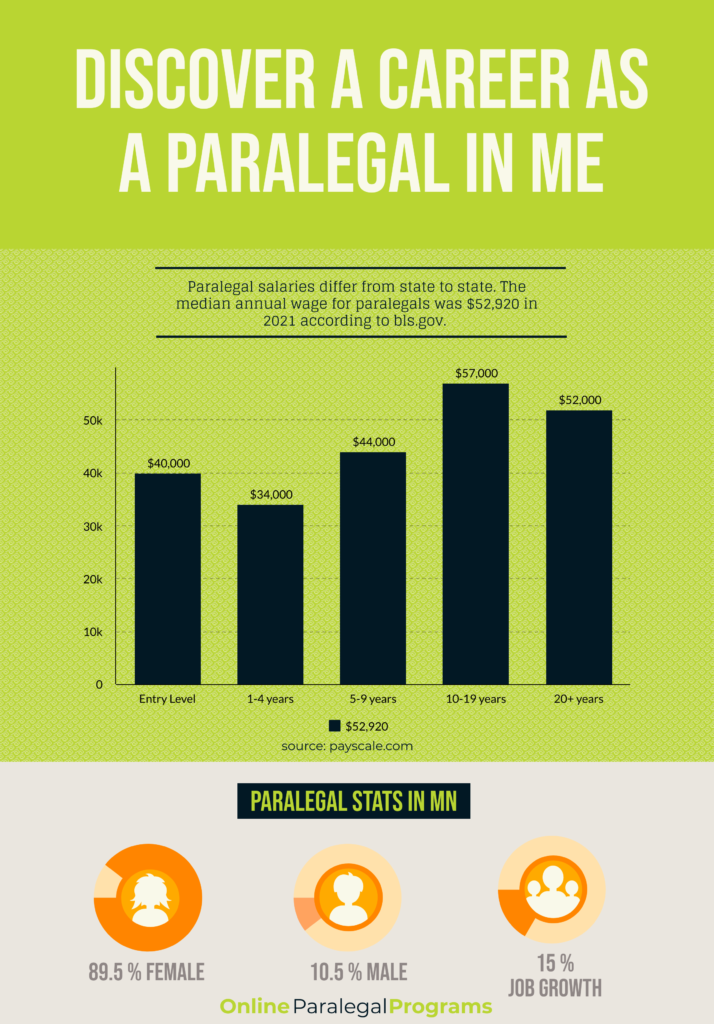 Maine Paralegal Job Market & Salary Data
As noted above, paralegal professionals are an integral part of any legal team. Those who wish to apply for one of the available paralegal jobs in Maine must be qualified to assist the supervising attorney with a variety of supportive legal functions – pursuant to Maine Revised Statute – MRS Title 4 Chapter 18 – Paralegals & Legal Assistants.
According to Occupational Outlook Handbook, the median annual wage for paralegals & legal assistants in the country was $52,920. This translates to $25.44 per hour. According to the OOH, there were 1,280 paralegals and legal assistants working in Maine. The median annual wage for paralegals in Maine in 2020 was $50,860. Note, based on the OHH's range of salary percentiles, the median Maine paralegal salary was slightly below the median of $52,920 per year.
But, according to the Maine Development Foundation (MDF) for the Maine Economic Growth Council, the state's 2020 average annual wage of $47,234 was below the median Maine paralegal salary of $50,860.
Additionally, the national paralegal marketplace employed more than 345,000 paralegals and legal assistants in 2020. The job growth over the next ten years is anticipated to generate another 41,000+ paralegal jobs in Maine. More specifically, the growth percentage of new Maine paralegal jobs through 2029 is three times faster than the national average – at 12%.
The demand for Maine paralegal jobs will likely continue as corporations and organizations search for cost reduction methods throughout their business model. An increase in demand is likely to exert upward pressure on the current median Maine paralegal salary.
How to Begin Your Maine Professional Paralegal Career?
Maine utilizes the ABA's definition of a paralegal to determine one's ability to practice in the state. Many other states use this same definition as a guideline. As noted above, in Maine, the definition of a paralegal is written with state statute. In fact, those who hold themselves out to be paralegals without the necessary experience and education, maybe violate Maine law – with a fine that can be as high as $1,000.
As the work of paralegals continues to gain prominence, it is likely that higher levels of education and/or experience will be expected of those entering the market and vying for supervisory positions in the Maine paralegal job market.
RELATED:
How to Become a Paralegal in Maine
Top Paralegal Programs in Maine for 2021
School Finder