Becoming a paralegal can be a lucrative career while helping you decide whether you want to pursue further education to become an attorney. Paralegals have tons of things to do including research, drafting correspondence and other court documents, summarizing records, conducting reviews and maintenance of files, and acting as a liaison with clients.
Paralegals are an important part of any law firm, providing much-needed support to the attorneys. This is a profession that directly exposes someone to the legal profession. While they may do a lot of legal work, they are not licensed to practice law. This is a good stepping stone for someone who is still on the fence about their legal career path. You may also find several paralegals already in law school, working to get a deeper understanding of what occurs in a legal office. This experience can also help when preparing for the bar.
Featured Programs
There are specific paralegal requirements in Ohio if you are considering moving forward. Each state differs in its requirements, so it is important to understand the Ohio paralegal requirements to get started in the field. There is some education involved when making this career choice, so being prepared is key. This guide provides insight and guidance on the steps involved when wondering how to become a paralegal in Ohio.
What education do you need to become a paralegal in Ohio?
There are educational requirements attached to becoming a paralegal in Ohio. While there is no mandatory certification required, becoming an OSBA Certified Paralegal holds a lot of credibility and prestige. There are ABA approved paralegal programs in Ohio that can help in obtaining the certification. The first step to getting into a paralegal studies program is to have a bachelor's degree in any field.
The Ohio State Bar Association (OSBA) has a few ABA approved paralegal programs in Ohio, including the programs at Ursuline College, University of Toledo, University of Cincinnati Clermont, University of Cincinnati, Sinclair Community College, Rhodes State College, National College, Lakeland Community College, Lake Erie College, Kent State University, Fortis College, Edison Community College, Cuyahoga Community College, Columbus State Community College, Columbus State Community College, College of Mount St. Joseph, and Capital University Law School.
School Finder
There are also online paralegal programs in Ohio for those students who need flexibility in their schedules. Cuyahoga has an ABA approved online paralegal program, as well as Lakeland Community College, University of Cincinnati-Clermont, and the University of Cincinnati Main Campus. There are additional online paralegal programs in Ohio that are not ABA approved at Eastern Gateway Community College, Edison State Community College, Stark State College, and the University of Northwestern Ohio.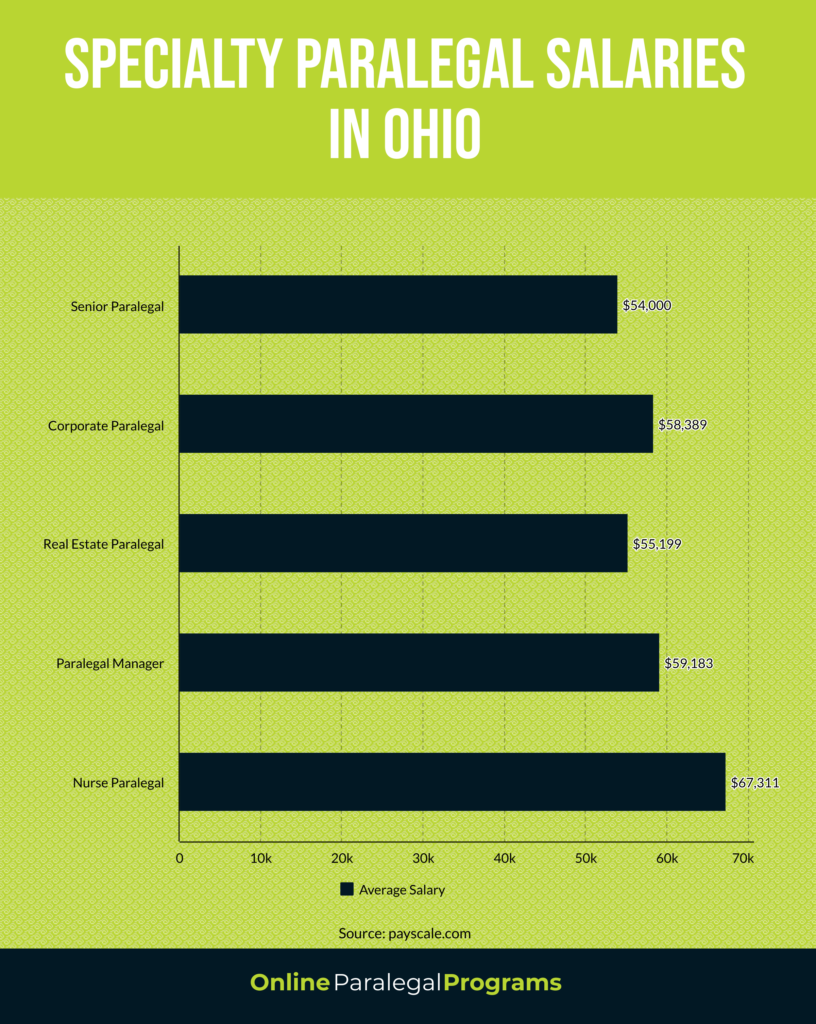 What skillsets do Paralegals need in Ohio?
Paralegals must have specific skill sets to be successful in this role. These are the most important skills that an individual who is interested in becoming a paralegal should have:
Communication
Good communication skills are essential. Paralegals contact clients for research, interviews clients, schedules appointments for court, write witness statements, and more. Communication is a vital part of the job, as the paralegal acts as the right hand of the attorney.
Writing
Being able to write well is another skill a paralegal must-have. Paralegals usually write briefs, documents, and draft pleadings. Paralegals who write well usually make more money.
Prioritization
Paralegals must multitask, so being able to prioritize their workload is important. Paralegals have a lot of work on their plates, so staying on top of their tasks and information on the clients takes focus.
Researching
Paralegals are masters at research and extracting information needed for a case. They also know how to assess that research and process case information. Being able to use technology well to get what they need makes a difference.
Technology
Most research is done online. A paralegal should be well-versed in the different types of software needed in the office. They should also be able to create charts, graphs, use email, video presentations, and more. The better a paralegal is with technology, the more useful they become to their employer.
Organization
While prioritization is important, so is organization. Paralegals work with tons of files and must be able to catalog everything efficiently so that they, and others can find information needed at a moment's notice. This can be grueling work initially, but once a system is in place, it makes things a lot easier.
Professionalism
It goes without saying that a paralegal must remain professional at all times. Paralegals are an esteemed part of the firm that helps keep things going. As a paralegal, knowing the parameters of the law and how to treat people goes a very long way.
Teamwork
Being able to successfully work with others is a skill that never goes away. Paralegals work with other attorneys, legal secretaries, co-workers, and other individuals that may be out o the office. The ability to pivot and help wherever needed creates an environment where the paralegal is a valued resource that is hard to replace.
What Certification or Licensure do Paralegals need in Ohio?
Paralegals can earn a certificate of completion for going through the program, but to obtain paralegal certification in Ohio, the individual must sit for an exam based on the OSBA standards. To sit for the Ohio paralegal certification exam, individuals must have a combination of education and work experience. The criteria include at least one of the following:
A bachelor's degree. This can be in any field, but there should be additional credits in paralegal coursework. Additionally, the individual should have at least one year of work experience as a paralegal.
A bachelor's degree in paralegal studies or 124-semester credits. This also requires at least one year of full-time paralegal work.
An associate degree in paralegal studies, which is the equivalent of 60 credit hours. The individual should also have at least 10,000 hours of work experience as a paralegal or five years full-time in that role.
A diploma from a high school or the equivalent and a minimum of 14,000 hours or seven years working full-time as a paralegal.
There are ongoing continuing education requirements as well. To sit for the exam, 12 credit hours of CLE hours approved by the Ohio Supreme Court Commission on CLE, the National Association for Legal Assistants, the National Federation of Paralegal Associations, the Ohio State Bar, or the OSBA Paralegal Certification Board. There must be 2.5 completed in professional conduct areas such as:
Substance abuse, alcoholism, or mental health issues
Legal ethics, instruction on the Rules of Conduct for Ohio
Access to justice and fairness in court or public trust in the Ohio judicial system
Professionalism and compliance of attorneys within the Ohio Rules of Conduct
Three professional references are also required to sit for the OSBA certification exam. Two of those references must be from licensed attorneys that are in good standing with Ohio's Supreme Court. They must be able to speak on your skillset, character, and fitness as a paralegal. The final reference letter must be from a judge, mediator, arbitrator, educator, hearing officer, magistrate, or attorney familiar with your work as a paralegal and can attest to your character and fitness.
What is on the certification exam in Ohio?
Being fully prepared for the certification program is key. The OSBA Certified Paralegal exam covers six main areas: law office management, communication, computer knowledge, ethics, substantive and procedural law, and legal writing and research.
Paralegal certification Ohio online exams are also available. The Ohio paralegal license for national certification can be obtained through four different exams:
National Federation of Paralegal Association's PACE
National Federation of Paralegal Association's PCCE
National Association of Legal Assistants CLA/CP
Association of Legal Professionals PP
There are different study guides available to assist in proper preparation for the exam. There are a few paralegal books that may help move forward in the profession, such as The Ohio Paralegal: Essential Rules, Documents, and Resources; Ohio Evidence rules Courtroom Quick Reference; Ohio Real Estate Law; The Ohio Notary Law Primer; Ohio Employment Laws; and the Ohio Criminal Law and Motor Vehicle Handbook.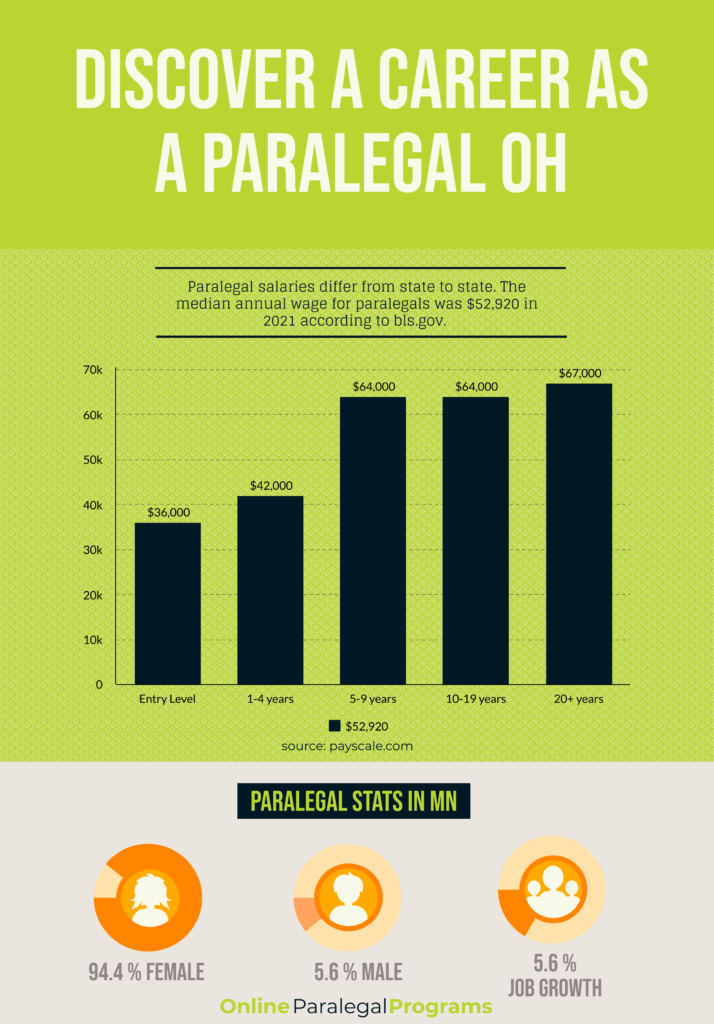 What are the job market and salary like for Paralegals in Ohio?
Paralegal jobs in Ohio are plentiful within law firms and other industries. The Ohio paralegal salary is based on whether the paralegal has obtained certification, their experience, and their ongoing CLE credentials. Paralegals work in more than just attorney's offices. They are versatile enough to work in law offices for major corporations.
In Ohio, paralegals are found with a few potential large employers. Paralegal jobs in Ohio can be found in places like the State of Ohio, WatCam, HCR Manor Care, JPMorgan Chase, The Zimmer Law Firm; Renner, Otto, Boisselle & Sklar LLP, major hospitals, other corporate offices, and more.
According to Salary.com, the average Ohio paralegal salary is $57,588. This range can be higher or lower depending on experience and credentials. Education also plays a huge role in salary, as a paralegal can have a certification but also hold a master's degree in the field or is already prepping or pursuing a law degree.
The current job outlook in Ohio for paralegals is promising. The projected job growth for paralegals in Ohio is 5.6%, projected between the period of 2016 through 2026. These figures come directly from the Bureau of Labor Statistics, which also has projected a 15% national growth rate. One of the benefits of being a paralegal is that the job continues to expand and add additional roles within the industry.  Salaries may also be determined based on the metro area. The highest salaries are usually in Cincinnati, followed by Dayton. Akron, Cleveland, and Columbus are next in line, with Toledo coming in at the lowest.
Individuals searching for a paralegal position can look on the following job search websites specifically designed for paralegals: Ohio State Bar Association Career Center; Paralegal411 jobs board; Cincinnati Bar Association; and Toledo Bar Association.
Paralegals in Ohio can also seek employment at the large law firms within the state which include: Taft, Stettinius and Hollister; Thompson Hine; Shumaker, Loop, and Kendrick; Frost Brown Todd; Roetzel and Andress; Dinsmore and Shohl; Vorys, Sater, Seymour and Pease; Ulmer and Berne; Porter Wright Morris and Arthur; Squire, Sanders, and Dempsey; Baker Hostetler; and Benesch, Friedlander, Coplan, and Aronoff.
Many paralegals are also part of legal or paralegal associations in Ohio. These associations include the Cincinnati Paralegal Association; Dayton Bar Association; Paralegal Association of Central Ohio; Cleveland Association of Paralegals, Inc; and the Paralegal Association of Northwest Ohio. There are different levels and rates based on where the individual stands in their career. These associations usually have student, associate, active, emeritus, educator member, voting member, sustaining, or a combination of some of these.
Is a paralegal career worth it?
Pursuing a career as a paralegal can be very lucrative, even if there is no desire to pursue a future career as an attorney. Paralegals are like the nurses of the legal profession. It is almost impossible for attorneys to get things done without them. A paralegal can learn a lot about the legal profession by working in a law office that also gives them perspective on how the legal system works.
Paralegals help shape how law offices run. If there is no paralegal on staff, chances are there is chaos. While many people consider a paralegal to be the office assistant, this is not true. Paralegals get great job offers if they remain in the profession long enough and are highly regarded, especially if they hold a certification. Additionally, paralegals are always learning something new. Good attorneys who understand how valuable paralegals are, usually solicit their opinion when going over cases.
Paralegals help others in many ways, but one of the perks of being a paralegal is job security. It is very rare that paralegals cannot find work because they are always in demand. Not only are they versatile enough to work in real estate offices, in courtrooms, for government agencies, and corporate law firms, but they can also lend their expertise to nonprofit organizations. Once they have established themselves, they can write their own ticket, whether freelancing or working permanently in an office. Additionally, with paralegals being in such high demand, they can relocate and find a new position almost immediately.
RELATED:
How Do I Become a Paralegal in Ohio?
Top 10 Paralegal Programs in Ohio
School Finder