There are no Maryland paralegal requirements because the state has set no standards for certification and education. Also, there are also no requirements for experience levels. However, Maryland, with its proximity to the nation's capital, has a high percentage of paralegals. Competition is tough and most employers expect some sort of education, including national licensing and certifications, discussed later in this guide.
Those wondering how to become a paralegal in Maryland have many options for career choices. It is totally possible to become a paralegal with on-the-job training. However, most employers are going to expect some sort of qualifications.
Featured Programs
How Do You Become a Paralegal in Maryland?
Although the paralegal requirements in Maryland are light, in order to find a job, it's good to hold some kind of postsecondary education. Otherwise, students may find it impossible to get a job in this competitive market. Students can choose a program that is not approved by the American Bar Association, but it's highly recommended that students choose an ABA-approved curriculum to improve marketability.
After students complete their education, there are no Maryland paralegal requirements that bar them from employment. If possible, take an internship while completing an online or in-person degree. An internship gives students valuable work experience that will serve graduates well when they're looking for entry-level paralegal jobs.
Legal assistance, case assistance, paralegal interns, and legal administrative assistance are some names given to beginning-level paralegal jobs. Also, many legal bureaus hire paralegals looking to gain experience.
School Finder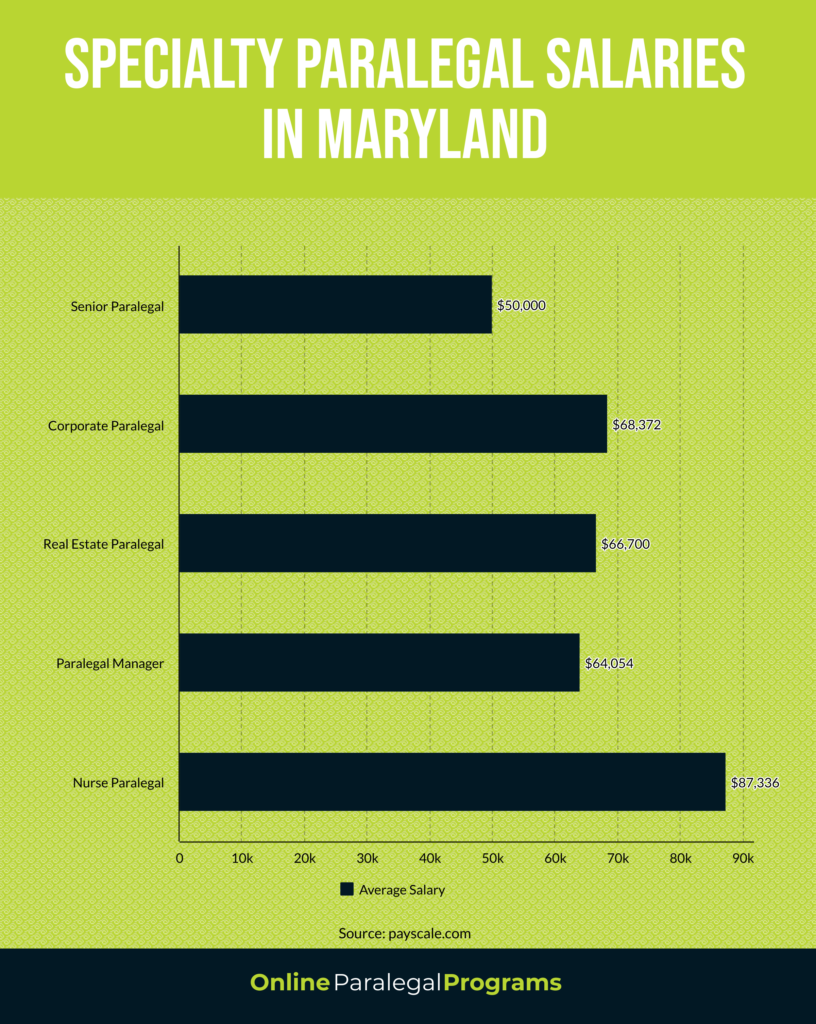 Can I Get a Paralegal Certification in Maryland?
Paralegal requirements in Maryland from employers can be very high. Although certification is not mandated, it's highly recommended by the Maryland Association of Paralegals. The more knowledge a candidate has, the better their options are in the field. Accordingly, students should consider these National Federation of Paralegal Association (NFPA) certifications:
Paralegal Core Competency Exam (PCCE)
Paralegal Advanced Competency Exam (PACE)
What is Paralegal Employment like in Maryland?
After obtaining a degree and potentially completing an internship, students can search for their first job. There are many options for paralegals seeking employment in Maryland. Maryland. Some major employers include:
Legg Mason Global Asset Management– Baltimore
Rosenberg & Associates – Bethesda
Shulman, Rogers, Gandal, Pordy & Ecker, P.A. – Potomac
Legal Aid Bureau – Baltimore
The Badaki Law Firm – Hagerstown
CYLA – Silver Spring
Johns Hopkins Health System Corporation – Baltimore
Weinstock, Friedman & Friedman, P.A. – Baltimore
Inside Edge Legal – Havre de Grace
Can I Join Professional Paralegal Organizations in Maryland?
After paralegals begin working or while they're still in school, they can join many associations in order to keep up with their continuing legal education (CLE).
These professional associations include:
Maryland State Bar Association
Education for MD Paralegals
Maryland does not regulate its paralegals. However, as mentioned above, it's a good idea to attend ABA approved paralegal programs in Maryland. Just because there's no state-mandated formal education doesn't mean that employers don't have high expectations for the professionals they hire. Thus, aspiring paralegals should count on more than on-the-job training to secure their careers.
With an online paralegal program in Maryland, students can continue working, caring for family, and meeting other obligations. And online paralegal education approved by the ABA will greatly improve a student's chance of getting a high-paying position upon graduation. Additionally, most certification programs will require some sort of formal education.
ABA approved paralegal programs in Maryland can help paralegals prepare for employment in any law firm. Lawyers count on paralegals to handle essential functions, such as keeping records, billing clients, and conducting research on cases.
What are the different kinds of paralegal degrees?
There are many schools that offer online paralegal programs in Maryland. Typically, online students take the same courses as those who take classes in person. However, just as there are different types of attorneys, there are areas of specialization for paralegals as well. Paralegals often choose a specific field in order to maximize their income and expertise. Some choose real estate law because they like handling legal issues associated with buying or selling a home. For those who want to help children, adoption law might be a good concentration. Others will choose to work in bankruptcy law or corporate law. Students usually choose their specialization based on their innate interest in a certain area of the law.
Many paralegals in Maryland have to take their courses online. This allows them to also pursue internships or job opportunities to create work experience. Working parents and other nontraditional students might be more comfortable attending school online than on campus. By setting their own schedule, students also increase the flexibility of their scheduling opportunities.
In rural or remote areas, paralegals may find it difficult to attend classes in person due to distances to the closest university. And also, attending a traditional college means adhering to a strict schedule of classes. Meanwhile, online learners can set their own times for viewing lectures and completing their assignments.
Is there a demand for educated paralegals?
There certainly are paralegals that work in the profession after only receiving on-the-job training. However, demand for paralegals is growing in Maryland, especially in the DC area. Industry growth looks good for paralegals as students will see in the coming section. With shorter certification tracks and degree programs, other candidates for paralegal jobs are turning more and more toward getting their degrees. This will make the field more competitive than ever in the near-term future.
Paralegals have some control over where they will obtain employment. With the advanced database and computer skills, for example, they can look for employment in large corporations or government entities.
Job security accounts for one of the main reasons students decide to get their paralegal degree online. Those working in the profession may decide to complete their education in order to add value to their current employers or new ones.
Paralegal Requirements and Education in Maryland
As with most careers, it's more difficult to find the first job than to find the second and the third and so on. Also, with the debt associated with licenses and certifications, some students may want to invest in a two-year or more than a two-year degree. However, for many positions, a degree is part of the job description.
Fortunately, most jobs only require an associate's degree. This means that students will probably graduate with less debt, and they may even be able to find employment while they work.
Paralegal certification in Maryland is completely optional in the eyes of the law. As discussed, Maryland's paralegal certification doesn't exist. However, paralegal certification Maryland online opportunities can expand the candidate's job prospects. In lieu of a state licensing or certification track, students have to rely on professional organizations that offer certifications.
Maryland does not regulate paralegals that work in the state. The absence of formal training or education policy makes it difficult for aspiring paralegals to know what to do in terms of getting an education versus just going to work in the field.
Paralegal certification in Maryland can open up numerous doors for candidates. In fact, many employers won't even interview candidates without a formal education, certification, and some related work experience.
So, what are a student's choices given the lack of Maryland's paralegal certification? For maximum flexibility, many students complete their paralegal certification in Maryland online. There is no Maryland paralegal license, but students can keep up with continuing legal education requirements as part of their certification. This will help them stand out in job interviews.
Paralegal certification Maryland online Is faster and easier for adult learners, single parents, those with mobility issues, and older students. Although there's no Maryland paralegal license, students can expand their knowledge and employment opportunities with certifications offered by professional organizations, such as the NALA Certified Paralegal.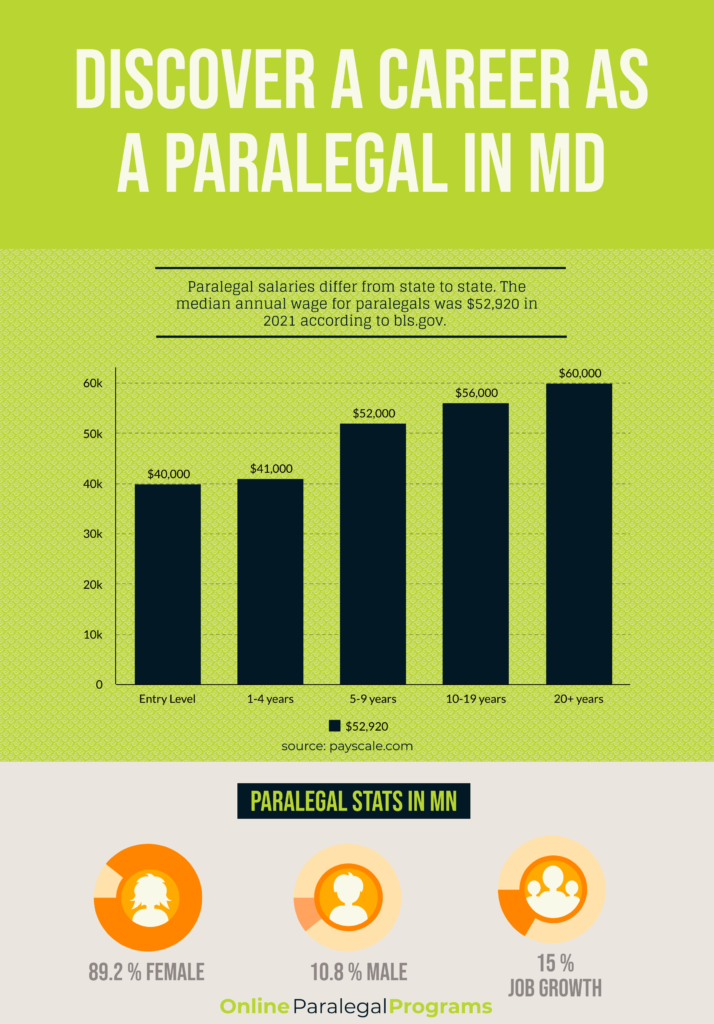 What is the Salary for Paralegals in Maryland?
The Maryland paralegal salary varies depending on where the paralegal professional lives. The US Bureau of Labor Statistics estimates that paralegal jobs in Maryland pay an average of $56,710. That's around $27.27 per hour. On the low end, entry-level jobs often start out at around $35,000 while the top 10% of Maryland paralegals average over $80,000.
There are currently nearly 7,000 paralegal jobs in Maryland. According to the Bureau of Labor Statistics, Maryland may soon see a slowdown, but job growth is still positive at 5.7%. The lucrative salaries of Maryland paralegal jobs make the return on investment for an online education high.
Maryland paralegal salary ranges compare favorably with there's in other states. Those considering Maryland paralegal jobs may want to move to larger urban areas to command a higher salary and to get invaluable experience.
Is becoming a Paralegal Worth it?
Becoming a paralegal professional is not as easy as it might seem in the beginning. However, those interested in law who do not want to become lawyers can use their online or in-person education to catapult their careers.
Paralegals perform a number of job duties at various levels. One moment they're a gopher, while the other moment they're interviewing clients, and at another time, they're doing important legal research. There are so many aspects to the job and it's important to better understand it to see if it's right for you.
Many students become paralegals so that they can earn an income and work in the legal profession while they save money for law school or attend law school. Becoming a paralegal is a great way to test the waters and determine whether a student wants to continue their legal education.
Plus, working as a paralegal can save learners hundreds of thousands of dollars if they end up liking what they do. Becoming apparent legal is also a great launching point for those who eventually want to get their four-year degree. There are many transferable skills for paralegals who want to switch into other fields such as billing, administration, and similar positions where knowledge of the law is an important asset to the hiring manager.
What Does a Paralegal Do Everyday?
Students may begin by thinking all paralegal jobs are created equal. They are not. It's not just the salary range that varies but also the type of work, industry, and other factors that make a job interesting or boring to different people. This is a very flexible field and students can end up working for NGOs, district offices, law firms, nonprofits, or corporations, to name just a few.
Each employer will have its own unique needs and culture. Therefore, students can also move around if they feel that the job, people, or any other aspects don't meet their needs. Many paralegals work in environmental law and defend portions of the planet. Others work in intellectual property law and help people defend their patents and intellectual property. Nonprofit paralegals protect the liberties of underserved community members and may work for the District Attorney to prepare for criminal proceedings.
There are tons of options for those who decide to go ahead and get their online paralegal degree in Maryland. If you like this kind of flexibility in your career, becoming a paralegal professional might be a good career choice.
As a paralegal, students will find a great deal of variety in their day, week, and entire careers. In a single day, paralegals might meet with clients, appear in the courtroom, or conduct research for a big case. On a larger framework, it can allow students to pursue their passions. There will be times when the job is less than exciting, too. Working on a huge case may require extreme hours and hunker down on one task for weeks at a time. At other times, paralegals might have to work with their attorneys on multiple clients at one time.
Whether working from behind the desk or from home, there are many more options for those entering the paralegal career today. Also, chances are graduates won't spend all day behind a desk. Even if it's only going to pick up paperwork or drop off documents at the courthouse, there's a lot of variety to this job.
RELATED:
Top 50 Online Paralegal Degree Programs for 2021
Ultimate Guide to State Paralegal Associations
School Finder