Are you interested in learning more about the Myths About Being a Paralegal? If so then you are in the right place! In the world of law, paralegals and attorneys/lawyers have distinctly different roles. Even though paralegals have learned much of the same information and have many of the same skills, they cannot practice law or give legal advice in any way, shape, or form. Both paralegals and attorneys/lawyers have specific licenses they must earn in order to claim their position and be able to work legally within their state or jurisdiction.
For individuals who do not want to spend the additional time in school to become a lawyer, being a paralegal is very rewarding and will allow you to enter the field of law in a position you can truly enjoy. It also gives you a chance to explore your future options. Many people use their paralegal degree as a stepping stone to a more advanced position.
Featured Programs
Quick Facts: Paralegals and Legal Assistants
2020 Median Pay
$52,920 per year
$25.44 per hour
Typical Entry-Level Education
Associate's degree
Work Experience in a Related Occupation
None
On-the-job Training
None
Number of Jobs, 2019
337,800
Job Outlook, 2019-29
10% (Much faster than average)
Employment Change, 2019-29
35,300
Paralegals are some of the most skilled and talented individuals in a legal office. Attorneys may get most of the credit when a case is successfully completed, but it is often the groundwork performed by the paralegal that gives them the winning edge. The attorney offers the outline and the paralegal will perform the research and fill in many of the blanks by going over depositions, reading evidence reports, and gathering the essential information that will be used by the attorney to try their case. Paralegals play a vital role in an attorney's office, even though they may not get credit for everything they do. Whether they like to admit it or not, attorneys rely on the talents and skills of their paralegals to be effective at their jobs.
1. Can Paralegals Give Legal Advice?
Contrary to what many people may believe, paralegals are not allowed to offer legal advice. They can not offer insight into a case or recommend an attorney. They also cannot tell you whether you have enough evidence to build a case. Paralegals are not allowed to help a client negotiate a settlement or advise them on whether a settlement is reasonable.
It is not up to the paralegal to provide you with legal options or give you ideas on what your next step should be. Their job is to assist the attorney in helping you achieve a reasonable resolution to your case, nothing more, nothing less. When you hire an attorney, you won't work with the paralegal. In most cases, the paralegal will be behind the scenes uncovering the information your attorney will need to build your case.
School Finder
2. Are Paralegals Just Secretaries?
Legal secretaries answer phones, make appointments and take notes for the attorneys. They take care of many of the mundane tasks that need to be completed to ensure that the office runs smoothly. Paralegals are NOT just secretaries. While they do take notes for the attorneys, they use those notes for research and to remind the attorneys of upcoming events that may have a direct impact on their case. Paralegals normally do not answer the phones in an office setting simply because they have more pressing duties to complete that have to do with building cases or assisting the attorney with the creation of legal forms.
A paralegal completes a rigorous degree program because their list of duties and responsibilities are extensive. They must work long hours to ensure that every aspect of an attorney's case is fully addressed. Paralegals are often responsible for building the core of a case. This is what allows an attorney the ability to work multiple cases at once. Paralegals are required to very complex tasks that require them to be as accurate and articulate as possible.
3. Is Paralegal Education Easy?
Any form of legal education has its challenges. Paralegals actually learn much the same information as attorneys do except that they are taught to utilize it in different ways. Individuals who want to become a paralegal can expect to study long hours and cram for tests that may seem unreasonably difficult. A paralegal is held to the same strict standards as the attorneys they work for. This is why paralegals in most states are required to obtain a paralegal license before they can begin working.
Paralegal degree programs are designed to challenge students to do their best when working in the legal field. They are designed to hone a paralegal's research skills so they can find even the most obscure pieces of information. They must also continue to attend courses even after they receive their license. Continuing education credits must be completed each year for the paralegal to remain in good standing and keep their license current. Continuing education credits allow paralegals to remain up to date on all of their skills as well as any new changes in the law.
4. Are Paralegals Just Law School Dropouts?
Paralegals are not law school dropouts. In most cases, paralegal degrees are just as extensive and take the same amount of time as certain legal degrees. In order for a paralegal to be fully licensed, they must be able to show a transcript that not only provides their GPA, but also their completed degree or certification.
A law school dropout would not be able to perform half of the tasks paralegals must complete throughout their busy day, nor would they be able to keep up with the hectic schedule of working multiple cases at a time. Paralegals must be able to multi-task on many different levels and still continue to maintain a professional and confident attitude at all times.
5. Do Paralegals Work 9-5? (What a Way to Make a Living!)
Paralegals are one of many jobs in the legal field that do NOT work a 9-5 schedule. Many work late hours to finish the preparations for a case that is being heard the next day. Sometimes during a trial, new evidence comes to light that must be thoroughly researched and gone over before the lawyer can address it. In this case, a paralegal may be required to work long into the night to make sure all of the information is accurate and recorded correctly.
Big cases don't win themselves. It is up to the paralegal to help the attorney put a case together. While secretaries and clerks can go home at the end of a busy day, a paralegal often stays at work to gather information and make sure everything is in order before the attorney heads to court the next day. Many paralegals even work from home and rarely, if ever, go into an office.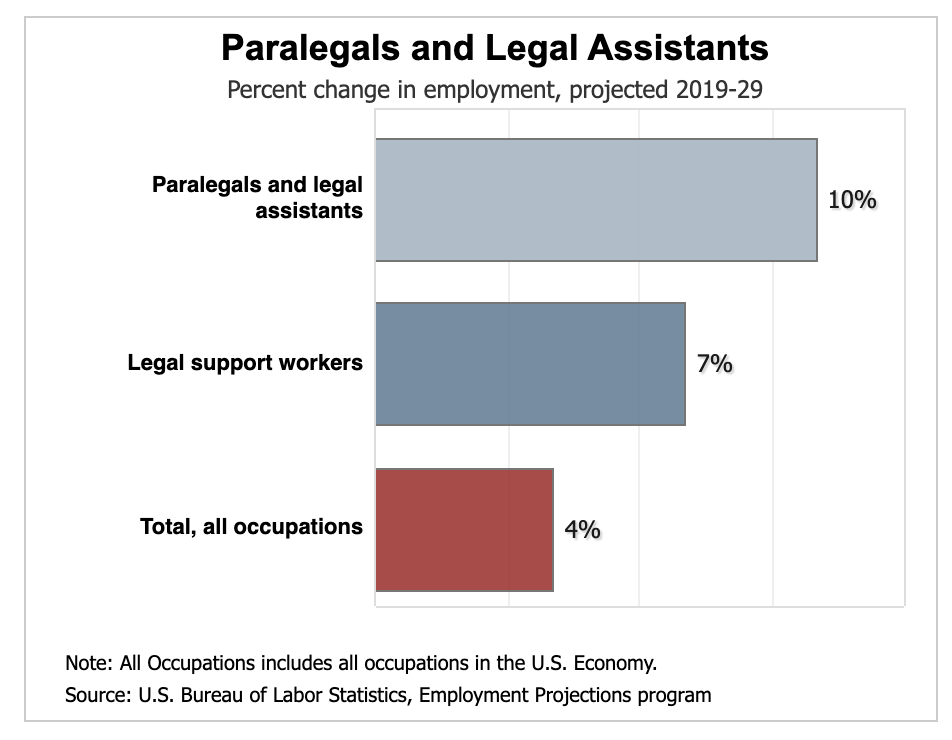 6. Do Paralegals Have Specialties?
Many people believe that paralegals only work in the general field of law. There is nothing further than the truth. There are many different specializations for paralegals, just like an attorney can specialize in various fields such as family law, probate law, criminal law, and commercial law. These are only a small fraction of the different fields both attorneys and paralegals get to choose from.
By focusing on one specific type of law, a paralegal can provide their attorney with the extra confidence they need to move forward with a case. A paralegal with a specialization can choose where they want to work. They also have the option of possibly mentoring others who may be just entering the field. This allows new paralegals to learn a little bit about many different types of specializations so they can make an informed decision about which one they like the most.
7. Do Paralegals Only Work For Law Firms?
The myth that paralegals only work for law firms is one of the most outdated and unrealistic comments ever mentioned. Paralegals can find work in almost any industry. They may not be able to practice law or offer advice, but they can review contracts and explain laws to those they work for. Paralegals can find work in law libraries and act as researchers for attorneys who may not have a paralegal on their payroll. A good paralegal can find work in almost any field they choose, even ones where you may not think law plays a role.
Paralegals are also valuable resources when it comes to handling the legal aspect of writing and implementing new laws at the state and federal levels. A paralegal degree can provide you with the ability to use the appropriate terminology when trying to set precedents or create new agendas that need to be considered for a vote. This is also the same type of work a paralegal would do if they worked in a business or office setting.
8. Do Paralegals Have It Easier Than Lawyers?
Paralegals do not have an easy job. It may be true that an attorney must face a judge and jury during a trial, but he did not get to that point on his own. In most cases, an attorney is only as good as the paralegal he has working on his cases. Without his paralegal, he may be missing vital information. He may not have been able to go over the case notes properly. By having a paralegal at his side, the attorney can rest assured that his case has been properly prepared and that he can proceed with confidence.
When it comes to who has the easiest job, it will depend on who you talk to. The attorney is responsible for delivering his case to the judge, jury, and others in the courtroom. Just standing in front of a large group of people can be incredibly difficult. Doing it to persuade other individuals to see and agree to your point of view can also be daunting. Being an attorney in this situation is far from an easy job. Most attorneys will tell you it can be quite strenuous and nerve-wracking.
On the other hand, if you are the paralegal, it is up to you to ensure that the attorney has everything they need to successfully argue and then win their case. It is up to them that every facet and nuance of each case is properly addressed so that the attorney can represent their client with the utmost confidence that what they are saying is true and accurate. Much of what happens within the courtroom will be based solely or in part on the accomplishments of the paralegal.
9. Do Paralegals Go to Court?
Paralegals cannot practice law. They can, however, appear in court alongside their attorney. This is the only time a paralegal can be in court in a legal capacity. They are not allowed to speak on behalf of a client or represent them in any way. Paralegals who work alongside their attorneys are normally there to ensure that the attorney has the right documents when they are needed.
Paralegals work behind the scenes and rarely ever make it into a courtroom. Their skills and talents are most beneficial when used to build a case, not represent one. Attorneys value the work their paralegals do because it is their job to make sure the attorney is ready and fully prepared for court. When the attorney is properly prepared, they can go to court with confidence, knowing they have everything they need to win.
10. Are Paralegals Always on Time?
A punctual paralegal is oftentimes one that has very little to do. So much of what goes on in a legal office rides on the talents and skills of a paralegal that they have little time for anything else. A paralegal who is fully committed to their job will more than likely be late for their own funeral due to making sure their attorney has everything they need before court.
Paralegals are actually very punctual when it comes to their job. The legal system is driven by accuracy and timeliness. Many times, paralegals will work nights and weekends to ensure that their attorney is well prepared. The truth is, a good paralegal is always punctual. They have fine-tuned the skill of scheduling their work and family life so that both work together as smoothly as possible. A sign of a good paralegal is one who has balance in their life and loves their work.
Related:
The 10 Highest Paying Paralegal Jobs
Top 25 Alternative Jobs for Paralegals
Top 12 Paralegal Degree Specialties
School Finder