Have you been interested in learning more about Becoming a Paralegal Working in Internet and Cyberspace Law? Cyberlaw is the type of legislation that delineates what is deemed acceptable as to the behavioral use of technology. Cyber law is also known as cyber crime law, with regulations that impact most aspects surrounding the use of networks, computer software/hardware, and the Internet – collectively known as cyberspace.
CSO, the voice for IT leadership, notes that since the beginning of the 21st century, approximately 3.5 billion individuals have had their personal data breached in the 15 largest data breaches over the past two decades. This astounding statistic is likely to be one of the most essential reasons for the need and creation of a relatively new section of the legal field known as cyber law.
Featured Programs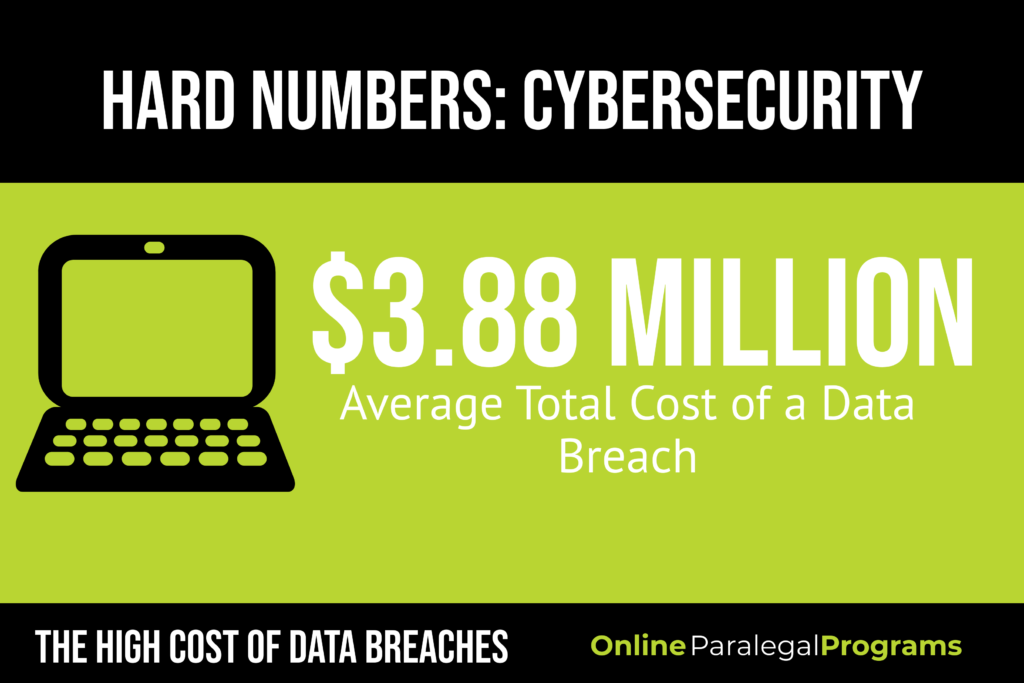 What is the Definition of Cyber Law?
According to the Law Dictionary, the definition of cyber law is a specific area of law that is applied to the many activities and actions that happen on a computer, across a network, and on the Internet.
To answer the question – of what is cyber security law, one must look to some of the oldest United States cyber security laws. These cyber laws are arguably the most effective of current legislation across the globe. Cyber security law is sometimes referenced as the law of the Internet.
Cyber security law is designed to require organizations/companies to protect their digital/electronic systems from a variety of cyberattacks that may include –
School Finder
Viruses
Phishing
Unauthorized Access – which can include the theft of personal/confidential information or intellectual property
System Control Attacks
Trojan Horses
Vishing – use VOIP systems
Denial of Service (DOS)
The current cyber security regulations are a combination of Executive directives and congressional legislation designed to safeguard a tremendous amount of private and protected information that passes through a myriad of computer systems and networks that contain information technology.
These are the primary security cyber laws in place that protect users by allowing for the investigation and prosecution of online criminal activity. These cyber security laws apply to applies to the actions of individuals, groups, the public, government, and private organizations.
The 2017 Consumer Privacy Protection Act
The 2015 Cybersecurity Information Sharing Act
The 2015 Federal Exchange Data Breach Notification Act
The 2015 National Cyber Security Protection Advancement Act
The 2014 Cybersecurity Enhancement Act
The 2002 Homeland Security Act – note, this includes FISMA – the Fed. Information Security Management Act
The 1999 Gramm – Leach – Bliley Act
The 1996 health Insurance Portability & Accountability Act – better known as HIPAA
It is critical for any businesses and individuals who use the Internet to understand cyber law. These are the fundamental areas covered by cyber law –
Internet or Cyber Law – this legislation covers the use of the Internet, and because it is one of the newer areas of law, many facets of the law have yet to be defined or are simply too vague to be effective.
Information Technology Law – these laws cover the ways in which digital information is stored, amassed, and transmitted.
Computer Law – this part of cyber law is the largest legal area and covers the laws related to computer IP and the Internet.
Cybercrimes refer to a broader framework of illegal activities and behaviors. Cybercrime includes these activities that are done with the use of computer hardware/software, computer networks, or the Internet. The work of cybercrime investigators and legal professionals includes the investigation of crimes that are committed in a physical world but enabled by the use of the many tools created by cyberspace.
What Are Some Examples of Cybercrime?
Examples of cyber crimes include –
Money-laundering.
Theft.
Transmitting viruses.
Fraud.
Forgery, among others.
A more specific example would include the prosecution of criminals who utilize the Internet to distribute illegal or federally-scheduled substances. The legal system would use cyber laws to prosecute that intent on breaking the law.  In the business realm, cyber legislation seeks to protect companies and organizations from unlawful access or the theft of valuable intellectual property.
Additionally, cyber crimes can also include digital harassment or stalking.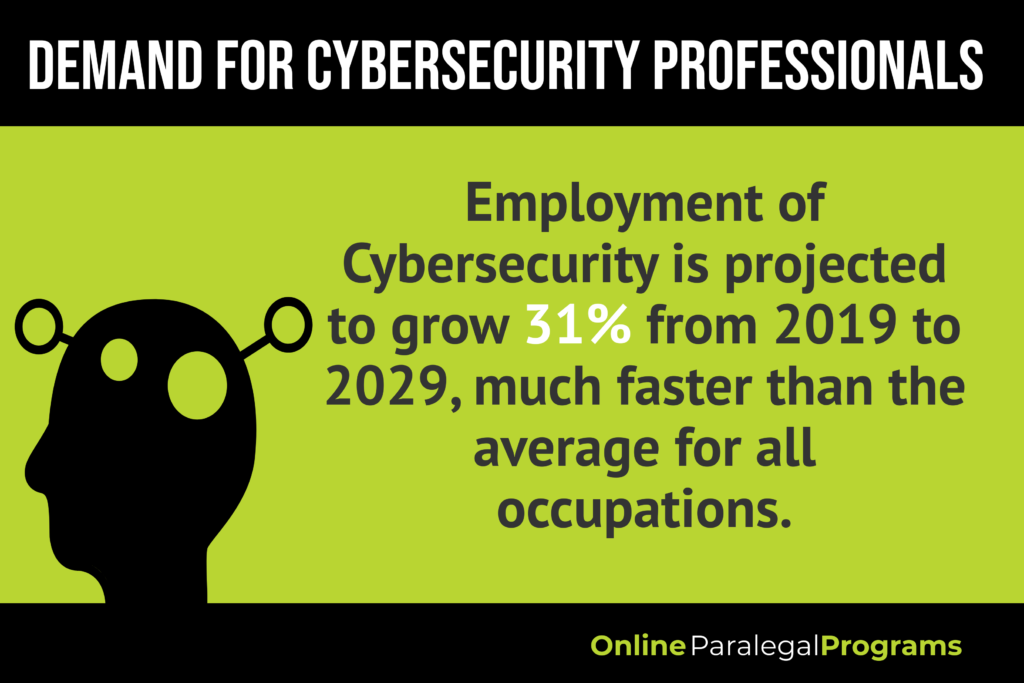 Cybersecurity Jobs
Graduates who hold a degree in cybersecurity are professionally prepared as they traverse a comprehensive, well-rounded curriculum delving deeply into the available, cutting-edge techniques available to protect data and information in the varied yet complicated realms of government, businesses, and even individuals. Cybersecurity professionals are fast becoming one of the most in-demand and important careers across all sectors – due to the exponentially expanding need for information security.
Cyber security jobs require professionals to be analytically adept, with stellar communication skills and the ability to apply critical thinking techniques against a backdrop of businesses, organizations, government entities, and the legal system.
According to the statisticians at BLS, information security professionals had a median annual salary of $99,730, with anticipated job growth over the next decade of 31% – and an astoundingly fast pace that is about eight times faster than the average anticipated job growth of all occupations in the country combined. An information security professional is responsible for the following –
Protecting data and information by managing and upgrading security measures for networks, computers, and Internet-related electronics.
Troubleshooting network or security data issues.
Reacting to network/system security breaches.
Identifying through extensive testing, system/network vulnerabilities, and risks.
Participating in the managerial change process.
Administration tasks include the communication of system statuses through reporting to departmental managers and upper-level management.
Listed below are some related cybersecurity jobs for those who hold a cybersecurity degree –
Security Compliance Officer
The Security Compliance Officer is an integral part of any business or organization as they seek to review and evaluate the entity's conformity to relevant regulations and laws. Compliance offers are tasked with the responsibility of implementing security policies/regulations that ensure the digital environment is safe and compliant. According to the BLS, compliance officers had a median annual salary for 2019 of $69,050.
Chief Information Security Officer
The Chief Information Security Officer (aka – CISO) is a member of senior management who has the executive responsibility of developing, maintaining and managing the policies & procedures that define a business's information security program. The Chief Information Security Officer often works in tandem with the Chief Information Officer to ensure business operations remain operable as needed, with recovery efforts at the ready, should a breach occur.
A CISO is concerned with protecting the organization or business's assets and systems from not only external threats but those threats generated internally. A computer and information systems manager's 2019 median annual salary was $ 146,360.
Paralegal Cybersecurity Jobs
Because much of cybersecurity is contingent upon the current legislation, there are a variety of cyber security paralegal work and cyber law jobs to support the many attorneys working in the field of intellectual property (IP)protection.
The legal origins of intellectual property law can be sourced from the US Constitution, which provides Congress with the authority to regulate both copyrights and patents. Congress has the power to incentivize creators to release their work through the established copyright and patent laws because if it was legal to copy someone's intellectual property and then resell it, there would be little motive (economic or otherwise) to develop or release the intellectual property legally.
According to the statisticians at BLS, paralegal and legal assistant professionals had a median annual salary of $51,740, with anticipated job growth over the next decade of 10% – a pace that is about 2.5 times faster than the average anticipated job growth of all occupations in the country combined.
Copyright Paralegal Jobs
An intellectual property paralegal (IP Paralegal) is a legal assistant professional who facilitates the legal processes by supporting intellectual property attorneys. Copyrighting is the primary form of cyber law and offers protection to almost any part of intellectual property that has the ability to be transmitted across the Internet. Copyright paralegal jobs are often in the fields of movies, music, blogs, and even books, to name a few.
Patent Jobs – Patents are the legal instruments that are used by inventors to protect their inventions. Paralegal patent jobs include a variety of responsibilities that range from administrative tasks to assist with intellectual property litigation upon infringement. Patent law is primarily used on the Internet –

For new software.
To cover new online business methods.

Trademarks/Trade Secrets – The reality is that with the advent of high-tech big business and government, the field of intellectual property law has exploded, with more than 1/2 million filings in 2015 – up from about 100,000 filings, just 3.5 decades earlier.  Trade secret laws are designed the formulas and processes used to maintain intellectual property.
The reality is that copyright paralegals are responsible for managing these paper-intensive processes, which include –
Tracking down evidence to be used in the lawsuit.
Documenting the original ideas.
Evidencing specific events and violations, to name a few.
Contracts, Doman Disputes, Defamation, & Employment, to name a few.
It is noted that most entry-copyright paralegal jobs do not require special qualifications. However, there are professional organizations that offer credentials in the area of intellectual property law. The NFPA – the National Federal of Paralegal Association, provides professionals with a specialty certification in intellectual property. Additionally, there are other certificates available by IPlegalED.
Related:
Top 25 Alternative Jobs for Paralegals
The 10 Highest Paying Paralegal Jobs
Top 25 Best Online Master's in Legal Studies
Top 25 Best Value Online Paralegal Certificates
School Finder