Your job can be stressful at times and, as a paralegal, being organized is one of your key skills and requirements. This should apply to your morning routine as much as anything else to save your decision-making skills for later.
Recent research reports that streamlining any common task can free up critical analysis and decision-making skills for later in the day when they're more important.
Featured Programs
With that in mind, the capsule wardrobe has become a concept embraced by professionals and high-achievers. The capsule wardrobe is supposed to pare down your clothing options for day-to-day use, eliminate unnecessary pieces from your closet, and minimize clutter and garment care while being versatile enough to take you through any standard day in any season. It does not include special-purpose clothing for activities or hobbies – you're on your own there. But from the boardroom to the boardwalk, from the courtroom to the tennis court, the capsule wardrobe will serve.
Here, we've outlined a guide to a sample capsule wardrobe for male paralegals specifically, as the paralegal career requires a certain amount of business formal wear in various legal environments.
School Finder
Suits & Jackets:
Suit
A male paralegal will need at least one nice suit; it's just the nature of the job. You'll be able to get away with mixing a jacket and some chinos or separate dress pants in the office or when interfacing with clients, but if you need to appear in the courtroom you're going to want a nice, classic suit.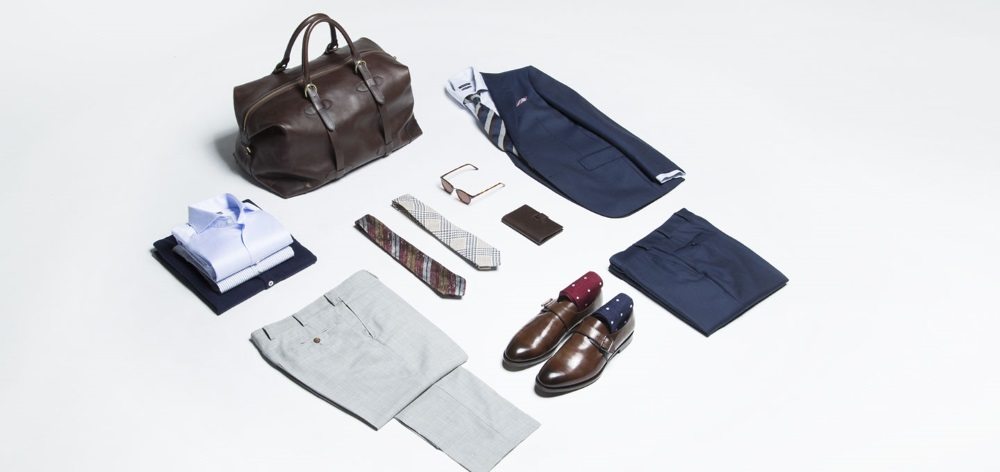 We like the selection of timeless suits available at Suit Supply, but you can go to your local suit shop and talk to someone there. Pictured is the Sienna Blue Birds Eye, a navy wool suit in a timeless style and at an affordable price.
We do recommend a light-to-medium wool suit – it will help with temperature control since courtrooms and offices are always sweltering or freezing. Wool will keep you cool or warm depending on the need. If you only have one full suit, make it navy blue.
Jacket
If you have a navy suit, you can separate the coat to mix up your outfits, but a second standalone jacket is a good idea. It will give you an entire second set of outfits when mixed in. It also provides a busy paralegal some versatility – change up your look and reduce the wear and tear on your good courtroom suit.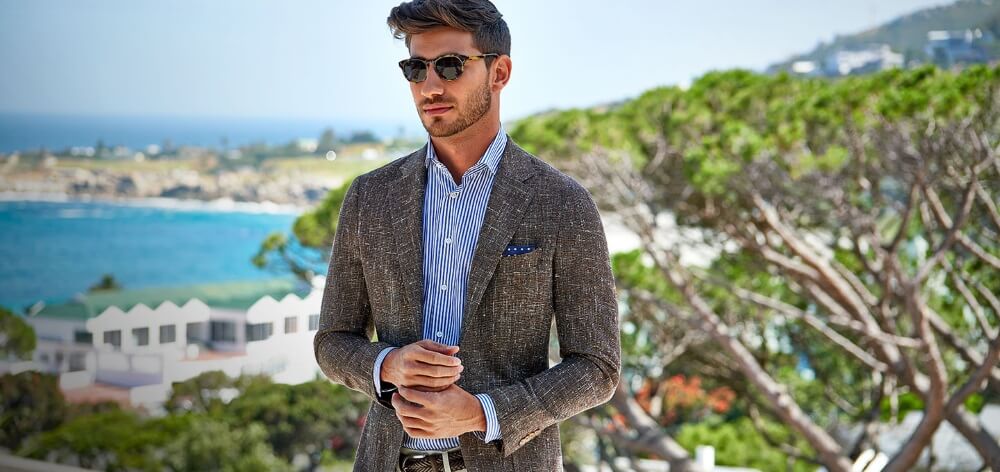 Again, wool is the main option, especially a lightweight one. We've chosen the Havana Brown Plain from Suit Supply that will match any item you own. It will dress up a pair of jeans when you're out on the town after a long day of research, and it will keep you looking sharp in the office on days where you feel like being a little more informal. Brown is also a modern jacket color that looks better without a tie if you choose to abstain from neckwear.
Pants/Jeans/Shorts:
Pants
A man in any legal profession will need some dress pants. We'll recommend two pairs here – one classic wool dress pant and one less dressy pair of chinos. With a full suit, a jacket, and two extra pairs of pants (three total – don't forget your navy suit's trousers!), you'll have six sets of mix-and-match outfits without considering shirt and tie combinations!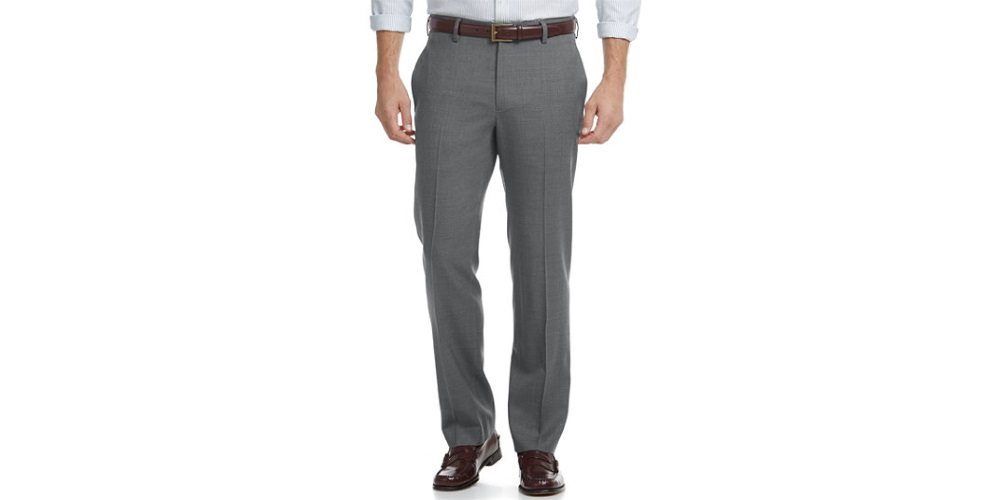 L.L. Bean's Wool Pants are a great choice for business environments. They're lightweight, durable, and will keep you cool. Best of all is L.L. Bean's guarantee – they'll replace any item at any time, no questions asked, so buy with confidence.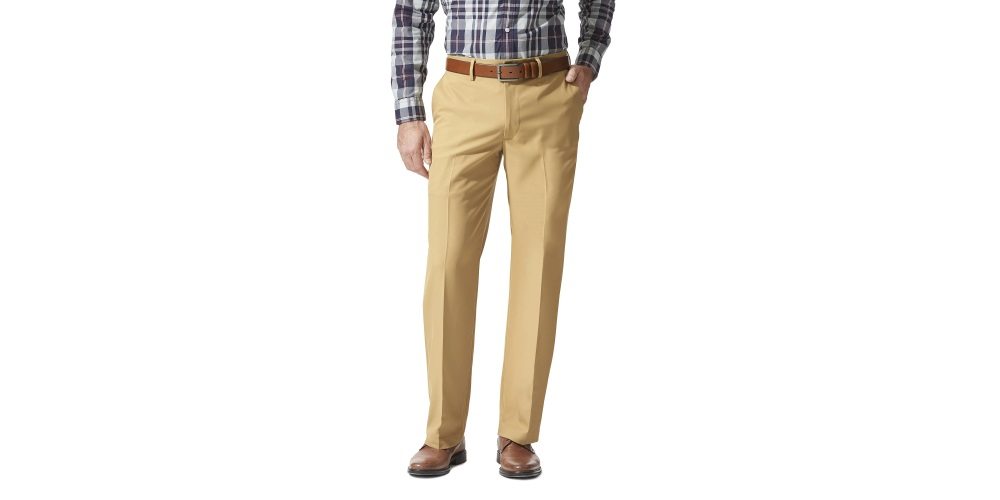 Dockers are a classic, and their Signature Performance Khaki will look great with anything you pair them with. Put these on with a jacket from above and you'll look sharp while in or out of the office. The'll break up the color palette and give you a little less formal look when interacting with others.
Jeans
A dark pair of jeans is a must. Though you may never wear these into the law office – casual Friday perhaps? – the capsule wardrobe is supposed to replace the bulk of your wardrobe in total, so it needs to work with the weekend, too! Maybe you're meeting the law partners for drinks on a Friday night, or you're just doing your own thing, a good pair of jeans that you can toss into any outfit here will serve you countless times.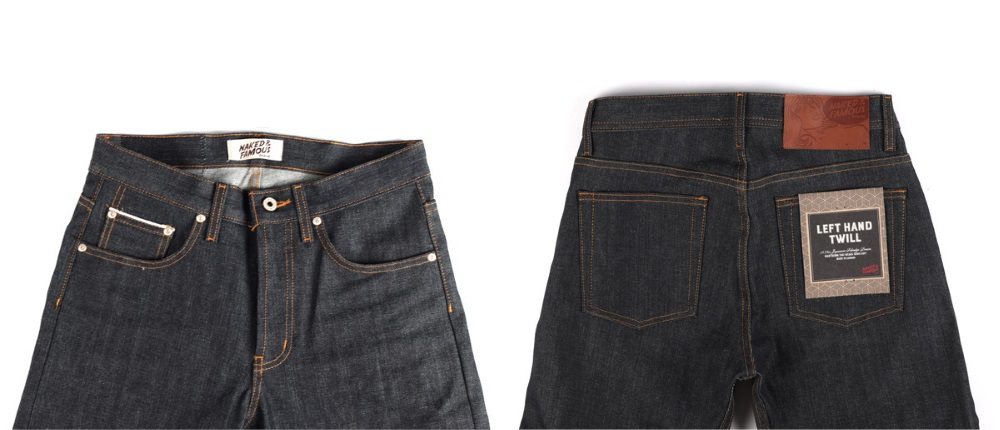 These Left Hand Twill Selvedge jeans from Naked & Famous will mix with a jacket and a pair of nice shoes for a date or a night out, or you can toss them on with a pair of sneakers or boots for a day hike. Raw denim will break and conform to your body with use, will just look better over time, and, with the right treatment, last indefinitely. Before getting these, look at a care guide for raw and selvage denim.
Shorts
You'll probably end up playing some golf with coworkers or bosses, especially if you're trying to move into the legal field as a lawyer at some point. You can wear your chinos on a cool day, but your climate may be a warmer one, so you'll likely need some shorts. Not only that, but you'll need them for many outdoor summer activities.

These Golf Solid Flat-Front Shorts from Izod are comfortable, just the right length, and can blend in with any outdoor activity. They'll keep you looking sharp, and can be paired with a variety of shoes based on the activity.
Shirts:
Dress Shirts
Of course a paralegal is going to need dress shirts, so let's touch on a couple o of options.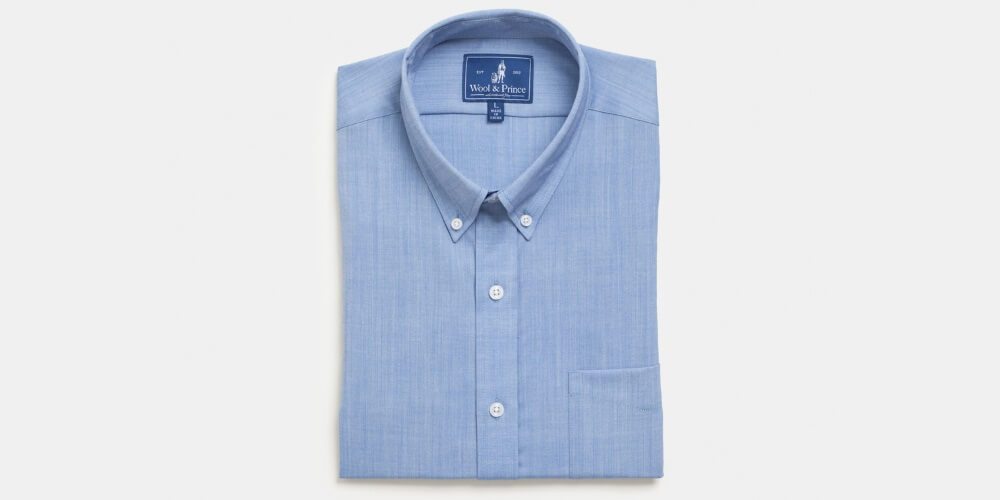 First, let's look at the new space of merino wool dress shirts. Merino wool isn't scratchy and hot like you may think – it is very similar to any cotton shirt, but with some distinct advantages. Wool is naturally odor-resistant and can go longer without washing, making it last longer. The fibers are more durable, and the lightweight thread used to make dress shirts in wool is great for keeping you cool better than cotton (and warmer in cold weather). It's also naturally wrinkle-resistant, further streamlining your morning routine. It comes at a price, but we think you'll be happy with the choice. Pictured above is a shirt from Wool & Prince, but you can find other merino wool shirts at Outlier. If you'd prefer a standard dress shirt, check out the Banana Republic Tailored Slim-Fit Non-Iron Micro-Square Shirt.
Casual Shirts:
Your office may have casual Fridays, or you do actually hit the links occasionally. You want to have something sharp but not overdone. Comfortable would be a great selling point, too!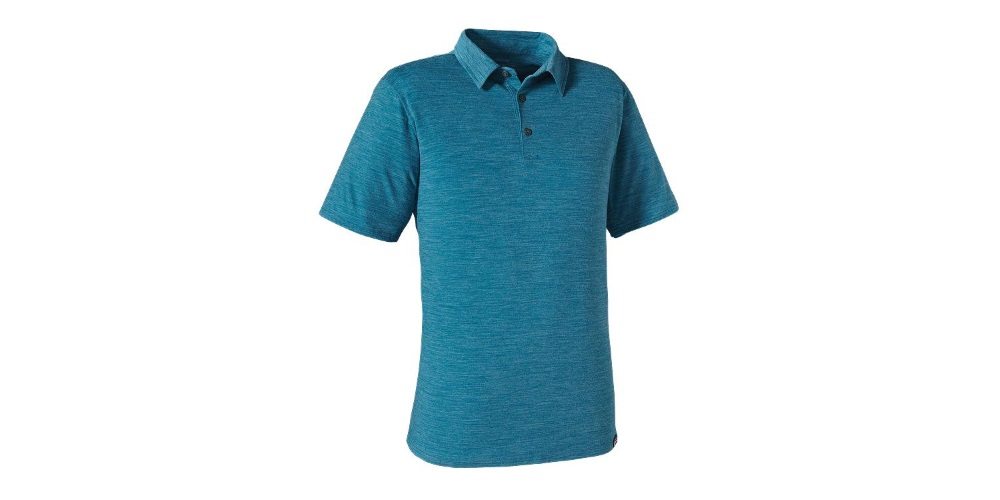 The Patagonia Men's Merino Daily Polo will work with the shorts above, with a jacket and chinos in the office (depending on your office), or with a jacket and/or jeans on the weekend. Being made of a wool blend, it helps regulate your temperature (warm or cold) and avoid odor. It also dries quickly when wet! It'll hold you through local Chamber of Commerce meetings where you can network or continue your job hunt, and can also help you appear more accessible when interacting with clients.
T-Shirts
T-Shirts are important – they need to look good when they're visible, but they also need to double as undergarments from time to time. We'll be sticking with a lightweight, athletic wool again, to help you regulate your body temperature and avoid undue odors.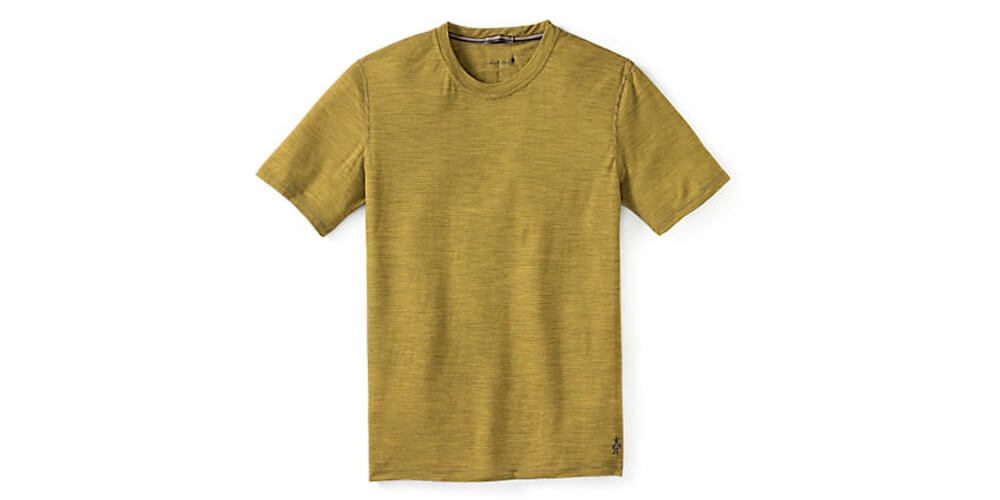 The Men's NTS Micro 150 Pattern Tee by Smartwool is a fashionable T-shirt that can be worn under a dress shirt but is tough enough for the trail. Wool, as always, is naturally odor-resistant and fast-drying enough to keep you comfortable during intense research and fact-finding sessions.
Accessories:
Ties
Keeping in mind that the legal field is a conservative one, you should keep your ties subdued and more of an accent piece than a loud bit of character. Solids, stripes, subtle patterns, and regular width ties will help you vary your look and provide a splash of color without calling undue attention in the office or the courtroom.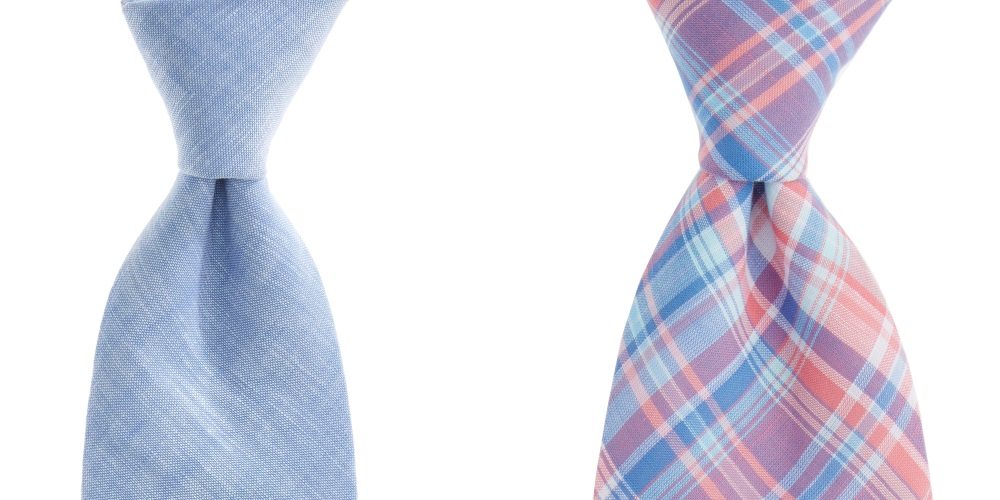 Here are a couple of ties from Vineyard Vines: the Lobsterville Woven Tie in blue and the George Hill Plaid Woven Tie in Jetty Red. These are nice, classic, demure ties that will work with almost any shirt you might pick. Look at other tie companies, however, since a small selection of ties is the best way to expand your range of looks without letting your wardrobe grow out of hand.
Dress Shoes
Shoes can make the man, and this is especially true in a traditional environment like law. A traditional shoe like an oxford is fine, but you can add a little personality with a wingtip or some broguing. Or even add a little unique class with a monk strap. Remember: black is more formal, brown is more informal. You get to decide.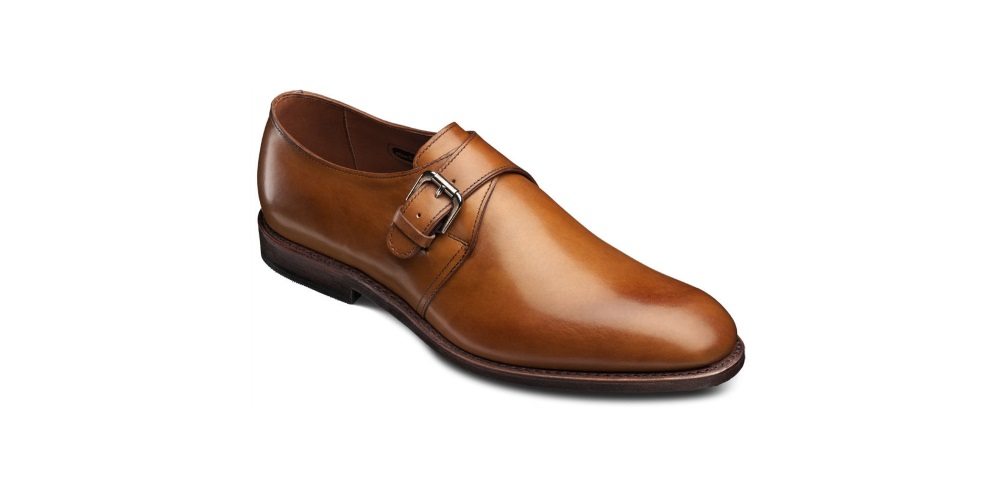 The Allen Edmonds Warwick Monk Straps come in black and walnut and are a great combination of a step-in shoe (no laces!) that has a ton of class without being overly dressy. These shoes will take you anywhere and get just the right amount of attention without being showy. Clean enough for the courtroom, but stylish enough for a night out.
If you opt for a black and a brown pair, keep in mind that you'll need belts and watch straps to match.
We'll let you figure out sneakers by yourself.
Belt
Whatever you choose as a dress shoe above, you should match it with your belt and your watch band. Black with black, brown with brown.

For a professional environment, something clean and classic like the Coach Modern Harness Smooth belt in either black or brown (or both, depending on your shoe choices) will do the trick. Smart, sharp, and versatile, this belt will help you look your best while holding up your pants!
What Type Of Socks Are Best With A Suit?
Merino wool socks – lightweight, temperature-regulating, and odor-eliminating. What's not to like? There are dozens of brands offering merino wool now, and dozens more offering other materials in fun, striking, and bold colors and patterns. This may be a chance to splash a little color or feel rebellious while still being conservative.

These socks by Smartwool can add some character and color to your ensemble while being comfortable and professional. Smartwool has a very lenient guarantee, so the expense is offset by the longevity and features merino wool provides.
Tip: We're not going to cover "Underwear for Paralegals" here, but get yourself some merino there, too. You won't be sorry.
What Are The Best Wristwatches For Men?
A wristwatch is pretty close to the only jewelry every man can wear, so it pays to get the right item. If you go with a leather strap, you're going to want to match it to your shoes and belt – it doesn't hurt to pick up a second strap (and an inexpensive watch pin removal tool) if you have to match more than one color. You can avoid all of this by going with a metal bracelet; though they're considered less dressy, they're accepted in all but the most formal occasions.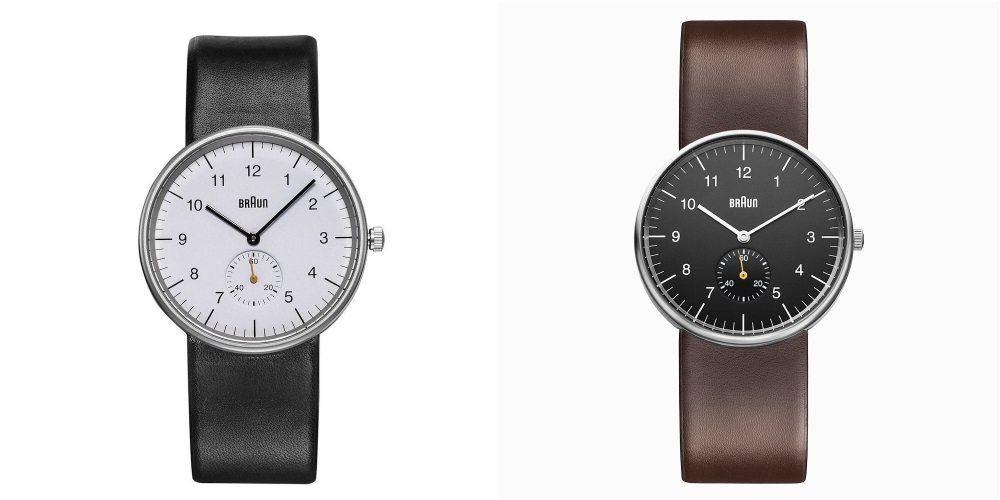 We'll start with a near-zero maintenance quartz watch. With either a black or white dial, the Braun BN0024 line will meet any need. The minimalist design of this Bauhaus-style watch is classic and timeless and is dressy enough for the office, sporty enough for the weekend.
Now, for a mechanical watch:

The C5 Malvern Slimline, Square by Christopher Ward is a great retro timepiece. This slim watch will slide under any shirt cuff and, at 37mm, looks great on any wrist. The mechanical movement is hand-wound, so you'll need to wind it regularly for it to keep time, or else you'll need to set the time when you wear it. The white face and thin profile make it a match for any occasion – it's dressy enough for the courtroom – and it comes with a brown or black alligator strap (you can buy the second strap separately).
Outerwear:
Raincoat
Unless you live in SoCal, you'll probably encounter rain from time to time. Needless to say, rain doesn't mix well with a nice suit and tie, so you'll need a decent rain coat. There are a ton of options out there that match a business formal outfit, so look around. Here is one you can find almost anywhere in the country: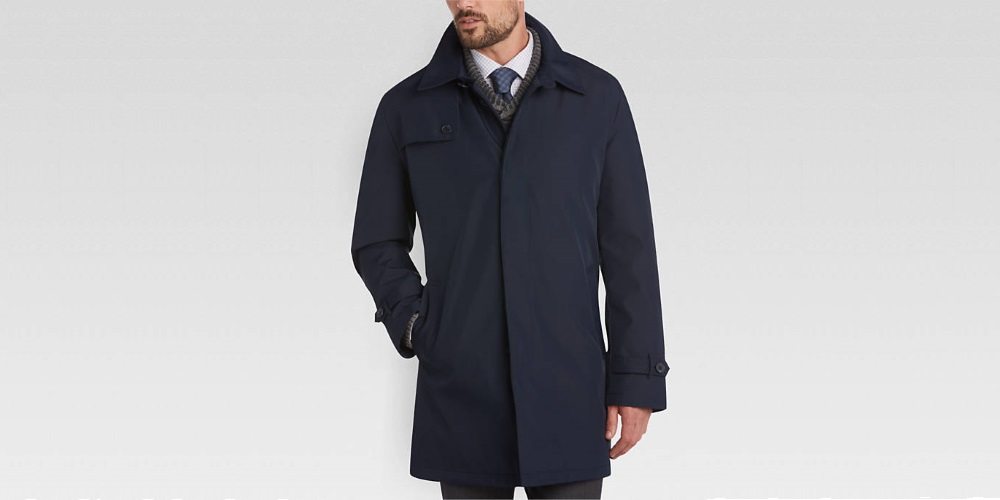 The Joseph Abboud Postman Blue Raincoat is available at Men's Wearhouse, and will fit neatly with any business outfit you wear. With a quilted liner, this 100% polyester coat has handwarmer pockets and is totally waterproof, keeping you neat and dry while running errands for the firm.
Cold Weather Jacket
The raincoat above and/or your jacket might be enough in some clients, but it gets cold occasionally in almost any climate in the US. Having a dressy, cold-weather coat is a great idea, and necessary in most areas.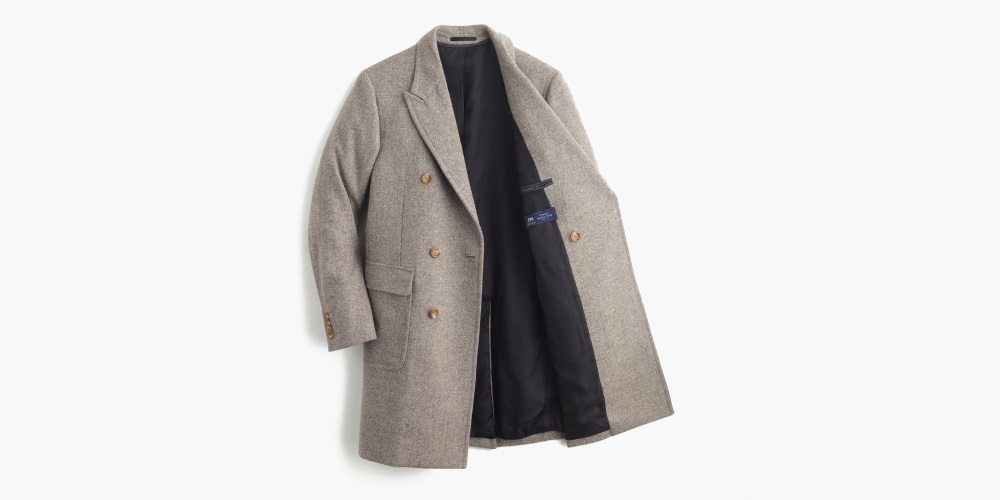 The J. Crew Ludlow Double-Breasted Topcoat in English Wool is a classic style that, according to J. Crew, is making a comeback. This wool coat will keep you warm and keep you looking your best, even in the worst weather. This light gray color will match anything you own, and look sharp at all times.
These are examples of what you're looking for to fill out your capsule wardrobe. Search for items that fit your budget – you can find deals as the seasons change, and you don't need to purchase these all at once (or at all if they don't work for you). But the list above should show you how to build a simple, versatile, capsule wardrobe that will keep you dressed sharply while you work on your career as a paralegal.
Related:
Back to Can You Believe it's Legal?
Top 12 Paralegal Degree Specializations
Top 25 Best Value Online Paralegal Certificates
Top Online Bachelor's in Paralegal Degree Programs
Top 25 Best Online Master's in Legal Studies
School Finder