Paralegal Capsule Wardrobe for Women
Every workplace is different, so the dress code will differ slightly from place to place. However, all paralegals have their day in court from time to time, so keeping a polished look is essential. Having a few effective pieces, also known as a capsule wardrobe, is a great way to save time and headaches in the morning. It is also extremely cost-effective to have a capsule wardrobe for work. Instead of buying several tops, accessories, and bottoms, you keep it hammered out to the very basics. This will allow people to respect you for your knowledge, instead of how many designers tops your own.
Featured Programs
Four pairs of stockings
Although current fashion trends dictate otherwise, bare legs at the office are a no-no. Paralegals have to dress professionally. That means having a few pairs of stockings to finish your look. We recommend two opaque pairs and two shear pairs.  There are other advantages to wearing pantyhose as well. The first thing is that they keep you warm. On a chilly day, you'll be glad you opted for those stockings. They also help make your feet more comfortable. If you wear stockings, it will help your shoes fit better, preventing blisters. One of the best reasons of all is you can shave your legs a little less. Wearing pantyhose hides all the minor imperfections you would like to conceal from the world. If you forgot to shave (or intentionally refused) for a few days, nobody would be the wiser. So, don't forget to pull on your pantyhose for your job as a paralegal. They will give you that pulled-together and sophisticated look.
Pearl necklace and earring set
School Finder
Pearls are the standard for elegant beauty. Some even consider pearls to work as lucky charms. Who can't use a little luck around the office or at home? There are some beautiful real and fake pearl sets out there that will make you look extremely professional. Nothing will make you feel more like Audrey Hepburn in Breakfast at Tiffany's than a pretty set of pearls. One should definitely consider your own personal style when considering pearl jewelry. You can go with a traditional string of pearls and post-earrings, or go extreme with an edgier vibrant colored set.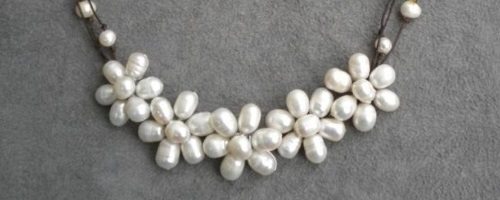 We personally like this Handmade White Freshwater Pearl Flower Jewelry Set sold on overstock.com. They are feminine and clean looking, and will surely be a great accessory for work. The floral pattern creates a soft touch and intricate touch, which are sure to be a conversation starter.  
Two Dress Blazers
Every paralegal should have a few dress blazers. The dress blazer is essential for office meetings and court days. Your dress blazer should be conservative and professional. Keep your look simple. You should find a blazer that fits well and makes you feel confident. You certainly don't want something that makes you feel unsure of yourself. Stick with muted blazers like black, grey, or navy. You basically want to stick with a very vanilla-looking blazer, as you will most likely be wearing it to court. So to essentially, buy a blazer that won't stick out too much.
Here is a good example of a blazer to buy. It comes in two colors, and we recommend buying both of them. The great thing about this particular blazer is the price. We normally don't recommend buying things that are cheap or poor quality, but this brand happens to be inexpensive and well made. If this particular item doesn't work well for you, Kohl's has similarly priced items that would also do the trick.  
Two Pencil Skirts
Pencil skirts are sleek and stylish. They are pretty yet professional-looking, with work-appropriate hemlines. Pencil skirts also have a very vintage feel, so you can pretend you are working with Don Draper from Madmen, minus the blatant misogyny (hopefully). Finding the right pencil skirt with the perfect fit will be the most important fashion choice you ever make. Pencil skirts exude elegance, and when paired with the right accessories (less is best), nothing can stop you. The pencil skirt can be paired with cardigans for around the office, a nice blouse and blazer for court, and even a fun top for an evening out.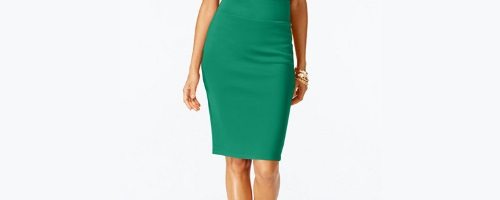 We really like the Thalia Sodi Scuba Pencil Skirt, sold at Macy's. This skirt comes in seven different colors. For the office, we recommend buying one in black, for days where you have to dress more conservatively. However, for other days at the office, we recommend going with a more adventurous color, that will add a vibrant pop to your wardrobe.
White Dress Blouse
A white dress blouse, preferably a button-down, is exactly what you need to pair with your pencil skirt and blazer. The right white dress is the piece that polishes the clean professional look you are going for. When picking a white blouse, look for something that is conservative with comfortable fabric. After all, you will be wearing this piece all day long. Also, keep in mind the neckline and length. Find a non-plunging neckline with maximum coverage.  This will allow you to keep your mind on work, instead of worrying about how your shirt looks. After all, the more confident you are at work the better. That confidence definitely translates to others.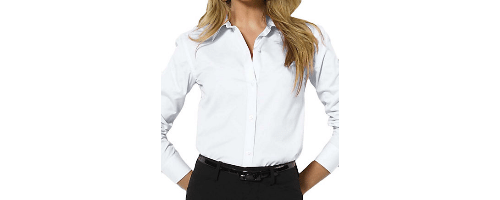 We recommend this shirt by Ralph Lauren sold at Lord and Taylor. It meets all of our style requirements, plus it is a non-iron shirt, for even more ease of use. The price isn't too bad either. You can get away with finding a cheaper shirt, but you will probably end up buying a new one in a few months. This is a high quality shirt that will last you for a while.
Colorful Dress Top
The colorful Dress Top is where you let your true personality shine. Buy a top that is boho chic, bright pink, or with a little bit of bling. You can wear your unique top for non-court days and casual Fridays. Find something that makes you feel sassy and competent. Whatever you chose, just make sure it is still professional enough to wear in the office.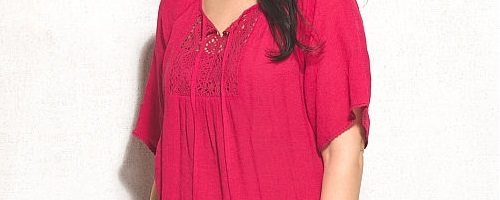 We really like this textured crochet peasant top from the Dress Barn. It is subtly sexy, yet still professional enough to wear to work. You can pair this top with dress pants or even jeans for dress down days. It comes in Rose Red or Capri Blue. Whichever you choose, you will keep catching yourself daydreaming about a beach on the Mediterranean.
Two Cardigans
Cardigans instantly transform an outfit into the perfect blend of comfort, practicality, and style. Are you feeling a little chilly? Throw that cute little cardigan over you. Perhaps you are sick of that button down shirt you wore yesterday. No worries! Cardigans to the rescue! Cardigans paired with a pencil skirt will transform your outfit into a preppy chic look that will leave you feeling powerful yet playful.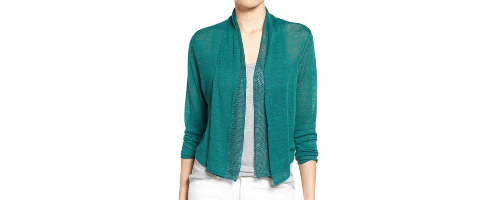 We think buying one cardigan in a neutral color, and the other in a vibrant hue, will really spice things up. For example, we went with the 'Simply Sweet' Open-Front Cardigan, sold at Nordstrom. That cardigan would pair nicely with almost everything on this list, ensuring maximum usage. We decided to show a high end cardigan that would last a long time in your wardrobe.
Business Casual Dress
Finding a dress that is feminine, chic, yet professional can be a challenge.  You should look for a dress that makes you feel happy and that also makes you feel empowered. Everyone tells people to dress for success, and while that is true, you should also dress for fun. Nobody should pick a dress that they dread wearing. Especially since clothing can be super expensive. You can check out some local thrift shops to find some used treasures, and also save your budget.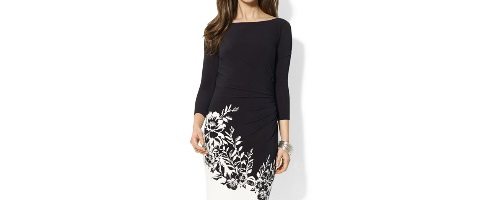 If you want to find an elegant dress, try this Ralph Lauren Printed Jersey Dress, found at Macy's. It might not be as inexpensive as a thrift store pick, but it isn't super expensive either. This dress will last you for several years, and because it is timeless, you will be wearing it for years to come. This is the type of dress that you would be able to wear at work, and also for a night out on the town.
Two Casual tops
A few casual or business casual tops in the rotation will really help round out your wardrobe. When picking your shirts, you should keep your workplace's dress code in mind, as well as your personal style. Maybe you can get away with a little bit more of a casual look depending on the office culture where you work. However, when in doubt, it doesn't hurt to err on the side of caution and overdress. We recommend finding fabrics that look and feel exquisite, such as silk, polyester, or other smooth fabrics. Find colors that add a vibrant pop to your wardrobe, since you have to wear black blazers and skirts to court.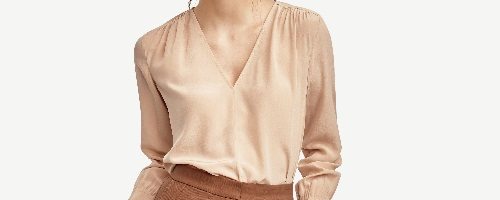 We recommend the Shirred V-Neck Blouse sold by Ann Taylor. This top comes in several different colors and even different fabric options. The best part is, it also comes in a wide variety of sizes.
Dress Pants
A pair of dress pants is essential to any work wardrobe. Find a well-fitting pair of pants that match with the shoes you have, or would like to buy. The dress pants you buy should be black or grey, so they pair well with any top or cardigan you own. The pants should have a good fit, not too loose or too tight. You should figure out what style of pants works best for you. Do you look best in bootcut? Or perhaps you feel more comfortable in the straight cut. Whatever you feel best in, is the way you should go. Personal style can be very individual, so buy whatever feels right, and also what fits into your budget.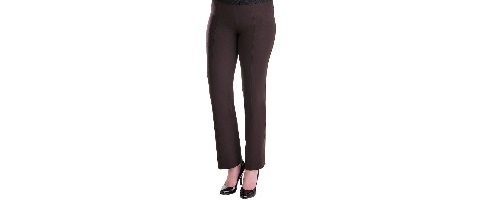 We recommend this pair of pants sold at Dillard's. They look killer with a hot pair of heels or a cute pair of flats. They come in two colors, black or coffee, and are very reasonably priced. If you buy these pants, I'm sure they will work in a professional wardrobe.
Jeans
Although you might have a few pairs of jeans already, work jeans should be more professional than casual jeans you wear in your spare time. You know what I mean. No rips. No distressed look. We agree that those looks are super fun, but at work, they are a no go. Finding your pair of work jeans doesn't have to be a daunting task. Go with a well-fitted dark wash jean. A pair of Dark washed jeans can be made to look very dressy with the right top.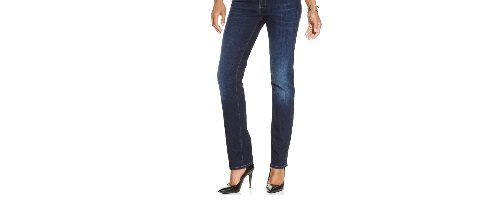 These Jeans by Calvin Klein in dark rinse definitely fit the bill. In fact, if worn with a dressy blouse, they might even look like dress pants. Again, make sure you know the feel of your office. You should really only wear jeans with express permission. It is better to be dressy than written up or sent home.
High Heels
High heels are the shoe that most women love and hate. Heels are like feet art that double as torture devices. But don't worry! It doesn't have to be that way. Paralegals should find a pair of heels that are both fashionable and soothing to the feet. After all, these are the shoes you will be spending most of your work life wearing.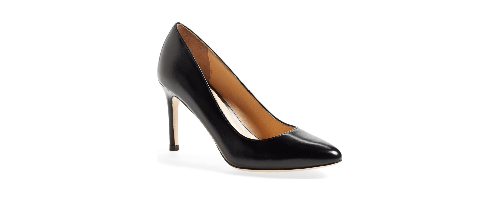 For comfort and style, we really like the 'Bethany' Leather Pump. This shoe is the real deal. They are designed for maximum wearability. You will be able to wear these all day without feeling any pain. For even more support, we recommend a shoe insert. This will allow you to focus more on your work, instead of foot pain. An added bonus is that the shoe inserts also double as a shoe deodorizer. Nobody wants to work with stinky feet.
Dress Flats
While wearing flats to court is a definite no, you can certainly rock a pair around the office. Flats are a nice break for your feet, stylish, and practical. They are also very fashionable. Flats are trendy enough to wear in the office, or to a club. Just make sure you never confuse the rest of your outfit. Nobody wants to see you in a tube top at work.  Wearing flats in the office will allow you to perform your job, walk around on breaks, run errands for lunch, all without foot fatigue.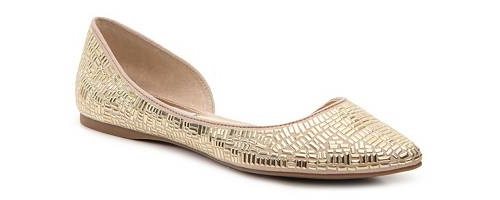 We love the Steve Madden Elements Flat. You can choose from nude or black, with metallic studded embellishments. These shoes are very fashionable and trendy, but will not look out of place at work.
Briefcase
The briefcase is like a high end professional purse. This one piece of your attire is one of the most important fashion choices you will make. In fact, choosing a briefcase over a purse shows that you value your job, and would like to be taken seriously. It is also an extremely practical tool for carrying your padfolio as well as confidential documents. We recommend that you go with a long lasting leather case. First of all, the smell alone is enough for the purchase. However, the longevity of the piece is a much more practical reason.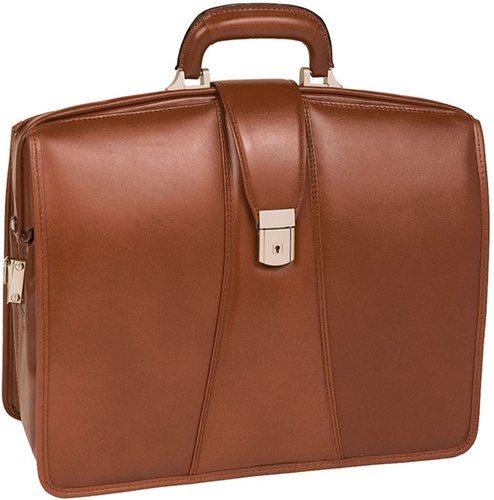 We really like the McKlein Harrison Leather Briefcase. It is available in brown or black with a lockable flap. That will show you are serious about the integrity and confidentiality of your documents. That will both impress employers and clients. Another neat feature is that it allows for some personalization. You can have your briefcase monogrammed for a nominal fee.
While a padfolio isn't exactly something you wear, it is something that will accompany your attire throughout your career. A leather padfolio is a nice compliment in any professional environment, in a law office. A padfolio serves several purposes. It shows that you are under control and organized. It also helps you actually perform better. You won't have to worry about writing sloppily on a flimsy notepad. A padfolio gives you a sturdy foundation to write on. When selecting a padfolio, you should go with a neutral colored, pattern free, and conservative.  There are several types of padfolios out there, but we think a well-made leather piece will really help you stand out in a positive way.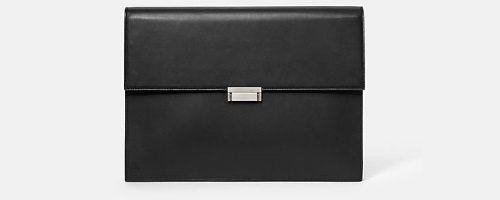 We recommend the Sullivan Leather Zip Folio, sold by Jack Spade. It is a bit on the pricey side, but it is a piece that will last for a very long time. Carrying this inside your briefcase will make you look like a sophisticated expert.
Related:
Back to Can You Believe it's Legal?
Top 12 Paralegal Degree Specializations
Top 25 Best Value Online Paralegal Certificates
Top Online Bachelor's in Paralegal Degree Programs
Top 25 Best Online Master's in Legal Studies
School Finder