Depending on your area, the paralegal world can be a competitive environment. Doing a job search, interviewing, and negotiating is tough when there are other candidates for the same job.
You need to stand out, and a growing method of doing just that is creating a personal resume website.
Featured Programs
Here, we'll give a simple overview of how to create a personal resume website for under $20. You can even skip the paid parts and do it for free – no special skills are needed.
1. Choose a Service Provider
Your first step is to choose a service provider. This is the most important step – you'll want to start with a provider who works for you, provides the services you want, and doesn't cost too much. This is, after all, just a resume site that's trying to land you an interview and, hopefully, a job!
We'll start with the easiest one, though none of the options listed will be difficult.
School Finder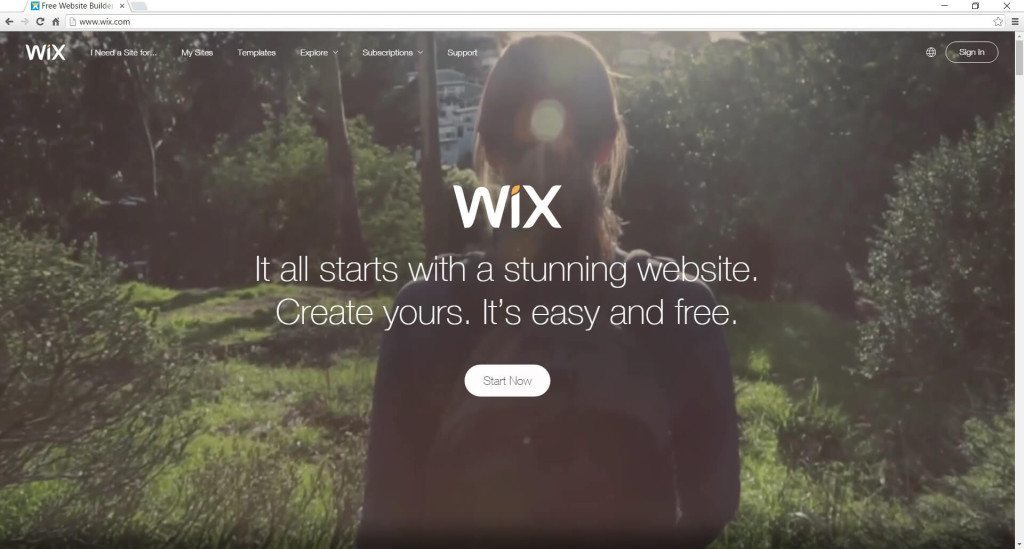 Wix is a great option as an easy-to-use website builder. Its drag-and-drop creation system makes it simple to build a great resume page. You'll be able to customize the look and feel of your site to appeal to your target employers.  Clean and modern, traditional and muted, or vibrant and full of personality – it's your choice.
Wix is our #1 choice due to having a free tier of service, though it has their branding on it. If you'd like to have your own domain (.com or similar) and be free of their branding, they have affordable monthly options. To connect a domain you already have (for example, "yourname.com"), they charge $4.08/month and display ads. To remove ads is $9.75/month, and they include a domain with the subscription. They also have great support and documentation to answer any questions you might have.
Just a head's up: we'll be focusing on Wix for the rest of this tutorial, but if you'd like other options, there are some below.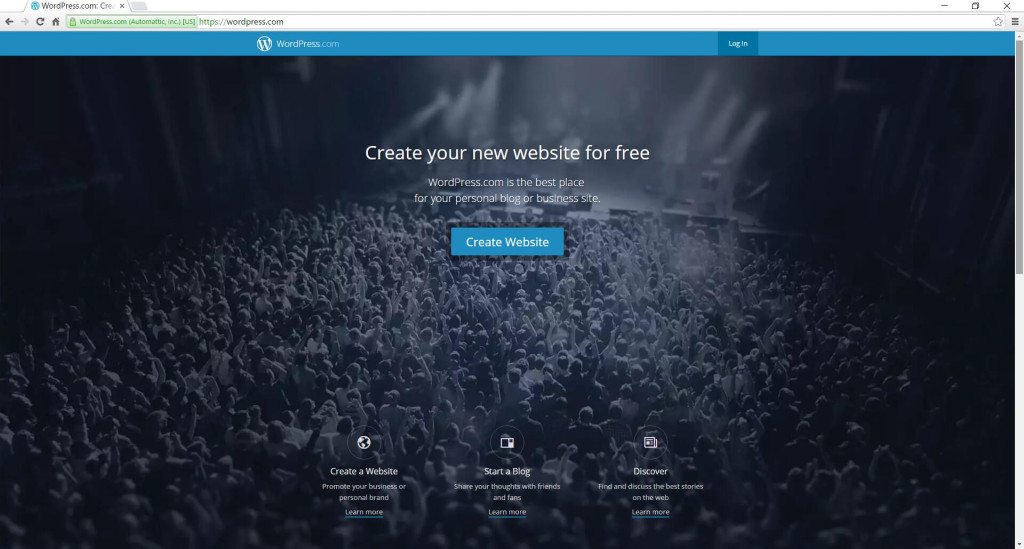 WordPress is another free option with which to set up your paralegal site. They have a variety of paid plans, as well. Importantly, a custom domain (for example, "yourname.com") purchased through WordPress is $18/year. Bringing your own domain is $13/year.
Designs are generally done through installing and modifying themes. You don't need any design or programming skills to use them – just pick the one you like the look of and add your own information! There are both free and premium (paid) themes available.
Squarespace is another great option. They offer a drag-and-drop interface similar to Wix. Though they don't offer a free monthly service tier, they do offer a free trial to test them out and see if you like what they offer without entering a credit card. Squarespace makes it easy to design an extremely modern, professional-looking website that scales to mobile devices flawlessly. You'll get it out for viewing quickly so you can gain contacts and interviews in the paralegal field in record time.
2. Sort out your information
Make sure your information is up-to-date and organized. You'll be using information from your resume, as well as information you'd normally print out for a physical portfolio.
Sort your information into logical categories, including but not limited to items such as: Education & Awards, Employment History & Experience, Case Files & Applicable Documents.
We'll use these categories to organize your site so potential employers can view and understand your website easily.
Remember: keep it concise and simple. Like a resume, you don't want to make it difficult for the hiring manager to get through the information. This is just to help you get noticed and into an interview.
3. Setup & Design
As always, consider the experience of the hiring manager when setting up the layout of your resume page. Again, we'll keep it simple.
Luckily, Wix has pre-designed templates to help you corral your design. In fact, we have a great one picked out that exactly fits the needs of a paralegal on the job hunt. Let's get started.
Sign Up for Wix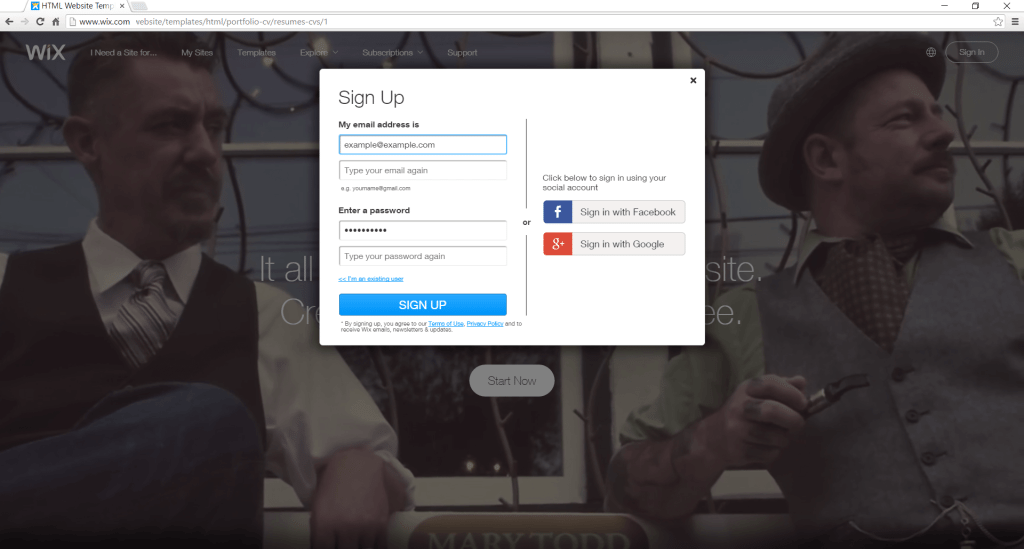 Navigate to wix.com and click the "Start Now" button in the center of the page.
A popup will display, asking you to Sign In. Provide your email, make sure "I'm a new user" is selected, enter the password that you'd like, and click "Go."
The popup will ask you to confirm your email and password, then click "Sign Up."
 Choose Your Site Type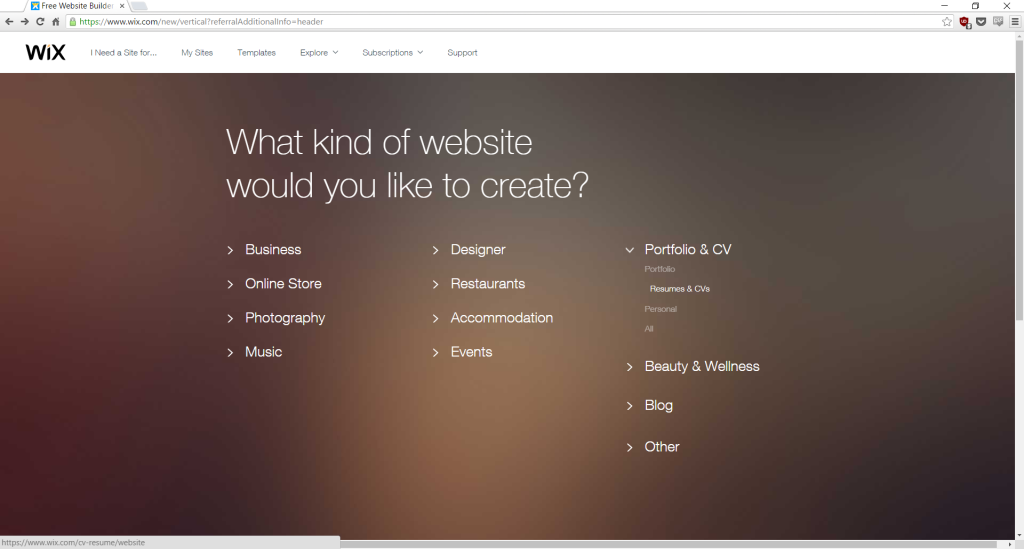 After signing up, you should be brought to a page with a list of uses for your paralegal site. On the right hand side, choose "Portfolio & CV", then "Resumes & CV" from the dropdown menu.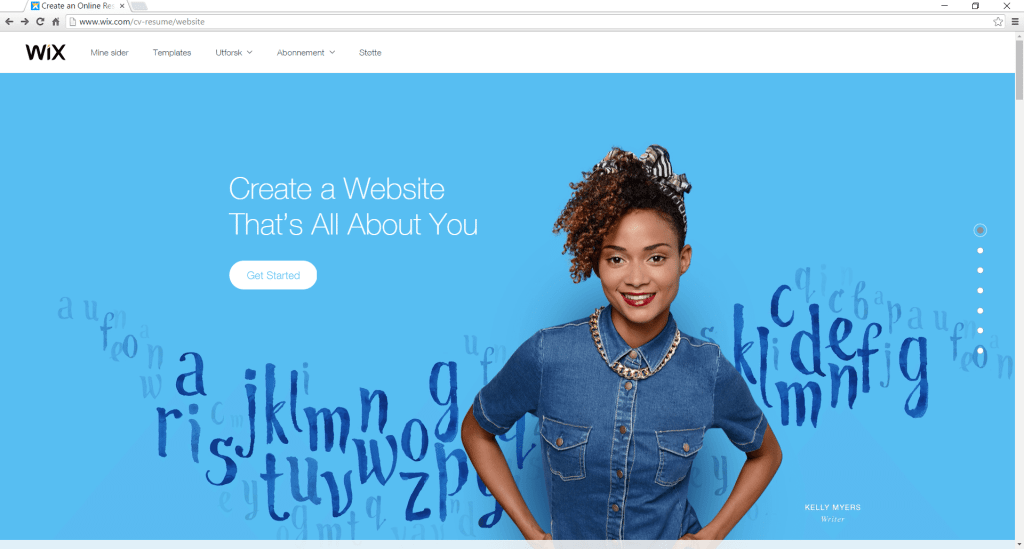 You'll be taken to the following page, and you'll just need to click "Get Started."
Choose Your Design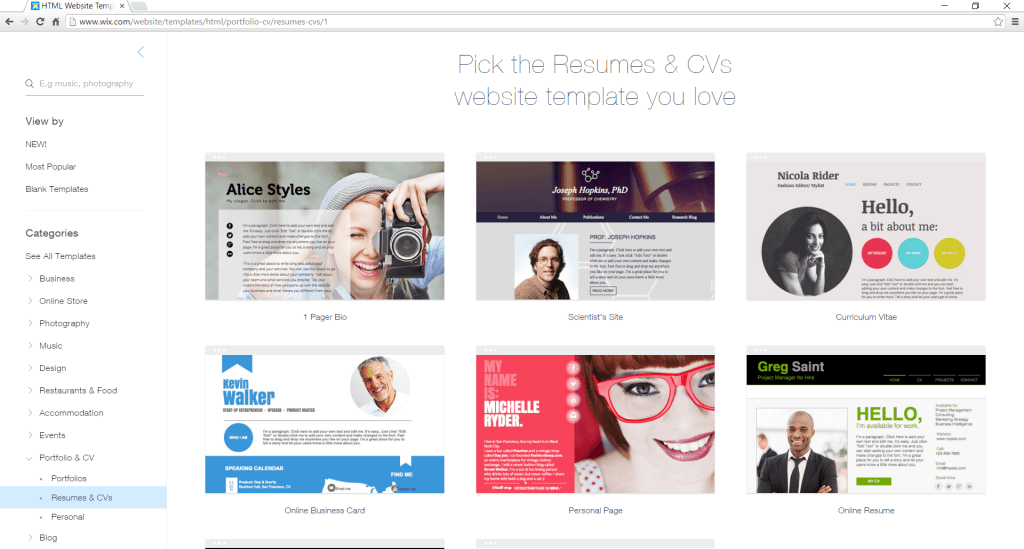 If you followed along and chose "Resumes & CV," you should be taken to the right spot for the template we'll be working with. If not, click "Portfolio & CV" in the menu on the left, and choose "Resumes & CV."
On the bottom right, you'll see a black & white design with green highlights. This template includes everything a paralegal resume site needs, and nothing extra out of the box.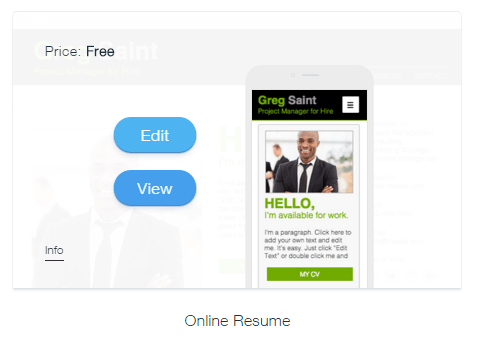 Just mouseover the image and click "Edit." This will take you to the layout and the main editing screen where you'll customize your site.
4. Create Your Site
Personalize Your Design
Editing the site will be the most time-consuming. Try to keep it simple by working with the existing design to keep it looking good while getting all of your relevant information in place. This is the best time to remember to keep it simple and not overwhelm yourself. You're nearly there!
1. First, notice at the top left, next to the WIX logo, it says "Pages: HOME". This indicates which page you're currently working on, and clicking it will give you a dropdown list if each page on the site.
2. Starting with the HOME page, you can click on any element and click the edit/change button that pops up. For example, you can change the image of the man on the page to your own by selecting the image, clicking "Change Image," and uploading your own image in the popup.
You can even add pictures directly from Facebook, Instagram, Google, Flickr, and Picasa from the "Social Images" tab.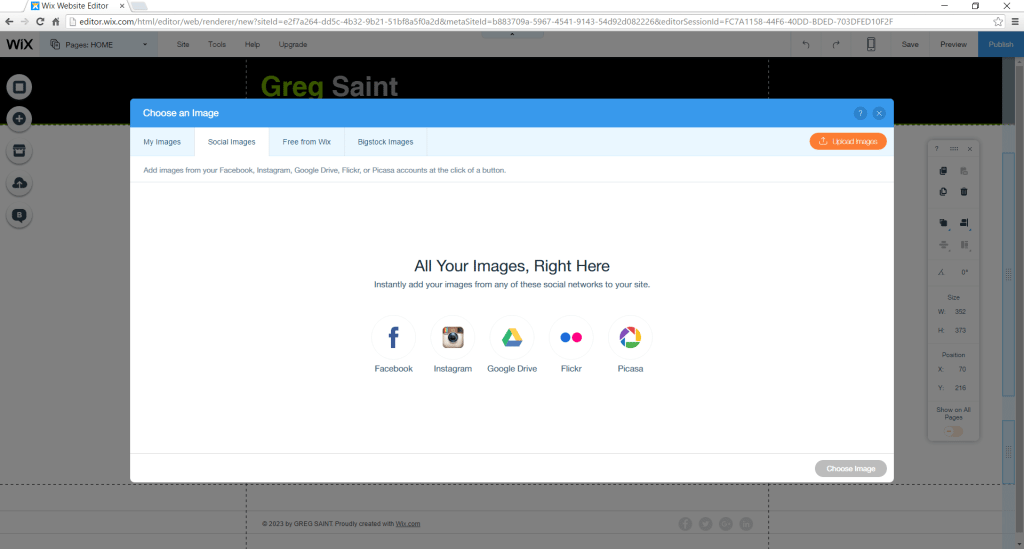 3. Don't forget to add your social media links if you want them displayed. On the right-hand column of the HOME page, click the gray social media circles, and choose "Set Social Links." If you'd rather get rid of them, select them and press the Delete key on your keyboard, then do the same for the title "Social Links."
4. When you've edited the HOME and CV pages, change over to the PROJECTS page. Here, you'll describe whatever relevant projects or casework you've been a part of. You'll want to change the icons on the left by clicking and choosing "Change Picture," and selecting a photo or uploading your own icon or photo to replace it.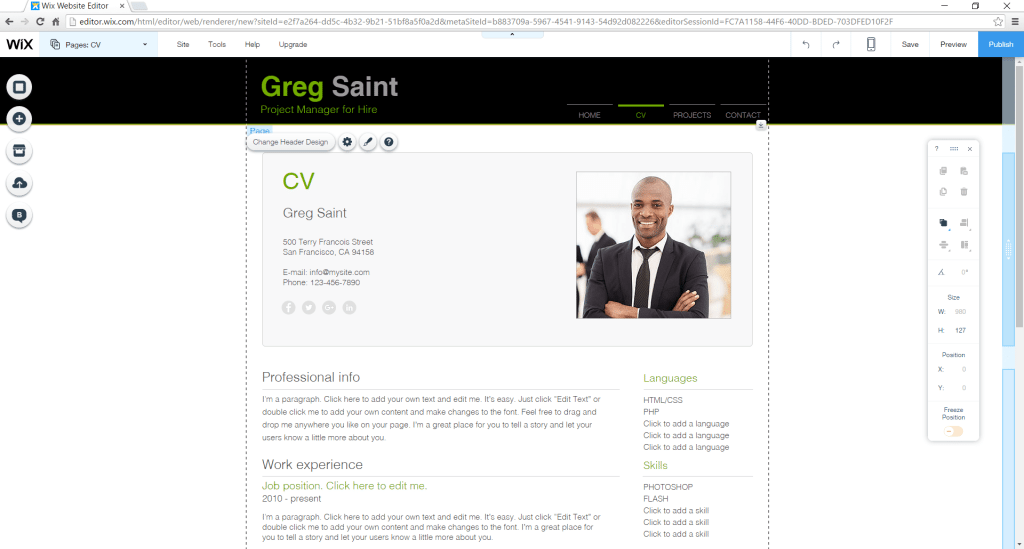 After replacing the icon, you'll want to make sure the new image or icon is selected and click the chain link icon to link to any files you have for the project (PDFs, documents, images), which you'll need to upload.
5. For sharing and usability, you'll want to make sure the mobile version of your site is up and running properly. Click the phone icon at the top to view the mobile version and make any changes you need to there, too. You'll be able to edit the same properties as on the main page. These changes will only affect the mobile version of your site, so it's easy to read and interact with on a smartphone. This is an important step, since many – if not most – of your contacts in the paralegal world will be viewing and sharing your site via their smartphones.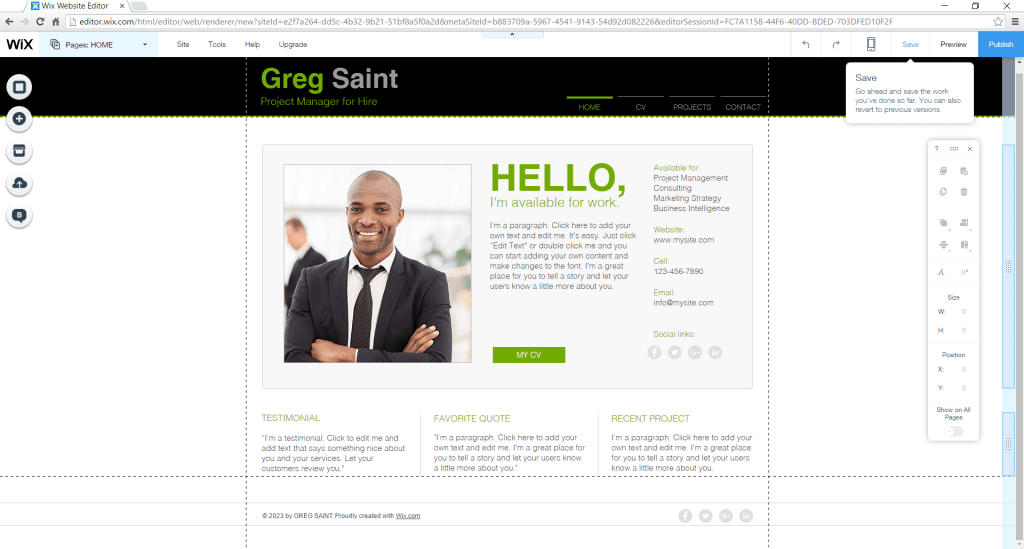 6. Finally, up in the top right corner of the page, you'll click "Save" when you're done. In fact, it's a good idea to save after any major change to avoid losing a bunch of work if something goes wrong. The first time you save, Wix will ask if you want a wix.com address or a custom domain. Now is your chance to purchase a custom domain (example.com) and link it to your site. You don't have to do this now, so you can choose the Wix option for the moment.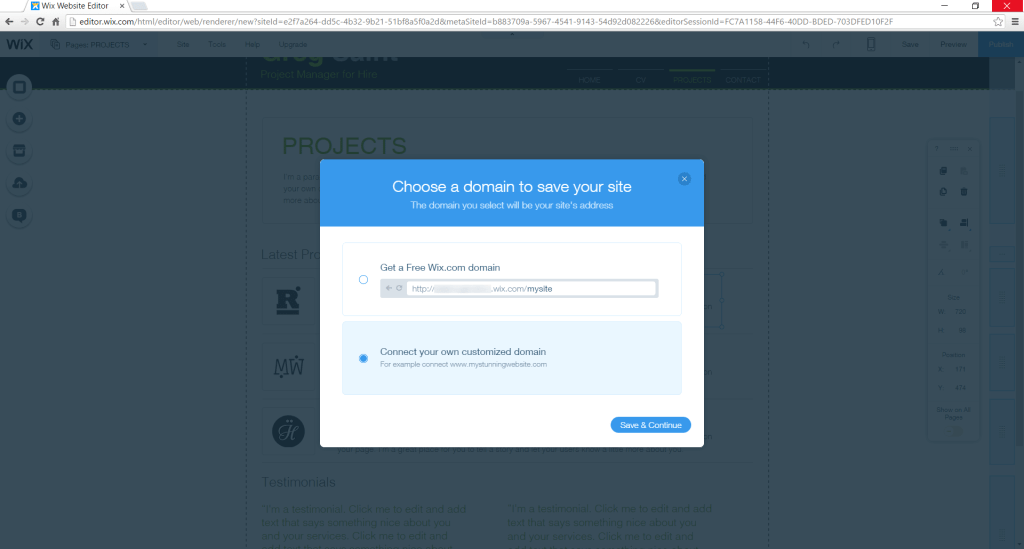 You can preview how your site looks by clicking the "Preview" button.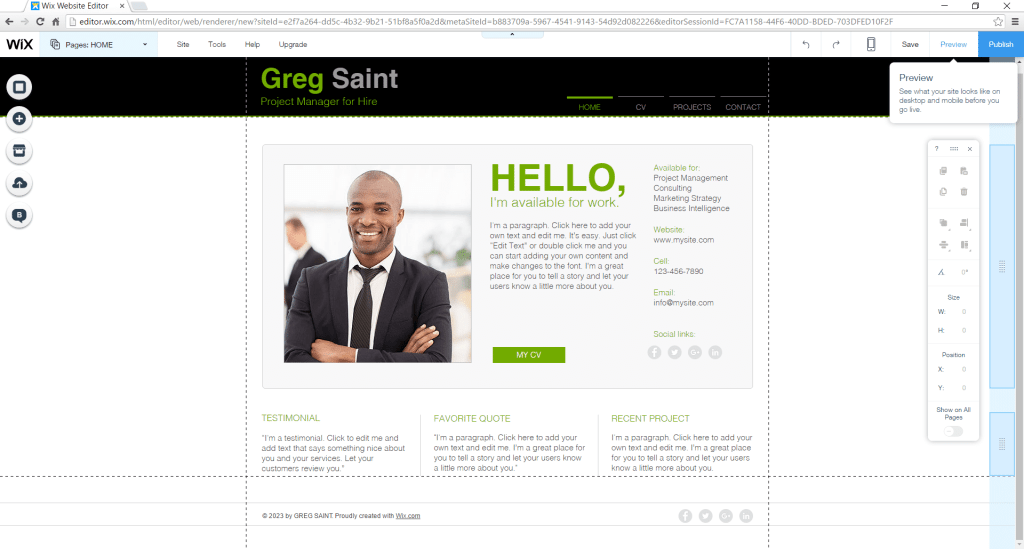 Publish
1. When you're happy with your design, click "Publish" at the top right of the design page.This will set your new site to be viewable by anyone at the address assigned by Wix and, if you chose to set one up, the domain you provided. Once published, you can share your site with professional paralegal groups, networking contacts, law firms, and other potential employers!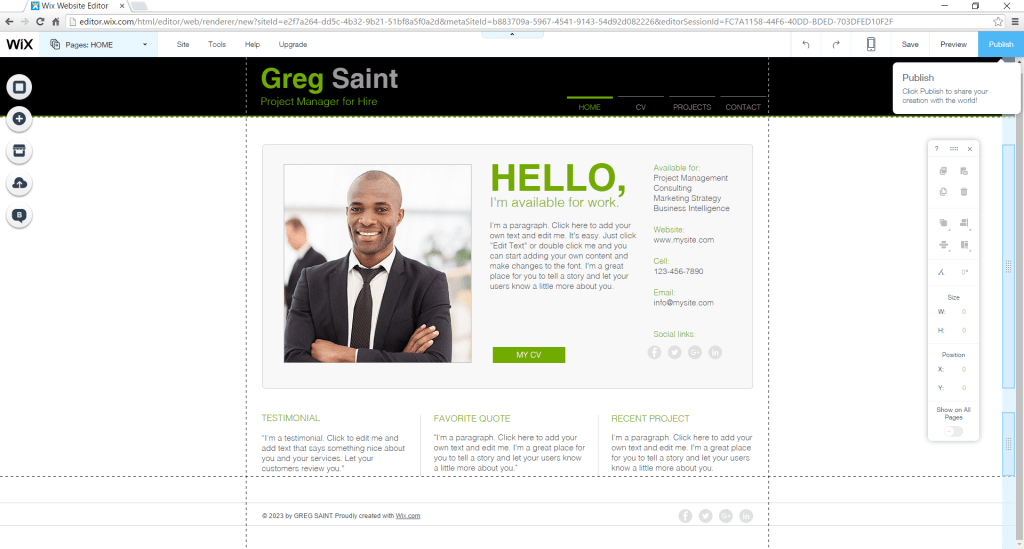 2. If you haven't set up a personal domain but would like to, Wix will prompt you again after you click Publish. Beyond that, you can click Upgrade at the top of the editor, or the purple Upgrade button next to your site in the Wix dashboard.
E. Share Your Site
Once your site is designed and you've decided to connect a domain (or not!), it's time to start putting your hard work to good use and share your new resume site! Remember, this is a tool, similar to a resume and cover letter, used to reach out and secure an in-person interview with a law firm or any other company that could use your paralegal expertise. It won't land you a job on its own, but it will help you stand out from the competition in the paralegal space and make it easier to share your info within your network. The more effectively you share your resume page, the more effectively your name will spread and get you the contacts you need to take the next step in your career as a paralegal.
Let's go through some of the various options:
1. Personal Network
Let your friends, family, former colleagues, and other contacts know that you're in the job market by sharing your site with them. It's always appropriate to ask for feedback, and this is a good way to share your page without being too forward. Get their honest opinions, then follow up and ask if they know anyone who could utilize your services as a paralegal. Ask the people in your network to share it with anyone they think would be an appropriate fit for your skills.
2. LinkedIn
LinkedIn is a great place to share your site. Though it already has some similar features, your LinkedIn network may have contacts that you don't – either on LinkedIn or off site. Link your page in your profile, and post about it to raise awareness, both that you're in the market and that your site exists.
3. Other Social Media
Of course, you can also show off your personal resume site via Facebook and Twitter. You'd be surprised who in your network has contacts with legal firms and other corporate entities that might be able to put you to work, even as a contractor.
Again, requesting feedback from your network is a good way to feel out potential issues with your customization while starting a conversation about your job search and requesting assistance from those around you, which may prime them to help you expand your search.
4. Craigslist & Online Job Boards
Online job applications is where the work you've put in will really shine. Having a personal resume page makes replying to paralegal job listings on Craigslist and other job boards. It gives you a leg up by presenting your information as a quick link, easily clickable, and a catchy design that doesn't require downloading any files. HR can share it with a hiring manager just as easily.
As a final note, don't forget to keep your information up to date, and update any stationery you have – business cards, etc. – with your new website.
All in all, we think that a resume site is a great way for a paralegal candidate to stand out from the crowd, put their best foot forward, and display the organizational skills, communication skills, and proactive personality that is needed in the law field.
Related:
Back to Can You Believe it's Legal?
Top 12 Paralegal Degree Specializations
Top 25 Best Value Online Paralegal Certificates
Top Online Bachelor's in Paralegal Degree Programs
Top 25 Best Online Master's in Legal Studies
School Finder