Do you find yourself leaning towards a career as a paralegal in Iowa? The first step is to reach your career objective is to understand the Iowa paralegal requirements that dictate = how to become a paralegal in Iowa?
Officially known as the Hawkeye State, Iowa entered the Union as the 29th state in 1846. The state of Iowa has borders with six states and three rivers – the Mississippi River, the Missouri River, & the Big Sioux River. Iowa's capital and its largest city and the metro area within state boundaries are Des Moines. Note that several counties in SW Iowa are included for statistical purposes within the greater metro Omaha area.
Featured Programs
Iowa's population in 2020 was nearly 3.2 million, an increase of 3.6% from the 2010 census. Its largest cities are as follows –
Des Moines, with a population of 214,133 residents
Cedar Rapids with a population of 127,710 residents.
Davenport with a population of 101 724 residents.
Sioux City with a population of 85,797 residents.
Iowa City with a population of 74,828 residents.
Paralegals serve an important & integral role in the diverse sectors of Iowa's economy –
Food and Non-food Manufacturing – the state's largest sector with companies like John Deere and Pella Corporation headquartered in Iowa.
Technology – with companies like Century Link, ESO, Granular, and Broker Tech, among others.
Finance & Insurance – a robust hub with more than 6,000 firms and nearly 80 insurance companies with headquarters in the state, including AEGON, Voya Financial, and Met Life, among others.
Government Services
Agriculture – with Corteva Agriculture, a division of DowDuPont.
Renewal Energy – in the western and northern sections of the state.
How to Become a Paralegal in Iowa
State legislators in Iowa have not established state-level paralegal requirements in Iowa. As a result, Iowa does not grant licenses or certify paralegal professionals. But note, paralegals who wish to work in Iowa must meet these guidelines to work legally –
School Finder
A paralegal must be at least 18 years old.
A paralegal must be authorized to work in the US legally.
Aspiring paralegals in Iowa have several paths to follow to become professional paralegals in Iowa. However, students are highly encouraged to complete one of the quality, structured campus-based or online paralegal programs in Iowa.
It is important that potential paralegals understand most employers tend to prefer a job candidate with a minimum of an associate degree or some other type of structured training or professional experience.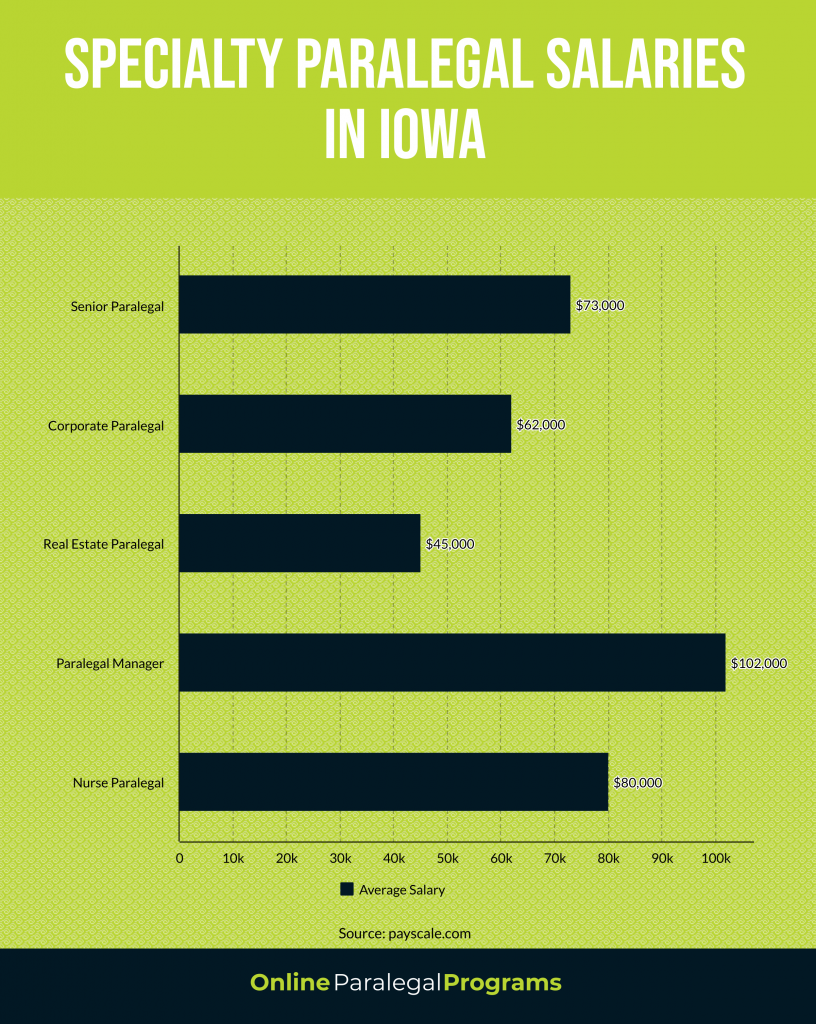 What are Iowa's Paralegal Education Options?
The legal sector and its subspecialty–paralegal work has recently been actively looking to reduce expenses and improve efficiencies. This recent development has created an overall increase in the demand for paralegal professionals. And while not required, many employers prefer job applicants who have earned a degree from one of the ABA-approved paralegal programs in Iowa.
Paralegals are required to work closely & under the supervision of a licensed attorney. A paralegal studies degree that has been earned from one of the on-campus or online paralegal programs in Iowa prepares students with the proper training in these legal areas, among others –
Litigation Matters.
Hearings.
Real Estate.
Family Matters.
Corporate meetings, to name a few.
As noted previously, Iowa has no state-level paralegal training requirements; however, those who complete one of the ABA-approved paralegal programs in Iowa will find the education and networking opportunities –may be the ticket to open the doors to future opportunities.
Aspiring paralegals who have already completed a bachelor's degree in an unrelated field may be able to enter the profession after completing one of the more focused or certificate online paralegal programs in Iowa. A bachelor's degree includes a comprehensive general education requirement, whereas a paralegal certificate program offers specialized training without general education mandates.
Paralegal professionals, by completing one of the campus-based or online paralegal programs in Iowa, may decide to specialize in one of these areas of law –
Corporate Law
Personal Injury Law
Real Estate
Immigration
Family Law
Criminal Law
Employee Labor Law
Litigation
Intellectual Property Law
Bankruptcy, among others.
Certificate Paralegal Programs
Choosing to enroll in a certificate program in paralegal studies is a great way to demonstrate your knowledge, skills, and commitment to the legal support industry to future employers.
The number of credits required to complete the paralegal certificate program will likely vary by the program offered. Most programs are completed in several months and include coursework in these related subjects –
Legal Research
Legal Procedure
Substantive Law
Ethics, Among Others.
Associate Degree in Paralegal Studies Programs
An associate degree in paralegal studies is available in a variety of campus-based and online paralegal programs in Iowa.
Most ABA-approved paralegal programs in Iowa require students to complete 60 to 65 credit units. Most students complete the associate degree in 1 to 2 years. Graduation from this degree opens the door to entry-level paralegal jobs in Iowa.
Bachelor's Degree in Paralegal Studies Programs
A paralegal baccalaureate degree offers students a more well-rounded education as it includes general education and specialized coursework in paralegal studies. The good news is that various campus-based and online paralegal programs in Iowa allow students to complete the degree on their schedule, often with specialized classes. A bachelor's paralegal degree program includes courses designed to develop the student's aptitude and skill. Sample classes include –
Legal Proceedings and Hearings
Criminal Processes
Problem Solving
Analytical Thinking
Case Study Analysis
Research Methods
Document Preparation
Note – graduates of a baccalaureate degree program in paralegal studies will be eligible (and prepared!) to sit for a national certification credential.
What Type of Paralegal Certification & License's are There in Iowa?
Accreditation is the formal process that typically involves a school or program being evaluated by a neutral organization sanctioned to perform this analysis. Iowa paralegal certification programs are available at the national level.
Because there is no paralegal certification specific to Iowa, a paralegal would have no reason to seek an Iowa paralegal license to work in the state.
However, the decision to obtain paralegal certification in Iowa on the national level is a smart way for a paralegal to gain further skills and knowledge in the specialization or area of interest. There are available programs for paralegal certification Iowa online and on-campus
National Options for Paralegal Certification in Iowa
Paralegals working in Iowa will find these are the national certifications available –
The PACE Credential or the Paralegal Advanced Competency Credential – this requires candidates to have completed specific work experience plus minimum education requirements. In addition, applicants for the PACE credential must also comply with this criterion –

No previous felony convictions
Have had a certificate, registration, or license suspended, revoked, or terminated by any jurisdiction in the nation. Those who successfully pass the PACE exam may use the RP credential in their professional work.

The PCC Credential or the Paralegal Core Competency Credential – The PCCC provides paralegal professionals an alternate path to demonstrate their legal knowledge and paralegal skills for potential employers when first starting.
The CLP/PLS Credential – The Certified Legal Professional – this credential is available for paralegal certification in Iowa. The CLP/PLS credential is administered in four parts and requires test-takers to demonstrate working legal knowledge and paralegal skills. The Certified Legal Professional credential renews after five years. CLP professionals must also finish at least 75 hours of continuing legal education that has been approved by NALS.
The Certified Paralegal Credential (The CP Credential) is recognized globally as well as a popular Iowa paralegal certification program. The CP Credential offers paralegals a viable pathway that demonstrates their relevant knowledge and skills – by passing rigorous exam questions. helps paralegal professionals demonstrate their expertise through the passage of a set of thorough exam questions. –The Certified Paralegal credential is renewable each five-year period. Renewing paralegals must finish a minimum of 50 hours of NALA-approved legal continuing education.
The Advanced Certified Paralegal (The ACP Credential)– offers experienced paralegal professionals the opportunity to further their education and specialize in a legal area. This Advanced Certified Paralegal credential is renewable every five years. ACP Credential holders must complete at least 70 hours of continuing education that has been approved by NALA.
What Are The Iowa Paralegal & Related Organizations?
The Iowa Paralegal Association – the IPA, was founded in the late 1980s by the merger of two local organizations. The Iowa Paralegal Association is affiliated with NALA. The IPA's mission is to maintain the highest of ethical and professional standards.
Iowa State Bar
The Iowa State Bar Association
Iowa Government Links
Iowa Paralegal Salary & Job Market
Paralegal professionals are integral team members of a legal department or organization. Paralegals have the qualifications and education to assist an attorney in various supportive functions – but are mandated to be directly supervised by a licensed Iowa attorney. In fact, the licensed lawyer is directly responsible for the actions of the paralegal under their supervision.
As of May 2020, the BLS's Occupational Outlook Handbook notes that the median annual wage for legal assistants and paralegals in the United States was $52,920, which equates to $25.44/hour. In addition, at this time, there were about 345,000 paralegals and legal assistants gainfully employed in the nation.
The job market growth for legal assistants and paralegals is expected to be an impressive 12% over ten years. This is equal to a paralegal growth rate in the job market that is 2.5 times faster than the combined average of all US occupations.
On a more detailed level, the range of percentile salaries for those paralegal professionals working in the United States in 2020, for 2020 are as follows –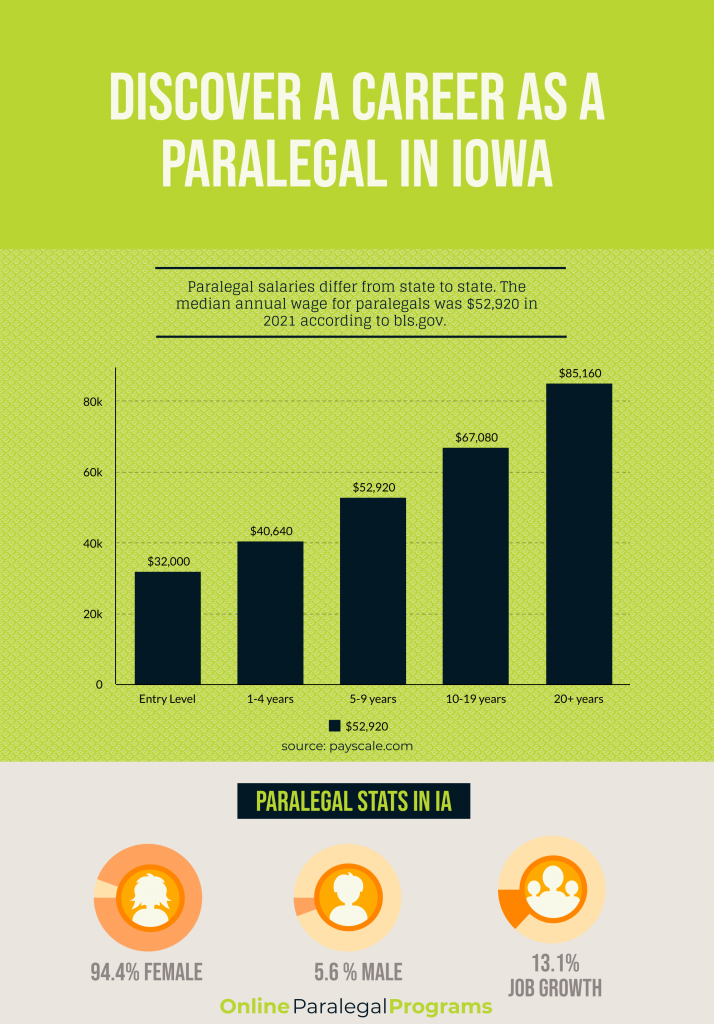 Iowa Paralegal Salary & Data Information
In 2020, there are more than 2,000 paralegal jobs in Iowa that provide professionals in the State a variety of paralegal jobs in paralegal in Iowa with a combined median yearly wage of $50,520, which is equivalent to $22.98 per hour.
This makes the median Iowa paralegal salary slightly below the paralegal median salary for the entire country.
Although, the salary provided by these Iowa paralegal jobs is attractive when one considers the cost of living in Iowa is lower than the rest of the nation.
Paralegal Jobs in Iowa – Based on City with the Highest Wage Listed First
| | | |
| --- | --- | --- |
| Salary % | Paralegal Annual Wage | # Employed |
| Des Moines | $ 56,470 per year | 940 |
| Dubuque | $ 51,530 per year | 40 |
| Davenport/Moline | $ 49,650 per year | 170 |
| Cedar Rapids, IA | $ 48,290 per year | 360 |
| Iowa City | $ 47,020 per year | 70 |
| | | |
Even the cost of living in Iowa's major cities fall below the national average.
What Is The Paralegal Job Market Like in Iowa?
Although paralegals working in Iowa are not required by law to complete formal training or become licensed to work in the state. And, as noted above, training or an education program in paralegal studies offers excellent benefits for those who wish to reach for the top of the paralegal field – primarily because the extensive coursework offers job candidates a competitive edge.
Of the many possible career options available in the marketplace, a paralegal career offers one of the fastest routes to a new career. In addition, paralegal responsibilities will vary and be contingent upon the paralegal's position and the company for which they work, but typically engaging, exciting, and quite diverse even on a daily basis.
The demand for paralegal services will likely continue in its current upward direction as legal firms and state/federal government agencies search for a way to trim the fat from their budgets by reducing extra expenses. This is because a paralegal's responsibilities fit neatly into the legal industry's short-term goals.
It is a great time for a career as a paralegal – ready to begin?
Related:
Top 25 Scholarships for Legal & Law Students
Ultimate Guide to State Paralegal Associations
School Finder