Order in the Court: The Evolution of TV Lawyers
The Good, the Bad and the Comical
"First thing we do, we kill all the lawyers" — in "Henry VI" by William Shakespeare
The Good
Featured Programs

1951: The Amazing Mr. Malone (1951-52) lasted one season (13 episodes)
First TV show with a lawyer as lead character.
Led to:
1957-19656: Perry Mason
267-3: Number of cases lost in 270 episodes
75: Number of episodes adapted from Perry Mason books by Erle Stanley Gardner
Guest shot: Gardner appeared as a judge in the last TV episode
School Finder
Trivia: During one period of illness, Oscar-winning actress Bette Davis substituted for star Raymond Burr as the featured defense attorney.
Perry Mason's success led to:
1961-1965: The Defenders
1967-1969: Judd for the Defense
1971-1974: Owen Marshall, Attorney at Law
Trivia: Owen Marshall's sidekick was a very young Lee Majors, the Six Million Dollar Man
1986-1995: Matlock
Trivia: It took until season three to reveal his full name: Benjamin Leighton Matlock
And lower on the family tree came:
1986-1994: L.A. Law an ensemble cast
1. First ensemble Law firm cast
2. Personal lives revealed
3. Procedurals trumped by Personality quirks and sex
Trivia: Norman Chaney, a firm name partner, is found dead of a heart attack in the very first episode and is never actually seen on camera.
At this point, L.A. Law inspired two types of shows… you can branch off in two ways. The ensemble procedural and the quirky
Procedural law shows:
1990-2010: Law and Order
Led to Law and Order SVU, Law and Order Criminal Intent
Original show ran 20 years
Sam Waterston voted one of the best lawyers on TV. Ever.
Trivia: S. Epatha Merkerson (Lt. Anita Van Buren) was the show's longest-running cast member, appearing in 368 episodes—three more seasons and 23 more episodes than Sam Waterston (Jack McCoy).
1995-1997: Murder One
Two seasons, two murder cases. Show is dismissed.
1995-2005: JAG
Introducing heartthrobs David Elliot and Catherine Bell
And personality driven, quirky shows:
1997-2004: The Practice
1997-2002: Ally McBeal
Bridget Fonda was to get the lead role. Instead, it went to Calista Flockhart
Famous for the dancing baby fantasy
Show was more about sex than the law
The Practice spinoff:
2004-2008: Boston Legal
Denny Crane (William Shatner) claims to have won 6,043 cases. Lost none.
And eventually led to:
2009-? :The Good Wife
Inspired by Eliot Spitzer sex scandal
Over five seasons, always ranked in top 30 of all TV shows
Elisabeth Shue, known for her performances in Leaving Las Vegas and Adventures in Babysitting, turned down the lead role of Alicia
Julianna Margulies, who took the role, has won 2 Emmys
2011- ? Suits:
Provocative, funny, dramatic. Probably the most popular lawyer show currently on TV (cable).
Parallel to Ally McBeal are the BAD LAWYER shows (conniving, criminal sometimes)
2007-2012: Damages
Powerful and scheming, Patty Hewes is a cut-throat litigator
2008-2013: Breaking Bad
Lawyer Saul Goodman defends Meth dealers
The Wire
Maurice Levy is corrupt and unscrupulous, defending the indefensible
And the funny lawyer shows:
The Comical
1984-1992: Night Court
John Larroquette is the weary attorney.
1989-1998: Seinfeld
Fast talking Jackie Chiles black lawyer
Did you know:
1964-1966: The Adams Family
Did you know Gomez Adams was a lawyer?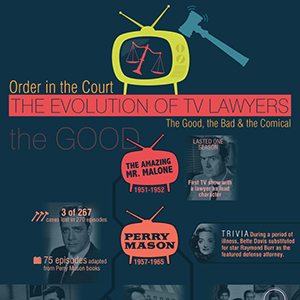 Sources:
http://www.ranker.com/list/greatest-tv-lawyers/ranker-tv
http://www.newrepublic.com/article/113993/tv-lawyers-good-bad-and-revolutionary
http://www.americanbar.org/content/dam/aba/administrative/litigation/materials/2014_aba_annual/written-materials/25_greatest_legal_tv_shows.authcheckdam.pdfn
School Finder