Paralegals, or Legal Assistants, are integral to the legal system. They research, write, prepare and edit documents, investigate, prepare evidential exhibits, and much more. They often are responsible for the majority of a firm or organization's legal duties, which are supervised and affirmed by licensed attorneys. While Law School generally requires three years of study in addition to an undergraduate degree, students can earn a certificate endorsed by the American Bar Association in as little as a few months or a semester for students who have earned an undergraduate degree.
There are approximately 285,600 paralegal positions in the current economy, according to the Bureau of Labor Statistics. Between 2016-26, BLS predicts there will be a 15% job expansion in this field, and it will add approximately 41,800 jobs. In a fragile, unpredictable economy, earning a degree or certificate in paralegal studies is a way to earn an instantly marketable designation in a short amount of time, which is invaluable. It also allows students a good deal of flexibility to continue their education or careers in many different directions.
Featured Programs
This list was compiled using a variety of criteria including ABA approval, the various school's architectural achievements and facilities, modern technology and infrastructure, world class faculty and opportunities for experience, recognition by publications like US News & World Report that rank colleges, flexibility and program options, awards received, student support services, job placement after graduation, financial aid offered and speed of the programs themselves.
1. Georgetown University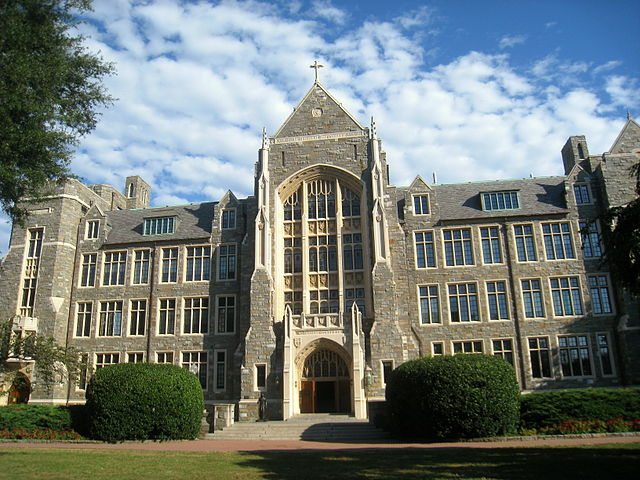 Georgetown is a private research university based out of Washington, D.C. It was founded in 1789, and is affiliated with Roman Catholicism. Founded as Georgetown College, the school has grown to now offer students access to nine undergraduate and graduate schools. Georgetown is known for its stellar faculty, including former Secretary of State Madeleine Albright, former U.S. Ambassador to the United Nations Jeane Kirkpatrick, U.S. Agency for International Development administrator Andrew Natsios, National Security Advisor Anthony Lake, and CIA director George Tenet. Georgetown has four majestic campuses in D.C., and its undergraduate campus overlooks the Potomac River. It serves over 18,500 students, with an improbably low student to faculty ratio at 11:1. 53% of students receive financial aid. Georgetown's standout architectural achievement is Healy Hall, a creation by Paul J. Pelz in Neo-Medieval style, which is absolutely gorgeous and has been designated National Historic Landmark. Georgetown has been ranked 20th in the nation by USNR for 2017, and is a highly selective school (it was ranked "most selective" by USNR in 2015. Georgetown is an excellent place to continue your legal education (ranked at 15 in the nation by USNR), and its Paralegal Studies Certificate is a great place to get started.
School Finder
The School of Continuing Studies at Georgetown University offers students access to a Paralegal Studies Certificate. It's the only program of its kind approved by the American Bar Association in Washington DC. The program comes in two options, and students may work towards the Certificate through the Evening Certificate Program, which is delivered part-time and takes a year to complete, or the Summer Intensive Certificate Program, which takes 14 weeks of full time study, a significant part of its inclusion on the list. Georgetown is also known for its expert, world-renowned legal faculty, many of whom work in federal legal offices. Certificate students also pick an area of emphasis in this program, either, General Legal Track or the Litigation Technology/ Legal Project Management Track. Part of completing this program includes a four-week internship in a D.C. law firm. Applicants need an accredited Bachelor's degree to enter this program.
2. Villanova University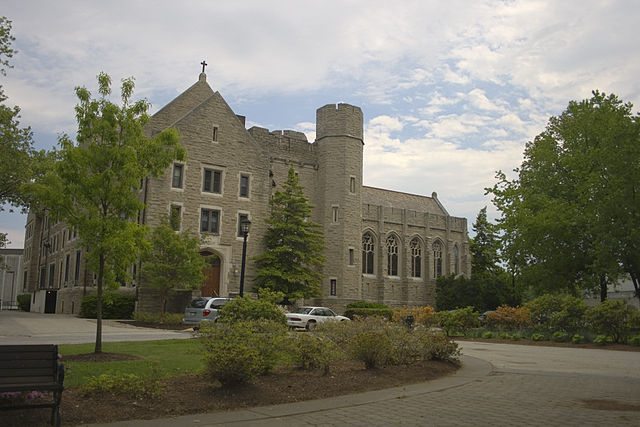 Image courtesy of abbike18
Villanova is a privately owned research university headquartered in Radnor Township, Pennsylvania. VU was founded by the Order of Saint Augustine in 1842, and is a member of the Augustinian Secondary Education Association to this day. In 2017, USNR ranked Villanova 50th among the best National Universities in the U.S. This year, it's gone up, and is now tied for 46th in that category for 2018. USNR's love affair with Villanova goes back, and it was ranked first for a decade in the Best Masters Universities-category, Northern Region. USNR also called Villanova the second "Best Value School" and 4th in "Best Undergraduate Teaching" in the Best Masters Universities-category, Northern Region, in 2016. VU serves over 10,800 students, and has a very intimate 12:1 student-to-faculty ratio. 65% of students receive financial aid. Its standout architectural achievement is the gothic revivalist St. Thomas of Villanova Chapel, known for its striking size and twin spires.
Villanova offers a Paralegal Certificate Program. It requires 15 courses to complete, and comes in two delivery formats. Students may either choose to take classes part time (ideal for working professionals, or those that have significant existing time commitments) three nights a week from 6-9 pm, and complete the program within 9 months. In the full time delivery program, students complete the 280 hour program in an accelerated 4 month schedule. This was instrumental to its inclusion on the list. Students will attend this version of the program for five days a week, taking two classes per day. This program is intended to give students significant theoretical knowledge and practical skills to help expand and achieve their professional goals. It has been approved by the ABA. Students will learn the ins and outs of working with clients, legal research, and effectively completing casework and documentation.
4. Illinois State University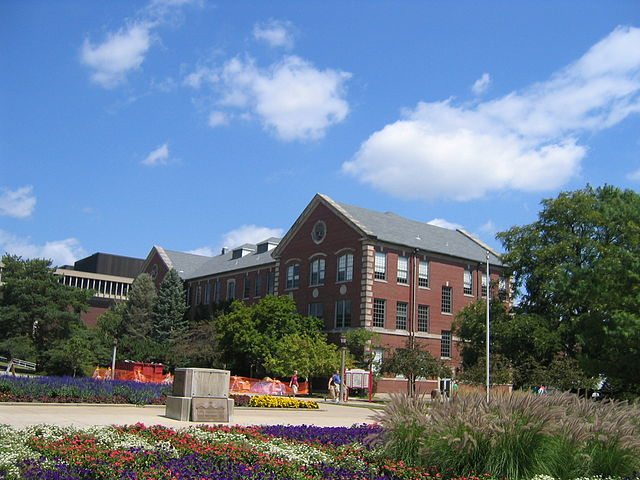 Image courtesy of Grahamalonian.
ISU is the oldest public university in the state, founded in 1857. It began as a training school for teachers. Abraham Lincoln was hired by the Board of Education to write the legal documents needed to initially fund the school. Today it conveys degrees through colleges of Applied Science and Technology, Arts and Sciences, Business, Education, Fine Arts and the Mennonite College of Nursing. ISU's campus is defined by Watterson Towers, which is one of the tallest student residency buildings in the world. Watterson offers students access to the highest vantage point between Chicago and St. Louis. Just over 21,000 students attend ISU, which has a 18:1 student-to-faculty ratio. 82% of students receive financial aid.
ISU's ABA-approved Legal Studies program has been running since 1975. Applications are accepted year-round. ISU offers this program in several formats, including as a baccalaureate major and minor, interdisciplinary legal studies major (in which students can build an individualized study plan, plus two certificates in Legal Studies, one for those who already hold a bachelor degree, and another certificate for those who don't. This flexibility is a big part of its inclusion on the list. Much of the curriculum is the same, with standout electives including Probate Law, Criminal Litigation, Domestic Relations & Family Law, and Employment Law, among others. These different degrees can be completed in a wide range of time, from 24-123 credit hours depending on the program. Students will build critical thinking, writing, research and communication skills while developing practical abilities in interviewing, ethics, law office management, and much more. ISU is noted for being an extremely affordable option for students, especially those who live in-state.
5. University of San Diego
Image courtesy of Ckbee.
USD is a private, Catholic university that operates from the city of its namesake. The university confers baccalaureate master's, PhD, and more degrees through seven colleges. Just over 8,500 students attend the school, which has a 14:1 student-to-faculty ratio. 81% of students receive financial aid. It was chartered in 1949 and began in 1952 as a women's school. Two years later USD opened its college for men, and its Law School. It has been cited for excellence by Forbes, PayScale, USNR, Princeton Review, and Bloomberg Businessweek. Its campus overlooks Mission Bay and the city of San Diego. Its buildings were designed in 16th century Spanish Renaissance style, and its founders believed that physical beauty can enhance students' educational experiences. The Princeton Review has ranked USD 2nd for Best Campus Environment and 39th for Most Beautiful Campus, joining Travel & Leisure and Newsweek in commending the campus' beauty.
The USD Paralegal Program began in 1975 and earned ABA-approval two years later, the first in the city to do so. In order to qualify, students must have already earned a bachelor's degree. The program comes in multiple formats. Students can complete 24 units of work in a Day program, completed in four months (one semester), or an extended Day program, over eight months (two semesters). For students who can't commit quite as much time, USD offers an Evening program, which can be completed in a year, or three semesters. Some students may be admitted to the Evening program who don't have a bachelor's degree, depending on their college credits or business/legal experience. This flexibility is part of why USD made this list. This program requires an internship for students in the Day program and offers students employment assistance and a full-service law library. Classes required include Introduction to Law, Legal Research and Writing, Computers in the Legal Field, and Civil Litigation, among others.
6. Hofstra University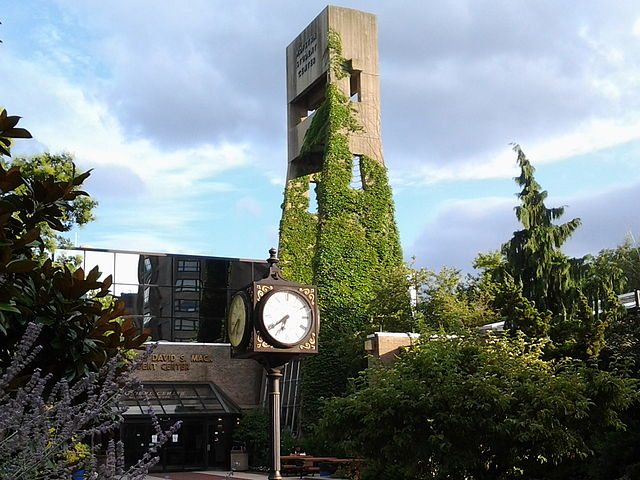 Image courtesy of Paul Berendsen.
Hofstra is a private, non-profit, university operating out of of Hempstead, Long Island. It started in 1935 as part of the NYU system, then achieved independence in 1939. In 1963, it graduated from its status as a college, becoming a university. It has been the site of presidential debates in 2008, 2012, and 2016. An architectural gem of the school is its Arboretum and Bird Sanctuary which features an enthralling collection of trees, birds, and fauna, including wonderful tulips in Spring. It's also in NY, a hotbed of legal work. Hofstra was ranked #132 among national universities in the 2018 USNR rankings. USNR has also ranked it highly on its "best value schools list." These rankings were part of Hofstra's inclusion on this list. Over 11,100 students attend the school, which has a 14:1 student-to-faculty ratio.
Hofstra's ABA-approved Paralegal Studies program only requires 10 completed courses and 206 hours to complete. Topics covered include research, civil litigation, real estate, contracts, business organizations, bankruptcy, family law, criminal procedures, estate planning, law office management, and legal writing. Students are given extreme flexibility to schedule classes based on their responsibilities. Students may take daytime or evening classes and will complete the program in about eight months. Prospective students need to have earned 60 college credits from an accredited college and write a 200-word statement on their professional goals. This program emphasizes ethical mandates of the legal profession and prepares students to work in either public or private sectors of the law. Over 85% of all Hofstra Continuing Education students were engaging and helped them in their careers. Almost 80% said their Hofstra classes had an immediate positive impact on their careers.
7. Loyola University Chicago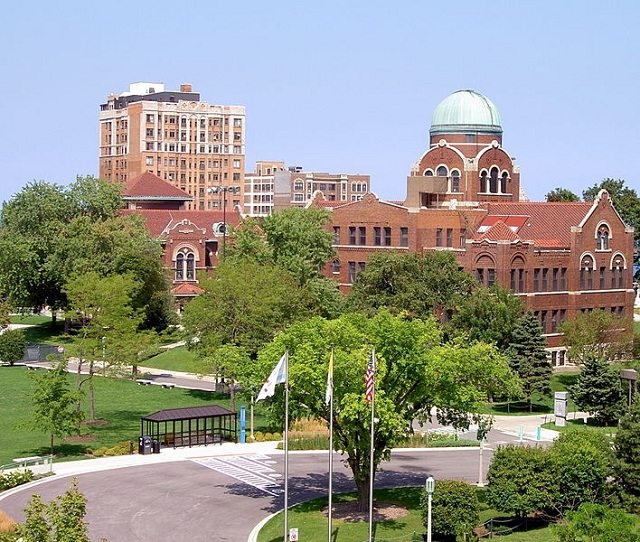 Image courtesy of Amerique.
Loyola University Chicago is a private American Catholic research university. It was founded in 1870 by the Jesuits, and is one of the biggest Catholic universities in the nation. Loyola conveys over 80 undergraduate and 140 graduate or professional programs through eleven colleges and schools. Over 16,400 students attend LUC, and it offers students an improbable 14:1 student-to-faculty ratio. 96% of students receive financial aid. LUC has many notable buildings, but two standouts are the Madonna della Strada Chapel, an Art Deco delight finished in 1939, and the fulcrum of Loyola's religious culture. Another Art Deco building completed 9 years earlier, The Mundelein Center, is 200-feet tall, and hosts LUC's fine and performing arts programs. It has also been designated as a National Historic Landmark. In 2017, LUC was ranked in the top 100 National Universities by USNR. USA Today and Washington Monthly have also cited LUC as a college committed to community service.
LUC offers multiple paralegal programs. Its B.A. option allows students with an associate's degree to continue their legal education to improve their credentials to enhance their career options. This ABA-approved program requires 120-credits, but allows up to 60 transfer credits. Students who attend the Water Tower Campus have the option to complete an eight-week internship in their last semester over eight weeks to build professional skills and earn credit, a unique feature that helped Loyola make this list. If students have already received a bachelor's degree, they have four certificate options to choose from. These include the Litigation Practice Certificate for those looking to work in state or federal civil litigation and help prepare lawsuits. The Corporate Practice Certificate prepares students to work with law firms or corporate law departments. The Litigation and Corporate Practice Certificate blends those two in only 28-semester credits. Finally, students can work with an adviser to build a Customized Certificate tailored towards their career goals.
8. Clayton State University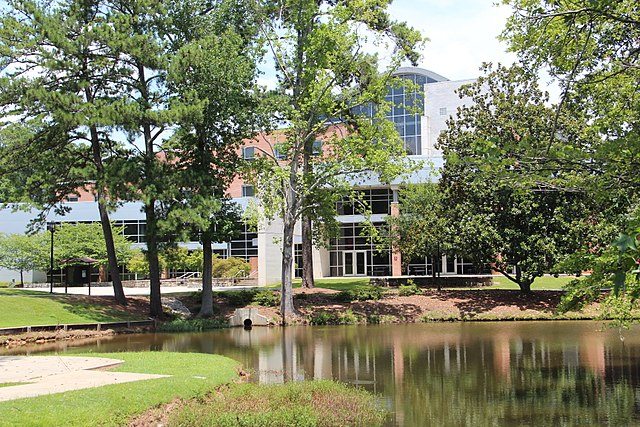 CSU is a public university in Morrow, Georgia, founded in 1969. It serves almost 7,000 students and a 19:1 student-to-faculty ratio. 96% of students receive financial aid. A highlight of the school's campus is Spivey Hall, which has been hosting musical concerts since it opened in 1991. It's become one of the premier venues in the Atlanta metropolitan area, with over 400 performances annually. CSU awards associate, baccalaureate, and master's degrees through colleges of Arts and Sciences, Business, Health, Information, and Mathematical Sciences and Graduate Studies.
CSU's paralegal programs are ABA approved. It offers a B.S. degree in Legal Studies, which offers practical skills, analytical and conceptual thinking, legal research & writing, and much more. This program works best for students looking to enter fields influenced by law and legal regulation or who want to continue on into graduate studies. Another option is the Paralegal Certificate, for students who have a bachelor's degree or a qualifying A.A. or A.S. degree. This option requires 61 hours of study, the fastest certificate CSU offers students. For students who want to take more general education courses, CSU's A.A.S. degree in Paralegal Studies offers the same education as the aforementioned certificate, with more classes. There are also optional internships available through the program. This optimization resulted in part on CSU's ranking. CSU's programs emphasize the ways technology is changing the legal world, and how paralegals can best prepare to deal with evolutions within the field.
9. New York City College of Technology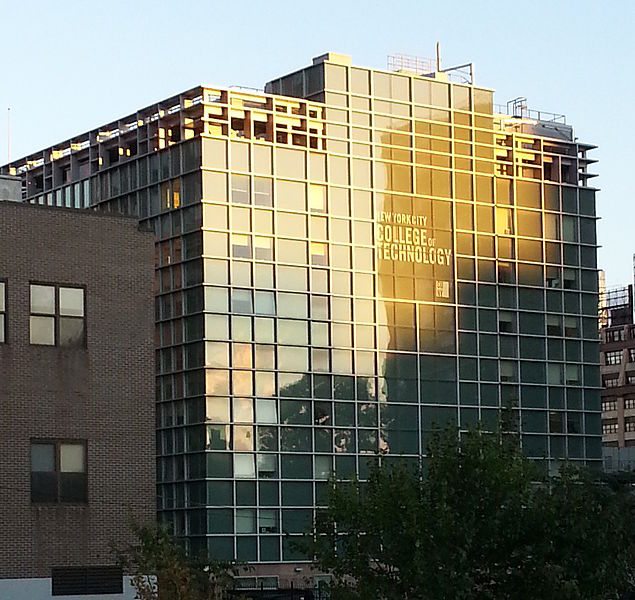 Image courtesy of Rhododendrites.
New York City College of Technology (City Tech) was founded in 1946, and is the City University of New York's (CUNY) college of technology. It was founded in 1946 to offer training to veterans returning from World War II. It serves over 17,200 students, and offers a 17:1 student to faculty ratio. 86% of students receive financial aid. It offers 66 baccalaureate, associate, and specialized certificate programs to students. City Tech conveys its paralegal programs through its school of Professional Studies. The school's campus is in the center of a constantly expanding area of downtown Brooklyn, and it is working on a new, 350,000 square foot academic and wellness center to accompany several extremely modern buildings in the area including the opulent Atrium, Pearl and Voorhees buildings.
City Tech's ABA-approved paralegal studies come in an Associate in Applied Science and Bachelor of Science. They prepare students to assist attorneys in comprehensive legal work, and pairs that education with a foundation in liberal arts through a large range of specialty courses. Graduates of this program work in corporate law, government, and provide legal services for the poor. Some of them have ended up working at the U.S. Attorney General's Office, New York City Law Department, U.S. Department of Labor, New York City Board of Education, Legal Aid, JPMorgan Chase, Cullen & Dykman, Federal Trade Commission, and have ample opportunities to begin their career in a thriving area with higher pay and large demand for qualified legal professionals than many other parts of the country. This is part of City Tech's inclusion on this list. Students will become well versed in applicable software, legal terminology, reading and analyzing legal materials, and much more. The programs also focus on the structures and jurisdiction of the Federal and New York court systems, so is ideal for those looking to begin or continue their careers in NYC.
Related:
Back to Can You Believe it's Legal?
Top 12 Paralegal Degree Specializations
Top 25 Best Value Online Paralegal Certificates
Top Online Bachelor's in Paralegal Degree Programs
Top 25 Best Online Master's in Legal Studies
School Finder