More older people live in the United States than ever before. According to the US Census, there were 3.1 million Americans over 65 in 1900, and 35 million12.4% in that age group in 2000. In 2018, the number of people over 65 grew to 52 million, 16%, of the population.
Along with the country's age, legal priorities are also shifting. Although older Americans have the most wealth, they also have health issues to deal with. At the same time, they need to manage their finances and possessions most carefully, they are beginning to suffer cognitive decline. Dealing with government social programs such as Medicaid and Social Security adds to the complexity of aging in America. To help older citizens adapt and thrive, the area of elder law is also growing. Lawyers specializing in elder law need competent and trained paralegals specializing in this field, making this an excellent time to become an elder law paralegal.
Featured Programs

Elder Law Paralegals Play an Important Role
Elder law is a specialized type of legal practice that deals with age-related issues such as wills and probate, estate planning, creating powers of attorney, guardianship, and advocacy, and the establishment of trusts.
As people age, their physical and mental capabilities decline and create unique circumstances for every individual. Questions sometimes arise regarding the competency of individuals to make their own health care decisions. This makes it important to provide sound legal advice to older citizens and their families.
Elder law paralegals can advocate for the elderly through their work and help families get through difficult transitions regarding health care, housing, and government services. The Older Americans Act legislates funding for support services such as Meals on Wheels. There's also an emphasis on keeping older Americans active and out of nursing homes for as long as possible. An elder law paralegal uses OAA provisions to help attorneys and clients maintain their dignity and well-being.
School Finder
Death, Disability and Elder Law
Elder law paralegal jobs require these professionals to become comfortable discussing death. Unfortunately, too many people avoid discussing what happens after they die, and this complicates matters for their survivors enormously. Paralegals often provide consultations for family members who lose a parent unexpectedly. They have to analyze the estate and help attorneys draft probate instruments and other legal paperwork to advocate for family members.
Paralegals in this field often find themselves going through financial documents and other records attempting to inventory the possessions of the decedent. Deciphering tax returns and bank statements can help determine what assets an older person has left behind.
When dealing with distraught family members, paralegals must develop understanding, patience and sympathy. Often, elder law paralegals service the main contact for clients, so they sometimes have to deal with the brunt of emotional outbursts and lack of clarity by their clients.
Respecting Wishes Is a Primary Objective
By design, wills and testaments pass along wealth according to the wishes of the deceased. Not all family members will agree with the contents of wills and testaments. So, it's up to legal representatives to execute the will despite resistance from any interested parties. Most people don't understand how inheritance laws work.
Elder law paralegal jobs often involve explaining the laws to clients so that clients have a good understanding of what to expect from the probate process and other matters regarding the death of a loved one.
There are several techniques that lawyers and paralegals use to help clarify the wishes of elderly clients. For instance, paralegals often draft trusts to help older Americans proactively give away their assets, with the condition that the survivor cannot take possession until the owner has passed away.
Elderly clients often consult with estate planning attorneys to determine how to pay for their funeral services and estate tax without eating up a chunk of their assets. Paralegals often draft the necessary documents to put the plans in motion.
This requires an updated understanding of the law and keeping up with any changes that would impact legal and financial instruments created for an older client. Joining a professional association can help paralegals for elder law stay updated on any new laws regarding older Americans.
Health and Finance Concerns in Elder Law
Elder law for paralegals also requires familiarity with healthcare issues and insurance considerations. Particularly, it's helpful if elder law paralegals understand the nature of the complex Social Security and Medicare structure. When seniors decide to apply for SSI or Medicaid benefits, there's plenty of paperwork and due process involved that can become complicated quickly. In fact, there are law practices that deal exclusively with helping the elderly obtain benefits for which they've been denied.
In administrative courts, paralegals sometimes represent older clients just as attorneys do in other situations. For example, the Social Security Administration allows paralegals and other non-attorneys too speak for clients. Paralegals specializing in Medicare and administrative law for the elderly often argue cases in court. This can be very rewarding for professionals who like working independently.
There's also a fair amount of uncertainty involved with this line of work. No one can tell how long they will live or how much money they will need to get through their golden years. Paralegals sometimes partner with actuaries to help clients calculate the amount of money they need to live comfortably and still have something left over to pass on to their loved ones.
Elder Law Paralegal Training
Some colleges and universities that offer paralegal certificate programs and undergraduate degrees provide the option to specialize in elder law. Paralegals who already work in the field can also obtain a graduate certificate in legal studies and then select courses that focus on elder law. Some schools also offer an elder law track. Students can look for courses in estates, wills, trust and the OAA provisions for Medicare and Social Security.
Paralegals who have Core Registered Paralegal (CRP) or Professional Paralegal (PP) credentials can pursue the following tracks:
This elder law paralegal training includes workshops, seminars, and coursework to give paralegals a strong background in pursuing elder law paralegal careers. To boost their resumes and gain the skills that they need for the job, paralegals who want to deal with elderly laws can volunteer in nursing homes or social service agencies focusing on older Americans.
Reviewing sample job descriptions can help students determine if elder law paralegal jobs would appeal to their interests and strengths. Below, health care (general) and estate paralegal job descriptions are available for reference.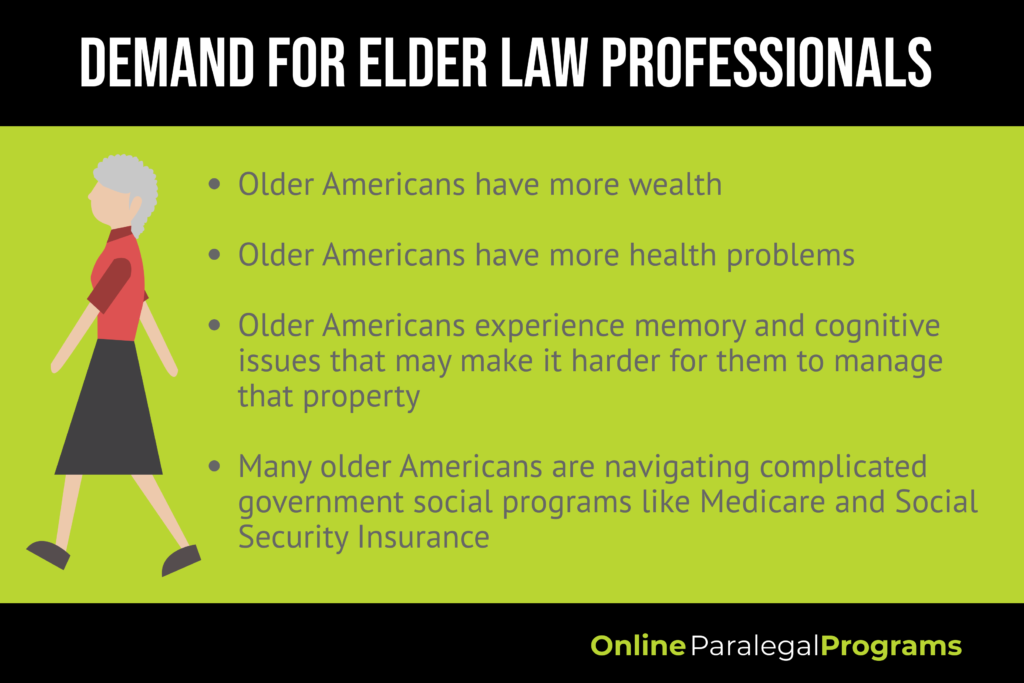 Elder Law Paralegal Job Description (General)
Health care is one of the major concerns of elderly clients. Therefore, many job descriptions for elderly law paralegals will require expertise in this area. Following is an example of a job description for this specialization.
Summary: the primary responsibility includes drafting wills, health care directives, powers of attorney, trust amendments and other documents pertaining to elder law. This position includes monitoring the daily calendar and scheduling meetings for attorneys. Successful candidates will complete their work efficiently and in a timely manner.
Reporting Relationship: This position reports to the office manager concerning administrative tasks and to the managing attorney for drafting work.
Duties and Responsibilities: The elder law paralegal will have the following responsibilities:
Client Contact – Serves as a primary point of communication for clients. This could include telephone, text, email, and communications. The paralegal will discuss documents and make the necessary changes and answer client questions. This may also include dealing with insurance companies, financial advisors, and other professionals as necessary.
Problem-Solving – Takes a proactive stance in resolving issues.
Process Improvement – Recommends ways to improve service quality and client responsiveness.
Draft Documents – Revises draft documents and completes drafts within 3 business days of receiving the request.
Real Estate/Land Records – Requests property descriptions from town clerks to verify ownership. Verifies insurance and records land deeds.
Execution Meetings – Meets with the client to go over the final documents and get their approval. Bring any necessary issues to the attention of the attorney. Asks clients to initial and or sign documents as needed.
Billable Time – Tracks billable time versus dawn available time. The firm goal is 80% billable time.
Other Duties – Performs other duties assigned by the office manager.
Qualifications & Skills:
Many jobs require is a certificate in paralegal studies or an associate's degree from a college or university with ABA approval. Applicants may also need some experience as administrative assistants. Attention to detail and proofreading skills as well as excellent client service skills are required and can determine the success or failure of applicants for elder law paralegal positions. Many law firms expect paralegals to also have knowledge of Microsoft Office applications.
Some law firms with elder law paralegal job openings may specialize in elder law or include it in their service offerings. This means that paralegals must be knowledgeable on other aspects of the law as well. Some lawyers may specialize in health care or estate planning elder law. Therefore, job descriptions vary greatly for elder law paralegals.
Elder Law Paralegal Job Description (Estate Planning)
This example job description for elder law paralegals concentrates on estate planning and related areas. Thanks to the versatility of the Internet, some law firms have a national focus while others concentrate on the area around their physical office.
Summary
The estate planning elder law paralegal will oversee a state planning document preparation. They will also manage estate planning for clients. The paralegal also has a tremendous impact on managing the attorney's time and schedules tasks for the attorney. This role interacts with both clients and attorneys and provides support to the senior elder law paralegal.
Successful candidates will know how to prepare documents pertaining to estate planning. Paralegals should be team-oriented individuals who can thrive in a busy environment.
Responsibilities
Maintains estate planning activity on a case-by-case basis.
Ensures that all steps of the process are completed and that all documents are properly executed.
Manage is the attorney's time and help the attorney schedule meetings and contact clients as necessary.
Provides status on documents and cases.
Ensures the accuracy of all documents presented to the client.
Supports Medicaid paralegal to draft spreadsheets and other documents.
Document drops include complex agreements such as asset protection trust and irrevocable trust.
Coordinates the signing of documents and reviews drafts for consistency and accuracy.
As you can see, becoming an elder law paralegal involves a wide range of skill sets. On the one hand, applicants might be working on filing and mundane office tasks. On the other hand, they are responsible for putting together contracts and legal documents that greatly impact the lives of clients. There is a great deal of moral, ethical, and legal responsibility associated with this job.
Elder Law Paralegal Salary
According to payscale.com, the average salary for elder law paralegals is $49,000. Entry-level positions average $34,000, and the top 10% of earners in this job earn $71,000 per year.
ZipRecruiter puts the average salary a bit higher at $54,000, based on listings on the site. Entry-level positions on ZipRecruiter are a bit lower at $21,000 and top earners for positions open on the recruiting site exceed $48,000.
On both sites, the pay range for entry-level paralegals can differ by a wide range. This suggests that there are opportunities for those who want to advance quickly or who have experience in other fields that might garner them a higher starting wage. This could include paralegals with experience in other legal sectors or recent graduates with volunteer opportunities that include the elderly. Applicants should be sure to highlight any experience that can help them stand out in this competitive field.
Those who thrive under pressure and who have a strong interest in law might do well in this field. Although starting salaries aren't as high as some other fields, candidates can gain their two-year degree or certification in a relatively short time.
Related Rankings:
Top 12 Paralegal Degree Specializations
Top 25 Best Value Online Paralegal Certificates
Top Online Bachelor's in Paralegal Degree Programs
Top 25 Best Online Master's in Legal Studies
School Finder